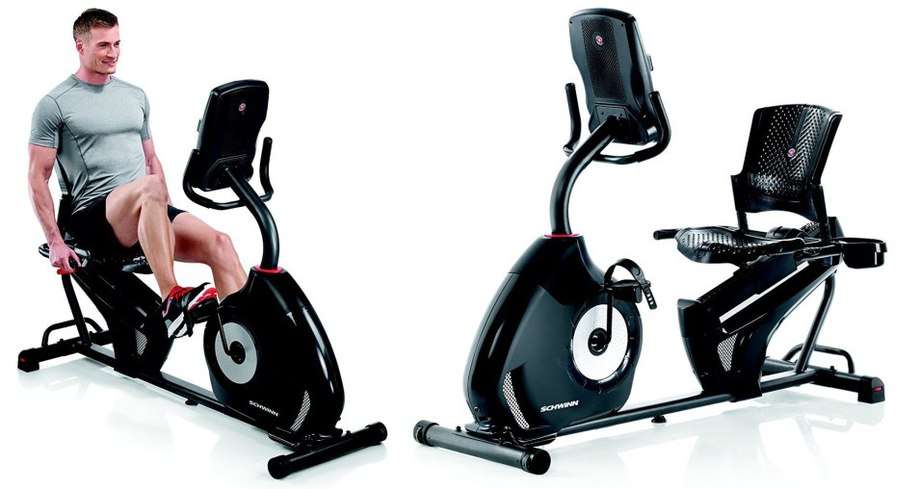 Exercise bikes are popular pieces of exercise equipment for home cardio workout and for good reason — bikes are convenient, you can use without placing as much stress on your joints as a treadmill. Recumbent exercise bikes are the perfect instrument for that. We will discuss 5 best recumbent bikes that let you discover the workout, programs,features while you are sitting at your home with comfort.
Our Top and Best Recumbent Bike after Review: Winner
---
Schwinn 270 Recumbent Bike
Check Latest Price
Amazon.com
as of June 26, 2020 10:56 am
"High speed, High inertia" drive system lets you pedal hard with an optimal resistance.
It comes with 25 levels of resistance, 29 programmed workouts, and a ton of features including Bluetooth, heart rate monitoring, fans and speakers
---
But choosing the best recumbent exercise bike is quite confusing as there are thousands of them in the market. So we have compiled the 5 top rated recumbent bikes for you in this list. First, let's have a quick look at our top picks.
At A Glance:
---
Top 5 Best Recumbent Exercise Bikes
Last update was on: June 26, 2020 10:56 am
The 5 Best Recumbent Bike Review
---
With features like wireless heart rate receiver, Bluetooth data export, and versatile onboard workout programs, fans and speakers the new 270 recumbent bike is obvious to be at the top of our choice.
Design – The Schwinn 270 Recumbent Bike is designed ergonomically. The walkthrough style and low seating features make it ideal for using it comfortably. The sturdy bike frame provides support to users up to 300 lbs. The bases are positioned at the front and back. The back base has adjustable stabilizers to keep the bike steady even on uneven floors.
Console and data tracking – The console computer supports 4 different user profiles. Tracking data is made simple with the Schwinn Trainer App. When the app is paired with the bike, the workout stats are automatically sent there. These stats help you set and track your workout goals. This recumbent exercise bike is also compatible with MyFitnessPal and Apple Health to develop a full fitness profile for you.
The DualTrack monitor system allows you to prop up your iPad, tablet, or book right in front of you on the main LCD display
Seat and backrest – Schwinn 270 comes with low seating and high backrest. The height of the seat enables users to easily get on or off from the bike. The seat bottom is cushioned. The backrest height provides lumbar support for prolonged use. The seatback is also ventilated to keep you cool. But most importantly, the seat's distance can be adjusted according to your comfort.
Resistance adjustments and pre-programmed workouts – Resistance is provided through a 17 pounds magnetic flywheel. You may choose between 25 levels of resistance with 10 quick keys to waiver between easy and hard. The 270 also offers 29 workout programs and fitness tests to choose from.
Handlebars – The frame installs the handlebars in the perfect place and with perfect height. Though users told that they didn't need to use it for any purpose. These bars are there for added protection.
Weight capacity – The solid frame and sturdy body can accommodate up to 300 pounds of weight.
Others – The 270 has some other cool features like a mobile device holder, a USB charging point, a water bottle holder, an MP3 player with sealed acoustic chamber speakers, a 3-speed cooling fan, and an accessory tray.
Pros:
Low price
Compact design
Smooth pedaling
Transport wheels
Ventilated seat back
25 resistance levels
20 preset workouts
4 user profiles
Cons:
Non-adjustable control panel
Short labor warranty
---
Nautilus R614 enables you to ramp up workout activities with a wide range of exercise lineup, offering multiple high-end features at an affordable price.
Design – The Nautilus R614 recumbent bike aims to provide both the seniors and young athletes with a low impact cardio workout, which mimics the movements of an outdoor bicycle. Besides, it will improve your hamstrings, quadriceps, abs, and hip muscles as well.
Designed to use every day at your home, the R614 has a sleek and durable one-piece still frame built to last. The 20 pounds flywheel with high inertia enhanced system will enable you a whisper-quiet bike ride.
Console and data tracking – Nautilus recumbent bike series appears with a large console with an array of features. In this R614 stationary bike, you'll get two Dual Track LCD non-backlit display, two user profile settings with goal tracking, one-touch resistance control, navigation buttons, and a programs button to access the 22 preset workout lineups, and more options for entertainment.
Although the primary screen shows all the fun, mountain riding activities, goals, heart rate, and the other workout stats, the secondary screen comes handy, showing your speed, distance, and burned calories.
Seat and Backrest -The R614's lumber supported vented back, and the bottom design built from molded plastic will ensure your back remains in a natural position while you stay cool during working out. Plus, it allows you to adjust the seat with the horizontal slide mechanism according to your need. You may have to compromise a bit of comfort because of the lack of cushioning in the seat and backrest. Any person with a height of 5′ to 6'4″ will comfortably fit on this recumbent bike.
Handlebars -The Nautilus R614 comes with both primary and secondary handlebars to ride in multiple positions. Plus, you can measure heart rate occasionally with the ergonomically placed heart sensors on the first side-mounted straight handlebars.
Resistance – Equipped with 20 levels of eddy current based resistance, you can regulate them with the one-touch control right from the console of the R614.
Secondary features – To escape from a dull exercise session, Nautilus has brought two built-in console speakers along with an mp3 jack. Plus, you can place a tablet or a magazine on the incorporated ledge to enjoy your favorite tv shows, movies or, a fitness article while riding the bike to burn calories. Plus, a bottle holder is available to keep yourself hydrated while riding.
Meanwhile, get some cool air from the three-speed face fan incorporated in the middle of the two acoustic speakers.
Weight Capacity -While the R616 recumbent bike from Nautilus weighs around 95 pounds, it has a carrying capacity of 300 pounds.
Main features
Dual track easy to read, a large and a small screen to show your workout stats (speed, time, distance, and calories)
Twenty resistance level for a wide array of intensity
Twenty-two preset workout lineup containing fun rides, mountain rides, and challenges for an enjoyable ride
Pulse sensor on handlebars gives you heart rate readout
Side-mounted water bottle holder to keep you hydrated during a workout
USB port for charging device and data transfer with Nautilus connect
Dimensions: 65.3" (L) X 28.3" X 49.6"
Pros
A broad range of resistance
Set individual exercise goals
Whisper-quiet, smooth operation
Adjustable foot straps
Integrated media shelf
One-touch resistance control
Stable and well-built
Entertainment facility
Cons
Rigid plastic seat (Needs extra cushioning)
Not an ideal bike for taller people over 6'4″
---
Keeping yourself relaxed with the amenities without breaking your bank, the Schwinn 230 delivers a challenging but low impact workout at home with ease.
Design -The Schwinn 230 recumbent bike aims to deliver outstanding value for the users who want to lose weight and tone their lower body muscles with less effort at their home.
Made for everyday use and weighing around 90 pounds, the sturdy frame of this bike is built to last. The 13.2 pounds inertia enhanced flywheel provides you with a smooth and quiet riding while working out.
Console and data tracking -The console of the Schwinn 230 stationary bike incorporates a wide range of functions keeping track of your personalized goal. Giving you the flexibility of controlling most of your activities from the console – the two easy to read non-backlit LCD screens monitors workout data containing: heart rate, speed, time, RPM, total distance traveled, and calories burned. Plus, the 22 separate programs will make your bike riding more fun and challenging at the same time.
Seat and backrest – Although the seat and backrest in most mid-ranged recumbent stationary bikes come with dense foam cushioning, the Schwinn 230 adopted a vented bottom and backrest to pass the air to keep you fresh during workout. Plus, the lumber supported backrest contours to the natural shape of your spine – lowers back pain when you sit.
The adjustable sliding seat can fit a user having a height of 4'11" to 6'2″ with enough flexibility to reach the flywheel.
Handlebars -Featuring both recumbent and front handlebars, the 230 enables to exercise on multiple positions. The primary side-mounted padded handrest comes with pulse sensors to measure your heart rate. You'll need to hold the grip for about 15 to 30 seconds for an accurate reading.
Resistance Adjustments – While the upgraded Schwinn 270 offers 25 levels of eddy current based resistance, this recumbent bike comes with only 20. However, considering other recumbent bikes of its range, the amount of resistance is decent and enough for you to intensify your workout.
Secondary features -To make your exercise more enjoyable and convenient, the Schwinn 230 comprises two built-in soundboxes along with an mp3 jack, and a water bottle compartment. Plus, a 3-speed adjustable fan will keep you cool while driving the bike for an extended period.
Enjoy your favorite show, movie, or cater to your reading habit on your smart device with the integrated tablet holder and keep your device charged using the USB charging port.
Weight capacity -The Schwinn 230 recumbent bike can carry a person up to 300 pounds; so, if your weight is below the 300 marks, we recommend this bike for you.
Key Features
Dualtrack two LCD screen for monitoring your workout stats
Primary handlebars come with pulse sensors to calculate your heart rate
The sliding system makes it easier to tweak the seat length
Vented back and bottom seat design with lumbar support for comfort and reducing back pain
Twnty eddy current brake resistance level for rigorous exercise
Dimensions: 64″ (L) x 27.7″ (W) x 49.9″ (W) inches
Pros
Smooth and quiet operation
Monitors heart rate
Adjustable foot straps
Wide range of preset programs
Integrated ledge for tablet
USB data exchange with Schwinn connect facility
Tracks goal
Store data for two separate users
Cons
No cushioning in the seat (Add an extra cushion for more comfort)
Foot strap tends to rip off
Non-backlit display
---
An exercise bike that focuses on comfort and flexibility, the Xterra SB2.5r, comes with all the essential features you need in a recumbent bike within your reach.
Design – Developed for indoor use for all the users who want to use it every day, intended to boost fitness, lose weight, and get the body in shape- the Xterra SB2.5r is a mid-budget recumbent bike, worthy enough to take place at your home gym.
The 22 pounds flywheel of the SB2.5r is bigger and heavier than other models of its level, gives you a noise-free and smooth biking experience with its belt driving mechanism.
This heavyweight bike with a weight of 108 pounds seems quite durable and well built with the solid still frame construction.
Console and data tracking – Keeping track of your workout data in a colorful monitor can make you more enthusiastic about your fitness journey. The Xterra SB2.5r recumbent bike incorporates a large 2.5″ backlit dual color LCD screen, which not only shows your speed, time, distance, and calories but also demonstrates your heart rate. Plus, you get to log four different user-profiles and enjoy 24 distinctive workout programs.
Seat and Backrest -The large-sized seat and reclined backrest -covered with densely molded padding to ensure optimum comfort, enables to adjust the seat fore/aft with a black rolling knob under the saddle. Plus, dense cushioning in the backrest slashes the chance of your back pain.
The users with a height in between 4'11" to 6'5″ will find the SB2.5r recumbent bike quite flexible to burn their calories.
Resistance Adjustment – Incorporating a magnet and a servo motor, the SB2.5r offers 16 eddy current based magnetic resistance level. Plus, it allows you to control the resistance right from the console. Nevertheless, you need to plug this bike to a 110V power circuit to enjoy the endurance.
Handlebars – Measure your heart rate while gripping the padded side-mounted primary recumbent hand rests, thanks to the pulse sensor grips.
However, we didn't find any necessity of the secondary handlebars mounted beside the readout screen since you need stretched hands like Ralph Dibny, the elongated man to grab it. (Kidding)
Secondary Features/other features – A built-in soundbox and an audio jack will cater to your need for music during the time you spend on the stationary bike. Nonetheless, there is a smartphone/accessory holder; so, you won't need to hold onto your smart device listening to music while driving the bike. However, if you have a large tablet/iPad, sorry to say, there is no integrated tablet holder attached to keep it.
Weight capacity – XTERRA's SB2.5R can carry a load of up to 300 pounds, which is quite decent compared to its competitors.
Top features:
Large 5″x2.5″ backlit LCD screen is easy to read
Fixed handlebars with pulse sensors measure your heart rate
Rail system adjustable seat let you adjust the length to reach the pedal
16 wide level of resistance gives you an intense workout
24 programs provide a versatile driving experience
Built-in speakers with mp3 jack to fulfill your entertainment needs
Dimensions: 53.4″ (L) x 25.2″ (W) x 43.7″ (H)
Pros
Relatively easy to put together
Quiet operation
Solid still frame built to last
Dual-color easy to read display
Tracks data for four user profile
Monitors heart rate
Multiple preset programs
Wide range of resistance
Transportation wheels for mobility
Cons
No integrated tablet and bottle holder
Seat adjustments can be a bit stiff
---
A budget-friendly bike that pulls out a robust performance offering minimal amenities, the Marcy ME709 helps achieve your fitness goal with less effort.
Design -The Marcy me-709 recumbent bike boosts stamina and develops your cardiovascular health. Since the ME-709 is a low impact bike, patients who just came out of injury or surgery will find it pretty useful because it puts less stress on your knees and joints.
People with back pain, who find it challenging to work out on a traditional gym, the 709 will ensure a comfortable cardio session at home. Plus, the step-through design makes it effortless to get on and off the bike.
The solid still frame construction with powder-coated finish makes it durable and resists from corrosion. Equipped with adaptive foot straps, the counterbalanced foot pedals of the Me709 keeps your feet in the right place.
Console and Data Tracking – A basic console always keeps you updated on your workout data showing your speed, time, distance, and calories burned. It's no different in the case of Marcy 709. You'll get a simple, black and white,3.5″ easy-to-read, non-backlit LCD acting as an odometer.
Seat and Backrest -The 709 features an ergonomically designed backrest and seat containing high-density foam, which will ensure the ultimate comfort.
Although there's no height adjustment system, you can adjust the inseam from 27″ to 37″ with the adjustable hole settings. Roll the black knob, pull the seat backward or forward to adjust the length according to your need. We have seen users with a height of 6'4″ found it quite flexible for exercising.
Resistance Adjustment – Add a bit toughness to your workout to achieve your fitness goal with the eight levels of smooth magnetic resistance, comes with this stationary recumbent bike. There's a dial to control the resistance from one to eight.
However, we feel that a bit more resistance would have been better compared to high-end exercise bikes. But once you start pedaling with the maximum resistance, you'll begin to notice the endurance within a moment.
Handlebars -The recumbent side handlebars are well-cushioned to give you a comfortable grip for a longer riding session.
Weight capacity -While the ME-709 weights around 50 pounds, it can carry loads up to 300 pounds.
Top features
The walk-through design makes it effortless to get on and off the bike
Two (AA) battery-powered 3.5″ easy to read non-backlit LCD
Eight magnetic resistance to boost your workout intensity
Ergonomically designed padded backrest and saddle for comfort
Counterbalanced pedals for a balanced driving
Dimensions: 55.5″ (L) x25″ (W) x37.5″ (H)
Pros
Easy to Asseble
Heavy-Duty body construction
Adjustable inseam length
LCD screen tracks exercise data
Comfortable seat
Adaptive foot straps
Transportable wheels for mobility
Cons
No pre-programmed workouts
Got a few complaints about parts breaking
---
PRICE RANGE: $100-$400:
best recumbent bike under 300- Exerpeutic 900XL Extended Capacity Recumbent Bike with Pulse – $159 – 2,718 Reviews
Nautilus R614 Recumbent Bike – $399 – 240 Reviews
PRICE RANGE: $400-$600:
Schwinn 230 Recumbent Exercise Bike – $429 – 770 Reviews
Exerpeutic 4000 Magnetic Recumbent Bike with Bluetooth Technology – $399 – 187 Reviews
Schwinn 270 Recumbent Bike – $599 – 866 Reviews
PRICE RANGE: $600-$1000:
Nautilus R616 Recumbent Bike – $550 – 84 Reviews
ProForm 400 ES Recumbent Bike –  $660 – 10 Reviews
Diamondback 510SR Recumbent Bike – $899 – 75 Reviews
NordicTrack VR21 Recumbent Bike – $749
        NordicTrack VR25 Recumbent Bike – $899 (Holiday sale price)
Diamondback 910SR Recumbent Bike – $1,199 – 48 Reviews
PRICE RANGE: $1000 and up:
SOLE Fitness LCR Light Commercial Recumbent Bike – $1,899 – 31 Reviews
Conclusion
Although there are tons of equipment for effective cardio training to choose from, a recumbent exercise bike provides you with optimum support and comfort without attending to the gym. Working out on a stationary recumbent bike will not only keep your knees and lower body joints safe but also help your back pain perish over time.
We know what it takes to select the perfect exercise bike from a countless number of options. To keep off your burden, our team of experts spent hours of research to find the best recumbent bike for you within an affordable range. We considered the design, build quality, resistance, console, data tracking, preset programs, and all the secondary features, which deliver you an enjoyable workout experience. Choose one of the recumbent bikes above that suit you, get your body into shape, lose weight, boost your immunity, and let's fight with the virus that's causing people to kick the bucket.