Getting in shape and maintaining a top-class fitness has always been challenging. It's not always possible to hit the gym and get your desired fitness overnight. Think about the lockdown, which has forced people to be at home. But should you compromise your fitness training for this? Nope, absolutely not. Just for you, we have gathered around the best elliptical under 1000 to keep yourself fit at home and get the desired shape you always wanted.
The winner for the best elliptical under 1000 $ Range after review
---
Schwinn 470 Compact Elliptical Machine
High speed, high inertia drive system for easy start-up and smooth, quiet workouts.
22 programs including 9 workout profiles, 8 heart rate controls, 2 custom user defined profiles, 2 fitness tests and a quick start.
---
These low impact best elliptical machines under 1000$ not only enhance your strength and cardio capacity but also retain your fitness after injury putting less stress on your joints. Plus, high-intensity interval training helps you lose weight burning more calories.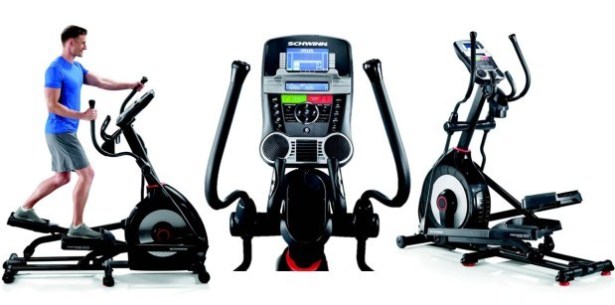 Based on their functionality, review scores, special workout features with WiFi and Bluetooth 4 ellipticals under $1,000 earn space on the table below.
Below, we have listed the best compact elliptical under 1000 with their design, multiple features along with pros & cons to provide you with a quick overview of each item. Purchase the one that suits your budget, fits your requirements, stay safe, and thank me later.
---
Top 4 Best Rated Elliptical Machines Under $1,000-Quick Review
---
---
Best Elliptical Under 1000$– Best Budget Elliptical Bike
---
Design
Schwinn 470 elliptical bike is a front-drive elliptical trainer for low impact exercises. The compact design enables you to save space at home. The solid still body construction makes it look durable and long-lasting.
Schwinn 470 elliptical machine comprises two slightly curved moving handlebars for an upper-body workout and flexible hand settlement. A pair of static handlebars are also available with pulse sensors for monitoring your heart rate.
While the cheap models appear with fully plain handlebars, the Schwinn 470 appears with padded grips providing more flexibility.
Featuring two oversized footbeds, the 470 offers enough room, and extra cushioning gives your feet the comfort they need while exercising.
Measuring the size of the trainer after assembling, we found it 70.1" in length, 28.2" in width and 63.2" inches in height.
Console
The latest 470 elliptical bike comes with a wide range of preset workout activities, large digits for easy reading, and better control. The console consists of 29-workout programs along with dual track backlit LCDs, a media shelf, Bluetooth connectivity, USB charger, built-in speakers, and a 3.5mm mp3 jack.
Among the two LCDs, the first one shows workout profiles, goals & progress, resistance, incline, and intervals of heart rate. The second display demonstrates burned calories, distance, speed, and resistance level.
The three-speed adjustable fan located under the console will offer a cool breeze while you hop on the trainer.
Stride Length
The 470 elliptical bike arrives with 20" fixed stride length with precision path foot motion technology. This creates a natural motion giving you an outdoor feeling.
While the stride length of this machine is acceptable comparing majority ellipticals on the market, the adjustable feature would be an ideal integration.
Resistance
You can choose between 25 levels of resistance in the Schwinn 470 when other midrange trainers only offer up to 20 levels ( consumer reports elliptical)
Incline
All the premium elliptical trainer features incline facility and it's no different in case of the 470. However, the limited 10 degrees of incline level can be a matter of concern as other machines of this category provide 20 degrees.
Control Module
Four user profiles are accessible in the control module. Each user can input their name, age, gender, weight, height, and more information. It allows you to observe the calories burned from your workout. This is an effective feature for multiple people using the machine- to keep an eye on their data separately. Buy elliptical from here.
Pros
Smooth and quiet operation
Motorized incline setting
Multiple heart rate functions
29-preset workout programs
Oversized, cushioned footpads
Stores data for up to 4 individuals
25 resistance level with one-touch control
Get an immersive training with Run social app
Separate compartments for a water bottle, smartphone/mp3 player
Cons
Fixed stride length
Large size takes more space at home
No wireless heart rate monitoring support
---
Design
Designed to enhance your cardiovascular health, the FreeStep Recumbent Cross Trainer comes with 3 reclining seating position. Plus, this elliptical bike offers a low impact full-body workout. Allowing you to heal your arthritic, hip, or joint pain, this trainer puts zero impact on your knees as well.
The large-sized adjustable seat can accommodate a person with a height of 4'11" to 6'6″ inches. Not only this trainer allows you to adjust the height of the seat but also set the reclining position to find your comfortable position. Although there's a conflicting opinion within the users on the seat's comfort, at the price of this trainer, I cannot ask for more.
With the adaptable rotating handles allowing you to isolate your legs/arms, you can emphasize tuning your bicep, triceps, chest, or back muscles. indeed the best home elliptical.
Using the push and pull mechanism of this recumbent cross trainer and elliptical, you can enjoy a total body workout.
For comfortable foot placement, the extended footbeds offer enough space. The linear pedal foot motion puts less stress on your lower body joints. This is a useful feature for the surgery patients as you might have seen many therapy and rehab centers are using this sort of cross trainers for their patients.
Weighing around 110 lbs, having dimensions of 54″L X 38″W X 52.5″ H after assembly, this cross trainer can carry up to 300lbs of weight.
Console
Although the console isn't classy as we see on traditional ellipticals, a battery-operated digital display integrated to the trainer simply shows: your speed, time, distance, and calories burned.
Stride length
The stride length of the teeter FreeStep cross trainer can vary between 7″ to 10.5″, depending on setting the seat height. It feels more like a bench press to some users.
Resistance
Before I talk about resistance, you need to know this recumbent cross trainer was designed with rehab in mind. Although many users complained about the recumbent elliptical's lower resistance level comparing the standard ellipticals, it's better for the patients who just came out of surgery or injury.
Through a dial adjusted on the side of this cross trainer, you can tweak the resistance between one to eight levels. The magnetic resistance will deliver you a noise-free workout experience.
Control Module
As the cross trainers are known to appear with fewer bells and whistles, you won't find any smart digital controlling system on the teeter FreeStep. You'll find some blue colored knobs to adjust the handles and seat height. Plus, to control the resistance level, you have to roll a dial whereas high-end ellipticals have a button on their console for the task. See teeter freestep cost here.
Pros
Budget-friendly price
Adjustable multifunctional handles
Whisper quiet, magnetic resistance
Low impact, stress-free workout mechanism
Transport wheels for easy portability
Best home elliptical
Cons
No preset workouts
More resistance would be ideal
---
---
Design
More of a stair climber & less of an elliptical, the ProForm compact low impact hybrid elliptical trainer is an excellent choice for people looking to perform high-intensity interval training at home.
The solid still body structure is sturdy enough, the manufacturer provides a lifetime frame guarantee on this HIIT elliptical trainer. The extended leveling feet don't let the trainer wobble much during your training. And the weight capacity of this machine is 350 pounds.
The primary handlebars appear with multiple handgrip positions and resistance for a practical tuning of your upper body muscles. A pair of static EKG (electrocardiogram) handlebars are also available to measure heart rate amid your workout. it is best home elliptical under 1000.
Coupled with silent magnetic resistance (SMR), the powerful 28-pound inertia augmented flywheel provides you with a smooth work out experience without causing excessive joint pain. Besides, using the HIIT (high-intensity interval training) you can burn a significant number of calories.
You can experience a full-body workout with the ProForm HIIT trainer thanks to its multifunctional handlebars and 10″ vertical steppers.
Since its after-assembly length is around 54 inches, width is 31.5 inches, and height is 66.1 inches, the trainer won't take much of space on the ground but be careful in case you're planning to put it under lower ceiling height.
Console
The console incorporates a 7″ backlit easy to read display, an integrated ledge for holding a tablet/iPad, mp3 port, a 2inch dual speaker, and Bluetooth connectivity to pair with your smartphone/tablet.
To enjoy a versatile training adventure, you can connect the cross trainer with the iFit application although you'll require additional membership to activate this feature. The integrated two-speed fan located in between the display and the resistance control unit will keep you cool during your HIIT training.
Stride length
While in a traditional elliptical the ideal stride length is around 20″, it's different in case of the ProForm HIIT cross trainer elliptical. Being more of a stair climber, it offers 15.7″ of stride length which is decent compared to other cross trainer ellipticals on the market.
Resistance
The 24 decent level of magnetic resistance is available to challenge yourself. And enable you to burn more calories during high-intensity interval training.
Control Module
The control unit comes with professional certified 32 preset work out function (8-speed, 8-inclines, 7-levels of intensity, and a manual), one-touch controls for regulating resistance.
Pros
Full body workout capacity
Takes almost half the space than a traditional elliptical
Smooth, noise-free operation
Oversized, cushioned pedals
Multifunctional handlebars
One-touch resistance control key
Best elliptical cross trainer
Best rated elliptical under 1000
Cons
Some reviewers complained to hear sudden squeaky sounds but soon after it vanishes on its own.
Assembly can be tricky. You may need an experienced pair of hands to assemble it
---
Design
Schwinn 430 elliptical bike offers a smooth, hassle-free, and low impact workout with its front-drive inertia enhanced flywheel. Although this model falls under the budget-friendly ellipticals, it comes with multiple high-end features.
While the primary handles are slightly bent, which allows you to engage in a full-body workout, the secondary handles measure your heart rate with built-in heart rate sensors.
The two large foot pads incorporate a good amount of cushioning, which helps to place your shoes comfortably and enjoy a longer training session without fatigue.
The Schwinn 430 elliptical bike weighs around 168 pounds. The assembled dimensions of this machine are 70.1″ (L) x 28.2″ (W) x 63.2″ (H) inches. Plus, it can carry up to 300 lbs. And best budget elliptical under 1000$.
Although the 430 manifest solid still construction, some users objected to the parts tend to wear off after frequent use of the trainer. To back it up, the manufacturer is offering a ten years frame and two years of parts warranty.
Console
The Schwinn 430 console appears with two LCD non-backlit display shows your speed, distance, time, calories, and individual goals. Anyway, I would prefer a backlit display as it can be tough to observe your data in a dark environment.
The two built-in acoustic speakers will suffice your music needs while working out. Plus, you can charge your smart device with the added USB charging port. Put your tab on the media shelf, and enjoy watching Netflix while burning some calories.
You can set the fan speed and angle it towards your face or chest during a sweaty workout with the tilting facility. Schwinn 430 is the best rated elliptical under 1000
Stride Length
The 20″ inches foot stride length is close to ideal for average trainees while some higher-end ellipticals offer 22″ to 24″. However, you won't get that choppy experience in the Schwinn 430 as in cheaper ellipticals that appear with 14″ to 16″ of stride length.
Resistance
20 adjustable resistance level will challenge you putting more effort into your workout allowing you to burn more calories.
Incline
You'll get six manual inclines on this trainer where the highest level provides 10-degrees slope. You can hold the incline bar, pull it up and down to set your preferred position. Some users, however, have a gripe about the incline levels. If the manufacturer would increase the slope range within 20 percent, you could bring a bit more challenge to your training.
Control Module
The control module incorporates 22 preset workout programs. Plus, you can store individual workout data for up to two users. .Schwinn 430 is the best elliptical machine under 1000 $ to buy
Pros
A leveler with a stability bar to keep the elliptical stable during a workout.
Built-in heart rate sensors on handlebars
Noise-free mechanism
Large cushioned footbeds
Twenty resistance level with one-touch controls
Twenty-two preset workout functions
Store personalized data for two users
USB port for charging and elliptical for big and tall person
Bluetooth connectivity to export data to SchwinnConnect
Best elliptical under 700$
Cons
Non-automatic incline
No support for wireless heart rate monitoring
Non-backlit display
Prone to wear and tear after frequent use
---
Buying Guide for 5 best ellipticals under 1000 $
To put your worries at ease, this article will cover some essential points so you can consider them before deciding upon which elliptical machine to buy. Mind you, this article will only cover the ellipticals that are getable under $1000.
Below are the things you should consider in your primary research:
1. What are Your Fitness Goals?
If you just hit the stores one fine morning and buy some exercise machine upon random selection, it would not pay off your both physical and monetary effort.
Setting your fitness goals is vital because that actually tells you what type of elliptical machine you require. When writing down your goals, you should consider the following:
How many family members are likely to use that machine?
Are there older family members to use this machine?
What is your focus: light, moderate, or intense workout?
Are you only focusing on losing weight?
Most exercisers aim at strengthening particular areas of their physique. Core muscle building is one of the prime goals of many fitness lovers. Distinct types and exercise programs are available in elliptical machines to bring your cores like abs, calves, glutes, and quads that turn your physique into a sturdier and shapelier one.
If you want your upper body workout along with your cores, an elliptical incline could be an effective option. Adjustable incline is a fabulous function to challenge your physique and bring greater results.
2. Look up Online Reviews: Brands and Ratings
Once you are online in search of your destined brand of elliptical machine, the plethora of information might seem overwhelming. At this point, online customer reviews and elaborate feedback would come handy.
Search various brands of elliptical machines so you can inspect their ratings and reviews from thousands of customers. Many rating websites are available online to give you enough information for contemplating.
Amazon has its separate section for fitness equipment consisting hundreds of thousands of ratings on elliptical machines. Look up their ratings and feedback on these machines to clear your mind on choosing the best fit your goals.
For a quick reference, you may check some best brands like ProForm Endurance 920E, Schwinn 470, Teeter FreeStep Recumbent Cross Trainer and Elliptical, and Sunny Health & Fitness Premium Cardio Climber SF-E3919. These machines have achieved 4 to 4.5 stars ratings from thousands of users in top websites.
3. Choose from various types of ellipticals
Since its appearance in the market, the elliptical machine has made its statement through its diverse functions and styles. Elliptical machines are undoubtedly the result of innovative advancements in the fitness equipment world. So, choosing the most suitable one for your fitness goals will be easier if you know the types of ellipticals clearly.
Elliptical machines come basically in 4 types:
Standard or Regular Elliptical Trainer
Elliptical Cross Trainer
Elliptical Glider
Compact or Foldable Elliptical
Standard or Regular Elliptical Trainer
This is the most typical elliptical trainer of all types. The flywheel is usually set at the front, rear, or the center, making the exerciser's workout easier as per the convenience. This basic type of elliptical generates a low impact of workout and allows the exerciser to receive a safe and effective cardiovascular session.
Standard ellipticals mostly focus on the lower part of the body and with some variations on the resistance levels during exercise; it can take the impact a bit further than usual. You can work your glutes, calves, and shins on this type of machine.
You need not to worry about tripping over and getting your shins, ankles, or knees injured while working out on standard ellipticals. Its low impact exercise would give the easy-as-you-go experience throughout the whole workout time.
Cross Elliptical Trainer
Cross ellipticals are effective in training both upper and lower body with more impact than the standard ellipticals. Being more impactful, the cross ellipticals do not strain the exerciser as it accommodates a seat for the user just like a recumbent stationary bike.
A cross elliptical trainer engages the exerciser's upper body by allowing him to use the moving handlebars. Unlike in other ellipticals, the handlebars in cross types are workable and it lets the users move their arms back and forth. Working out the arms along with your elliptical pedal motion would create a balanced impact on your body.
You can work your back muscles, upper & forearms, abs, and chest while benefiting your lower body at the same time. Since you can exercise while sitting all the time during workout on a cross elliptical machine, it ensures a more secure and stress-free workout. This type of machine is safe for your cardiovascular conditioning.
Elliptical Glider
Elliptical glider simulates more of a walking motion other than elliptical or semi-circular motions. You can move your legs back and forth on this machine keeping your legs about 3-4 inches above the ground. Elliptical glider is a compact machine where a flywheel is missing, which makes it much lighter than the typical ellipticals.
Elliptical gliders are suitable for exercises who want to condition their whole body with minimum impact. It assures a safe exercise without the fear of spraining your legs or splinting your shins. The gliding or back and forth walking motion gives you cardiovascular and weight-loss benefits with the lowest impact on your body.
Compact or Foldable Ellipticals
When it comes to compact ellipticals, it reduces in size as much as it could get. Several models of compact or foldable elliptical trainers are available with different functions and advantages.
Compact ellipticals are smaller in size, which saves a lot more space than the standard or cross elliptical trainers. Even with the flywheel, they look lighter and easier to handle. Exercising on these trainers would provide almost the same health and physical benefits you get from other ellipticals.
4. Outlook and Design
If you are concerned about finding a decent elliptical machine with standard outlook and design under $1000, do not stress yourself. Nice and functional ellipticals are available in the market within that budget and you will also be pleased to see their designs.
Like we have discussed above about your selection from various types, you have a range of different types of elliptical machines to buy from the market. Depending on your need and choice, you must determine which one to buy. Nonetheless, the outlook and design will dominate your selection criteria.
Most ellipticals come in standard types with a stainless-steel frame, a medium to large flywheel, a pair of immobile or moveable handlebars, an LCD display, and a pair of large and cushioned foot pedals.
5. Console Functions
In order to get the best out of your elliptical trainer, you must adhere to the console functions of an elliptical machine. This unit is important due to its various mechanisms.
Since console functions regulate and reflect many of the electrical functions of the whole machine, it comes with more utility based on how much you want to spend. Fortunately, viable console units are available in exchange of about a thousand dollar or even lower prices.
The console unit consists of several useful buttons that work with soft press. There may be a full set of touchscreen color display in some ellipticals within that budget, if you are lucky to find one. These buttons, touch or hard, can change your resistance levels and take the incline up & down (if automatic incline). Various intriguing workout programs and daily workout tracks are manageable in this display.
6. Watch Your Stride
The subtlest feature of the elliptical trainer that mostly escapes a new buyer is the stride length. Why is it important?
The ability to maintain an optimum stride length is imperative for a good elliptical session. Technically, a stride length is defined by the widest gap between your anterior leg's front end and the posterior leg's rear end. It's not that smaller length would disturb your exercise motion but it can affect the daily progress.
7. Is It Spacious?
The par size of an elliptical trainer is 6-feet in length and 2.5-feet in width. 4 to 7-feet length ellipticals are available in various models. Obviously, bigger machines would carry more components and functions; hence, pricing more.
A budget elliptical trainer may reach up to 5-feet or a little more in height. You have to make sure your room's ceiling is high enough to avoid a head-bump while pedaling. Elliptical pedals may elevate you up to 25" above the floor. Here, your own height plays a vital role. If you are of average height like 5'-4" to 5'-6", you can safely exercise on your trainer. Problems should arise if you are 5'-10" or over 6-feet, where a ceiling of 10 to 11 feet should work fine.
8. What's in the Warranty?
Electronic and metallic machines require warranty and that is a core service of the manufacturers. Check if the company will provide a viable warranty service for your elliptical machine.
Ask the seller if they would provide at least 1 year warranty on the machine's labor and 1-3 years warranty on the parts. Covering the electronics and the key components under the warranty is optimum.
Schwinn (430 Vs. 470) Elliptical Cross Trainer | Comparison & Differences
The main differences between the Schwinn 430 and 470 are: The Schwinn 470-best elliptical cross trainer from a structural standpoint has a heavier flywheel, more resistance levels, and a motorized incline (versus manual incline for the 430). On the computer console, the 470 has more workout programs, adds back-lighting to the LCD, and ads two more user profiles. The 470 also adds Bluetooth and Heart Telemetry. Below is a comparison chart of the differences between the two models.
Schwinn 430 elliptical machine Vs. schwinn 470 elliptical machine
* Cross Trainer
* Magnetic Resistance
* 20 Resistance Levels
* Manual Incline
* LCD Console
* USB Charging Port
– – –
– – –
* 22 Workout Programs
* Max Weight: 300 lbs.
* Tablet/Book Holder
* 20-inch Stride
* Built-in Fan
* Built-in Speakers
* Water Bottle Holder
* 2 User Profiles

Schwinn 430 elliptical machine



* Cross Trainer
* Magnetic Resistance
* 25 Resistance Levels
* Powered Incline
* Backlit LCD Console
* USB Charging Port
* Bluetooth with APP
* Heart Telemetry
* 29 Workout Programs
* Max Weight: 300 lbs.
* Tablet/Book Holder
* 20-inch Stride
* Built-in Fan
* Built-in Speakers
* Water Bottle Holder
* 4 User Profiles

schwinn 470 elliptical machine
Schwinn 430 elliptical machine Vs. schwinn 470 elliptical machine
---
NordicTrack vs Schwinn elliptical
| | |
| --- | --- |
| Programs 22 | Programs 20 |
| Large articulating with cushioning | Oversized pedals |
| FAN | No FAN |
| 10 degree manual ramp range with 6 positions | 5-position ramp incline between 0 and 20 degrees |
| High speed high inertia perimeter weighted flywheel | 15 Lb. Inertia-Enhanced Flywheel |
nordictrack vs schwinn elliptical
Frequently Asked Question

Is the Elliptical an Effective Workout?
Putting it into words, elliptical has several good reasons to call it an effective workout machine. The reasons are its low impact, intriguing multiple muscle groups, high rate of calorie burning, challenging resistances, safety measures, etc.
Elliptical trainers are popular for low impact exercising of the body. This low impact exercise makes sure your body goes through a stress-free yet effective body shaping. The low impact is also apt for older exercisers.
You can rest assure of your core muscle groups connecting to your workout efforts when using an elliptical. Elliptical motions pull the muscle strings into the workout and grind them for better shape and structure.
Burning up to 300lbs or more is not a big deal for an elliptical if you know how to use it. A daily 20-30-minute pedaling on an elliptical can flame a significant amount of calories. Being an easy movement exercise machine, the elliptical ensures you lose your calories and weight effortlessly.
If you keep your elliptical machine cautiously in your room, there is a little chance of making it a cause for an accident. Besides, pedaling on an elliptical itself always takes you through a safer exercise experience.
Considering the overall performance of an elliptical trainer, it wouldn't be a pompous claim to call it an effective workout.
Will an Elliptical Hurt My Knees?
Technically, there is no reason to hurt your knees while exercising on an elliptical. Ellipticals are good for one sure reason and that is its low impact. The low impact hardly affects your joints; hence, slimmest chance of hurting the knees.
Since you do not lift your feet from the footpads, there is zero to low stress in your ankles or knees. The buttery motion lets your legs play along the pedals without any constriction.
To avoid any possible knee hurting causes, follow some tips. Do not lean too forward so your knees take more pressure than they have to. Stand with your back straight. If you are taller than average, use wider pedals, so your natural strides do not shrink.
Prepare ahead of your exercise. Warm up your body so your joints and muscles are well prepared to take the minimum impact. Take rest between your workouts, rest and then come back on your pedals.
Some people may encounter knee problems on an elliptical due to previous knee issues. If it is true then you should consult your doctor and know if exercising on an elliptical is good for your knees.
Is an Elliptical Good for Losing Fat Thighs?
Ellipticals are good gears to cut your fats but targeting your thighs particularly can be tricky.
Elliptical focuses on your lower body and cater the calves. Yes, it can shape your thighs if you put consistent stress through intensive resistance levels but cutting fat from that zone is not a one shot action.
You will be wise to lose fat from different parts of your body altogether. Identify the fat storing locations such as belly, hips, waist, upper arms, etc. Your body sheds fat proportionately. So, if your target is to make your thighs leaner, be persistent on your whole body workout.
You should start focusing on your diet. Make sure you take lesser calories than you do burn daily on your workout and other regular movements. In short, do not let your body store calorie and fat.
The elliptical may prove effective in reshaping your thighs if you can combine some typical exercises with your daily elliptical workout. Glute bridges, lunges, squats, etc. are a few among those thigh targeting workouts.
What Muscles Does the Elliptical Work?
Elliptical is no lesser than an intuitive machine that takes account for your upper and lower body. When it does, it makes sure your core and lean muscles are worked well. All you need to care is how much effort you are putting into it.
The core muscles in the lower section such as glutes, hamstrings, quads, calves, and tibialis anterior (muscles attached to shins) get ample stress and challenges for reshaping.
Those moveable handlebars are not mere comfort for your motioning. They are there so you can gear them back and forth with both arms to work the biceps and triceps. In the same manner, your shoulder and back muscles join the force too.
The abdominal muscles become a part of the elliptical exercise too, as you lose the extra fat under your skin and bring about the cores inside it.
And you know what other important muscle does your elliptical work on? Yes, it's the heart muscle that beats and pumps along the elliptical motioning, conditioning the cardiovascular system for the better.
Do ellipticals help lose belly fat?
Yes, they do. Ellipticals work fabulously to burn your belly fat. You can burn belly fats significantly by combining different resistance levels and incline to your elliptical exercises.
What does the elliptical do for your body?
The elliptical helps lose your calorie, burn body fat, work out the core muscle groups, strengthen joints, and most importantly, improve heart condition.
How long should I be on the elliptical?
At home, doing a 30-minnute session daily is enough for your healthy life. But if you are aiming more intense results, you might want to extend that time to 1 hour, adding some features like resistance levels, incline, and dumbbells. But, its wise to ask your fitness expert, or any independent trainer for better suggestion pertaining to your goals.
Which is better: a treadmill or an elliptical?
Both treadmill and elliptical are good for cardio, losing weight, and building stamina. It is hard to say in one shot which one is better as both machines come in diverse features and functions.
Young exercisers may prefer both while older people might avoid treadmill for higher chances of injuries. Ellipticals work your core muscle groups intensely while treadmills have lesser impact on them. Treadmills are preferable for increasing stamina while the ellipticals work best for joints.
In a word, both machines offer certain benefits for your physique with variant features. The choice is yours which one to take home.
How long is 1 mile on an elliptical?
A mile is calculated in number of strides in an elliptical trainer. The most common stride we can estimate is 20 inches. Now, a mile consists of 63,360 inches. Therefore, it would take 3,168 strides in total to reach 1 mile on an elliptical.
Some ellipticals have RPM (Rotation Per Minute) option. In that case, your 1 mile should be covered in 1584 strides.
Is elliptical better than walking?
Nothing can beat the nature when it comes to physical and mental exercises. Yet, you can trust your elliptical to simulate a significant portion of the real walking.
You wouldn't get the natural fresh oxygen in every second but you can take your body through intense drills to facilitate better cardiovascular condition. Elliptical may be less risky but it wouldn't give you the real life challenges you would have encountered in the roads, hills, muds, pits, etc.
Mostly, your brain would only learn to copy an idea of exercise, not the real human-body and nature coordination. Still, if you have time and schedule constraints, ellipticals are the best support you can avail within your home.
Best elliptical under 500
Horizon Fitness EX-59.
ProGear 9900.
Body Champ Trio Trainer.
Schwinn A40.
Sunny Health & Fitness SF-E3912.
Cubii Pro Under-Desk Elliptical.
Body-Solid Best Fitness Cross Trainer
Best elliptical under 1500 -best elliptical cross trainer
The 5 Best Ellipticals Under $1,500:
Horizon Fitness Evolve 3.
Nautilus E618.
Sole Fitness E35.
NordicTrack Commercial 12.9.
XTERRA Fitness 159003.
Reviewd as the best elliptical under $1000, the Sole E25 Elliptical includes a white back lit LCD display with cooling fan and water bottle holder.
Blue backlit Dual Track LCD display – two LCD windows display the status up to 13 workout details
Bluetooth LE connectivity and Charging USB port
20-Inch stride length, 29 programs, 25 levels of resistance, 4 user profiles and more
Acoustic chambered speakers for big sound
Grip heart rate or telemetry enabled for chest strap
The final Verdict
In our personal opinion, the most important features of the best elliptical cross trainer from $500 to $1,000 related to the durability of the trainer. For this price range best elliptical machines under 1000, you will not go to get lifetime guarantees and The pros of owning an elliptical from $500 to $1,000 is you will save some cash. The major disadvantage to ellipticals from $500 to $1,000 is you may not get the same warranty and guarantee. I hope this article's best elliptical under $1000 is helping to take a decision.
Source:elliptical machine consumer reports
Buy on Walmart
Schwinn 470 Compact Elliptical Machine - Walmart Link
Teeter FreeStep Recumbent Cross Trainer and Elliptical - Walmart Link
ProForm Cardio HIIT Elliptical Trainer - Walmart Link
Schwinn 430 Compact Elliptical Machine - Walmart Link
# 1. Schwinn 470 Compact Elliptical Machine - Walmart Link
Buy elliptical from here. - Walmart Link
2 .Teeter FreeStep Recumbent Cross Trainer and Elliptical - Walmart Link
FreeStep Recumbent Cross Trainer - Walmart Link
See teeter freestep cost here. - Walmart Link
3. ProForm Cardio HIIT Elliptical Trainer - Walmart Link
4. Schwinn 430 Compact Elliptical Machine - Walmart Link
Nautilus E616 Elliptical Trainer-Best Elliptical Under 1000$ - Walmart Link
Buy on eBay
Schwinn 470 Compact Elliptical Machine - eBay Link
Teeter FreeStep Recumbent Cross Trainer and Elliptical - eBay Link
ProForm Cardio HIIT Elliptical Trainer - eBay Link
Schwinn 430 Compact Elliptical Machine - eBay Link
# 1. Schwinn 470 Compact Elliptical Machine - eBay Link
Buy elliptical from here. - eBay Link
2 .Teeter FreeStep Recumbent Cross Trainer and Elliptical - eBay Link
FreeStep Recumbent Cross Trainer - eBay Link
See teeter freestep cost here. - eBay Link
3. ProForm Cardio HIIT Elliptical Trainer - eBay Link
4. Schwinn 430 Compact Elliptical Machine - eBay Link
Nautilus E616 Elliptical Trainer-Best Elliptical Under 1000$ - eBay Link