Picking up the best weighted vest for CrossFit can be daunting as it comes with a potential risk of injury. But the right vest can take your fitness to the next level – boosting your body resistance, burn calories faster, improve muscle & bone strength, reinforce explosive power and enhance the cardiovascular system of your body.
Vests load weight directly to your shoulders and upper body, so, weighted vests can help in developing strength, endurance and cardio by increasing your body weight as the extra weight taxing for your respiratory muscles.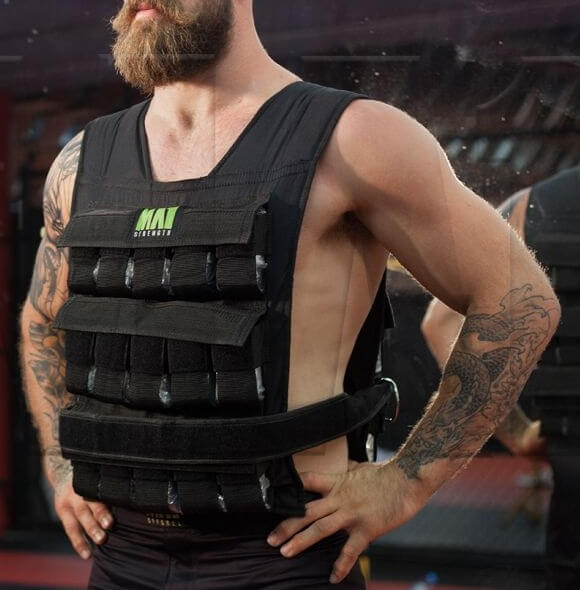 While you can't go to the gym because of the global pandemic, strapping in a weight vest at home will turn any activity into resistance training.
In this article, we are taking a look at 7 best weight vest for CrossFit activities based on comfort, weight management, and your safety. We will then explore buying guide, some considerations and FAQs that will help you absolutely obliterate your WODs.
The 7 Best Weight Vest for CrossFit Review
---
---
If you are a hydration conscious person, love to enjoy some music while working out, and keep a wallet with you all the time – ZFOsports valued your need adding a water bottle holder, and a compartment on the back.
The 30lbs weight vest is an excellent fit for the first time or intermediate female users. Plus, the balanced weight distribution on the front and back helps enhance your stability during an exercise.
While the 20lbs considered as the soft spot for most users, the ZFOsports weighted vest comes with the customizable weight management – designed to fit any women. Either you want to increase or decrease the weight, the jacket supports 2.5 lbs of increment.
With the adjustable Velcro straps, it will be easier for you to adapt according to your body shape – allows you to participate in walking, running, hiking, or any other Crossfit activities. Many users also used it for different strength training like planks, dips, push-ups, and pull-ups.
Although we recommend this weighted vest for its affordable price, we think ZFO sports should put more concern on developing their weight bags.
Key features
The unisex design fits both men and women
High-quality materials used to last a long time
Adjustable straps for fitting different body shape
Water bottle holder to keep you hydrated
Compartment for keeping wallet, smartphones, and other accessories
Weight capacity
30 lbs
Pros
Affordable price
Easy to put
Comfortable and snug fit
Tough and durable
Balanced weight management on the front and back
Cons
Weight seems to bounce a bit while running
---
Build to boost your resistance, the miR adjustable weighted vest appear with a compact design. Although it looks short in size, it will provide you with a full range of motion containing walking, jogging, hiking, weight lifting, and more.
Put the Mir weighted vest on and off anytime. This multi-purpose vest comes in 40, 50, or 60lbs – all are adjustable in 3 lbs increments.
Reviewers love the padded shoulder straps, which enhances comfort. Plus, the denim type material makes it breathable, letting the airflow during outdoor exercise. Putting more weight, in the beginning, can be painful with the weight vest; so, we recommend you start with less weight and add weight over time.
The only gripe we had about this vest is it wobbles a bit while running, and the users tend to complain about the straps – tough to adjust when the weight maxed out. Other than that, this vest provides you with value for money.
Key Features
One size fits most design with straps to fit both men and women
Padded straps for comfort
Removable weight allows both light and intense workout
Machine washable cotton mixed fabric to keep it clean with ease
The bottom straps give a snug fit
Additional zipper design
Weight Capacity
20-60 lbs
Pros
Keep weights close to the chest
Encourages airflow during a workout
Removable solid metal weight bars
Reflective strips provide visibility
Cons
Straps are a bit tough to reach
---
If you want to try out different weights to test your strength and boost it further, the versatile Camouflage designed Cross101 weighted vest is an outstanding choice. You can place each weight bags with 5lbs of increment in the front and back according to your flexibility and the fitness level you plan to reach.
Most reviewers praised it for the durability and the padded shoulders, which doesn't hurt much while you put on this weighted vest – maxed out at 40lbs to use it on different activities. Plus, the integrated water bottle holder in the front will keep you hydrated while you go on rucking with friends.
However, this model comes with/without padded shoulders. But we highly recommend purchasing the padded one if you want to escape from scuffing/chaffing your shoulder. The Velcro straps provide a snug fit for both men and women with different shapes. At its price, CROSS101's vest is a very solid performer.
Key Features
Each vest comes with weight involved
Removable weight for convenience
One size fit all with the Velcro straps
Incorporates a bottle holder to keep you hydrated
Weight Capacity
40 lbs
Pros
Unisex stylish design
Optional shoulder pads
Integrated front pocket for smartphone
The waist strap gives a snug fit
Cons
Eccentric odor comes from the new sandbags but goes away after a while
---
Looking for a professional-grade quality weighted vest? The Hyper Vest PRO adjustable weighted vest is a delightful option. The uses of LYCRA nylon in the fabric not only give you comfort but also make it durable, offering you the freedom of movement.
Comes with 10lbs of high density still weight – this vest allows to add up to 32lbs of weight with a 2.25oz of increment. Each weight chamber comes with two weight bars, and you can add or remove weight anytime you need.
While the stretchy, moisture-wicking, breathable, and odor-resistant fabric affords comfort, the side lacing mechanism contours to your body shape- designed for both men and women.
Plus, the thin profile permits you wearing it under a t-shirt that provides you with a full range of motion – from Crossfit training to calisthenic workout, and regular exercises without any movement restrictions.
Key Features
Each vest appears with 10lbs of weight
The Stretchy fabric contoured to any type of body shape
Unisex design for males and females
Side lacing for a snug adjustable fit
Zipper system for easy mount or dismount
Balanced weight distribution in the front and back with multiple mini weight chambers
Weight Capacity
Up to 32 lbs
Pros
Superior ventilation
Slim profile
Snug fit
Breathable, odor resistant and moisture-wicking fabric
Helps reducing osteoporosis
Cons
Adding or removing weights can be tedious
Comparatively a bit expensive (But comes with quality)
---
Some weighted vests come with a hefty price tag because of several unnecessary bells and whistles, but that's not the case with the RunMax Pro Weighted vest. It comprises all the necessary features to fulfill your fitness goals.
With an increment of 2.5lbs, you can add or remove weight to reach your fitness level. It appears with or without shoulder straps. But we highly recommend picking up the padded one to get rid of discomfort and chaffing while carrying high loads.
Although it seems a bit bulky, most reviewers were happy about the durability, adjustable straps, and affordable price. Plus, the vest from RunMax contains a front pocket to put your phone, and a bottle holder to carry water while you are on a long ruck.
The 20lbs weighted vest from RunMax is all you need to perform a MURPH, a popular CrossFit workout, which was considered a "Body Armor" to the famous martyr Michael Murphy.
Key Features
Comes in with customizable to meet distinctive fitness targets
Designed to fit different body shapes- for men and women
Commercial-grade fabric materials used to last a long time
The Velcro straps hug tightly to give a snug fit
Additional shoulder pads for comfort
Weight Capacity
12-60 lbs
Pros
Cost-effective price
Balanced weight distribution
Solid Construction
Easy to adjust the weight
Cons
Bounces at the shoulders (Fixable)
When you add a weighted vest to your daily routine, you require comfort. The CAP barbell adjustable weighted vest will ensure that for you.
The universal size designed to fit everyone – for weightlifting exercises, fitness training, and aerobic workouts. Starting with 40lbs, this vest comes with up to 150lbs of weight. However, 50lbs has been the most popular choice, although you can choose according to your fitness target. In fact, you can adjust the weights with 2.5lbs of increment.
While the build quality of the vest seems durable and the shoulder comes with padded straps for comfort, few users complained their shoulder straps to rip off after regular uses for quite some time.
Key features
Each vest comes with weight included
Padded shoulders for carrying high loads without chaffing
One fits most design for both men and women
Reflective stripes on the back for visibility while running or walking on the road
Front pocket to keep your phone and wallet
Weight Capacity
40-150 lbs
Pros
Heavy-Duty structure
Solidly built
Comfortable to wear
Integrated phone pocket
Reflective strips for visibility
Cons
Shoulder pads tend to rip after a while
---
A woman's curvy figure requires special attention. Some CrossFit weighted vests can be too restricting for you to perform your favorite fitness exercise. However, this MIR weighted vest specially made for women, will comfortably fit anyone.
Giving you the options to change the level of weights with 3lbs of increment- the 30lbs weighted vest from MIR allows you to engage in multiple CrossFit activities. The removable weight adjustment facility helps you evenly distribute the loads on the front and back. Plus, the adjustable Velcro belt provides you with a sweet and snug fit.
Although it's a bit bulky, according to users, this is one of the robust and durable CrossFit weight vests on the market for women.
Key Features
Adjustable weight management allows adding/removing weight
Solid iron bars used for weight
Adaptable Velcro belt for a snug fit
Especially made for women to fit any body shape
Durable nylon and polyester fabric last long
Slightly padded shoulder to ease the weight on the shoulder
Weight Capacity
30 lbs
Pros
Easy to put on
Effortless weight adjustment
Affordable price
Slightly padded shoulders
Cons
A bit bulky
No incorporated pocket for wallet
---
Weighted Vest Benefits
Wondering how you can benefit from the weighted vest? Check them below:
1. Resistance
Weighted vest adds resistance to your exercises. The extra weight stresses your muscles and builds them vigorously.
2. Intensity
Added weight in the vest improves the quality of plyometric and weightlifting exercises. It helps you thrive in sturdier training.
3. Walk up the Stress
Love to walk daily? Light up this simple habit by wearing a weighted vest. It will work your limbs as you walk along.
4. Energy Depletion
Know this, weighted vest causes energy depletion. It means it works the energy consumption and exhaustion faster.
5. Builds Endurance
Scared of quicker exhaustion due to a weighted vest?
Don't be. Depletion works beneficially as it builds endurance and sturdiness, ensuring your tolerance to more heavy exercises.
6. Replenishes Oxygen
Huffing while working out more often?
Weighted vest can replenish the oxygenated blood within your body, thus making your exercise more breathable.
7. Increases Stamina
When your breathing gets easier, you gain more stamina.
By wearing a weighted vest, you learn to push your limit further during each workout.
8. Burns Calories and Fat
If your workout concerns your weight, know that you will do better by wearing a weighted vest.
The resistance created by the vest will work on your extra calories and fats intensely.
9. Helps Adhering to Special Skills
Weighted vest reshapes and rebuilds your body for harder workouts. It improves your speed, balance, and spontaneity.
10. Brings out the Core
It's disappointing when your crunches, planks, push-ups, pull-ups, and dips are going in vein.
Try them from now on with a weighted vest on your torso and see the difference.
Whether its Murph, Felix The Cat, Hard Cindy, Taylor or a wide range of other demanding workouts, a weighted vest certainly increases the challenge and reward of any WOD.
Why Should You Get a Weighted Vest for CrossFit?
CrossFit is a combination of various freehand and weight trainings aiming at a leaner and sturdier physique. A weighted vest can gain your CrossFit an extra mile.
[CrossFit]
Why is it important in a CrossFit? Let's dig them below:
1. Endurance and Strength
Studies show that plyometric and other weight exercises can produce better results with a weighted vest.
Weighted vest increases the pressure on your bones and muscles, which builds up endurance and strength, enhancing the quality of CrossFit training eventually.
2. Cardio Enhancement
CrossFit requires arduous effort to your training. When you switch from one exercise to the next, your lungs and heart pump vigorously.
In order to keep your heart strong and functional, the weighted vest acts as a stimuli. Thus, it proves to be an effective cardiovascular conditioning.
3. Variant Workout
Naturally, not all exercisers find the CrossFit exercises with high intensity easy.
Here, a weighted vest resolves the problem. With the vest on, the exerciser ascends from the beginner to a more robust stage and sophisticated training.
4. Strengthening Core
When you hit the CrossFit, you target to carve down your core areas. Since CrossFit encompasses various training activities from crunches, planks, cycling, push-pull ups, dashes, weights, and many more, ripping your core muscles is optimum.
To bring out your hidden cores, wear a weighted vest so you can push your limit from within.
5. Fortified Musculoskeletal
Like a sound body lives with a sound mind, a strong body resides in a sturdier skeletal frame.
Wearing a weighted vest during workout stimulates your bone cell called osteoblasts. This enhances the bone mass and vitalizes the bone structure while producing greater strength for CrossFit training.
[Box Life Magazine] [Fit At Midlife]
Choosing the Right Weighted Vest for CrossFit
Make sure you look out for the correct weighted vest for CrossFit by judging the material, fitting, adjustability, and utility.
Below are a few top selections in the lineup:
1. Brute Force Weighted Vest 2.0
Athletes have prized this weighted vest for years. This American Cordura fabric vest is durable, efficient, and guaranteed for extensive CrossFit training.
It has:
Mesh lining
12 pockets for sandbags
Adjustable waist straps
Body contouring form fit
Threaded Velcro Closure
2. CROSS101 Adjustable Weighted Vest
One the most stylish and affordable items in the best vest list is CROSS101. This amazing weighted vest has arctic and desert camo (camouflage) designs.
It has:
Up to 80lbs load
Removable bags
Midsection Velcro Strap
3. Titan Fitness Adjustable Weighted Vest
A perfect match for the CrossFit WOD is this Titan Fitness Adjustable Weighted Vest. It may look like a midrange gear but its features say the opposite:
Efficient for long range training
20lbs to 80lbs load capacity
Steel-cast bar weights
Padded vest
Cost-effective and value added
4. Weight Vest 45lb. V-Force
A nylon made upper body vest that comes in compact metal weight package. Its adjustability and aesthetic design make it among the top choice.
It contains:
45lbs weight
Lifetime warranty
Padded shoulder straps
Chest-level vest
5. Hyperwear Hyper Vest Pro Unisex 10-Pound Adjustable
Despite some negative reviews, Hyperwear offers a great fit and adjusts comfortably under fabric. Its notable feature is the even weight distribution.
Additionally, it offers:
Cool design
Nice customer service
Adjustability
Frequently Asked Questions about Weighted Vest for CrossFits
. What is the best weight vest for CrossFit?
Brute Force Weighted Vest 2.0
CROSS101 Adjustable Weighted Vest
Titan Fitness Adjustable Weighted Vest
Weight Vest 45lb. V-Force
CAP Barbell Adjustable Advanced 20lbs
. How heavy should a weighted vest be?
No perfect indication is available for a weighted vest's optimum weight. However, most therapists suggest to wear a vest weighing about 5-10% of the person's body weight.
Besides, it depends on the person's necessity like building strength, weight lifting, doing supersets, or for long range CrossFit training. You can also find weighted vests in fixed-weight and adjustable-weight types.
· How effective are weighted vests for CrossFit WODs?
If they weren't, CrossFit WODs wouldn't have comprised of a range of high intensity workouts like Murph, Riley, Angie, Regionals, Gunny, etc. combining weight vest.
Weighted vest is an effective gear in the body toning or body building business. It adds resistance, pulls the muscle trigger, broadens the bone capacity, and makes way for harder training and greater results.
Benefits of weighted vest cover the cardio conditioning, higher stamina, burning calories and fat, and building the core muscles. The ultimate gaining that derives from the weighted vest WODs is the transformed vigorous physique.
Yes, weighted vests are indeed effective for CrossFit WODs.
What weight vest is used in the CrossFit Games?
Among a number of weighted vests, the one which stands out as a popular CrossFit games edition is the 5.11 Tactec Plate Carrier Weighted Vest.This one is black and has a streamlined design. Moreover, it comes with water resistant coating that lets your stay in your game afresh.
Is it okay to wear a weighted vest all day?
Though it depends on what type of training you are likely to participate, the duration of wearing a weighted vest should be modest. You must be careful of your shoulder, back, arms, and legs when you carry a vest.
Remember, prolonged wearing of a weighted vest may create muscle-burn, spasms, and severe ache in the end. If you must involve in an extended training program, avoid wearing the vest for a daylong period. Split the time in half, relax, and recover your muscles and bones before putting it back on.

How do I choose a weight vest?
Look out for the weighted vests that are:
Easily adjustable of weights
Good fit
Tight yet breathable
Reasonably expensive
Heavy duty material
End Note
Hope you have come over your confusions and doubts of determining on the best weighted vest for your next CrossFit training program.
Since, we have pulled out some of the catchy aspects like benefits, reasons, and best vests list within this content, it will make your choosing easier. At least, you can now go out and compare what you have learned with the available vests in the market.
Do not forget to make the price comparison in line with the available upsides and downsides of each weighted vest. Keep your necessity as the top priority because this decides the best product at the end of the day.
Well, there you have it: The Best Weighted Vests for CrossFit.
Buy on Walmart
1. ZFO Sports Weighted Vest - Walmart Link
2. Mir Weighted Vest - Walmart Link
4. Hyper Vest PRO Adjustable Vest - Walmart Link
5. RunMax Pro Weighted Vest - Walmart Link
6. CAP Barbell Adjustable Weighted Vest – 50 LB - Walmart Link
7. Womens weighted vest crossfit-miR Womens Weighted Vest - Walmart Link
4 . Hyper Vest PRO Adjustable Vest - Walmart Link
Buy on eBay
1. ZFO Sports Weighted Vest - eBay Link
2. Mir Weighted Vest - eBay Link
4. Hyper Vest PRO Adjustable Vest - eBay Link
5. RunMax Pro Weighted Vest - eBay Link
6. CAP Barbell Adjustable Weighted Vest – 50 LB - eBay Link
7. Womens weighted vest crossfit-miR Womens Weighted Vest - eBay Link
4 . Hyper Vest PRO Adjustable Vest - eBay Link