Keeping your body in shape amidst your busy daily schedule is tough. Whether you're an expert lifter or not, you must've thought for a home gym once in a while. A home gym especially Bowflex 1000 can serve you the exact purpose of a gym without cracking through your routine. Let's get jump into Bowflex PR1000 Home Gym Review.
A 150-pound person rowing will likely burn about 250 to 350 calories per half-hour at a moderate pace.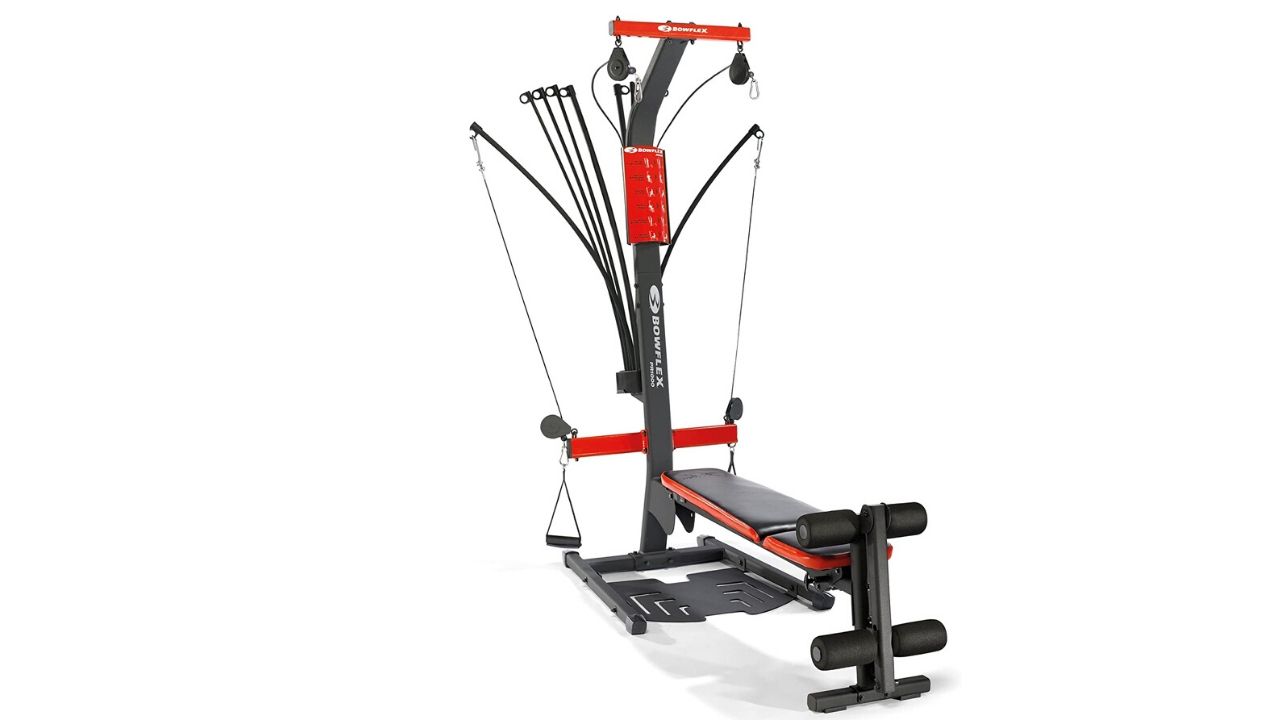 That's why today, we will be digging deep, reviewing one of the most popular home gym set-ups. The Bowflex PR1000 home gym is a tough contender in this genre. It allows you to hit 30 different exercises that impact every single muscle of your body.
Featuring the brand's signature Bowflex PR1000 home gym the Bowflex pro tool delivers a perfect combination of upper body workouts, performance, and cardio exercise. Who wants a fair exercise gym with enough to stay fit pr1000 is the recommended fitness tool.
Bowflex Home Gym pr1000 Features at a Glance:
More than 30 exercises to work out for your entire body
Power Rod units give you resistance, or weight, that are better than free weights ( without the inertia or risk of joint pain)
210 lbs of resistance.
Sliding seat rail adds aerobic rowing training for cardiovascular warm up and cool down and calories burning
Multi-use hand grip/ankle cuffs are designed to add flexibility for any workout.
4 inch upholstered roller cushions feature brings comfortable leg extensions and leg curls.
Its power rod resistance system is widely popular for the smooth tension across the session. You get the exact same resistance of the free weight of the gym right at home. That, too, comes at a lesser risk of you damaging your muscles.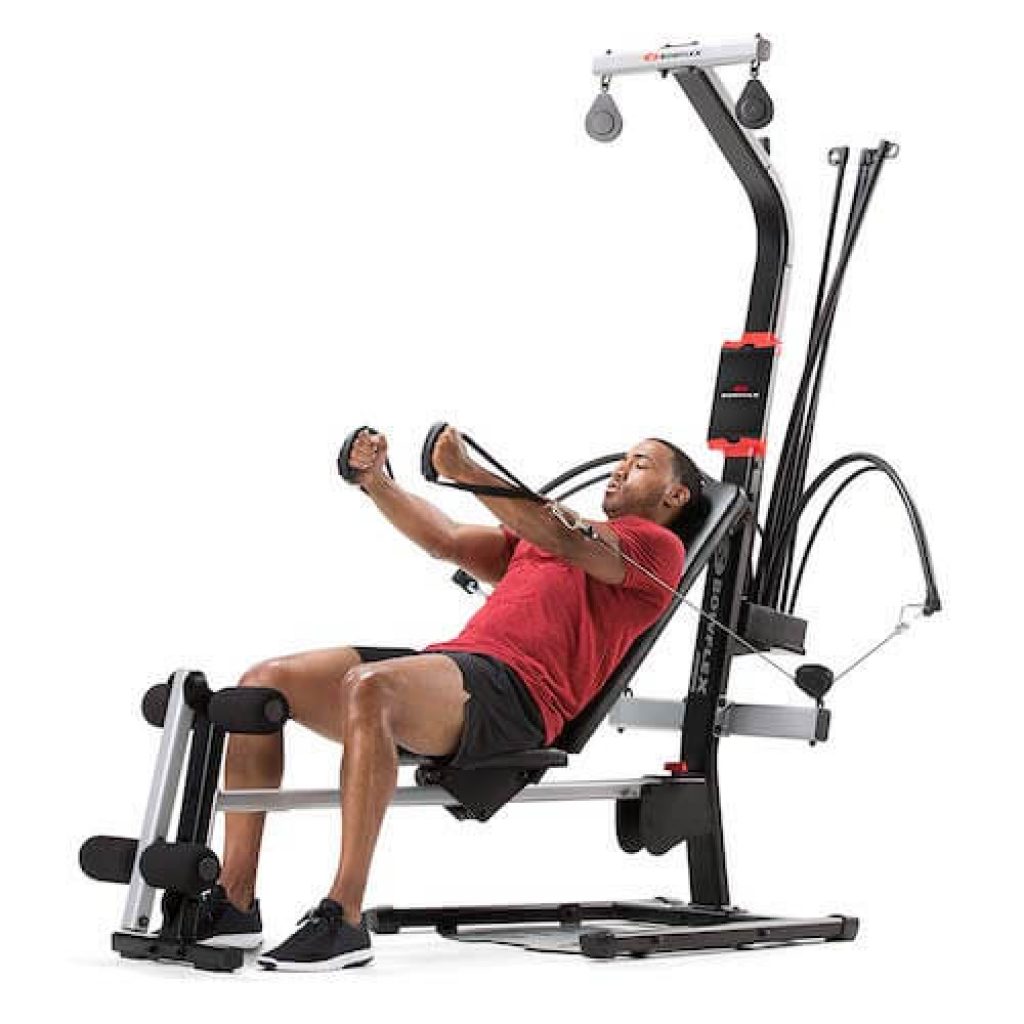 The Bowflex PR1000 lets you practice a plethora of lifting from 5 lbs. to a whopping 210 lbs. That's one of the reasons why it's known to be the best home gym option for beginners.
Its 3-part all-in-all exercising makes it a perfect in-house gym. The upper pulley takes care of your shoulders, deltoids, and lats. While the Middle one focuses on the pectorals, the lower one allows for a range of leg exercises.
Features:
It offers more than 30 exercises
Sliding seat rail benefits aerobic rowing training for calories burning, cardiovascular warm-up and cardio workout
The Bowflex PR1000 Home Gym provides as little as 5 or as many as 210 lbs of Power Rod resistance.
multi-use handgrips and ankle cuffs for added flexibility and performance to your workouts;
4 inch upholstered roller cushions make for comfortable leg extensions and leg curls.
The Bowflex PR1000 is packed with features including a horizontal bench press; triple-function hand grips for lat pull-down
The Bowflex PR1000 Home Gym features a horizontal platform that folds to save space.
The Bowflex PR1000 Home Gym requires a minimum workout area of 100" by 78"
Excited about the Bowflex pr1000 home gym review? Let's hop in Bowflex pr1000 Review !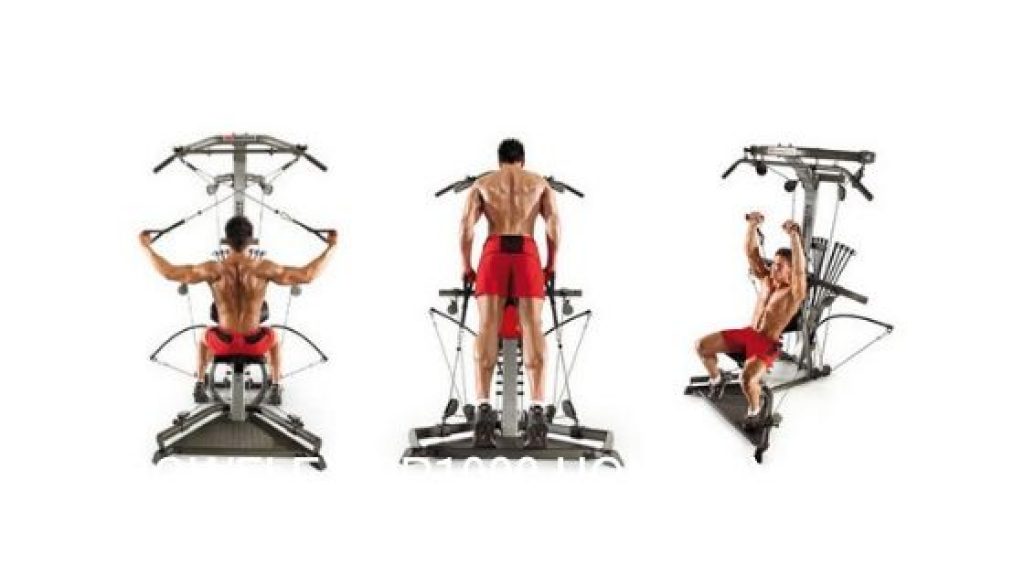 With the Bowflex PR1000 at your home, you get to avail the most of your gym experiences. Here're some of the benefits you are to enjoy! Let's dig Bowflex PR1000 review to bench exercise, leg extension, crunches, etc. with minimal effort.
Bowflex PR1000 Exercises – A Complete Exercising Experience
Well, this Bowflex pr1000 home gym set-up is a show-stopper when it comes to a full-body workout. You get to practice more than 30 different workouts covering every inch of your body.
Placing the bench at a great position, you are able to do chest press, bench press, or even flyers. These workouts directly put an impact on your pectoral muscles.
Using the handles, you can take care of the back and abdominal of your body. Similarly, pr1000 Bowflex allows you to perform a range of exercises for your arms, biceps, triceps, and legs.
Lift A Bunch Of Weight with Bowflex 1000
Forget dumbles, with the Bowflex 1000; you are able to lift the weight from 5 lbs. to about 210 lbs. This is possible by the resistance of the patented power rod that it comes with. Moreover, it leaves you with a window for upgrading the capacity up to 310 lbs.
Sliding Seat For Easy Aerobics
It comes with a sliding seat that allows you to perform a variety of aerobics on it. You get to perform aerobic rowing that burns a lot of calories. Besides, you can practice cardiovascular warming up, as well.
Not to forget, this slider makes it easy for you to do a lot of leg presses, too. That's how this champ is known for an all-body workout device.
Multiple Pulley For Customization
When you have an all-in-one home gym, custom use of the pulleys may concern you. That's why the Bowflex PR1000 comes with a number of pulleys. You can easily reposition these pulleys to carry on customized workouts.
The upper, middle and lower pulleys let you perform workouts that cover all the parts of your body.
Keep It Smarty Arranged
When you get a home gym, it's obvious that you are concerned about its storage. Say goodbye to your storage issue and bring home the Bowflex 1000. With its easy-to-fold solution, you get to fold it down to a smaller size.
That's not all when folded down, just sneak it into any narrow space in your house. Pr1000 Bowflex is super easy to store. Plus, the wheels attached to the bottom adds to the convenience of storage and easy-keeping.
Lat and Squat Bar Included
Love to build your back muscles? Well, we have good news here. The Bowflex PR1000 includes a lat bar and a squat bar. Using the lat bar, it gets easy to build up muscles on your back.
Bowflex PR1000 home gym basically targets the back-part, bicep, and triceps area. Similarly, using the squat bar can give you extra leverage in building muscles on your shoulders, and back.
Instructional Placard
If you're on the side of those who regularly misses a few steps during workout, the Bowflex 1000 has got a surprise for you. It comes with a placard attached to the middle of the bar. You can get quick instructions on how to use the device for your desired workout.
Pros
Patented power rod resistance for a variety of weight lifting.
Over 30 types of workout options.
Power rod upgradable to 310 lbs.
Easy to assemble.
Bowflex 1000 comes with multiple pulleys for a full-body workout.
Super easy to fold down and store.
Sliding sit promotes swift aerobic workout.
Cons
Not suitable for advanced lifters.
Bowflex pro 1000 doesn't come with any instructional videos.
---
Why Do We Love Bowflex PR1000 Home GYM?
---
Dimensions:
Length: 84"
Width: 38"
Height: 81"
Warranty:
Machine: 1 year
Rods: 5 years
Parts: 60 days
Warranty applies to defects in materials and workmanship for the original owner only.
The killer advantage of the PR1000 home gym's ability to utilize a variety of bench presses, including horizontal, decline, include, low back extension. The main reason we are pretty much a fan of the PR1000 Bowflex is that it's folding bench option is highly effective for achieving the desired results.
Additionally, Bowflex PR1000 parts especially the frequently hailed parts, include smooth roller cushions, which allows highly effective leg exercises. Moreover, a seat rail optimized for aerobic rowing. These are all factors and extra reasons to get this machine.
Although it serves as a full-on workout machine, it's pretty easy to use. That's the reason it is known for being the ideal equipment for beginners.
It's quite easy to set up and assemble. You may notice that the instruction manual says you need a partner to set it up, but you can do it alone. If you are following all the guidelines properly, it won't take more than an hour to set it up.
You don't have any technical knowledge? Duh, who cares? As long as you have a screwdriver, a wrench, and a couple of pliers – you are good to go.
With the instruction placard embedded in the body, it gets pretty convenient to use all the parts of it. Leave no workout that builds your body untouched!
What We Don't Like In PR1000
---
Well, it's not that we actually don't like it. But we believe some little improvements can make it a masterpiece. Take the targeted users, for example.
While the manufactures designed it to support beginners, it won't be a tasty cheese for advanced lifters. With a bit of more resistance attached to it, and some addition in the weight can be some great changes for them.

In addition to that, a full-fledged video instruction for the usage of the machine can be of great help!
Other Considerations And Factors
The rod resistance can be a bit of concern for those of you who have used home gym with sacks before. It will take you a bit of time to be used to it. With the help of the instructions and a few days of use, you can get over it easily.
Okay, Where Do I Buy Bowflex pro 1000?
You can easily get the Bowflex PR1000 on amazon. If you are lazy enough not to open the site, simply search Bowflex amazon on Google!
Bowflex pro 1000 cost
want to know how much does a bowflex cost?


Final Words
So what do all these discussions lead us to? The PR1000 Bowflex is actually a pretty good choice for most of the lifters who choose to lift at home. Although that may sound equivalent to beginners, it's a perfect choice for everyone.
Bowflex pr1000 home gym will make broaden and strengthen your pectoral muscles. bowflex pr1000 exercises targets the quadriceps (top of your thighs), the leg curl targets the hamstrings (back of your thighs), the squat brings in the glutes (buttocks) and the calf raisestrengthens your calves.
Bowflex pr1000 workout routine must essential 3 times per week to build muscle and cardiovascular exercise help to burn fat.
So what's your thought on Bowflex pr1000 home gym review? No wonder it is very versatile, with over 30 exercises, and will allow you to get a well-rounded body workout that you want.
Coming at a grate competitive price, despite a few shortcomings, you can't ignore its awesomeness. You get to exercise for all the parts of your body, from chest to legs, thighs, shoulders, abdomen, and what not?
At the end of the day, if you are looking for a gym equivalent at your home to keep your shape in place, you got what you need. Try the Bowflex PR1000 and see for yourself!
Bowflex PRO 1000 Workouts
Does Bowflex really work to lose weight? With the PR1000 Bowflex in your house, you get to open the window of opportunities. Bowflex pro 1000 workout routine stimulates a number of health benefits such as increasing your toughness, improving your heart health, and build muscle.
Bowflex® PR1000 | 20 Minute Workout Video
Bowflex upper body workout routines can be performed using Bowflex exercises and will allow you to target muscles in a specific region of your body.
Perform 1-2 sets of each exercise at 10-15 reps
Bench Press
Seated Lat Rows
Crossover Seated Rear Deltoid Rows
Standing Biceps Curl
Triceps Pushdown
Calf Raise
Leg Press
Trunk Rotation
Seated Abdominal Crunch
From chest to back, abdomen, arm, legs – you have access to build up every single part of your physique.
Chest
Setting the bench to the incline position, you can perform a number of workouts of pectoral muscles. These include bench press, chest press, etc. It's easy to angle your arms with this device to work out with different parts of your pec.
Angle it to 90 degrees and work out on your mid-part of the pec. Angling it upwards will let you work out with the upper part of the pec. Similarly, the lower angle covers the lower part of the pec.
Bowflex PR1000 Back Exercises
Using the handles of the PR1000 Bowflex, it gets pretty easier to perform seated and straight-arm pull-downs. Push the handle a little bit in the lower position for the seated and upright rows.
Bowflex PR1000 back exercises help you with building a number of muscles on your back. To name some of these workouts, we have the lattisimus dorsi, the rhomboideus, and the trapezius. Additionally, you can work out with the deltoids, as well.
Abdominals
Keeping the position at the lower place, you can practice the resistant, reverse, oblique crunches. These workouts will cover all the abdominal parts of your body.
Arms
For arms, you can literally get perplexed on the different workout-options you have. Shape up your triceps and biceps with ease using the triceps extensions and biceps curls. As for the deltoids, you have got the shoulder presses, and the shoulder raises to cover it.
Bowflex PR1000 Leg Workouts
Although it may seem that you get a little home for leg exercises in the PR1000 Bowflex, it's really not the case. It will be pretty easy to use the leg extensions to do quadriceps and gluteus maximus. Take care of your thighs and hips in style!
Bowflex upper body workout routine for the back will help you target your upper and lower lats as well as your lower back.
Other PR1000 workouts: Advanced general conditioning Days 1 and 3 https://www.youtube.com/watch?v=MK0uB…
Advanced general conditioning Days 2 and 4
https://www.youtube.com/watch?v=MeDiH…
BONUS*
Bowflex PR1000 Exercises
Arm Workouts
Triceps Press Down – Stretching Elbows
Target Muscle
Triceps
Machine Arrangement
Put the bench aside
Top Cross Bar hoister
Hand-jacks
Power Resistance Rods connected with the Clips
Reap Optimum Results
Make sure your wrists remain straight while your upper arms still.
Maintain an elevated chest, sturdy abs, and a slightly curved lower back.
Maintain flat feet on the floor while your knees slightly bent.
Check on your motion throughout the workout session while keeping your triceps snugged
Reclining Triceps Workouts – Stretching Elbows maheen add images from unique u send
Target Muscle
Triceps
Machine Arrangement
Set Yourself to Horizontal Bench position
Chest Bar hoister
Hand-jacks
Power Resistance Rods connected with the Clips
Reap Optimum Results
Maintain bent knees while flat feet on the floor
Lean your head on the bench.
Keep your shoulders strained together with your chest elevated
Keep your lower back slightly curved
Maintain straight wrists while your upper arms and shoulders still
Check on your motion throughout the workout session while keeping your triceps snugged
Bowflex PR1000 Exercises Chart
Bowflex Company – KNow more about Bowflex company