Many times, when we have foot issues, it seems to revolve around our extremities like our heels and between our toes. Having cracked heels can be a reel problem especially if you are doing a lot of standing. In this review, we look at a really good product to help our heels when they are dry, cracked and in pain.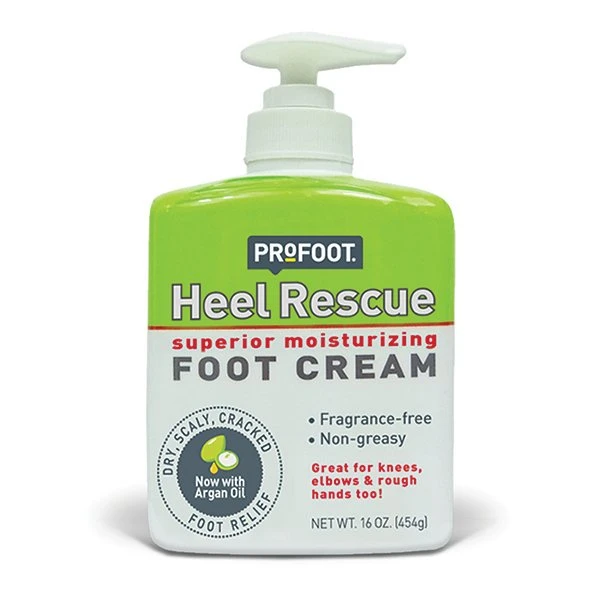 I found this product by searching online and because of my own job, where I do a lot of standing, I thought I'd give the
Profoot Heel Rescue Foot Cream
from Profoot a try. It is a thick, luxurious, formula for dry, scaly, cracked foot relief. You can buff you feet and after a good wipe apply this cream and you will see a difference in no time.
It is an intensive cream and it will penetrate quickly which I liked because I hate having the feeling of slimy feet if I have to put some socks shortly after. While penetrating quickly the Profoot Heels Rescue Cream moisturize your feet in no time. One important note is that not only it will moisturize but it will heal the cracks too.
It has no fragrance, so if you are looking for a nice smell to it, you won't find that. What you will find is an end to your cracked heels. This is your priority.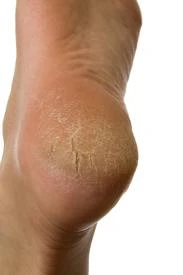 Cracked Heels
Profoot is a company based out of Brooklyn, NY in the U.S.A specializing in the well being of your feet. Since 1987, it manufactures and distributes foot care products in the United States and internationally. Its products include insoles and inserts, corns, calluses, blisters, bunions, and implements, as well as dry and cracked skin, anti-fungal, and pain relief products.
Profoot is a superior moisturizing foot cream with Argan oil. The Argan oil contains rich anti-oxidants which will help restore your cracked heels and repair its skin. It does this while moisturizing your heels. It goes right after the callouses and repair the toughest cracks.
As mentioned before, it is non-greasy. Other ingredients complementing the Argan oil are: Water, Stearic Acid, Mineral Oil, Cetyl Alcohol, Triethanolamine, Sodium Bicarbonate, Polyacrylamide, C13-14 Isoparaffin, Laureth-7, Titanium Dioxide, Squalene, Ubiquinone (Coenzyme Q10), Polysorbate 20, Ascorbic Acid Polypeptide, Silk Amino Acids, Sodium PCA, Trisodium EDTA, Imidazolidinyl Urea, Methylparaben, Propylparaben, Sodium Benzoate.

When and how do I apply this cream?
The application is very simple. All you need to do is wash your feet with warm soapy water. Then you dry them up and apply liberally twice daily. When applying the Profoot Heel Rescue Foot Cream massage in thoroughly.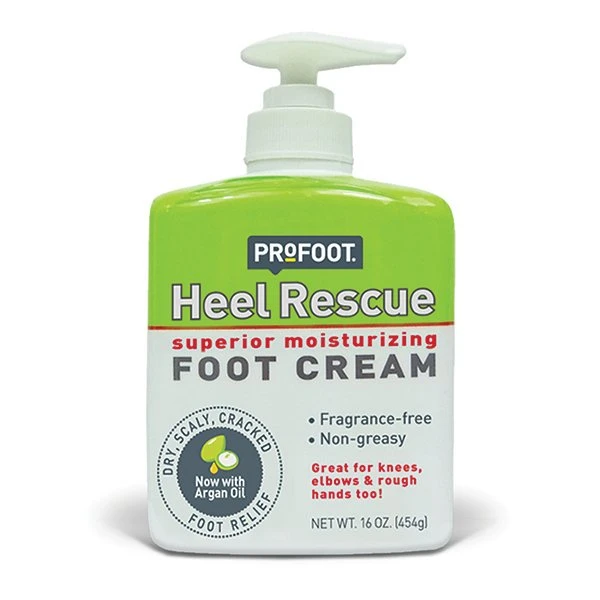 What we have found with this cream is that it works great. The Argan oil is the key for the quick repair of the cracks. Argan oil is a plant oil produced from the kernels of the Argan tree that is endemic to Morocco. Moroccans traditionally use unroasted Argan oil to treat skin diseases, and as a cosmetic oil for skin and hair.
It is non-greasy which is great and for external use only. If you have redness appearing around the cracks, stop the utilization and consult a physician.
When I used it the cream worked diligently and I started to see results and repaired cracks after three days of daily use, twice a day. Like anything, results can be different and expected.
I was also very satisfied with the price too at approx. $14.34CDN or near $12.00USD.
People found there was an issue with the container compared to the one in the past. They reported it was harder to come out of it when pushing on the top. Personally, I have never tried the old one and was satisfied with this container shown in the picture above.
We really liked the Profoot Cream for cracked heels and we do recommend it. If you have tried it before or wish to get one and try it for your cracked heels, simply visit our store at Healthy and Happy Feet or click here! .