Featuring the brand's signature Schwinn 230 Recumbent Bike —that provides a long-range of adjustability, ergonomics design, advanced console — 22 workout programs delivers a perfect combination of power, performance, and variability.
Recumbent cycling helps you build muscles in your thighs, lower legs and buttocks ( such as quadriceps, hamstrings, legs, and glutes). You can also read our Best recumbent bike for more option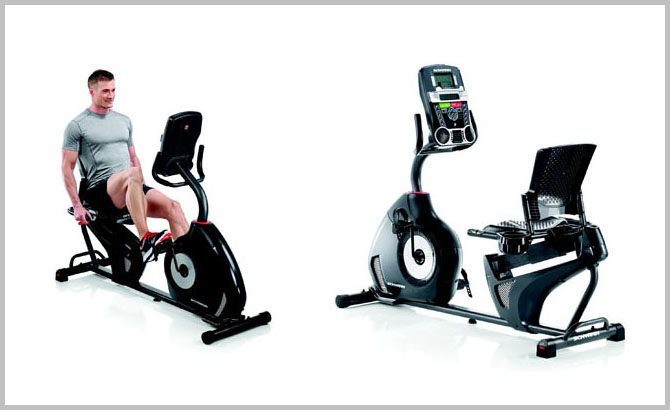 One of the most enticing features of Schwinn 230 Recumbent Bike is that the seat is larger.
It's seating position undoubtedly relieve the stress on the bones, tendons, joints, and ligaments as you spread your weight over a larger surface area It's a feature-rich exercise bike that boasts of 22 preset workout programs, 20 levels of resistance, a 3-speed cooling fan, and much more.
The Schwinn 230 Recumbent Bike is an excellent option for those with low back pain as the bike provides added support for the back. The bottom line: Schwinn 230 bike can provide a cardiovascular workout for users of virtually all ability levels.
Check out Recumbent Exercise Benefits Read Teeter FreeStep Recumbent Cross Trainer and Elliptical Review
You don't have to worry about inclement weather, says exercise physiologist Kelli Calabrese.
And, if you don't belong to a gym, you can use an upright or recumbent stationary bike at home. I can do it watching television, says Elaine Magee, MPH, RD, WebMD Weight Loss Clinic's Recipe Doctor. I can do it at night, when it's dark, when it's raining or cold. It's a great way to burn calories and fat stores, and it's a good oxygen boost.
The Schwinn 230 recumbent bike comes packed with many great features that we will cover in this Schwinn 230 recumbent bike review.
Schwinn 230 Recumbent Bike Review
The Console
Quality concern for this bike's console is near to zero. In a word, the console looks amazing!
It comes with dual-track two (2) LCDs, which provides feedback on more than 10 workout sessions. Tracking distance, calories, time, speed, and other relevant data is convenient in this display.
The Schwinn 230 consists of 22 different programs, beating other indoor workout bikes in terms of number. Even several top-notch quality bikes provide zero programs. Thus, staying motivated and intrigued would be a lot easier with 22 different programs. What do these 22 different programs have to offer you?
The Schwinn 230 recumbent bike also features heart-rate programs. There are eight heart-rate control programs that incorporate four advanced programs and four beginner programs. The user can set a target heart-rate that helps him to attain a fitness goal like burning fat. They are effective in maintaining an appropriate heart-rate. This way, the whole calorie-burning workout session proves to be safe for the rider.
It features two inbuilt fitness tests for advanced, beginner, and recovery modes. The aim of each of the fitness test program is to accurately measure the overall improvement of the user.
What's more, a user can open two profiles at best. These profiles allow you to save your personal data. Moreover, the console features user-customizable programs. Such programs allow you to cover your exercise plans.
Resistance
The indoor recumbent bikes benefit by facilitating resistance. A bike without resistance is less likely to ensure effective exercise. Not to worry because the Schwinn 230 carries a number of resistance levels.
For operation, the Schwinn 230 recumbent bike uses the ECB. ECB stands for Eddy Current Brake, which works by magnetic resistance mechanism during operation. The flywheel receives resistance due to the magnet inside it.
It depends whether you want to increase or decrease the resistance in the flywheel for which you have to adjust the resistance. Hence, the magnet either gets away or gets close to the flywheel. The resistance would increase as the magnet gets closer to the flywheel.
The Schwinn 230 recumbent exercise bike comes with 20 distinct resistance levels. That is, you could say, more than enough for intense workout at home. Compared to this, many top exercise bikes offer only 8 levels or so.
The 20 adjustable resistance levels make the Schwinn 230 recumbent exercise bike suitable for various ages – from beginners to advanced exercisers. Low-level resistance is pretty easy for a beginner to get going. The higher resistance levels are enough to challenge the pro exercisers. The various adjustable resistance levels intrigue a beginner exerciser and turn him or her into a pro over the course.
The flywheel of the Schwinn 230 may not be the heaviest, which is the case for most recumbent bikes. It comprises of a high-speed and high inertia perimeter weighted flywheel. This allows you to enjoy a viable resistance while riding. Besides, the quiet riding of the Schwinn 230 prevents interruption from your workout.
Seat and Backrest
The Schwinn 230 recumbent exercise bike offers a stylized seat. It may not be the winner competing with other latest recumbent bikes, yet it is distinctive in its own style. The chair-like seat gives it an unconventional look.
The Schwinn-230-recumbent-bike is capable of maximum 300lbs weight bearing. That surely tells you how solid the seat is. Riders of various heights and widths can easily accommodate themselves in this bike.
The seat is adjustable, which is really cool. There is a lever beside the seat, which you can use to shift the seat forward and backward. The seat adjustment makes the workout for the rider easier and appropriate.
The seat is vented at the back and the bottom for airflow, so your back and the bottom do not get heat up during riding the bike.
The backrest makes the rider's workout safe and cozy. This Schwinn 230 recumbent bike has a solid and strong backrest. The backrest supports the spine. So, say goodbye to unnecessary back pains. Simply lay back and get support for your back. A comfortable seat only improves the quality of your workout.
Handlebars
The bike consists of two sets of handlebars. One is at the front, attached to the console. The other set is connected to the seat with handle existing at both sides of it, which you hold on to mostly during pedaling.
The handlebars are positioned ergonomically. Though you exercise on it mostly on a reclining position, you might depend on the front pair occasionally for variations.
The most functional handlebars exist around your seat bearing much importance. Those handlebars are suitable for holding during exercise. You can even rest your arms while you are not working out. What is more, these handlebars include integrated pulse sensors! As a result, you can have your heart rate condition tracked and displayed on the monitor.
Additional Features
The Schwinn-230-recumbent-bike is designed to turn your workout sessions exquisite. If the interactive media content is useful, the built-in speakers take it to the next level.
You will find a pair of acoustic speaker embedded on the console. The high volume audio of these speakers would surprise you! Besides, the distortion in high volume is miniscule.
The bike has an adjustable three-speed cooling fan for protecting the machine from frying up. The fanning would comfort you if the workout makes you sweaty.
These cooling fans may not be robust. They are there in the first place waft away your tiredness. Luckily, it does not get noisy enough to break your workout focus.
The Schwinn 230 recumbent bike conveniently comes with a bottle-holder. This being adjustable on either side of the seat makes your bottle handling hassle-free.
The Schwinn 230 recumbent exercise bike is not a small machine, and it is cumbersome to lift them. However, you do not require lifting them as the Schwinn® 230 recumbent exercise bike comes with transportation wheels. The wheels are front-mounted that allows for easier mobility and usage. Moving the Schwinn 230 bike from one room to another is easier on its wheels.
The Schwinn 230 recumbent bike review – Pros & Cons
Pros
Cutting edge console with smart functions
Bike frame is rigid
A long range of workout programs: 22 in total
Diverse workout experience with 20 resistance levels
Seat and side & front handlebars give efficient and safe workout experience
Bonus features e.g. device mount, cooling fan, speaker, etc.
Dual-display
USB port for charging
Offers programs for tracking goals and exchanging data
Heart rate monitoring
Inexpensive
Cons
Less cushioned seat
LCD is non-backlit; monitor may be hardly visible in dark
Unmatched with heart rate chest straps, which is preferable in precise reading
What We Like Most
The Schwinn 230 recumbent bike is easily accessible. You can freely lean on the seat, which has a close-to-the-ground height.
The Schwinn recumbent bike 230 has a compact console with many features.
The Schwinn 230 Recumbent Bike isn't very heavy; it weighs about 82lbs. Still, it is capable of maximum 300lbs weight bearing. And for added safety, the frame's foundation is centered.
In total, the Schwinn 230 recumbent exercise bike brings 22 modes of program to intrigue you into the exercise. For beginners and advanced riders, eight cardio rate controlled exercises are available along with nine other profile workouts. Additionally, users can save up to two of their self-made programs. use manual mode, and participate in two effective fitness tests.
Schwinn commits to a great warranty service, eliminating the product's longevity concern. The warranty covers 10 years on frame, 2 years on the bike parts, 1 year on the electronic gears, and 90 days on labor. The offer sounds fair considering its economic price.
Having two (2) user profiles, the Schwinn® 230 recumbent exercise bike is easily sharable. Users can save their workout track, personal data, and custom programs with zero interference into the other user profile. Riders of various heights can adjust the seat for a comfortable workout.
The Schwinn-230-recumbent-bike is almost noiseless, so there are lesser chances your exercise would create any chaos for your family members, roommates, or the neighbors.
The Schwinn® 230 recumbent exercise bike avails a heart-rate display with grip style. Despite not being way better than the wireless display, this serves the purpose quite well.
The features of the Schwinn recumbent bike 230 also include a bottle-holder, a three-speed fanning system, a USB charging port, and a media tray.
The Schwinn 230 can bear 300lbs or 136 kilograms of a user at best.
Don't Like
The weight of the flywheel is nearly 13lbs. More aggressive riders aim at more intense resistance. Nonetheless, the regular users will not be disappointed.
The Schwinn 230 recumbent exercise bike does not have the coziest seat among all bikes in the market.
Taller people may experience stride issues but that is a common scenario of any other workout bikes.
Recumbent Bike Benefits

 Recumbent bike has a leaning option, which keeps your lumbar spine at ease.
Recumbent bike is a spine-friendly machine while an upright bike makes you
bend over for pedaling. Your spinal stance on a recumbent bike is safer and
better.
 Recumbent bikes are suitable for zero or low impact on your joints. The bucket
seat or saddle supports your lower back while you can save your knees, shins,
and ankles from injury.
 One of the most lucrative feats of a recumbent bike is its larger saddle.
Oppositely, an upright bike has a smaller and tighter seat causing pain in the
rider's butt.
 The leaning position makes a recumbent bike safer as it saves you from
imbalance or injuries as opposed to an upright bike.
 Suitability of a recumbent bike ranges from beginner to pro riders, which takes
care of those riders' neurological conditions. It proves to be a good selection as it
ensures a low impact workout for whole body.
 Recumbent bike's low impact reduces risk of injuries and strengthens your
physique. People with rheumatoid arthritis would find a recumbent comfortable
because of its reclining seat that evens the weights of your spine and butts.
The Schwinn® Manufacturer Background
Schwinn® was founded in 1895 in Chicago by Ignaz Schwinn and his partner Adolph Arnold. The company introduced the bicycle balloon tire in 1933, Cyclelock®, a bicycle theft solution in 1935, and in 1938 the fore-wheel brake, cantilever frame and the spring fork. In 1965, Schwinn first made their home workout machines and today they are the real icon in the gym industry. They have full lines of upright bikes, recumbent bikes, steppers, treadmills, elliptical, and home gyms.
The Bottom Line
From this Schwinn 230 recumbent exercise bike review, we can see that the Schwinn 230 recumbent bike offers a lot of programming at a low price. So, considering the price, the Schwinn 230 recumbent exercise bike is a solid deal. The Schwinn recumbent bike 230 offers 20 resistance levels, heart rate monitoring, and inbuilt workout programs.
Moreover, its ability to transfer workout details via USB to Schwinn Connect makes it an ideal fitness machine for home use. However, starting off with a sturdier physique may look for a flywheel that is weightier. But obviously, the Schwinn 230 bike does not target riders of that much pro. The Schwinn 230 Recumbent Bike review states that it is recommended for cost-effectiveness, ease of usage, user-friendly features, and high-end results.