Getting in shape or maintaining proper fitness isn't possible without proper workout. Reaching the fitness goals becomes much easier if you know the workout plans and which tools you should use. Rowing is one of the full-body workout methods that you can do for sustainable fat loss and lean muscle building. Rowing machines are among the best indoor workout equipment that can make your fitness journey a piece of cake.
A good rowing machine can motivate you to work out more, get in shape easier and faster as well. However, there are a lot of considerations that go into the choosing process of a good rowing machine. While choosing a rower, the budget becomes the first thing you become worried about, and 300 bucks is a sweet spot to go with. If you're planning to the best rowing machine under 300 , we've been through the best options in the market to help you choose.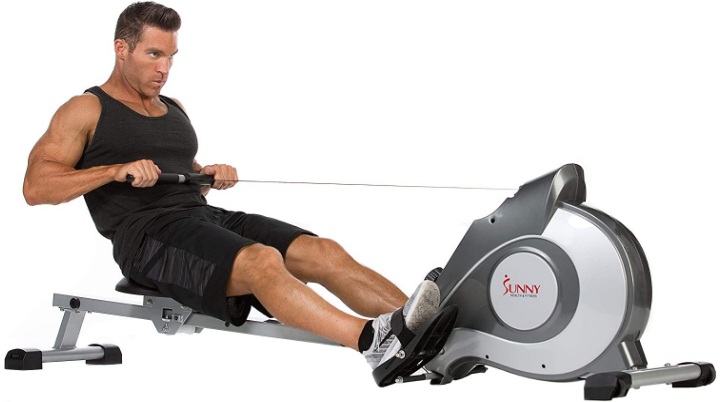 Review
The SF-RW5515 Rower machine from Sunny Health & Fitness is the best inexpensive rowing machine that comes with an 8-level magnetic resistance. To keep a track of how much you've achieved so far, the machine also has a digital display right in front of you while working out. The monitor will show you how many calories you've burned, the time elapsed in a workout, pulling count, and scan.
The fully-padded seat and the foam-padded, sweat-resistant handlebars will take it smoothly on your body. The 48″ side rail will accommodate any body size and go back and forth without putting stress on your back. You will get a much better range of motion with the auto-pivot design of the footrest. Its integrated wheels will take it anywhere easily after you fold the machine in half.
Features
Folding: Yes
Resistance Type: Magnetic
Resistance Levels: 8 levels
Product features: Lightweight build, padded seat, sweatproof handgrips, LCD monitor, Resistance tension knob, free tilt, auto-pivot foot pedal, transportation wheels, 48" side rail, 250lb weight capacity.
Pros
Foldable in half for better storage
Long side rail and adjustable resistance
Padded seat and sweat-proof handgrip
auto-pivot foot pedal for better motion
Monitor for tracking your fitness goals
Cons
250 lbs weight capacity limitation
No heart rate monitor

The Stamina ATS air rower machine is one of the best cheap rowing machines that can turn your fitness goal into a reality. The clever air resistance design allows you to put as much pressure as you want, depending on what fitness level you're in. Plus, you're getting an LCD monitor to keep track of your speed, the time elapsed, calories burned, and the distance you've traveled. You can easily keep track of your fitness level with it to reach the goal effectively. No matter how hard you push yourself towards the fitness goals, it will keep the stress level optimum, thanks to its no-impact design. The padded, upholstered seat is comfortable, just like the foam-padded handlebars for a longer time in the workout. Its adjustable foot pedals will give you a firm and rigid grip to the frame to wind up the wheels. You can fold the rower in half and store it in the corner or move it around with the built-in wheels underneath.
Features
Folding: Yes
Resistance Type: Air
Resistance Levels: Dynamic
Product features: Padded seat, sweatproof foam-padded handgrips, LCD monitor, Dynamic air resistance, free tilt, Oversized foot pedal with texture grip, Built-in transportation wheels, Long side rail, 250lb weight capacity.
Pros
Better for storage due to the foldable design
Digital LCD monitor for tracking
Sweat-proof foam-padded handgrip and padded seat
Oversized foot pedal with textured grip
Dynamic air resistance with free adjustment
Cons
250 lbs weight capacity limitation
May take a while to assemble

The stamina body trac glider is one of the best affordable rowing machines with a unique design for an extended workout experience. With the arm handle design, it can mimic the rowing experience of being in the water with a full range of motion. The arms are foldable along with the machine for compact storage and portability. It comes with a hydraulic cylindric resistance with adjustability for smooth and effective rowing strokes experience.
Its digital monitor will keep you on track of your time, speed, stroke count, calorie burn. The textured foot pedal comes with a strap for a firm grip on the pedal with a comfortable grip. Rowing while sitting the sit of this machine can be a peace of mind and comfort for your butt because of the molded seat. The comfort will go even further with the padded non-slip handlebars and the smooth gas-lock resistance.
Features
Folding: Yes
Resistance Type: Hydraulic Gas-lock
Resistance Levels: Adjustable
Product features: Molded seat, foam-padded handgrips, Digital monitor, Adjustable hydraulic resistance, Foldable arm handles, foot pedal with texture grip, foldable steel structure, transportation wheels, 250lb weight capacity.
Pros
Sweem-mimic full-range of motion rower
Arm handles and the main structure are foldable
Digital LCD monitor for tracking fitness goals
Foam-padded handgrip and molded seat
Free adjustable hydraulic gas-long resistance
Cons
Limited with 250 lbs weight capacity
There is no heart rate monitor

If you're up to the best value rowing machine, the Merax rower would come in the first line. It's a perfect tool that can burn your calories and help you build lean muscles with the dynamic magnetic resistance. The resistance is adjustable at 8 levels with a tension adjutant knob depending on different fitness levels. You can comfortably use the machine for a longer period; thanks to the padded seat with rotary design. It will give an extra cushioning to your back and bottom without strain. The comfort will go even further with the comfortable handlebars and the multi-angle adjustable footrest. You can track your fitness goal with the LCD monitor that shows you time, calories, total, and live count to keep you motivated. It works without noise and can be folded in half for easy storage or movement with the built-in wheels.
Features
Folding: Yes
Resistance Type: Magnetic
Resistance Levels: 8 levels
Product features: Rotary design padded seat, padded hand grips, digital LCD monitor, 8 levels adjustable magnetic resistance, foot pedal with a strap for grip, built-in transportation wheels, 264 lbs weight capacity.
Pros
Extra comfortable seat with rotary design
The rower is foldable in half and has wheels
LCD monitor for tracking the exercises
Multi-angle footrest with strap on
8 Levels of magnetic resistance
Cons
The assembly can be difficult
No heart rate or pulse sensor

The Fitness reality 1000 is the best rowing machine for the money you could ever ask for. It's the only rower machine in the list that you can use as a multifunctional full-body workout machine. It comes with a front stabilizer footrest that keeps the rower stable and allows you to do multiple workouts. You can do curls, upright rows, bent over rows, triceps extension, front rises, standing shoulder presses, and so on.
It also has a large 3.5 inches LCD monitor to show your calories burnt, time elapsed, distance, total set strokes count, and more. Furthermore, the machine has Bluetooth connectivity for an effective workout tracking with an app on the cloud. There are 14 levels of magnetic resistance on this machine with dual transmission knobs and comes with a 21.5″ wide handlebar. To make your workout comfortable, it has a large contoured cushion seat to support your back.
Features
Folding: Yes
Resistance Type: Magnetic
Resistance Levels: 14 levels
Product features: 3.5″ large LCD monitor, large counter cushioned seat, 21.5" wide padded hand grips, 14 levels of adjustable magnetic resistance, multi-angle adjustable foot pedal with strap, foldable structure design, built-in transportation wheels, 250 lbs weight capacity, User height capacity: 4'9" to 6'6", Seat height range: 9.5″ to 12″.
Pros
Bigger LCD screen for tracking
Multiple workout capability
14 levels of magnetic resistance
Multi-angle adjustable footrest
Silent operation with nylon rowing belt
Cons

FINAL WORDS
You must get the best rowing machine if you're up to a healthy upper body and toned legs. You can get the most out of the versatility of rowing if you use the best rowing machine for beginners . Choosing a good rowing machine can be a daunting job, especially while choosing a cheap rowing machine for home . There are too many options in choosing a home rowing machine as they all have similar functionalities.
However, the list above of the best rowing machine under 300 is the sweetest spot for the best budget rowing machine. We've tried to enlist the best rowing machine for beginners and professionals from small rowing machines to larger ones. They are the best options you could go with taking the rowing machine prices into account. We hope our review article will help you to find out the best cheap rower for your indoor fitness as a compact rower machine.