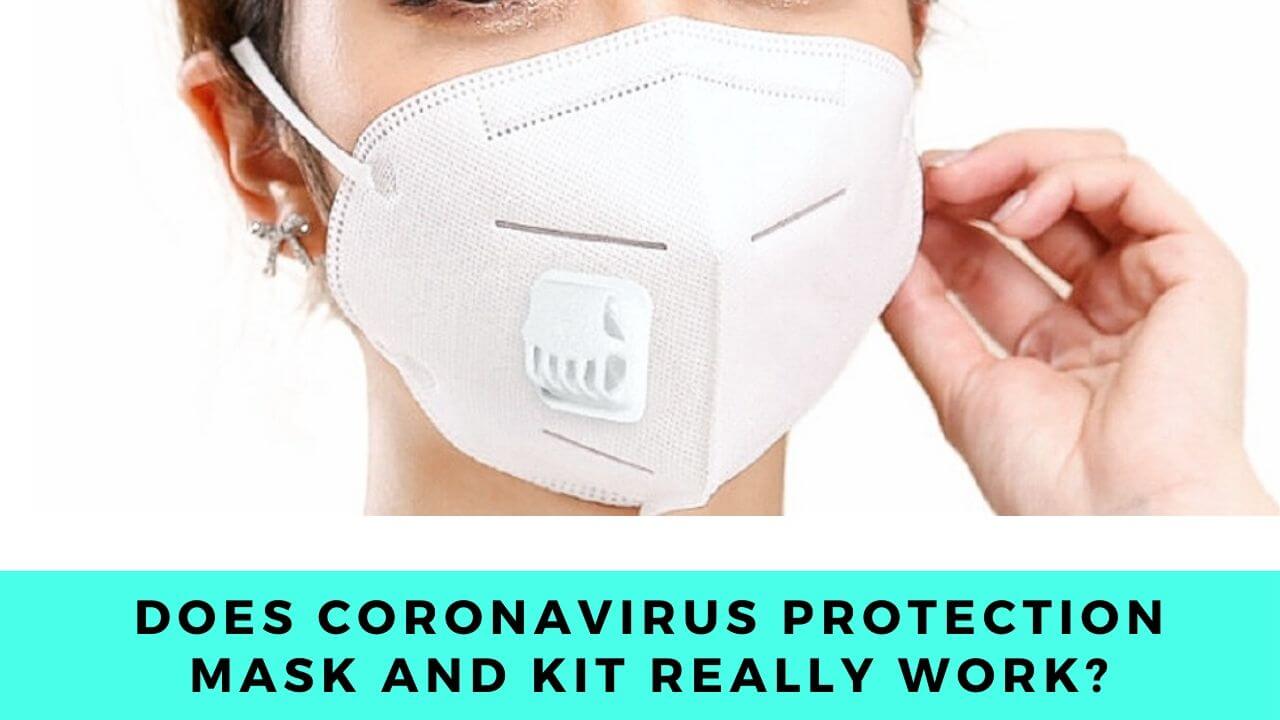 Can wearing a medical face mask protect you against the new coronavirus (2019-NCOV) (SARS-CoV-2) (COVD-19)?  Does coronavirus protection mask and kit really work? Let's see what the Expert's opinion.
If it's a regular surgical face mask, the answer is no, Dr. William Schaffner, an infectious disease specialist at Vanderbilt University in Tennessee, told Live Science. 
The N95 is designed to achieve "a very close facial fit," according to the Food and Drug Administration, and if properly fitted blocks "at least 95%" of very small test particles, though it doesn't completely eliminate the risk of illness, per the FDA. "respiratory protection (i.e., a respirator) that is at least as protective as a fit-tested NIOSH-certified disposable N95 filtering facepiece respirator before entry into the patient room or care area." Source CDC
How to protect yourself from the coronavirus-Prevention
As you know there is currently no vaccine to prevent coronavirus disease (COVID-19). The best way to prevent illness is to avoid being exposed to this virus. Here are some preventive actions to help prevent the spread of respiratory diseases, including:
Avoid close contact with people who are sick.
Avoid touching your eyes, nose, and mouth and also avoid to touch pet animals.
Stay home when you are sick and if you have any flu.
Cover your cough or sneeze with a tissue, then throw the tissue in the trash.
Clean and disinfect frequently touched objects and surfaces using a regular household cleaning spray or wipe.
Follow CDC's recommendations for using a Coronavirus Protection Mask .
Wash your hands often with soap and water for at least 20 seconds, Wash your hands before eating; and after blowing your nose, coughing, or sneezing.

If soap and water are not readily available, use an alcohol-based hand sanitizer with at least 60% alcohol.
For information about handwashing, see CDC's Handwashing website
The coronavirus is spread through respiratory vapor, such as when someone sneezes or coughs into the air around you. Influenza viruses and common cold viruses are also spread this way- Moorcroft says.
"The things you should do to protect yourself from the coronavirus are things you should do every day," he points out. "The no. 1 thing you can do to prevent any respiratory illness is to practice good personal hygiene."
-6 Best Face Mask for Coronavirus Protection-
Note: This 3M respirator can also help reduce inhalation exposures to certain airborne biological particles (examples: mold, Bacillus anthracis, Mycobacterium tuberculosis), but cannot eliminate the risk of contracting infection, illness, or disease.
Coronavirus Protection Kit
Yes! There is nothing like that.coronavirus protection kit should be a combination of Hand soap, Hand Sanitizers, water bottle, Protection wear.
What is coronavirus
Coronaviruses (COVID-19) are a large family of viruses that cause illness ranging from the common cold to more severe diseases such as Middle East Respiratory Syndrome (MERS-CoV) and Severe Acute Respiratory Syndrome (SARS-CoV). A novel coronavirus (nCoV) is a new strain that has not been previously identified in humans.  
Coronavirus Symptoms-
What is coronavirus symptoms in humans? Let's see
fever, cough, runny nose — are similar to those of the common cold or the flu. But if you feel like you can manage them with over-the-counter drugs from your home then don't be worried.
if your fever won't go away, shortness of breath and lethargy — then it's time to call your doctor.
to prevent getting sick at all, the CDC recommends avoiding people who are showing symptoms; avoiding touching your eyes, nose, and mouth; and washing your hands thoroughly and frequently.
People who think they may have been exposed to COVID-19 should contact their healthcare provider immediately.
A regular face mask won't stop the coronavirus. An N95 respirator coronavirus protection mask can help, but you need special training to learn how to use one