You may have seen on TV, Dr. Ho's Circulation Promoter for the feet. What is probably the latest revelation for the latest circulation boosters and circulation promoters is really taking the public by storm. You may be asking what is this new circulation promoter about? Or even, who the hell is Dr. Ho? below we throw to this device a more detailed look to find out what the difference is with this machine.
If you suffer from poor circulation in your legs such as numbness, pain and ache in your legs and feet, Dr. Ho's Circulation Promoter for your feet can help make you feel better. As mentioned above, Dr. Ho's Circulation Promoter products are now widely advertised on TV, the internet and also social media. The principle used is through Transcutaneous Electrical Neural Stimulation (aka Transcutaneous Electrical Nerve Stimulation) and Electric Muscle Stimulation (EMS).
It is clinically proven and its aim is to increase the blood flow in your lower extremities. They claim the Dr. HO's Circulation Promoter has helped many patients suffering from poor circulation.
Dr. Ho's Circulation Promoterfor the feet is somewhat designed like other circulation boosters on the market. The aim of the circulation promoter is to help with your pain and lack of circulation in the lower legs and feet.
The Circulation Promoter is specifically designed to help with foot and leg pain and features a sturdy foot platform that is constructed with highly conductive materials to provide you with even, consistent, and powerful treatment.

Pain Therapy System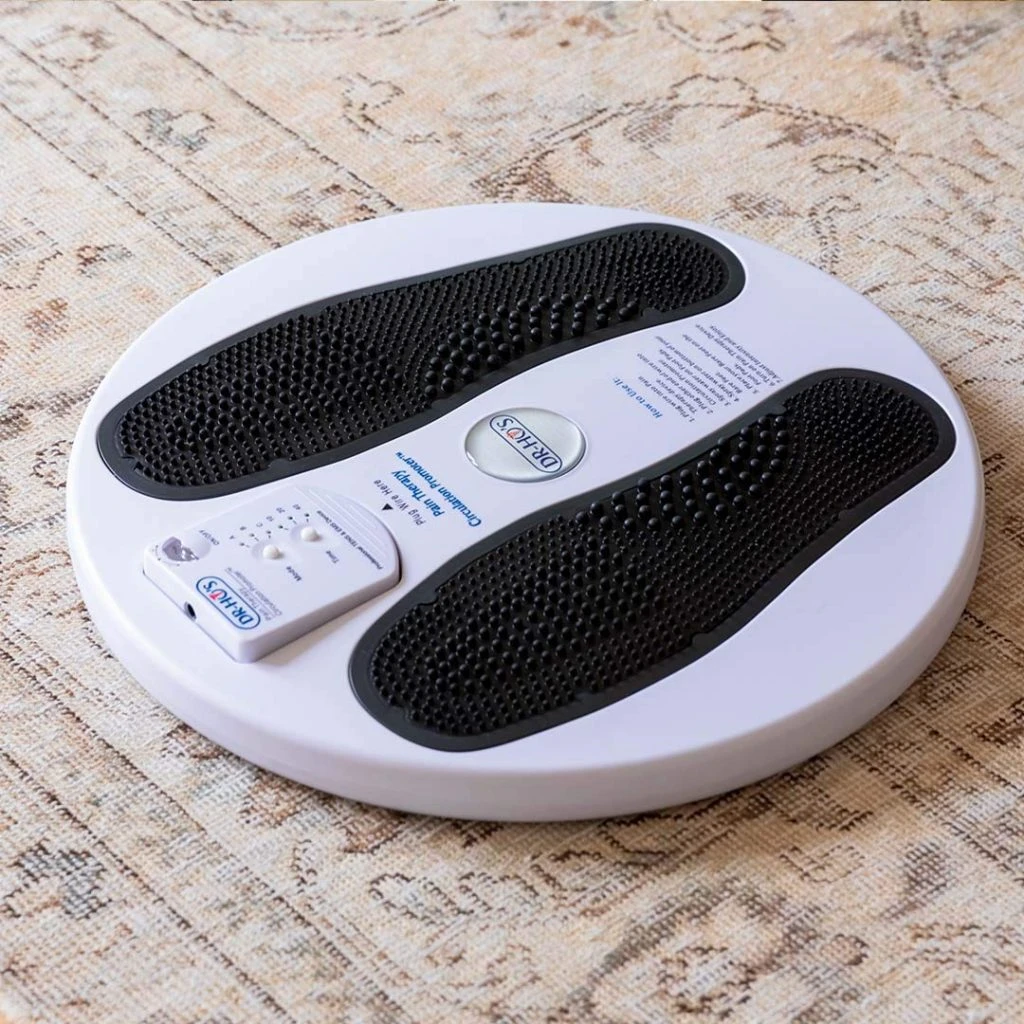 What may be the difference in this circulation promoter is the Pain Therapy System. The Pain Therapy System is clinically tested and proven to enhance the blood circulation and the stimulation of your nerves. It is backed by scientific research done by Dr. Stuart McGill, director of spine biometrics at the University of Waterloo. This combination results in more blood flowing and less muscle tension. One other aspect we were able to discover is that Dr. Ho's Circulation Promoter for the feet doesn't require any external power feed.
The Pain Therapy System is connected into the base area and is fed by two AA batteries. Dr. Ho recommends using the alkaline because they last longer compared to a normal type of AA battery. This is due to when they die, the power has a sudden drop instead of a gradual one. This way, you will know when to replace the batteries. The cord is connected at the front of the base in the center. There are no real needs to remove it but replacing batteries can be an example.
The complete system combines Transcutaneous Electrical Nerve Stimulation (T.E.N.S) and Electrical Muscle Stimulation (EMS) to help stimulate the nerves and muscles in the soles of the feet. The footpads are set on a base so that users can benefit from treatment no matter where they are. With foot pads divided into targeted sections as well as extra-conductive pads in the heel and arch areas, the Circulation Promoter will provide more consistent and comfortable stimulation.
With
Dr. HO's Circulation Promoter
for the Feet, you will get oxygenation to blood vessels instantly and wake the nerve system surrounding the area. The device will help those with back pain, calf pain, swollen ankles, and foot pain. It is also very useful for those who are sitting in traffic all day or the truckers stuck in their cab traveling all day. It is particularly useful if you are wearing high heels which can be detrimental to the spine
The product is excellent for those suffering from plantar fasciitis and those with bunions.

The way the Dr. Ho's Circulation Promoter for the Feet works is very much comparable to other circulation stimulator or circulation boosters. When pulling this device out of the box, you will see the footpads, where your feet will sit. These foot pads are set on a base in order for the user to benefit from the treatment, where you may be.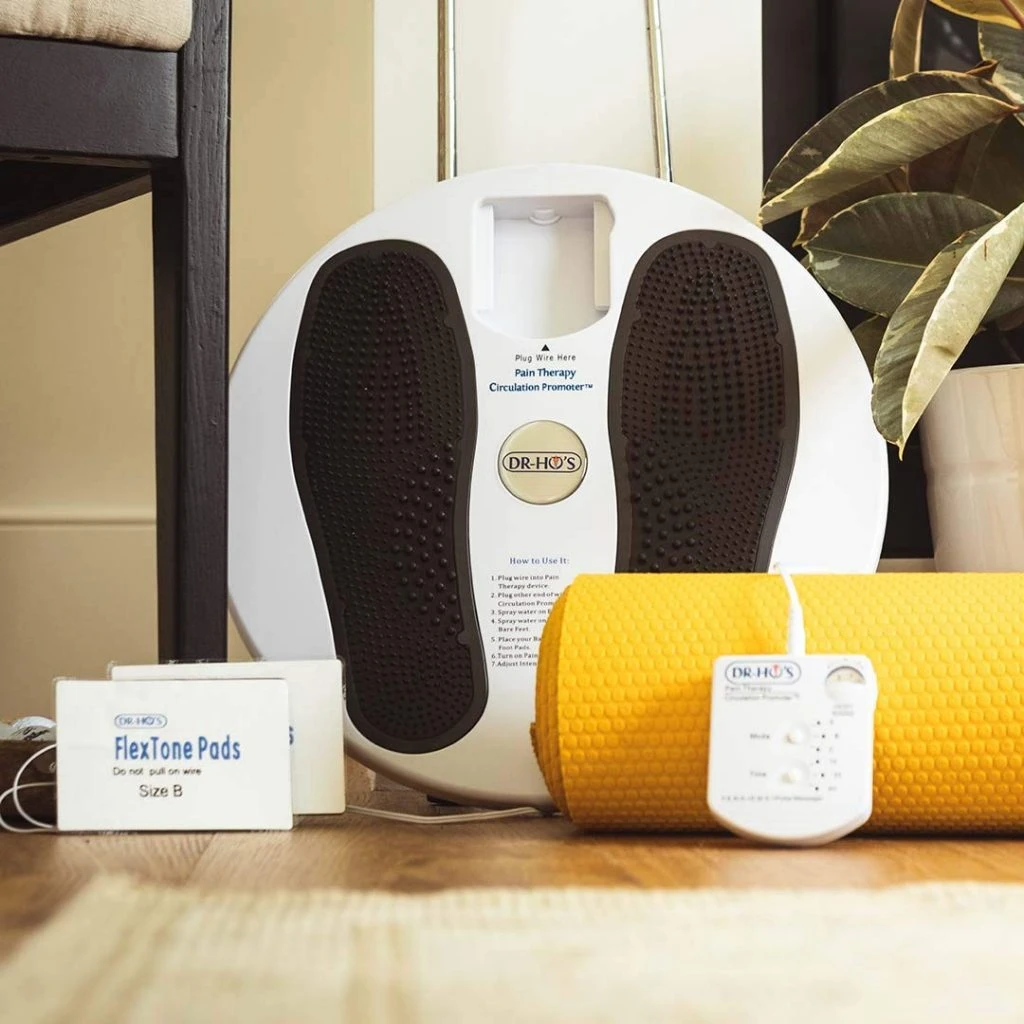 Dr.Ho's Circulation Promoter with Pads and Control
These foot pads are divided into specific into targeted sections. In addition, you will notice the red extra-conductive pads, which you can place at the heel and arch areas. These pads can be useful for plantar fasciitis sufferers. To get more out of these pads and more stimulation, spray the red electrode pads that sit on the footpads, it will enhance the electrical stimulation.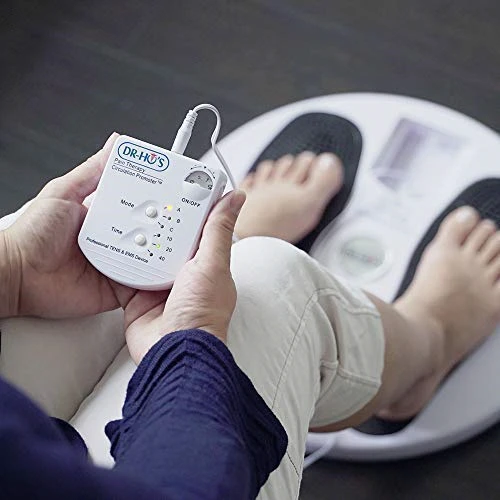 Once activated, Dr. Ho's Circulation Promoter will provide steady and consistent stimulation. You can set the settings yourself as you see fit.
The device can be turned on, by turning the button on the side of the Pain Therapy System. Then, you set the mode. There are three modes: A, B, C. The mode B is a stronger mode than A and C is stronger than B or A. Those who select Mode B and C are those individuals who are more serious circulation problems.
Next under the mode is the time setup button. You will see there is a 10, 20 and 40 minutes timer with an auto-shut-off. Set it up to the time you see fit for your feet. It is encouraged to set up the time so you add 20 minutes to the time you start feeling the stimulation. As an example, if you take 5 minutes to start feeling the EMS, add 20 minutes for an overall time of 25 minutes.
The recommended frequency for best results is in the morning and at night, before heading to bed. There are no issues if you exceed this recommended frequency.
Need more instructions on how to activate the Dr. Ho's Circulation Promoter for the feet, simply watch the video below, by Dr. Ho himself.
Below are the main features of Dr. Ho's Circulation Promoter for the Feet:
Helps relieve discomfort and pain in the legs and feet;
Clinically tested to increase blood flow and nerve circulation;
Engineered with TENS and EMS to help stimulate nerves and muscles; and
A great way to relax your feet and legs after a hard day.
Some Words of Caution
If you are to use Dr. Ho's Circulation Promoter for the feet, you should exercise some caution especially when it comes to diabetics.
You should be able to use the Circulation promoter from Dr. Ho if:
Suffering from Plantar Fasciitis;
People with a Heel Spur;
Joint Pain In Your Toes;
People with Bunions
Suffered from a Sprained Ankle;
Nerve Damage;
Swollen Ankle (Water Retention Patients);
Suffer from Diabetes;
Travel Sitting for a Long Time;
Standing all Day at Work;
Note : People with metal implants can also use Dr. Ho's Circulation Promoter
When you should not use it?
People with a Pacemaker;
Pregnant Women;
What is part of the package?
When you get the package, here is what you are expected to receive? You will get the following:
Circulation Promoter;
Pain Therapy 2-Pad System;
Small Massage Pads;
Large Massage Pads;
Small Replacement Massage Pads;
Spray Water Bottle for Convenience; and
Instruction Manual, DVD & Travel Case.
You get a fair amount of accessories with the circulation promoter. Please note, the massage pads can be used to massage other areas, while you are getting your feet stimulated. As mentioned above, they are Transcutaneous Electrical Nerve Stimulation (T.E.N.S) pads, which can work on your back, calf muscles or upper body areas such as shoulders and elbows.
This can be useful while you are working on your feet. You can have the whole lower extremities taken care of by applying the larger pads on your knees.
With Dr. Ho's Circulation Promoter, the approach was different than in the past. In the past, products from Dr. Ho didn't have the backing through scientific studies and many felt jaded by the inefficiency of these products. With this one, they went above and beyond to provide a naturopathic approach to pain relief.
Dr. Ho's Circulation Promoter provides more evidence the circulation promoter actually works. In Canada, the McGill University in Montreal, led by Dr. Stuart conducted a study on Dr. Ho's Circulation promoter attended by 40 participants with poor circulation.
The data collected revealed the patients involved in the study felt there was an oxygenation increase with a muscle spasm reduction.

Pros:
Powerful Stimulation;
Double-Effect of EMS and T.E.N.S.;
Electro-Pads for Larger Areas;
Easy Set-Up (Modes and Time);
Instructions via DVD (Included); and
No Plug-In Required (Battery-Operated).
Cons:
New Product
Not Much Feedback
Price
Support Provided Minimal
In summary, Dr. Ho's Circulation Promote r for the feet is a great product that will reduce pain and swollen feet very efficiently. This circulation foot booster can assume the dual role of taking off your feet and work somewhere else like on your shoulders with its T.E.N.S. pads. It is easy to set up, and portable. The instructional DVD is very useful to set the circulation promoter properly. Once you set it up a couple of times, it will be easy to set it the way you want and need.
If you are a user of the Dr. Ho's Circulation promoter, please send us your feedback, your comments and recommendations. We'd be happy to read them and post them to help others suffering from foot pain and lower legs aching.