When looking at foot circulation booster for persons having problem with their feet, the solution may reside with the Revitive Advanced Circulation Booster. We have talked about the Revitive Circulation Booster in a previous post, where we mainly looked at their features and characteristics and even dared some minor reviews on them.
In this article, we will focus mainly on results obtained. The product has been on the market for a while now and a second opinion and review doesn't hurt. Their marketing of the product has been quite effective. Many ads on TV with famous sports athletes, now in their retirement have enhanced that promotion quite well.6
Anything special about the Revitive Advanced Circulation Booster?
At this point, it is hard to say whether or not if the Revitive Advanced Circulation Booster is the miracle cure for bad circulation, sore and swollen feet. It is a steep price to pay for certain people but the results must be true. Why I say that? Simple, they offer a 2 year warranty, which is ironclad in today's warranties offered.
In addition, the Revitive comes with a 30 day satisfaction guarantee. That gives you the time to try it for a month and see any results. Many people have experienced positive results just after two weeks. Most pharmacies / apothecaries carry the Revitive Circulation Booster, so it is very easy to access. As well, many shopping sites have it on sale as well.
So what makes it so special? The features for this circulation booster are numerous. let's look at some of them:
99 Intensity Levels
With 99 intensity levels REVITIVE ADvanced is suitable for everyone, including those with poorer circulation.
WidePulse waveforms
Patent pending WidePulse waveforms, our latest breakthrough in circulation technology which results in a more comfortable stimulation.
IsoRocker
Electrical pulses cause the calf muscles to gently tense up, then relax, which in turn causes the REVITIVE device to rock back and forth.
15 variable waveforms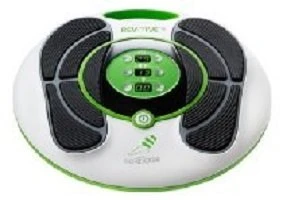 Helping to avoid muscle habituation (where muscles start to contract less effectively when repeatedly doing the same thing), REVTIVE Advanced has 15 variable waveforms, each with a different pattern, to ensure the muscles contract more effectively throughout each session.
Electrode Body Pads
REVITIVE IX includes 2 pairs of body pads to target other areas of the body, such as back, shoulders, arms.
Remote control
For ease of use REVITIVE IX can be operated with its remote control or manually.
So you can see the features are useful and varied. Take for example the remote control. With the remote control, you don't need to bend down and adjust manually your Revitive Advanced Circulation Booster. You can do it from the comfort of your sofa or couch. It avoids you from hurting your back while adjusting the settings.
Any results from Revitive Advanced Circulation Booster?
As we mentioned above, this article is strictly focusing on the results obtained from real persons who have used Revitive Advanced recently. Personally, I just hope this will clear any doubts on purchasing this gem.