It's almost 3 AM. Still, you can't close your eyes to have a sound sleep due to lower back pain. The pain of the lower part of your back is restricting you to stay calm. #lowerbackpain #backpain
And, you have been suffering this for a long time.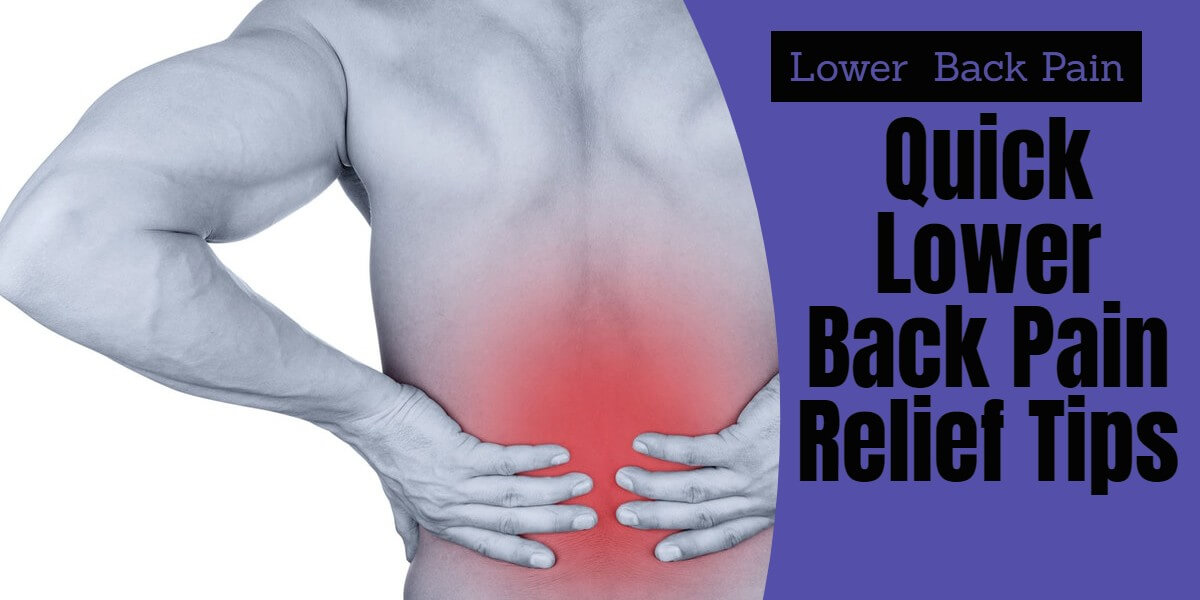 Well. These can be imaginary thoughts. But what I am focusing on is the severe lower back pain, which is irresistible for many of us.
Almost 31M people from the United States suffer from this pain[1]. These affected people have a notable tendency to stay at home rather than going to the office. From medical research, 80% of people may face this in their lives for at least once[2]. In the United Kingdom, around 20% of people seek medication from the physician who has this common disorder[3].
The daily life is getting hampered as this pain doesn't allow to work or move at ease.
The productivity, creativity, expertise all are getting ruined for this disease.
And thinking! What causes lower back pain? You may think this is not curable.
But in this long article, you are going to get all the ins and outs of sciatic nerve pain or the back pain. Your few minutes on this article will help you to learn Low Back Pain Causes and treatment.
Seatback and relax!
Lower Back Pain Relief Products
Here are the 10 of the best back pain relief products and remedies:
Use this tool to help with Trigger points, knots, and painful muscles BJJ recovery and relieve painful muscles
Helps to muscle recovery, decrease tension, and improve motion in the joints that are effected by the muscles.
Massaging with the Thera Cane Massager on the painful knots can be effective. This self-massage has an incredible design to loosen the bonds of muscle fibers.
Features:
Cane shape
6 treatment balls
Painful knot removal
Size: 24" X 15" X 1"
2. Zyllion Shiatsu Neck and Back Massager Cushion Pad with Soothing Heat Function ( ZMA14 )
Simple slim design.
This is kind of a digital cushion of a sofa which eliminates the lower back pain. You just need to sit on it and all the 4 shiatsu nodes of massaging will do the rest of the work.
If you have knots and tense sore muscles in your neck then this massagers in it are very strong and really work your muscles
Features ZMA14 :
Full back and neck massage
4 shiatsu nodes
Adjustable spot focus messaging
Vibration and rolling massage
Instruction manual
The best part is that it can work autonomously for 20 minutes. A luxurious massage right in the comfort of your own home.
To relieve from back spasms, PUREWAVE dual-motor therapy massager is incredible. It can reach the painful joints, then relaxes the muscles. It has a superb capability to recover damages faster and heal body pain without any hassle.
Features:
Wireless, charging option available
Dual motor percussion
Effective micro-vibration
Multiple attachments for multiple operations
Choose Naipo Shiatsu back massager in case your pain gets lower with heat therapy. This universal massager works fine with back and legs. The ergonomic design helps you to relieve from pain even when you are at the office.
Features:
Flexible straps
Overheating control
Smart control panel
PU leather and mesh protect the cloth
It's almost similar to Naipo massager. When you turn on the Shiatsu massager, the 8 different roller balls reduce and cures nerve and muscle pain of the different parts of the body.
Features:
8 different roller balls for massage
Intensity adjustable option
Dual massage directions
Active heat function
3-speed strength levels
You can prevent backaches with these 2 firm balls. Rub on your painful muscles with these balls. Keep them on the floor to lie on your back and roll on. Then, see the magic!
Features:
Fast results
Simple application
Universal usages
Long-lasting rubber construction
1 set consists of 2 lacrosse balls
Another top-rated back massager in this list that comes with instructions. This handheld back massage stick looks like "S" which is an ideal pain relief product for the home.
Features:
Handheld design
Simple trigger point
11 treatment balls
Polypropylene made
4 color options
Clavicle Back Posture Corrector is for them who can't control keeping body posture right and straight. This posture brace helps you to stay pain-free while you are standing or sitting on the chair.
Features:
Long-time usable design
Easy adjustments
Unisex and fit for any men and women
Posture improvement
No more slouching
BodyMed heating pad claims to relief the temporary muscle pain like strains and sprains, joint back pain, etc. This heat of this pad can relax your muscle tension with producing your own moisture heat from the humidity of your room.
Features:
Therapeutic warmth
No external uses of water
LCD controls
Temperature lockout feature
Automatic shut-off function
3 sizes: 12"x15", 14"x7", 14"x27"
From the upper back to leg pain, Pure Enrichment PureRelief heating pad stays as the comprehensive pain-relieving device. The micro plush fibers help you stay comfy while running the pad.
Features:
Extra-large size heating pad
Soft micro plush fabric
Fast heating feature
6 heat settings
This heat pad is superb when you apply it on your back. Thermophore has targeted to provide quality heat therapy with this pad, which can cover the whole back.
Features:
Moist heat
Faster warming
Washable
Hands-free application
3 settings
Size: 14″ x 27″

RENPHO massager is a handy tool to pull out the pain from your body. This massager can reduce the muscle pain from any part of your body. No need to connect the cord to feel better using this device.
Features:
Percussion technology
Strong motor and safe design
Handy and flexible
3600 pulses per minute
Auto shut-off feature
Cordless and rechargeable
Weight: 1.8 lbs.
Penetrex cream is not any ordinary cream which could dissatisfy you. This concentrated cream has inflammation formula to keep body pain away after you rub on the affected area.
Features:
Applicable to any pain-affected area
Incompetent formulation
It is smell free, burning and freezing free
Safe and easy to apply
Weight: 2 Oz.
TriggerPoint roller is similar to Kieba balls. You need to roll this roller keeping beneath your body parts. It's been very positive to eliminate calf pain, leg or knee pain, back pain, etc.
Features:
Foam covered
Patented unique design
Sturdy material
Trusted by professionals
Leramed's Posture Corrector is another good utility to make you sit and stand straight with full of confidence at ease. It has the power to fight against the slouching and hunching.
Features:
Posture correction
Upper back brace
Breathable material
No skin problems
Adjustable and universal sizes
Muscle pain reliever
Size: REG (27"-48")
You can use the Back Support Belt by Sparthos like a regular belt. But this quality of this back brace can provide anyone fastest and immediate solution to any back pain.
Features:
Back-pain resistant
Adjustable lumbar pad
Smart fitting
Easy to use
Flexible elastic mesh
Size: small (26″- 40″), medium (40″ – 60″), large (60″ – 72″)
ComfyMed back brace is designed for the people having back pain issues. This premium quality item can provide you the feel like you are a happy person. Once you wear it on, all the pains go far from your body.
Features:
Double pull compression band
Removable lumbar pad
Easy grip cinching handles
Washable fabrics made
Size: REG (26"-37", belly); LGE (38"-50")
You would love to use the BraceUP lumber lower back brace. The unique design, quality materials and mesh panels are things to select this one. It'll keep you at comfort inside and outside of your residence.
Features:
Lightweight and long-lasting
Eight firm stays
Breathable ingredients
Dual-adjustment straps
Anti-slipping straps
Top-quality Velcro
3 sizes: small, medium, large
If you are a man of the thicker waist, you would probably love to keep back pain using the Mueller back brace. It makes your back muscle strong and reduces loads on it.
Features:
Back braces and support
Double layer design
A molded plastic component inside
Two sizes: 28"-50" and 50"-70" waists
Exceptional item in my list! Bodymate brace for the hip is right for hip-joints, lower back, thigh muscles. When you are too much obsessed with back pain, you should at least once wear this. You will see the result.
Features:
Breathable neoprene material
Widespread size
Injury support
Custom Fit
Fast recovery
3 different sizes (32"-54")
What is Lower Back Pain?
Lower back pain, backache, sciatica pain – whatever you call it remains the same thing; pain on the back part of our body.
This kind of pain appears in the lumbar region of the human body. This pain can stay from a week to several years. Some affected people face this pathetic pain from their middle age to older age (30-50 years mostly).
Note: This pain is the outcome of injuries such as muscle sprains or strains caused by lifting heavyweights. It can also be the result of new diseases you may have, such as herniated disc, spinal cord cancer, kidney infections, etc. [4].
What is Back Pain?
Back pain is the reason why people are absent in their daily works. Different types of injuries, activities, sickness, etc. can result in back pain. Back pain arises in the upper and lower part of the back.
Upper back pain has lesser possibilities to happen than the lower back pain.
Back pain can be of three stages, such as acute, sub-acute, and chronic. These three have different types of durations.
The traumatic changes to the spinal discs and facets joints can cause pain in the muscle of the back. In most cases, the reasons for the pain are entirely unidentifiable.
Link-
Symptoms of Low Back Pain
Lower back and hip pain are nothing strange to the aged persons. You may be a victim of having sharp lower back pain even if you are not an older man.
Add pic from here
Source: How To Get A Deep Piriformis Stretch To Get Rid of Sciatica, Hip & Lower Back Pain
Here are a couple of symptoms which can help you diagnose the disease and further treatments:
Dull and aching pain: The pain which stays in between the lower back is known as dull and aching pain. You won't feel any burning, stinging, or sharp when you are facing this dull and aching pain on the back. Mild or severe muscle spasms, pain in the hips and pelvis, etc. give company to this aching pain.
Moving pain: If you are having pain scattered behind your body or on the buttocks, legs, ankles, feet, etc. This pain travels from the lower part of your body to the feet.
Pain after sitting: The people who keep themselves busy and sit on the chair for hours can put extra pressure on spinal discs. It can cause the slipped discs, which will trigger the pain when the person stands up from the chair after a long time.
However, there are more signs and symptoms of lower back pain right side and left side. The inability to raise toe upward, numbness different in parts of legs, etc. are some other symptoms.
Neck Pain: Is Neck Pain Related to Lower Back Pain?
Neck and back, both are connected to the spinal cord. In a way, when the pain of the back is more acute can reach up to the neck. And in turn, it will cause you having neck pain.
It appears in the nearby area of cervical vertebrae. Usually, we don't cover our neck for its location.
And that is the reason we leave this part of our body quite unprotected. Causes of neck pain are the same to back pain.
Bulging discs, overuse, stressful activities, weaker muscle tone, sprain or strain, spinal stenosis, etc. are reasons you get neck and back pain.
TitleBest Treatment of Lower Back Pain relief products | Causes | Symptoms
Sciatic Nerve Pain
Sciatic nerve pain or sciatica often connected to lower back pain. You may be surprised to know as this sciatic nerve is the longest nerve of our body. Basically, the expansion of the nerve is from the foot to neck. So, the pain becomes tougher to bear as it spreads all over the back.
And mind it, sciatica is the symptom, not the condition.
Sciatica Pain Relief
Sciatic pain can be acute or chronic. Before visiting the therapist, you can follow these below things to relief from the sciatic nerve pain:
Exercises: Recycling, sitting or forward pigeon pose; spinal stretch, etc. and some other regular lower back pain exercises. You need to make the muscles of your legs stress-free. The right posture of the body can also relieve the pain. Read more on Exercises to Relieve Sciatica and Low Back Pain
Cold ice and heat: Home remedies such a pack of ice can quickly relieve the pain. Sometimes heat-pads are useful in this case. You can rub the icepack on the muscles for 10-20 minutes every 7-8 hours a day.
Medications: Painkillers such as acetaminophen, aspirin, NSAIDs, ibuprofen, etc. are useful to cure the pain.
Physical therapy: Therapy can be useful if you can have this regularly. Adjunctive therapies like massaging, doing yoga, chiropractic, etc. are helpful to relieve the sciatic nerve pain.
A comprehensive guide to the new science of treating lower back pain
Muscle Strain or Sciatica?
Muscle strain can be sciatic nerve pain.
Sciatica could happen when your muscles are overstretched or torn due to several reasons – such as excessive movements of the limbs, overexertion, fatigue, etc.
It can happen to any part of the body, such as arms, thighs, back, etc.
But not all the sciatica is a muscle strain because sciatic pain happens only the back part of our body.
Sciatic pain arises due to improper movement, oversitting for longer periods, etc. But muscle strains appear mostly occur when you jump, run, throw something with pressure. Sciatica is more durable than muscle strain. Muscle strain can cause pain, soreness, swelling on the body.
Back Spasms
The unintentional shrinkage of muscles around the spine, which includes erector spinae is known as back spasms. When you have this back spasm, you may have to deal a severe pain on the affected area.
Excessive lactic acid emanation during running, jumping, or playing sports can cause back spasms. Some other causes of back spasms are ligament sprains, bulging discs, weak lower back, etc.
You can use ice or heat and other medications to get relief from this.
What is shoulder pain and upper back pain?
Shoulder pain and upper back pain, both are irritating. The shoulder has three main bones: humerus, clavicle, and scapula. These bones are connected by different cartilage in layers.
However, the shoulder has two main joints; acromioclavicular and glenohumeral. When these joints are malfunctioned or disoriented than regular position, you get shoulder pain.
Rotator cuff tendinitis is the primary cause of shoulder pain. When your posture while sleeping, sitting, or moving, gets wrong or irregular, several strains will attack you.
On the other hand, the upper back is very close to the shoulder. You can call it part of the joint. The thoracic spine is known as the upper or middle back. Chances of upper back pain are lower than the shoulder pain. However, the reasons for this pain are the same.
What causes lower back pain: Reasons for lower back pain
Whether it's body pain or real life pain (mental), there are always reasons behind it. Lower back pain also has several causes which take you to the world of pain. Here are some of the significant reasons sciatic nerve pain:
Muscle strains and sprains; when the muscle is over-stretched, torn and overused
Lumber herniated discs
Spinal decompression
Trauma and compression fracture
Degenerative disc disease
Lifting heavy objects
When you twist your spine during lifting the objects
Improper or poor body posture
Oversitting in the same position for hours
Injuries while playing games
Types of back pain
Back pain spreads throughout the back side of our body. From the feet to the neck, this pain can travel. Depending on the area, back pain can be of several types.
Upper and middle back pain: Thoracic spine is the alternative name of the upper and middle back. Injuries to the tendons and ligaments cause this type of pain.
Lower back pain: The region of this pain is the lower part of the spinal cord from the below middle back to the upper part of the hip. Heavy lifting, staying at the same position for long duration are the causes of this pain.
Neck pain: This type of pain spreads from shoulder to even your arms. You may feel stiffness or headache when you face this pain. The people who work in front of the computer in the same position or sleep in the wrong way can have neck pain.
Sciatica pain: When you get the ruptured disc in your vertebrae, sciatica pain may affect you. As the sciatic nerve is the longest nerve, the intensity can be a matter of tension. The compression of this nerve causes sciatica nerve pain.
Acute and chronic pain: All above pain can be acute or chronic pain. And it depends on the duration of these pains.
If you feel the pain for a very short period, it's an acute pain. But when it becomes a habit, then it would be chronic pain which may make you suffer in the long run.
Lower back pain on right side: However, people throughout the world may have this lower back pain right side in different ratio due to circumstances. The right kidney hangs a little lower than the left, and can cause lower back pain if it's infected, irritated, or inflamed.
Lower back pain on left side: Lower back pain on left side may come from the organs in your mid-back, abdominal, or pelvic area or Tissue injuries, arthritis, bone spurs, or spinal stenosis
Best Treatments for lower back pain
You can take care of your back pain on your own. You need to conscious about your movement, posture first. Then home remedies, exercises, medications will cure the pain. Here is a couple of best treatment for lower back pain that is helpful for any acute to severe pain:
Ice and heat: Sometimes you may have heard, back pain increased in the winter season. Cold weather or lower temperature can be friendly in reducing the pain. Ice can reduce inflammation. However, warm-water pad or ice both can be effective to shrink the pain.
Continuing regular activities: You shouldn't stop working at the office or walking with your dog. Swimming, running, bicycling, etc. all should be in the checklist. But you need to limit the number of activities (not overdoing).
Relax and stretch: For lower back pain relief, you should give your body rest for some moments. An office worker who has to work at a stretch for hours, rest of 5-10 minutes can help him to regain the energy and lose the chances of back pain. You should stretch your arms, legs, or stand between the working hours.
Quit smoking: Smoking is also related to back pain problems. It's the reason to increase the risks to have Osteoporosis. This can damage or fracture the spinal cord.
Weight loss: People having belly fat or overweight have increased chances to have back pain. Similarly, a pregnant mother can also face this. Fat people have to bend it at the same position when they work on the seat for a couple of hours. The extra weight increases the tension on the muscle. So, you should do exercise to reduce the fat and lower the chances of back pain.
Medication: OTC (over the counter) pain relievers such as NSAIDs, ibuprofen, naproxen sodium can be mild your acute back pain. You can find some ointments, cream, spray, etc. at the market which claims to relieve the spine pain. Narcotics, antidepressants, some anti-inflammatory injections can also cure the back muscle pain. But you should have these medicines only after your doctor supervises them.
Therapy: This could be the last phase of lower back pain relief. Following the regulations, what a therapist suggests can reduce the pain faster. Some of these therapies are pretty much helpful in keeping the pain off permanently. Heat, yoga, ultrasound, ice-therapy, electrical stimulation, etc. are some examples of treatment you can have.
Surgery: Though it's not entirely necessary, surgery is rarely needed to stop the pain forever. If your pain causes due to structural damages of the spine, your doctor may suggest you have the operation. But I think this would be risky for some people.
Causes of Back Pain:
So what causes lower back pain?
There are several causes of back pain. You are bringing the back pain to your body stealthily. Let's see what could be the causes:
Strains: Suppose you are jumping at a stretch for more than 10 minutes or lifting the heavy box from the ground floor to upper floors. These can cause muscles and ligaments stretching or tearing down. This is the definition of strains which causes great pain in the back.
Disc injury: Spinal cord consists of discs which have cartilage surrounding them. The discs can tear or herniate from their positions. When the cartilage pushes the discs against the cord, the discs become ruptured or herniated discs. Thus, the nerve root gets compressed while exiting from the cord through the vertebral bones. Disc injury can cause up to 3 days of back pain on average.
Sciatica: Sciatic nerve is related to legs and buttock. So, when sciatica happens, it would likely to feel pain scattered on the butts and legs.
Spinal stenosis: If you are putting pressure on the spinal cord repeatedly, you are narrowing it slowly. This spinal stenosis can be marked when you can identify your numbness, cramping or weakness are quite increasing. You can identify spinal stenosis better when you are walking on the streets.
Abnormal Spine Curvatures: Abnormal curvatures causes different conditions such as kyphosis, lordosis, scoliosis. Children and teenagers are more likely to get affected by these conditions.
Miscellaneous: There are more causes which may give birth to back pain directly or indirectly. Health conditions such as arthritis, fibromyalgia, spondylitis are also the causes to feel back pain.
What can cause lower back pain in a woman?
Low back pain especially lower back pain right side also be the result of certain diseases, such as a ruptured or herniated disc, sciatica, arthritis or infections of the spine.
Preventing Back Pain
You can't eliminate the back pain by overnight. But if you wish to keep it far from you, you should come in a scheduled life. When you are in a routine, you are likely to nip it in the bud. Here are a couple of tips to prevent lower back pain right side:
Exercise regularly. Contact the physiotherapist to seek the advise which exercises to do or not
Stay active like what you were before having back pain
Take a break if you need to do work for hours at the same position
Stand up or move your ankles or stretch your legs while sitting on the chair for more than an hour. Do this for 2-5 minutes and then you can go back to work
Search how to sit correctly on the chair on the web.
Avoid softer mattress. Many experts suggest using the plain, less soft mattress to reduce the body pain
Losing weight can be positive to prevent the back pain from your body
Where can you find back pain relief solution?
Back pain becomes more robust when you ignore it. Sometimes the pain will reach that position when you won't be able to breathe well. These suffocative moments are pretty much irritating.
Most of the times, the result of this back pain is disastrous. A regular employer loses interest in his jobs. This is the reason why middle-aged and aged people are absent in their jobs hour. This pain also keeps a man far from his or her family.
Everyone is enjoying somewhere, and you can't get up or stand from the bed. This awkward situation requires the best lower back pain relief solution and information.
Back pain, shoulder pain, or neck pain, whatever you are facing, click here to know more "Best Treatment Lower Back Pain."
You can also get the info about how to reduce, prevent or treat the lower back pain left side. https://www.healthline.com/health/lower-left-back-pain
You can also search "Acute Lower Back Pain Relief" for acute lower back pain, you may get closer more to the exact solution.
Even you can get up to date treatment methods, and recovery instructions exercise tips and tricks in here "Find Acute Lower Back Pain Relief" to prevent your pain.
Do you know that you can relief or keep your back pain away without using any tools or medications?
Yes. It's possible if you do exercise regularly.
Exercise does not only help to keep body structure well but also to relax your spinal cord related pains. These exercises don't require any instruments.
Even you don't need to go to the gym to do these. At your home, whenever you get the time, you can do with your free hands. These are affordable and effective for the people who have a strong belief in them. Just a strong desire and you can reduce lower back pain, hip and knee pain, joint pain, neck pain.
Everything you do as exercise is helpful to reduce fatigue or loss. But without proper instructions, these can bring a negative result.
Many experts suggest doing regular exercise besides their prescriptions. Here are 7 useful tricks and tips of lower back pain exercises:
Bridges:
Gluteus maximus is the large muscle of your buttock. When you are performing bridges, you are working with this Gluteus Maximus. This muscle has an essential contribution to keeping the lower back fit. You need to bend the hip and move it like the squat do the bridges.
How to do bridges:
Take an exercise mat and lie on it. Now, bend your knees and place your feet flat on the mat at hip-width apart
Now, press the feet on the mat and keep your arms by the sides of feet
Lift your buttock slowly off the mat. Make sure to put the body in the straight line
Keep your shoulders touched on the mat
Stay at the same position for 10-15 seconds and lower down your buttock
Take rest for 2-3 seconds
Repeat the process for 15 times and then rest for 50-60 seconds
Do the whole process as a set and 3 sets per one bridge daily
Knee-to-chest stretches:
Knee-to-chest relieves the muscle tension from your back, especially from the lower part of your back. This is pretty simple to do at your home.
How to do knee-to-chest stretches:
Take a mat and lie on it. The clean floor would work too
Keep your feet flat on the mat. Bend your knees while doing this
Now use your both hands. Try to pull one knee by holding it with both of your hands tightly toward your chest
Spend at least 5 seconds by holding knee to your chest. Remember to do two things: keeping abdominals tight and pressing the back on the mat
Now, put the knee back to primary position slowly. Do the same process with the opposite leg
Work with each leg 2-3 times at once and twice per day
Lower Back Rotational Stretches:
This exercise is good for back and your trunk. When you are obsessed with bearing the muscle pain, lower back rotational stretches can bring stability and remove all the pains.
How to do lower back rotational stretches:
Keep your back of the body on the mat. Then bend your knees and feet to one side on the surface
Put your shoulder firmly on the floor. Keep both hands on 2 sides of your shoulder at 90° of your chests
Now move and roll both knees to the opposite direction from which position you kept before
Spend 5-10 seconds while keeping knees in this new position
Then turn the knees to the previous position doing the same
Repeat the whole process 2-3 times at once and twice a day
Drawing-in maneuver:
Transversus Abdominis, this muscle is on the front and side of your abdomen. It stabilizes the spine and your lower back. Drawing-in maneuver helps to keep injury while you move and keep spinal joint relaxed.
How to do drawing-in maneuver:
Lie on your back straight on the floor
Keep the hands beside your body
Inhale air deeply. Breath out the air
While breathing out, pull the belly button to your back and keep your abdominal muscles tight. Keep the hip still at the primary position
Spend 5 seconds holding the same position
Do the same thing again, 5 times at once
Pelvic Tilts:
If you want to release the adhesions of your back muscles and maintain the flexibility, pelvic tilts can work for you.
How to do pelvic tilts:
Bring the mat and lie on your back on it. Keep your knees bent and feet flat
Keep your arms beside your body
Arch your lower back gently while pushing the stomach out
Spend 5 seconds at this position and take rest
Flatten your back and pull the belly button towards the spine
Again spend 5 seconds and take rest
It's good to do the process for 20-30 times daily
Lying lateral leg lifts:
It is suitable for hip abductor muscles. These types of muscles provide support to the pelvis. This exercise can keep the muscles prepared to reduce the strain on your back. You can maintain your body balance and improve your mobility by doing this.
How to do lying lateral leg lifts:
Lie on the mat by one side while keeping both legs together
Slightly bend your lower leg
Pull the belly button into the floor for occupying the main muscles
Now, raise the upper leg about 3 feet. Remember to keep it straight and extended.
Spend in the position for 2 seconds
Do the process for 10 times
Now do the same thing to another leg by turning onto the other side
3 times repetition at once
Cat Stretches:
This time I am suggesting you take the position of a cat. Cat stretches can loosen your back muscles. This exercise strengthens your back and releases the pressure or tension from the muscles.
How to do the cat stretch:
Put pressure of your body on your hands. Then position hands and knees with knees hip-width apart
Curve your back and pull the bellybutton up inside the belly
Do it slowly to relax the muscles. Then let your abdomen sag toward the mat or floor
Come back to the primary position
Do the whole process for 3-5 times at once and twice a day
Lower Back Pain Relief Medicine
So, you've got necessary information like causes, treatment, prevention about lower back pain.
Now, I am moving to the next point.
There are some conventional medicines which are ways to cure back pain. These are helpful in removal or reduction of different stages and types of back pain.
This below list will assist you in this purpose. But, you should always seek suggestions from your physician.
Over-the-Counter Pain Relievers:
Acetaminophen (Tylenol)
NSAIDs such as ibuprofen (Advil, Motrin), naproxen (Aleve, Naprosyn)
Prescription Pain Relievers:
Antidepressants

SSRIs (citalopram, fluoxetine, paroxetine, and sertraline)

Tricyclic (amitriptyline, desipramine, doxepin, imipramine, nortriptyline)

SNRIs (venlafaxine, duloxetine)

Anticonvulsants

Carbamazepine, gabapentin, pregabalin

Corticosteroids

prednisone, prednisolone, methylprednisolone

Lidocaine patches
NSAIDS

Indomethacin (Indocin, Indo-Lemmon)

Naproxen (Naprosyn, Anaprox)

Opioids

morphine, fentanyl, oxycodone
Lower Back Pain Treatment
Almost everyone has to face the intolerable low back pain once in life. Consciousness can reduce the pain mostly without any medication.
However, depending on severity, you should look for lower back pain treatment. Treatment allows you to work freely without distraction due to the pain. Here are some examples of lower back pain treatment which you should avail:
Taking rest can be odd to know as a treatment. But most of the cases, muscle strains and sprains happen due to overuse, stress, and pressure on the limbs. So, you need to take at least 2 minutes to rest after 2-3 hours working at a stretch. This helps to improve blood circulation and also to loosen the muscle fibers.
Sometimes the backaches go off when you rub the spot with heat pad or icepack. It's because heat or ice has the power to keep your muscle quiet. As a result, you can get a quick result to push the pain away.
Over-the-counter (OTC) painkillers perform as a noninvasive solution for back pain lower back. It helps to reduce the pain and swelling well.
Many patients got satisfaction using NSAIDs, antidepressants, etc. treatments.
Physical therapy, yoga, exercise, cortisone injections, Botox, shiatsu, etc. are also a good way of treatment
Fixing lower back pain
Fixing back pain is almost similar to lower back pain treatment. The set of fixes include using heat or ice to remove the affected part on your back. Acupuncture, re-design of workspace, eating vitamins and minerals for bone and muscle are great to fix.
Choose the multivitamin product, which contains vitamins, minerals, phosphorus, vitamin D. You should also be aware of sleeping style.
Don't put your back in risks while you are sleeping in casual form. Do not put pressure on your muscles.
Tips to remove lower back pain
Here are some useful tips on this vast topic. You should follow these to stay healthy without back pain:
Keep your posture correct when you are doing your activities
Sit on the chair properly at the right position
Use ice or heat for immediate pain relief
Do exercise regularly and stretch your body muscles
Avoid low-quality footwear that can be the reason for lower back pain
Keep your body weight fit depending on BMI
Find top-quality mattress for proper sleeping
Keep some primary medicines in your kit to eliminate the back pain
Meet the therapist if you are having severe pain
Quit any bad addiction such as smoking, drinking
Conclusion
You may have spent a lot of your precious time to deal with lower back pain. But I am quite sure that you haven't still got the proper information about back pain removal.
In this lengthy article, you are getting all the professional and essential information in a single place. This content would be successful if you can get something productive for you.
However, if you are aware of your movement, sitting and standing style, work stress, sleeping, etc. matters, you won't need to go to the local physician anymore. Think about the points I've mentioned above; the causes, types, prevention, cure, and so on.
Have a back pain-free life!
https://www.acatoday.org/Patients/Health-Wellness-Information/Back-Pain-Facts-and-statistics (1,2)
https://www.ncbi.nlm.nih.gov/books/NBK11709/ (3)
https://www.healthline.com/symptom/low-back-pain (4)
The research was taken from Dr. Marshall Emig, MD
Buy on Walmart
Thera Cane Massager (Blue) - Walmart Link
Zyllion Shiatsu Neck and Back Massager Cushion Pad with Soothing Heat Function - Walmart Link
Zyllion Shiatsu Back Neck Massager – Kneading Massage Pillow with Heat ZMA-13-BK (Black - Walmart Link
Zyllion Shiatsu Back Neck Massager – Kneading Massage Pillow with Heat ZMA-13-BK - Walmart Link
PUREWAVE™ CM-07 Dual Motor Percussion + Vibration Therapy Massager (White) | - Walmart Link
PUREWAVE™ CM-07 Dual Motor Percussion + Vibration Therapy Massager (White) | Official Patented CM-07™ | Treat pain for back, sciatica, neck, leg, foot, plantar fasciitis - Walmart Link
Naipo Shiatsu Back and Neck Massager with Heat Deep Kneading Massage for Neck, Back, Shoulder, Legs and Foot - Walmart Link
Naipo Shiatsu Back and Neck Massager with Heat Deep Kneading Massage for Neck, Back, Shoulder, - Walmart Link
Massagers for Neck and Back with Heat – Deep Tissue 3D Kneading Pillow, Electric Shiatsu Back Neck and Shoulder - Walmart Link
Kieba Massage Lacrosse Balls for Myofascial Release - Walmart Link
Kieba Massage Lacrosse Balls for Myofascial Release, Trigger Point Therapy, Muscle Knots, and Yoga Therapy. - Walmart Link
Body Back Buddy Back Massager (Blue) | Handheld Massage Stick | Trigger Point Massager - Walmart Link
Back Posture Corrector for Women & Men – Effective and Comfortable Posture Brace for Slouching & Hunching - Walmart Link
Back Posture Corrector for Women & Men – Effective and Comfortable Posture Brace for Slouching & Hunching – Discreet Design – Clavicle Support - Walmart Link
BodyMed Digital Moist Heating Pad with Auto Shut Off Heating Pad for Neck and Shoulders, Back Pain and Muscle Pain - Walmart Link
Pure Enrichment PureRelief XL King Size Heating Pad (Charcoal Gray) – Fast-Heating Machine-Washable Pad - Walmart Link
Pure Enrichment PureRelief XL King Size Heating Pad (Charcoal Gray) – Fast-Heating Machine-Washable Pad – 6 Temperature Settings - Walmart Link
Thermophore Large MaxHeat Deep-Heat Therapy Pad - Walmart Link
Thermophore MaxHeat Deep-Heat Therapy, Large, Standard 14″ x 27″ - Walmart Link
RENPHO Rechargeable Hand Held Deep Tissue Massager - Walmart Link
Penetrex Pain Relief Therapy [2 Oz] – Trusted by 2 Million+ - Walmart Link
Penetrex Pain Relief Therapy [2 Oz] – Trusted by 2 Million - Walmart Link
TriggerPoint GRID Foam Roller - Walmart Link
Posture Corrector for Women and Men | Neck Pain Relief | Adjustable Upper Back Brace for Clavicle Support - Walmart Link
[New 2019] Posture Corrector for Women and Men by leramed - Walmart Link
Back Support Belt by Sparthos – Relief for Back Pain, Herniated Disc, Sciatica, Scoliosis and more! - Walmart Link
Back Support Belt by Sparthos - Walmart Link
ComfyMed Premium Quality Back Brace CM-102M with Removable Lumbar Pad for Lower Back Pain Relief - Walmart Link
BraceUP Stabilizing Lumbar Lower Back Brace Support Belt Dual Adjustable Straps Breathable Mesh Panels (S/M) - Walmart Link
BraceUP lumber lower back brace - Walmart Link
Mueller Adjustable Lumbar Support Back Brace with Removable Pad - Walmart Link
BODYMATE Compression Brace for Hip, Sciatica Nerve Pain Relief Thigh Hamstring, Quadriceps, Joints, Arthritis, Groin Wrap for Pulled Muscles, Hip Strap, Sciatica Brace/SI Belt - Walmart Link
BODYMATE Compression Brace for Hip, Sciatica Nerve Pain Relief - Walmart Link
Buy on eBay
Thera Cane Massager (Blue) - eBay Link
Zyllion Shiatsu Neck and Back Massager Cushion Pad with Soothing Heat Function - eBay Link
Zyllion Shiatsu Back Neck Massager – Kneading Massage Pillow with Heat ZMA-13-BK (Black - eBay Link
Zyllion Shiatsu Back Neck Massager – Kneading Massage Pillow with Heat ZMA-13-BK - eBay Link
PUREWAVE™ CM-07 Dual Motor Percussion + Vibration Therapy Massager (White) | - eBay Link
PUREWAVE™ CM-07 Dual Motor Percussion + Vibration Therapy Massager (White) | Official Patented CM-07™ | Treat pain for back, sciatica, neck, leg, foot, plantar fasciitis - eBay Link
Naipo Shiatsu Back and Neck Massager with Heat Deep Kneading Massage for Neck, Back, Shoulder, Legs and Foot - eBay Link
Naipo Shiatsu Back and Neck Massager with Heat Deep Kneading Massage for Neck, Back, Shoulder, - eBay Link
Massagers for Neck and Back with Heat – Deep Tissue 3D Kneading Pillow, Electric Shiatsu Back Neck and Shoulder - eBay Link
Kieba Massage Lacrosse Balls for Myofascial Release - eBay Link
Kieba Massage Lacrosse Balls for Myofascial Release, Trigger Point Therapy, Muscle Knots, and Yoga Therapy. - eBay Link
Body Back Buddy Back Massager (Blue) | Handheld Massage Stick | Trigger Point Massager - eBay Link
Back Posture Corrector for Women & Men – Effective and Comfortable Posture Brace for Slouching & Hunching - eBay Link
Back Posture Corrector for Women & Men – Effective and Comfortable Posture Brace for Slouching & Hunching – Discreet Design – Clavicle Support - eBay Link
BodyMed Digital Moist Heating Pad with Auto Shut Off Heating Pad for Neck and Shoulders, Back Pain and Muscle Pain - eBay Link
Pure Enrichment PureRelief XL King Size Heating Pad (Charcoal Gray) – Fast-Heating Machine-Washable Pad - eBay Link
Pure Enrichment PureRelief XL King Size Heating Pad (Charcoal Gray) – Fast-Heating Machine-Washable Pad – 6 Temperature Settings - eBay Link
Thermophore Large MaxHeat Deep-Heat Therapy Pad - eBay Link
Thermophore MaxHeat Deep-Heat Therapy, Large, Standard 14″ x 27″ - eBay Link
RENPHO Rechargeable Hand Held Deep Tissue Massager - eBay Link
Penetrex Pain Relief Therapy [2 Oz] – Trusted by 2 Million+ - eBay Link
Penetrex Pain Relief Therapy [2 Oz] – Trusted by 2 Million - eBay Link
TriggerPoint GRID Foam Roller - eBay Link
Posture Corrector for Women and Men | Neck Pain Relief | Adjustable Upper Back Brace for Clavicle Support - eBay Link
[New 2019] Posture Corrector for Women and Men by leramed - eBay Link
Back Support Belt by Sparthos – Relief for Back Pain, Herniated Disc, Sciatica, Scoliosis and more! - eBay Link
Back Support Belt by Sparthos - eBay Link
ComfyMed Premium Quality Back Brace CM-102M with Removable Lumbar Pad for Lower Back Pain Relief - eBay Link
BraceUP Stabilizing Lumbar Lower Back Brace Support Belt Dual Adjustable Straps Breathable Mesh Panels (S/M) - eBay Link
BraceUP lumber lower back brace - eBay Link
Mueller Adjustable Lumbar Support Back Brace with Removable Pad - eBay Link
BODYMATE Compression Brace for Hip, Sciatica Nerve Pain Relief Thigh Hamstring, Quadriceps, Joints, Arthritis, Groin Wrap for Pulled Muscles, Hip Strap, Sciatica Brace/SI Belt - eBay Link
BODYMATE Compression Brace for Hip, Sciatica Nerve Pain Relief - eBay Link