The running shoes industry is a huge market. From Reebok to Nike, to Mizuno to Asics, to Adidas, the selection is vast. So needless to say, the a runner have multiple options to select the right pair of running shoes. Running footwear is actually a $3 billion dollar market, if you would believe. With a vast market, comes different options for running shoes. You will have the cushioning type, the extra support type, the wide shoes for that extra width, the air cushioning option, you name it, they are all out there.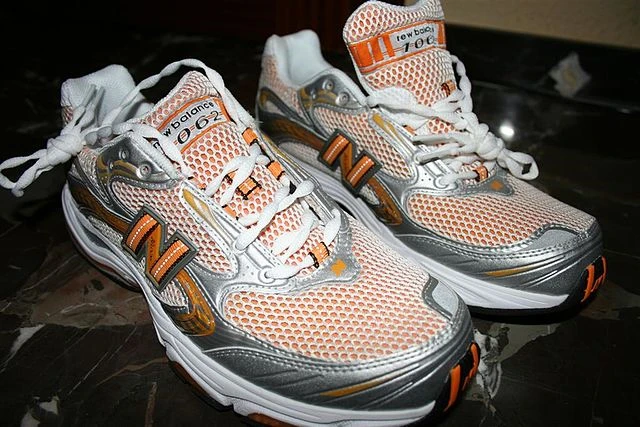 Running Shoes
With all those many choices for replacing your running shoes, why would you stick with that old pair of sneakers, anyway? Many of us, still hang on to that old pair to run outside and in the same breath, we are hurting our feet miserably.
With that said a strong recommendation would be to avoid running in those old sneakers that have lasted for so long. The same goes for a newer pair that is not adequate for your feet or is causing you more pain than the one you replaced it with. To make it easier on you, I have listed five reasons that will indicate, it is time to replace your running shoes.
Aches and Pains from New Running Shoes
You've tried the running shoes at your local retailer, they fit fine and they are snug. You like the color and it aqppears there is some good cushioning as told by the salesperson. You run your first ten or even 50 miles and then it occurs, new pain and new aches have developed. Don't wait for the shoe to break-in as we say, it won't do you any good. You must look at why there is a pain that didn't exist before. Usually, sprts retail stores will have a 30 day-return policy. take advantage of this especially if your shoes are hurting you.
There is a strong chance, you were influenced by the salesperson aggressive to make a sale on a shoe that is not working out for you. In this day and age of fine technology, a running shoe doesn't require much time to mold and break-in. The bottom line is that if a running shoe is not making you feel good at the beginning, it certainly won't get any better. Actually, conditions will worsen for you.
the rule of thumb with regards to new running shoes is simple. if it hurts very soon after your first couple runs, there is likely a shoe problem in store for you. Injury cause by new running shoes can range from pull in the calf muscle, blisters on the heels, blisters under your foot. If a shoe is not wide enough, circulation may be a problem too. having the right sock for running at the time of your purchase will help as well.
A sock that is thin at the trial time, won't be the right sock for running (thickness and material). So, keep this mental note with you at the time you will be shopping for new running shoes. A new shoe that is hurting you shouldn't be thrown away. Simply make sure you return to the retailer before the return policy has expired. Always ask how the return policy is at the time of purchase.
Aches and Pains in Old Shoes
The obvious reason for replacing your current running shoes will be probably because your old shoes are not cutting it anymore. They were great and durable but now it is time to replace the old sneakers. Replacing old sneakers may be harder than you think after you had a great pair that bring any injuries whatsoever.
With old running shoes, the risk of injuries is accentuated as much as ten times greater. One of the obvious injuries to note with an old pair running shoes is plantar fasciitis which can take forever to go away and put a serious halt on your running.
In addition other aches and pains that could lead to serious injuries are sore knees, sore feet leading to sore hips since everything is out-of-balance. With sore knees, as well as plantar fasciitis, the causes stem probably from a proper lack of cushioning in the arch of your foot. With pounding taken on a treadmill, pavement or in the wood trails, the cushioning eventually becomes worn and flat as a sheet of paper. At this point, the cushion is worthless. Inserting an insole to add cushioning, won't solve the problem, unless it is a professional orthotics doing the work with a medically engineered orthotics for that specific pair of running shoes.
In most cases, the orthodontist will strongly recommend to replace your running shoes. Visually, it is not always obvious to see if a cushion has gone and disappeared. While running, listen to your body and feet while the feet hit the ground and you will know
Over the Limit Mileage on Your Running Shoes
Like a car, running shoes have a certain mileage limit that should not be exceeded. When running, it is important to keep track of the mileage you put on them whether it is through running, walking and even jumping. Depending on the quality of the running shoe, brand and type an average running shoe will have a life span (mileage wise) of approximately 400 miles. One important factor in the determination of this average is the weight of the runner, it style of running (heel runner or toe runner), Is this a lot? It is not really!
It has been proven that a runner will land his foot on the ground four times his body weight and hit the ground in an area of about 1,500 within 10 to 12 minutes. In this time span, your running shoes and more precisely the cushioning of your running shoes will a serious beating. So by tracking your mileage, from the start with new running shoes, you will know exactly when you will hit the 400 miles range. The result will be lessen on the injury side too.
To illustrate better what the cushioning is like, picture this! The running shoe mid-sole material viewed under a microscope will display hundreds of tiny air pockets similar to what a sponge looks like. This mid-sole material is often made polymer called Ethylene Vinyl Acetate (EVA). At the time of running, when your foot hits the ground or a treadmill track the EVA contracts so these tiny air pockets collapse just like a sponge. This action by the mid-sole is the physical absorption taken by the foot at the strike point.
Can you increase the mileage without having to replace the mid-sole of your running shoes? Not really, but make sure you keep track of your mileage. Avoid areas to run where it like a hot pavement, or areas of cross country running with harsh terrain. if you are a cross-country runner, then your shoes will need replacement more often. It is a good idea in this case to have a couple pairs handy specifically for those type of runs.
Blistering Common Running Shoe Injury
If you have been running or even power walking, you must have had a blister at some point on your foot, under your foot (ball of your foot), near your toes or on your toes at the back of your heel or in the arch of your foot. Where it rubs, it will blister. It is like hard physical work without working gloves. Two ingredients are required for blisters: hot and humid conditions and a rubbing action. The blistering can be created from a bad running shoe or a bad sock for that running foot wear. It may be worthwhile to invest in a good quality sock for running. They can purchased in the 10 to 30 dollar range, but your feet will feel much better.
Some great running socks are available here , if you are curious to see what a great quality running socks cost and what material they are made of. A great running socks will often have compression in them to help the foot breath better. As you know there are several lengths. There are the low-cut socks, compression socks, plantar fasciitis socks, knee socks, and loose socks for diabetes.
In the case where your running was in cool weather and the socks you have worn are of excellent quality, the reason then may be your shoes. In this case, you have a shoe that is not fitting properly your feet. A running shoe too tight, too loose too wide, an intruding interior seam, and over arched may all be causes for concerns if the blisters keep on coming. Again, as mentioned above, return to the salesperson and voice your concerns immediately within the return policy on those running shoes. Look for a different shoe and may I add a different salesperson. As for older running footwear, when they are past their prime, they will also cause you blisters because of their looseness over time.
Discomfort
One other red flag that will indicate when to replace running shoes is any unusual discomfort. The primary concern for most customers and runners is the comfort brought by a running shoe. This means that everything from the toe box to the arch to the heel should feel as if it's functioning like a part of your foot. If it feels like the shoe is working against the natural motion of your foot or they just plain hurt when you run, it's time to look for a new footwear solution. Keep in mind that this applies when you first put the shoes on in the store, so jog around a bit before heading to the register to make sure they are the most comfortable shoes for the job.