Looking for the best 3 wheel walkers are a safe, flexible and cost-effective way to help maintain an active lifestyle? You gotta accept how hard it is these days to stand by our elders while they are walking or even taking the ginger steps.
A three wheel walker is an ergonomic frame with handles and legs which adds stability.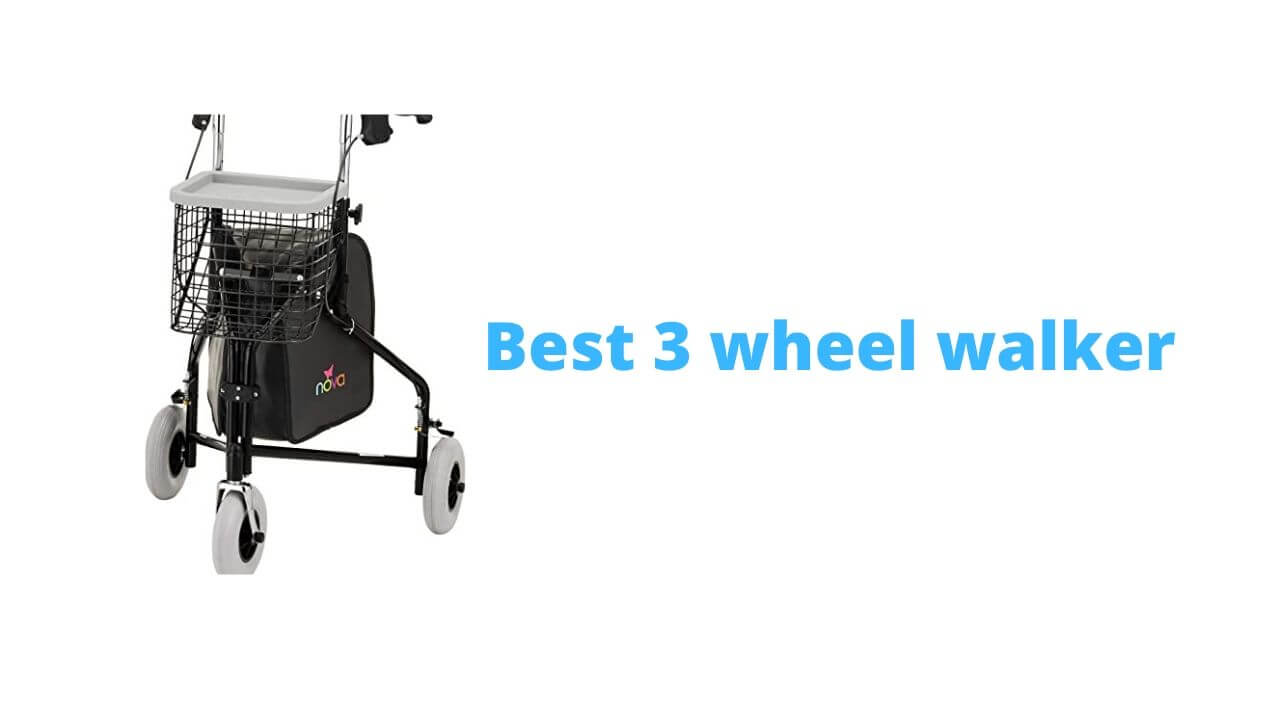 In this article, we will help you find the best 3 wheel walker by elaborating some top products' features and guiding you towards how to choose the best 3 wheel walker for you.
---
Quick Overview- Best 3 Wheel Rollators-3 wheel walkers
---
Image
Product
Details
Price

NOVA Traveler 3 Wheel Rollator
Full unit weight: 16.5lbs
Super easy fold, rollator stands when folded, and easy to lift.
Ergonomic handle grips and brakes.
Available colors: Black, Blue, Light-blue, Red, Purple.

Drive Medical Nitro DLX Euro Style Walker
Weight capacity: up to 300lbs
Thumb-screw back support with height adjustability
Removable deluxe zippered storage bag
Available colors: Champagne and Sleek Blue

Drive Medical Winnie Lite Supreme
Total unit weight: 11lbs
Weight capacity: up to 300lbs
Adjustable brakes
Casters: 7.5"

Carex 3 Wheel Walker
Handle height: adjustable from 31.75" to 38"
Large storage bag with pockets
Easy folding and compact storage.
Suitable for medium heights to taller people
---
Best 3 Wheel Rollators-3 wheel walkers for seniors
Nova Traveler 3 Wheel Rollator is the new age mobility enhancer for the senile family members. This tripod walker is super easy to fold in just seconds and portable. Nova three wheel walker comes with a tray, large zippered storage pouch and basket.
NOVA's wheels are durable, great for indoor and outdoor, and covered with a long-lasting paint finish. Its handles can be adjusted up to 37", making it a convenient walker for the variant users. The lightweight rollator makes an easy-fold and an easy-lift unit for the oldies.
The rollator literally glides over all types of surface whether it be grassy, uneven concrete, or pebbled alley. After a long and cheerful walk, one can fold and store it anywhere at home.
Nova Traveler is a self-maintained walker. A gentle pushing down the brake will park it without worrying you a bit. Its comfy handles grip amazingly with your palms for painless walking.
Key Features:
User height: 5'-4" to 6'-2" (approx.)
Weight capacity: up to 250lbs
Overall dimension: 23.5" W x 24.5" D x 37" H
Handle height: adjustable from 33.25" to 37"
Full unit weight: 16.5lbs
Super easy fold, rollator stands when folded, and easy to lift.
Ergonomic handle grips and brakes.
Available colors: Black, Blue, Light-blue, Red, Purple.
Pros:
Maneuvering the rollator is super easy by the small spaces and sharp turns. Useful for their daily strolling inside and outside home.
Its feather touch brakes work ceaselessly on the ergonomic handles.
It has a removable front wire basket with a tray on top and a spacious pouch.
The basket is useful for carrying food, groceries, newspaper, etc. while the pouch can take in the books, cell-phone, medicines, purses, etc.
The topper tray is useful for keeping meals or reading books or writing.
Folding this rollator is effortless and it can be kept by the bed, kitchen counter, study-room, garden flower-beds, etc.
Its wide and rugged wheels are suitable for running over diverse terrains.
A gentle push on lever downward is enough if the user has to park it somewhere. The brake releases upon pulling the lever upward.
5-year warranty is a good deal on all the brake parts.
Multiple color options with sleek paint finish will allure the owner as well as the onlookers.
Cons:
Might be heavier than what is claimed.
Handles are found to be fragile by some customers.
---
Drive medical will help your endurance and provide a seat to sit on. With this type of wheeled walker, you'll be able to walk faster and smoother. The Drive Medical Nitro DLX Euro Style Walker Rollator is not just another nitty-gritty medical walker. The Nitro is a stylish walking rollator.
The Euro-style making has turned the Nitro Rollator into an aesthetic piece of alternate orthotics. The elderly walkers would find the rollator stable while moving it. Its sturdy frame adds to the better stability of the unit.
Its wide front caster architecture is a perfect-built for fine rolling. And steering down the walking path and by the sharp turns feels flawless.
The Nitro DLX Euro has a cross brace design, making it foldable in a side-to-side dimension. Besides, the folded unit is convenient for compact storage, e.g. your car's trunk or the backseat.
This 3 wheel walker with seat, comes with a removable storage zipper bag. You will love its elegant texture and usefulness. The adjustable resting seat can bear up to 300lbs.
Key features:
Euro-style design
4 large wheels
Cross brace side-to-side foldable design
10" Caster fork design
Complete dimension: 28" L x 24" W x 33.5" H
Handle height: adjustable from 33.5' to 38.5"
Weight capacity: up to 300lbs
Thumb-screw back support with height adjustability
Removable deluxe zippered storage bag
Available colors: Champagne and Sleek Blue
Pros:
Adjustable handle height is convenient for users with different heights.
Its cross brace feature enables it to collapse in a side-to-side dimension, hence, making it an easy-carry to almost every place.
As folded, the rollator turns to a compact storage within a room or a car trunk, or its backseat.
It offers a back support, which is adjustable by tool-free thumb screw.
Its larger wheels make sure the senior users can experience fine steering and rolling on the uneven surfaces as well as sharp turns.
The removable zipper bag is an awesome item for those who need to carry certain useful stuffs safely with them.
Apart from the primary features, it offers a resting seat for the older walkers, in case they need to catch a breath.
The overall features prove the rollator's price reasonable.
Those who suffer from back pain or hip discomfort, may benefit from this rollator as it inspires upright walking.
Its smooth and happy rolling makes it a suitable rollator for patients with fatigue and spinal issues.
Its ergonomic structure and function warrant a safe and easy gear for the aged walkers.
Large wheels make the unit easy to roll over the grassy yard, down the pebbled road, or through the superstore aisles.
The product is delivered almost fully assembled, so, the elderly or un-savvy users wouldn't encounter any hassle assembling the parts.
Cons:
Heavier due to sturdy frame, about 22lbs.
The storage zipper bag may be a hassle initially to put on and off.
---
This 3 wheeler rollator is the strolling bike for the aging people. The Drive Medical Winnie Lite Supreme Aluminum rollator has proven to be a better walker alternative for the seniors these days.
Its aluminum lightweight making is a plus for the oldies along with its nice balance. The aluminum casting loop lock system offers smooth operation and safety.
If plain and eloquent gliding is optimum, then Winnie Lite offers it with its 3 decent wheels taped by soft grip tires. These wheels assure a safe and well-balanced stroll both indoor and outdoor.
The tan plaid rollator has a sporty look and through its maneuvering features, it motivates the elderly walkers' spirit. Its lightweight sporty operation helps the elders gain more gaits every day.
What more, the Winnie lite comes with a standard carry pouch in which your senior family member can transport useful small stuffs safely.
Key Features:
Loop lock system made of aluminum casting
Overall dimension: 22.75" L x 26" W x 32" H
Handle height: adjustable from 31" to 38"
Total unit weight: 11lbs
Weight capacity: up to 300lbs
Adjustable brakes
Casters: 7.5"
Pros:
The aluminum casting makes it lightweight and easy-handle rollator for the old people.
It has a weight capacity of up to 300lbs.
Its 3 decent wheels have soft grip tires that glide the rollator plainly over different surfaces (indoor and outdoor), making it a less effort for the old walkers.
It's smooth and maneuvering even for the people over 70-80s with frail strength and spontaneity.
It comes with a standard carry pouch, which is handy for carrying various useful items such as purse, books, medicines, etc.
The adjustable brakes prevent imbalance while walking and allow locking if the user wants to stand by.
The full unit is fairly stable assuring proper balance while walking.
It folds easily and single handedly, something that an old person can do comparatively swiftly.
Cons:
May not be suitable for shorter people; let's say, below 5'-3".
Some may prefer the 4 wheeler to the 3 wheeler for better navigation.
---
Shun the aging loneliness by restoring the walking delight with the Carex 3 Wheel Walker. Put this lightweight PVC wheeler ahead and stroll around with it in the garden, at the parks, or down the alley when you like.
The walker will lead your old fellow smoothly over the surfaces and swap between the lanes flawlessly. It runs efficiently both indoor and outdoor.
The walker itself weights about 10lbs, which is lighter than other contemporary walkers, making it an easy-handle walking gear for the frail oldies. It's suitable for people weighing up to 250lbs and adjusts with people of medium to tall.
The product is a quick-assemble unit and conveniently assures a compact storage. It comes with a spacious bag, capable of carrying books, meals, cell-phone, medicines, and the like.
Its blue vein color gives it a midnight aura, which grooves into any part of day while walking it out.
Key features:
PVC wheels, 3 Wheels, 7" each
Easy roll and turn on tight and sharp spaces
Lightweight, 10lbs
Weight capacity: up to 250lbs
Overall dimension: 22" W x 25.5" L x 38" H
Handle height: adjustable from 31.75" to 38"
Large storage bag with pockets
Easy folding and compact storage.
Suitable for medium heights to taller people
Pros:
It ensures a safe and independent walking experiences for the senior walkers.
Its swift assembly and easy folding makes it a hassle-free unit.
The lightweight feature of the rollator is a plus for those who are able to apply less strength.
Its compact folded size is easy to carry inside the car trunk or at the backseat.
It has 3 PVC 7" wheels that glide over the surfaces with increased speed and agility.
Its spacious storage bag can carry useful stuffs like books, foods, pouches, clothes, etc. while its pockets are suitable for taking cell-phones or ID cards.
The adjustable handle height is a convenient feature for people with different heights.
The hand brakes work efficiently for securing the walker's movement.
The aging and limping users will find their confidence and spirit of walking back after using this rollator.
Its structure gives the walker a constant upright stance.
Cons:
Not stable enough for the frail people.
The wheels may decline soon.
Wobbly handles.
---
Buying Guide: What to Look for in a 3 Wheel Walker?
If you want to help yourself for your weakened feet or for inspiring your elderly relatives to gain their walking ability back, read below what aspects you should look for in a 3 Wheel Walker:
1. Dimension
A 3 Wheel Walker should come in a decent size and dimension. Its optimum height, width, and length should be according to your height and movability.
2. Stability
Tottering with your walker isn't the best idea. A 3 wheeler should be sturdy so that it's easy to roll while maintaining your feet effortlessly.
3. Wheel Size and Material
PVC wheels are better for gliding down the path. They are even better when taped with soft-grip tires.
4. Maneuverability
Oldies must be able to maneuver the walker ceaselessly. The 3 Wheel Walker should have the liquidity in its wheels for smooth walking.
5. Ergonomic Handles and Brakes
The elderly walker should be able to grip the handles painlessly while pushing the walker forward. Besides, the brakes should be gentle for easy parking and off.
6. Foldable
You should look for the easily foldable walker so the senile can make a compact storage of it within his/her home, car trunk, backseat, or by any place they are resting.
7. Removable Accessories
Look for what extra goodies a 3 Wheel Walker has to offer. Removable pouches, baskets, trays, etc. can come handy for the oldies for carrying several small stuffs.
8. Lightweight Making
Aluminum made 3 Wheel Walkers are usually lightweight and easy to handle even for a senior at 60s. Pick the most appropriate walker as per the walker's usability.
9. Color
Suit yourself with the color you love. Make sure the painting has a fine finishing and is healthy for an aging person.
10. Warranty
Check with the merchants how is their warranty service for the desired 3 wheeler. Ensure how they would serve you for the labors and parts.
Read More – Walker benefits
---
What is a 3 Wheel Walker?
A 3 Wheel Walker is simply the rollator with 3 PVC wheels. The 3 wheelers have 1 wheel at the front while the rest 2 at the rear. This walker is efficient in mobilizing the old and frail people's gaits. It helps them activating their leg muscles.
3 wheeler is a conveniently maneuvering gear that walks the user effortlessly down the surface. Seniors and partially handicapped people find it handy in their daily activities.
Its ultralight materials make it an easy-handling unit, which collapses effortlessly for compact storage. Many prefer a 3 wheeler to a 4 wheeler due to its narrower build.
A few of the popular 3 Wheel Walkers are Drive Medical Winnie, Carex, Nova Traveler, Duro Med, etc. Most 3 Wheelers come with common features yet each brand vary in certain upsides and downsides.
[Miller Care] [Let's Say Thanks]
---
Benefits of Using a 3 Wheeled Walker
Let's check how a 3 wheel walker is a better choice for the elders:
1. Floaty
3 wheel walkers are lightweight, weighing around 10-16lbs. Older and frail users would experience a clear and effortless stroll around their yards, parks, malls, or down the lane.
2. Movability
Seniors love the 3 wheel walker as they find it easier to maneuver and steer towards wherever they need to. 3 wheelers are light, which reduce the stress on the users' joints, legs, and arms while walking.
3. Parking
A 3 wheel walker comes with a soft brakes so the elder users can control their wheels. They can park the walker if they need to rest at somewhere. Also, the brakes help the users to prevent rolling away or accidents.
4. Compact Storage
3 wheelers can be folded easily and swiftly. Oldies find it helpful for easy lifting and storing it into a compact place. Those who love to travel a lot will love the foldable and lightweight 3 wheelers even more.
5. Goodies
A user can find the removable yet nice accessories of a 3 wheel walker handy along the way. One can put many essential stuffs such as cell-phone, notebook, medicines, pouch, etc. in the removable basket or storage bag. Some 3 wheelers also offer bottle holder and removable tray.
---
Drawbacks of Using a 3 Wheeled Walker
Drawbacks coincide with the benefits for every product. Below are the drawbacks of a 3 wheel walker:
1. Weight Bearing
3 wheel walkers are comparatively less weight bearers. A weightier user may stumble keeping up with a lightweight 3 wheeler while walking.
2. Instable
A 3 wheel rollator tends to be less stable than a 4 wheel walker in terms of maneuvering.
3. Seat-less
3 wheel walkers do not come with resting seats, which may leave an older walker huffing at some point of a decent stroll. Three wheel walker with seat is the best option
4. Price
Many superannuated persons may find a brand new tri walker for seniors expensive. Its lucrative features may justify for the price yet wouldn't make way for a dependent senile.
---
FAQ
---
Are 3 wheeled walkers safe?
You can call a 3 wheeled walker a safe gear for the elder people for its frame and movability. However, a 3 wheeled walker supports less for the weightier people.
Which are the best 3 wheeled walkers?
Some great 3 wheeled walkers:
Duro-Med Royal: Spacious basket, 220lbs capacity.
Lumex Cruiser: Rubber Wheel, 250lbs capacity.
Health Line Lite: Aluminum Frame, removable basket.
Nova 3 Wheeled Walker: Foldable frame, locking brakes.
Do 3 wheeled walkers have seats?
A few models of the 3 wheeled walkers come with seats. To rest after a long walk on your walker, you better buy the walker with a comfortable seat.
What are the best walkers for seniors?
Lumex GF 3 Wheeled Cruiser: Adjustable handle height, lightweight.
Traveler 3 Wheel Rolling Walker: Spacious Basket, suitable height.
Red Winnie Lite Supreme 3 Wheel Rollator: Lightweight, smooth walk.
Who should not use a rollator walker?
Though a useful gear, certain elders shouldn't use a rollator walker if:
They just had a leg surgery.
They have weight balance issue.
They have a severe back issue.
Which is better a cane or a walker?
A cane wouldn't give you a basket, seat, or mobility that a walker would. Conversely, a cane would make a less hassle with balance and weight bearing. Choice is yours.
---
Conclusion
Life may become much easier for our loved old fellows upon acquiring the 3 wheel walker. At least, they can get back the strength in their waning limbs and start living a more active and healthier lives
A 3 wheel walker may find the seniors as well as the partially handicapped people a new meaning of social encounters. They will be able to visit places, shop at the stores, and meet their closed ones whenever they wish.
Companies are integrating more ergonomic features into the 3 wheelers for safer and more efficient performance.
Remember, the variants are many but you must select your best 3 wheel walker cautiously following the buying guide we've discussed in this article.