If you are one of those suffering from dry and cracked skin on your feet, you will know that it can lead to serious discomfort and further complications. Many tools exist such as foot rasps and foot files to shave off that dry skin and tough skin build-up. There are dry foot file products like the Amope Pedi Perfect and the calluses remover such as the Own Harmony who will take a lot of the heavy workload.
For the long term, you may need more than just filing the dry skin and you're done. You will also need to soak your feet after filing the dry skin off and apply the proper foot cream. Once you are done, you will need to keep them moisturized so the skin can regenerate safely and properly. This is where moisturizing gel heel socks and sleeves can be an additional tool in your toolbox to keep your feet fresh and soft.
Top Moisturizing Gel Heel Socks and Sleeves in 2022 by Editors' Picks
What are Moisturizing Gel Heel Socks and Sleeves?
Moisturizing gel heel socks or gel heel sleeves are socks and sleeves aimed to keep the moisture on your skin for a longer period of time than just applying foot cream. They can be found at specialty health stores, department stores and also discount retail stores. You can also find them online easily.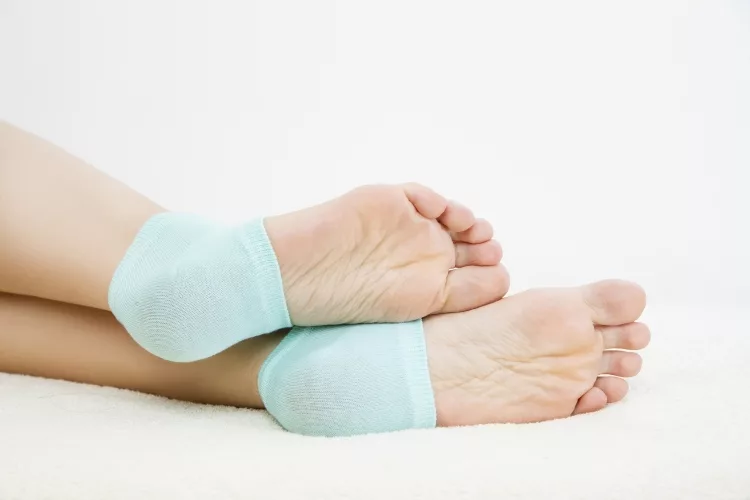 There are two types of moisturizing gel heel socks and sleeves. The first is the type you pull on over heavily lotioned feet while the second type is the one that comes with lotion built-in the sock or sleeve. Both types of socks will work and the built-in lotion type is normally more expensive to buy. Another factor is the time you want to wear them based on the status of your dry feet and the need to have them fresh for the next morning.
In our list below, you will observe that we listed both types and we are also mixing socks and sleeves in the same compilation. It is important to note that whether you prefer a sock to a sleeve has no bearing on a sock is a better product or not. Some people prefer to wear a sleeve over a sock and that is only a matter of choice and comfort.
How to Use Moisturizing Gel Heel Socks and Sleeves
Knowing how to use moisturizing gel heel socks and sleeves is actually simple. If you use them the proper way, you will certainly improve its purpose and obtain better results. Below, we have listed the required you need to follow when wearing the moisturizing gel socks.
Soak and wash your feet in warm water. Use a soap-free cleanser to avoid drying out the skin.
Use a pumice stone or an exfoliating scrub to clear off the dry, callused skin.
Apply a foot cream, lotion, or moisturizer of your choice.
Wear moisturizing socks.
Leave the socks on for as long as indicated in the instructions.
If you have very dry skin, using the moisturizing socks on a daily (or nightly) basis might be worth considering. However, once or twice a week is usually adequate for most people, but be sure to pay attention to what the directions call for.
How the Moisturizing Gel Heel Socks and Sleeves Work
Again referring to the two types of socks mentioned above, each type of those moisturizing will have a different way to work. With the first type, these moisturizing socks and sleeves are often made of soft cotton or a combination of cotton and spandex. They can be used with some kind of skin cream or skin lotion. Once you have applied the cream on your feet, you put the socks or sleeves on and let the socks or sleeves do its thing. Of note, you may see that some of these moisturizing socks will have a special foot cream infused with essential oil. These types will also have certain fragrances such as lavender, mint and tea tree.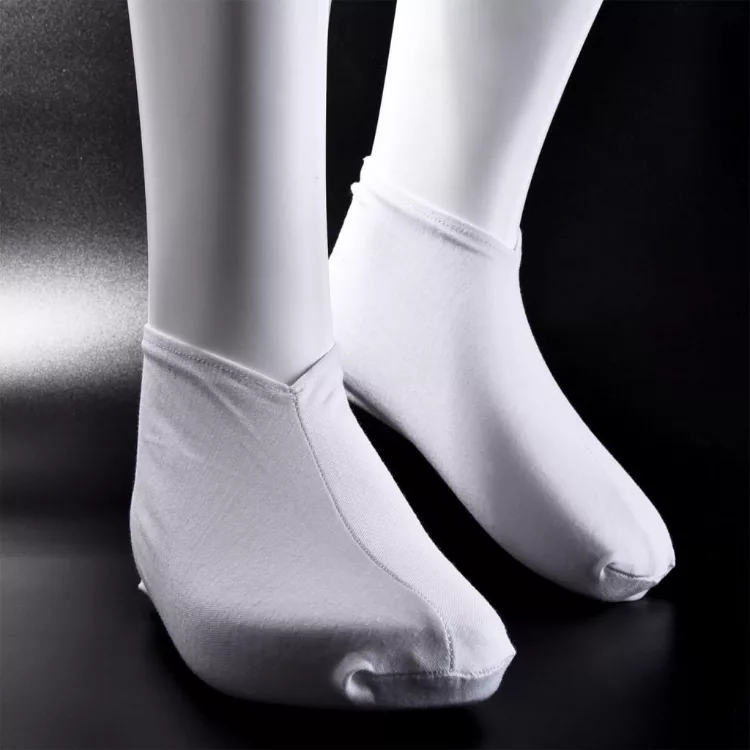 You will also see that these socks do not necessarily come with a moisturizing product. Be prepared to buy a moisturizing lotion or cream separately. One great advantage of this type is that you can apply a lotion or cream of your choice and vary from one day to another. Above, the Hotop Cotton Moisturizing Sock is one of those falling in that category.
Moisturizing Gel Socks or Sleeves
With the second type, these socks or sleeves have a built-in layer of gel within the sock. These moisturizing gel socks or sleeves are designed to work without the application of foot cream or lotion. The gel will usually have natural moisturizing ingredients like avocado oil, olive oil, grapeseed oil, vitamin E and jojoba. These ingredients are contained in a polymer gel within the socks or sleeves.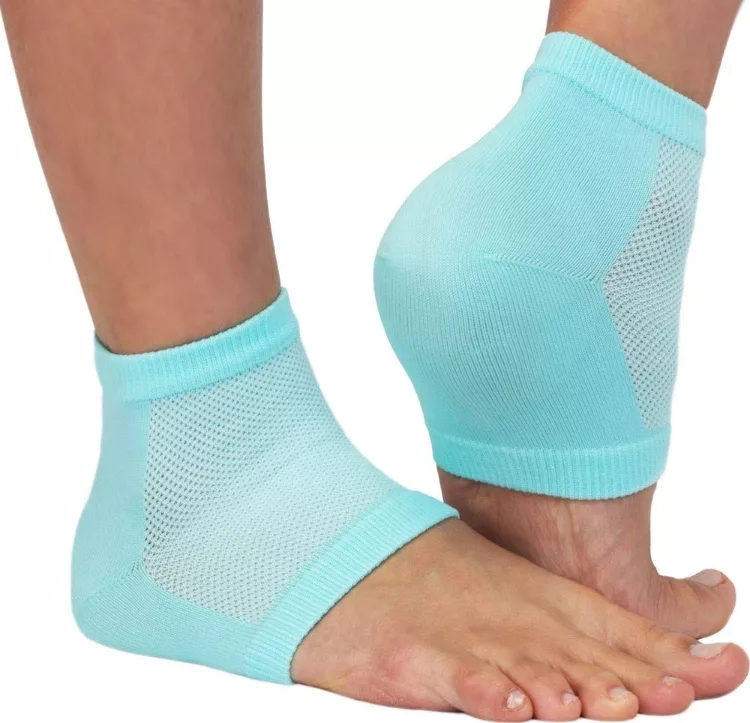 These moisturizing gel socks have one great advantage and it is convenience. It saves you from having to apply creams or lotions. In addition, you don't have to purchase any either. The disadvantage is mostly on how to care for them. They require more care than the cotton/spandex one if you want to get the most out of them. Most of these socks require hand washing. Excessive washing will cause the moisturizing ingredients to eventually run out.
Since many moisturizing products include fragrance, be sure to read the ingredients list closely if you have a special skin condition. Also, as with any moisturizing product, you shouldn't wear the socks if your skin is so dry that it's broken; instead, wait for it to heal before moisturizing.
Moisturizing Gel Socks Like at the Spa
Moisturizing socks have become quick and easy to moisturize your feet. The feeling of having your feet wrapped similar to what spas do to your feet at home has gained popularity. Many of the gel socks now come with their distinctive gel polymer lining. They are infused with vitamin E and mineral oils aimed at nourishing, repairing and hydrating your feet.
Top 7 Best Moisturizing Gel Heel Socks and Sleeves

Below we have compiled a list of the 10 best moisturizing gel heel socks available for your feet. If you are in a hurry, simply refer to the table below to find the type and brand that will meet your needs. Once set, check the list to find out the features and are our thoughts on each products combined with our pros and cons. As mentioned earlier, our list comprises moisturizing sleeves and socks with gel while some are just cotton. This list of moisturizing sleevesfor your feet was trialed over a certain period of time for more accurate results.
1. NatraCure Vented Moisturizing Gel Heel Sleeves - Link
This NatraCure vented moisturizing gel heel sleeve is one of those sleeves that will bring the spa treatment into your home. It is an open-toe heel sleeve that comes with a vented breathable fabric allowing all-day use. The main role of this sleeve is to help you treat dry, cracked heels, dry skin, eczema, and calluses. It has an inner gel lining containing Vitamin E, Vitamin F forte, Shea Butter, and Aloe Vera.
SmartGel Technology:
The main feature of the NatraCure moisturizing gel heel sleeve is its SmartGel technology. The SmartGel technology consists of an M-gel pad at the heel which releases therapeutic oil and vitamins. M-Gel is a proprietary gel formulation proudly made in the USA. These vitamins repairs and soothes any dry and scaled skin. For those requiring an enhanced treatment, the sleeves can be augmented with your favorite cream for additional moisturizer. Wearing these sleeves regularly will, of course, increase its benefits. Therefore we recommend wearing those sleeves a full week then reducing it to two or three times a week.
Overview:
PRIME E

ligible

Vented Large Version: Grey and Standard Version: Blue.

BREATHABLE: Vented breathable fabric allows day use. Repair dry, cracked heels when on the go!

HOW THEY WORK: SmartGel Technology features an M-Gel pad at heel that releases therapeutic oil and vitamins to treat skin.

VITAMIN-ENRICHED: Includes Vitamin E, F forte, Shea Butter, and Aloe Vera for softer, healthier, supple skin.

FOR BEST RESULTS: Wear heel sleeves every day for 7 days, then 2-3 times per week or as needed. For a more intensive treatment, use with a skin moisturizer. One (1) pair. SIZING: Womens up to 10. Mens up to 8.
Common sizes are available with the sizing of up to 10 for women and 8 for men.

Main Features:
PRIME

eligible

Breathable heel sleeves;
SmartGel technology m-gel lining;
Releases medical grade mineral oil and vitamins;
Requires 20 minutes treatment;
Enriched with: Vitamin E, Vitamin F forte, Shea Butter, and Aloe Vera; and
Common Sizes are available.
Our Review on the NatraCure Moisturizing Gel Heel Sleeves:
These moisturizing gel heel sleeves from NatraCure are very effective. The SmartGel technology does magic in restoring dry skin after using them daily for approximately 20 to 3 minutes on average. We also used an additional foot cream for maximum effect and that also helped immensely. They can be a bit constricting so we recommend selecting the right size when buying a pack. The sleeves have a fragrance too so it does feel like a spa treatment. One other factor to take into consideration is the quick wear and tear, these sleeves have. They are wearing out quickly.

2. Codream Vented Moisturizing Gel Sleeves - Link
The Codream Vented Moisturizing Gel Sleeves is a Unisex vented foot sleeves made of 90% cotton and 10% spandex. The blends allow for a slight stretch required to fit most women's and men's feet. With the Codream moisturizing gel heel sleeves, you get a toe-free design sleeve aimed at preventing and treating cracked skin.
Simply wear the silicone sleeve to get the best protection with the gel lining. The Codream Moisturizing Gel Sleeve will stay put and will not make your feet sweat when walking. Filled with a botanical gel lining, the moisturizing sleeve is enriched with vitamin E and mineral oils that are hypoallergenic. The heel of the sleeve provides intensive hydration treatment. Its interior silicone heel pad will keep the lotion where it belongs on your heels. For an enhanced effect simply combine the sleeves with your favorite foot cream or foot lotion.
What is in the botanical gel?
Rose Oil
Can relieve stress and anxiety

Can decrease in breathing rate and blood pressure.
Grape Seed Oil
It can help dilate blood vessels to increase circulation and reduce pain.

Can improve the grey color old looking for feet
Jojoba Oil
It can help quickly penetrate to deliver the healing properties of its partner oils.

It contains Vitamin E and it promoting healthy and clear skin.
Mineral Oil
It can help improve mobility and relieve the stiffness of painful, aching joints.

Prevent the loss of moisture from the skin, keeping the skin hydrated.
Olive Oil
It can help act as a natural pain killer with its oleocanthal compound.

Can help to assimilate vitamins A, D, and K

Can slow down the aging process of the feet
How to Use the Codream Vented Moisturizing Gel Sleeve
Using the Codream Vented Moisturizing Gel Sleeve is very simple. Here are the steps below:
Soak and wash your feet in warm water.
Wait until your dry skin has softened.
Rub it gently over the calloused area, then dry your skin.
Apply some moisturizing foot cream
Wear the Codrean heel sleeve
Overview:
PRIME E

ligible

REPAIR YOUR DRY FEET: Built-in moisturizing hypo-allergenic gel in heel of socks can provide an intensive hydration treatment to soften your dry, hard, cracked, and rough skin on your Heels Ankles Feet. Also provide an improvement of the appearance by helping reduce fine lines of aging

BOTANICAL GEL: Spa Moisture Heel socks with botanical gel lining in heels part are rich in vitamin E and mineral oils (jojoba oil, grape seed oil, olive oil, etc). They can constantly moisturize your heels to a natural and healthy look, nourish the smooth, and increase flexibility

TOE-FREE DESIGN: Prevent and treat cracked skin by wearing the silicone socks on-the-go for ultimate protection. This Gel Socks stay put when you walking. They don't make you feet sweat and get too hot and even you don't notice them and feel peaceful

LOTION INFUSED SOCKS: The interior silicone heel pad keeps the lotion where it belongs on your heels. Gel lining in heels part speed up and enhance the moisturizing process and help your dry or cracked skin heal much more quickly than it would with lotion or hand cream alone. The gel is dermatologist tested, safe for use, and works with your feet lotion to increase the results by 90%

UNISEX VENTED MOISTURIZING SOCKS: Our 90% cotton and 10% spandex blends allows the slight stretch needed to fit most womens and Men's feet. Built-in vented breathable front side design allows a comfortable feeling in day use. Washable and reusable
Main Features:
Toe-free Design Gel Heels Sleeves;
Vented and Breathable;
Wearable all day or all night;
Heel enriched vitamins with natural ingredients;
Made of 90% cotton and 10% spandex;
Easy to maintain and wash;
Our Review on the Codream Vented Moisturizing Gel Sleeve:
The Codream Vented Moisturizing Gel Sleeve is another great sleeve to hydrate your dry skin. It has all the great vitamins to make your feet soft and hydrated. Its universal size is a great advantage since it can fit all men's and women's feet sizes. We were amazed at the number of vitamins that were packed in the heel portion of the sleeve. It's enriched vitamins are the sleeve's best asset. The pack comes with two pairs of sleeves. they are easy to maintain and wash. We recommend of course to hand wash them with gentle soap and water. They can be a bit tight after being worn for a few hours but in general, they were comfortable.
Here are some pros and cons we noted with the Codream Vented Moisturizing Gel Sleeve
| | |
| --- | --- |
| Pros | Cons |
| | Constricting after wearing them for a few hours. |

3. ZenToes Moisturizing Heel Socks - Link
The ZenToes Gel Heel Socks are a great way to relieve dry and irritated cracked heels and feet. It is one of the best moisturizing gel heel socks on the market and is woman-owned. It is also a toeless sock, so you can also call it the ZenToes Moisturizing Heel Sleeve. Very comfortable, the ZenToes gel sleeve moisturizes, heals and repairs your dry skin focusing on your heel while sleeping.
It is designed so the size will fit most of the common sizes of feet for both men and women. Each package purchased, comes with two pairs of socks/sleeves. With its toeless design, the ZenToes moisturizing gel socks can also be used as flip flop socks during those hot summer days. In addition, they can keep your feet warm at night. Of note, these socks or sleeves will stay put without bunching or slipping.
A great tool for those cooler winter nights it will take action on your heels and provide the moisturizing benefits. The ZenToes Fuzzy Moisturizing Heel Socks acts like a spa treatment. it gives the hydration needed leaving your feet hydrated and soft. Do not underestimate the dryness of the winter season and this is where the ZenToes Gel Heel Socks can make a difference.
If you are also staying on your feet extensively as part of your work or daily fitness regime, then the moisturizing action of the ZenToes may be the solution.
Combine ZenToes With Your Favorite Foot Moisturizing Cream
This is probably the best to get the maximum effect out of your ZenToes Moisturizing Gel Socks. If you combine it with your favorite exfoliation foot cream, when pampering your feet, the long-lasting effect of hydrated heels and feet will stay. As an example, you can combine it with several well-known foot cream like the O'Keefe Foot Cream for your feet.
ZenToes a Washable and Reusable Moisturizing Sock
These moisturizing socks are easy to care for. They can be washed and reused many times before losing its hydration effect. As a result, you will get a lot of usage out of them and your feet will be very happy. We recommend washing them by hand and air dry them for the best results. In doing so, these gel socks will retain their original shape and retain their heel gel-infused component.
Overview:
PRIME E

ligible

SAY GOODBYE TO CRACKED AND DRY HEELS Not just a pretty sock. These moisturizing gel socks will hydrate your feet and protect them from further problems by staying hydrated.

GET UP IN THE MORNING WITH SOFT FEET With the ZenToes moisturizing gel socks, you can wear them at night after pampering them in the evening and combined them with your favorite foot cream.

UNISEX AND ONE SIZE WILL FIT MOST FEET Thats right these socks can benefit men and women for most of the common foot sizes.

MOISTURIZING SOCKS EASY TO CARE FOR Simply hand wash them and air-dry them so they can last for a long time and you will have great soft skin.

WEAR THEM DAY OR NIGHT Not only these socks will keep you warm in the winter during those cold long nights but they will keep you cool in the summer with their toeless design.
Main Features:
Here are the main features of the Zentoes Moisturizing Heel Socks:
Unisex and one size will fit most feet;
Can be combined with your favorite foot cream;
Durable if hand-washed and air-dried;
Gel Infused for direct effect on cracked heels;
Great for the cold winter and not too hot in the summer; and
The toeless design allows for a comfortable sleep.
Our Review on the ZenToes Moisturizing Socks:
The tests we did on the ZenToes Moisturizing Socks were conducted over a period of two weeks from one of our readers. Our reader already had a bad case of dry heels and gladly volunteered to trial them and offer her feedback. The socks were used in combination with a foot cream to get the most out of the gel socks by ZenToes.
The main feedback received was exactly as reported above, which is a soothing effect but combined to foot cream. In this case, the foot cream used was the PurSources Urea 40% Foot Cream.

Our reader was impressed with the price and actually bought three pairs so she wouldn't have to wash them so often. They are easy to hand wash and when you air-dry them, they are not taking too much space. The one size fits all played a major role in the trial since they were a perfect fit daytime but we must say at night they were a bit too snug and this may be due to the blood circulation.
The gel socks were soft and not irritating the cracked and dry heels which is always an important aspect to consider. Overall, our reader was very happy with the ZenToes Moisturizing Heel Sock and recommended it based on the effect and price paid. we were reminded to wear them following the application of a quality foot cream
Below are some notable pros and cons to summarize:
| | |
| --- | --- |
| Pros | Cons |
| | May feel tight at night (Blood Circulation) |

The Lavinso Foot Peel Mask is an easy-to-use formula that's designed to get rid of the hardened skin and dead cells on your feet. Once applied, the process will give your feet the softness that only baby has. A product by Lavinso, this exfoliating foot peeling mask, is perfect for removing dead skin cells and calluses on your feet.
The Lavinso Foot Exfoliating Peeling Mask contains safe and powerful botanical extracts that peel away dead skin without harsh scrap or scrubbing. These all-natural ingredients are safe to use for both men and women.
How to Use the Lavinso Foot Peeling Mask
Using the Lavinso Foot Peeling Mask for exfoliation is very simple. The scrubbing is not required when using it. Simply apply it and allow the foot mask to work the way it is designed to. First, you will need to cut the booties in order to create a hole for your feet to slip into. Once in, yoh will be required to seal the bootie and use it for an hour duration. At this time, peeling mask's gel will moisturize and exfoliate your skin on your feet.
Each package has two pairs of exfoliating foot peeling mask booties which gives two treatments.
Overview:
PRIM E

eligible

For those suffering from dry feet and cracked feet due to calluses.

Restores your feet reslting in soft and smooth skin feet.

Results observed after only two weeks.

Made of all-natural botanical ingredients

Wear it truefor an hour for best results.

Excellent product for both men and women.

Avoid the need to scrub your dry feet.

Cut the bootie to fit your feet and slip in and seal it for an hour.

Let the booties moisturize your feet.
Main Features:
PRIME E

ligible

Peels away calluses and dead skin cells;
Use for one hour at each treatment;
Made with all-natural botanical extracts;
Can be used only once a month; and
Safe to use on men and women feet.
Our Review on the Lavinso Foot Peeling Masks for Dry Skin
What we were quite amazed about the Lavinso Dry Skin Peeling Masks was the simplicity of using them and its efficiency in getting soft skin. With this product, do not anticipate soft skin instantly or after its first use. It will take two weeks and probably three before you see a difference. On average, wear them for an hour to get the best results and use them once a week. This is not an every day type of gel socks. We'd recommend to soak your feet after for a 20 minutes period to accentuate the moisturizing effect and loosen the dry skin.
We thought the price was fair and as mentioned above they are simple to wear. All that is needed is to cut a lit to slip you foot in and then seal it with tape for an hour. When cutting the top of the plastic bootie, be careful and cut an opening enough to insert your feet. Those plastic booties are filled with liquid (all-natural ingredients) and can spill out. We also recommend to wear sock after so you are not leaving an unwanted trail of dead skin on your floors.
This product works and you must give it time and matching it with a good soak after works even better and faster. the results were obvious on our feet after two sessions. Since every cases of dry skin are different, it will take either more or less time to get the wanted results.
Below are our pros and cons of the Lavinso Foot Peeling Masks

5. Nado Care Moisturizing Socks - Link
These gel moisturizing socks from Nado Care are one of their multiple personal health care products. The Nado Care socks have the open toe design adding more ventilation between your toes and comfort. Combine to its soft and flexible premium fabric, its softness will increase the benefits required for your feet.
The gel moisturizing socks from Nado Care are good for men and women and one size fits all. he package contains four pairs which will give you plenty of sessions to exfoliate your achy and dry feet. Made of soft cotton, the spa gel socks from Nado come in four different colours: pink, grey, blue and black.
Like many of its competitors the Nado Care Gel Moisturizing Socks are quite easy to use. The best effect are obtained when resting or sleeping art night. It is perfect people who have to stand all day and often or for women who have to wear high heels often. The Nado Care moisturizer heel balm treatment focuses on the sensitive skin at the bottom of your feet. As you all know with dry skin, they eventually crack resulting in fissures on your heels. This is where these moisturizing gel socks from Nado Care can help
How to use the Nado Care Moisturizing Socks
When you start using the Nado care Gel Socks to exfoliate your feet, you will quickly it is very easy to use them. First, shave off the dead skin from the affected area. Once completed, soak your feet in warm water for a good 20 to minutes. Let air dry your feet and apply a skin moisturizer for your feet. Simply wear the socks after.
The socks are recommended to be worn every 7 days three times a week along with a moisturizer, for best results.
Caring for your Moisturizing Socks by Nado Care
One of the great added values from the Nado Care Gel Socks to moisture your feet ts that they are reusable. If you keep them clean and care for them appropriately they will last a a long time. They are very easy to clean and we recommend strongly you hand wash them in clear and cold water. Let them dry naturally in a well ventilated place and they are ready to use again.
Main Features:
Below are the main features of the Nado Care Moisturizing Socks:
Made of cotton;
Comes in a pack of 4 pairs;
Available in grey, blue, pink and black;
Ideal for dry skin with cracks;
Great for men and women;
Best results when used with a moisturizing lotion; and
Easy to clean.
Our Review on the Nado Care Moisturizing Gel Socks
In trialing the Nado Care moisturizing socks, we were happy to see they're a pack of fours pairs. So we knew based on the price we had least a good product for the money paid. The socks are soft and easy to put on. One nice feature we liked was that it is good for him or her, so everybody can benefit from them.
Wearing them a night is best after shaving the dry skin and soaking them for a while. They are more efficient when used with a moisturizing lotion. Many of these gel socks work best when combined to a moisturizing cream or lotion.
If you hand wash them, you are required to use a detergent for delicate fabric. They seem very fragile to care and wear. When wearing them, they didn't feel too tight. It took some days to see a noticeable change after following the directives given.
Overall, this product from Nado Care works well with a moisturizing lotion and is affordable. We recommend following the prescribed use directed with the gel socks for best results.

6. NatraCure Moisturizing Gel Booties - Link
In sixth place, we are bringing in a gel booties that is gaining some popularity and traction amongst users. This gel booties is produced by NatraCure, which specializes in heat and cold therapy, foot care accessories, skin care therapy and also in compression therapy.
The NatraCure gel booties are a one-size fits most, pair of socks containing a medical-grade gel tested and certified by dermatologists, They are hypoallergenic, so you do not need to worry about skin irritations when you wear them. The gel lining gradually releases essential therapeutic oils with a lavender scent to smoothen your feet furthermore. Ideal for your own home treatment just like at the spa.
Like any gel moisturizing socks, the NatraCure moisturizing booties are more efficient if worn more frequently. At a minimum, the recommendation is two to three times a week.
How the Natracure gel Booties Work
The NatracUre Gel Booties works in a simple manner. Once the inner gel lining touches your skin the body heat activates the release of the essential and botanical oil. The booties lining contains Jojoba Oil, Olive Oil and Grape Seed Oil. Once your 20-minute treatment is completed then your feet will feel like new. The skin will feel soft and and smooth.
Keep in mind you will not see the results overnight. As mentioned 2 to 3 treatments a week or more and you will notice the positive changes.
Features:
Below are some of the main features you will see in the NatraCure Moisturizing Booties:
anti-slip bottoms;
one size fits all;
gel lining;
therapeutic essential oil;
lavender scent;
20 minute treatments;
Our Review on the NatraCure Moisturizing Gel Booties
Overall, the NatraCure did the job when trialed for over a 30 day period. Like all of them or most of them, you have to combine it with a moisturizing cream and if you can soak your feet prior in a foot bath with heat and bubbles and then follow up with a moisturizing cream such as the Okeefe Healthy Feet. One issue encountered is the result was slow to come into effect but it eventually get soft and smooth after a few treatment.
We liked the anti-slip feature because if you have a hardwood floor or tiles in your bathroom, you will appreciate the anti-slip pads. The lavender scent was not too strong and nice. The scent doesn't last long especially if you have to wash your booties. You will lose the scent and the effect of the essential oil activation. The price is fair and they are not too costly, We recommend you do get a few pairs based on the information provided above when cleaning them.
Buy on Walmart
ZenToes Moisturizing Heel Socks 2 Pairs Gel Lined Toeless Spa Socks to Heal and Treat - Walmart Link
NatraCure Vented Moisturizing Gel Heel Sleeves - (Skin softening footcare treatment socks - Walmart Link
NatraCure 5-Toe Gel Moisturizing Socks (Helps Dry Feet, Cracked Heels, Calluses, - Walmart Link
Moisturizing Socks for Cracked Heels - Treat Dry Heels Fast, Pain Relief from Rough Feet - Walmart Link
Dry Cracked Heels Repair Bundle with Open Toe Moisturizing Silicone Gel Heel Socks (2 - Walmart Link
Selizo 6 Pairs Heel Moisturizing Socks Open Toe Socks Cracked Gel Heel Socks Foot Toeless - Walmart Link
Codream Vented Moisturizing Socks Lotion Gel for Dry Cracked Heels, Spa Gel Socks - Walmart Link
in a foot bath with heat and bubbles - Walmart Link
Buy on eBay
ZenToes Moisturizing Heel Socks 2 Pairs Gel Lined Toeless Spa Socks to Heal and Treat - eBay Link
NatraCure Vented Moisturizing Gel Heel Sleeves - (Skin softening footcare treatment socks - eBay Link
NatraCure 5-Toe Gel Moisturizing Socks (Helps Dry Feet, Cracked Heels, Calluses, - eBay Link
Moisturizing Socks for Cracked Heels - Treat Dry Heels Fast, Pain Relief from Rough Feet - eBay Link
Dry Cracked Heels Repair Bundle with Open Toe Moisturizing Silicone Gel Heel Socks (2 - eBay Link
Selizo 6 Pairs Heel Moisturizing Socks Open Toe Socks Cracked Gel Heel Socks Foot Toeless - eBay Link
Codream Vented Moisturizing Socks Lotion Gel for Dry Cracked Heels, Spa Gel Socks - eBay Link
in a foot bath with heat and bubbles - eBay Link