The use of cream for your feet can have many advantages. As part of the exfoliation after they have soaked in your favorite foot bath, applying a foot cream to your feet will help your skin immensely. We felt it was time to get pampered and review five foot creams good for your feet. We hope this lookup will help you narrow your search. Online and even at your local spa, there are many foot creams and your local spa will try to sell you creams that are expensive but not very efficient.
So let's not wait and dive in - feet first.
Gold Bond has been in the foot and hand business for some time. The Gold Bond Ultimate Softening Foot Cream is created with vitamins and moisturizers that will help your feet feel soft and smooth. It is a fast-absorbing foot cream that has a fresh, soft scent. If you have feet with a rough texture and calloused soles, this foot cream will help greatly. The cream works great on cracked heels making them feel softer and smoother.
The Gold Bond Ultimate Softening Foot Cream reviewed here is made of Shea butter combined with vitamins A, C, and, E. In addition, Gold Bond has formulated a unique silk peptide matrix that makes this cream rich and soothing.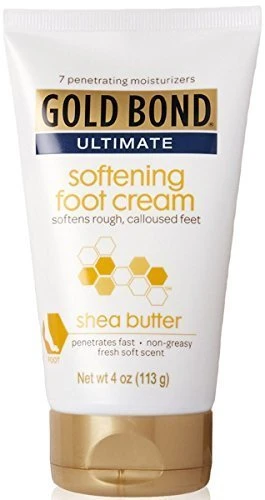 Adopting a good skincare routine should be simple. After all, when returning from work, we don't always have the time to get into a foot bath for nearly 30mins, dry your feet followed by a foot cream application. Gold Bond expedites this process with this moisturizing foot lotion.
Gold Bond Ultimate Softening Foot Cream Features
Below you will find the Gold Bond Foot Cream main features:
Shea Butter;
Vitamin A, C, and E;
HypoAllergenic;
Non-Greasy and moisturizing;
Works great on calloused and dry feet;
Our Take on the Gold Bond Ultimate Softening Foot Cream
Trying this foot cream for the feet was a nice experience. At first, we noticed the price was very affordable for the fresh soothing it brought to our feet. So right off the start, we saw excellent value for the price paid. The scent was fresh and also soothing. We truly appreciated the fact we could apply the cream and let the skin absorb it rapidly. It felt soft after and when we applied to our heels, the softening was evident.
Of course, we always recommend a foot file and soak prior to use the softening foot cream. The other positive aspect of this cream is that is hypoallergenic, so you won't get these red blotches after applying it.
We recommend the Gold Bond Ultimate Softening Foot Cream, it is affordable, soothing and an excellent addition to your own home foot spa.

A product of The Gorilla Glue Company the O'Keefe for Healthy Feet Cream creates the perfect microenvironment for the skin to repair itself. It is no doubt, one of the foot creams good for your feet. OKeefes utilizes three chemical properties:
Hydrate the skin with both water and glycerin;
Trap the moisture at the cellular level to prevent evaporation; and
Alters the Ph in the dermis layer to activate the production of the body's own potent compounds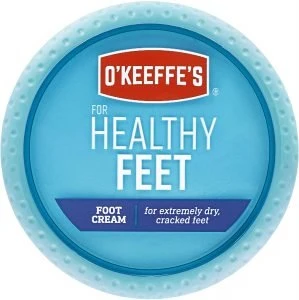 O'Keefe's for Healthy Feet Foot Cream is completely odorless and oil-free for a non-greasy feeling. It also has Allantoin which helps the cream absorb through thicker skin and serves also as a skin protectant. A key ingredient, which is also part of O'Keefe's Healthy Feet Foot Cream is the Octyldodecy stearate which improves the rate of absorption of moisturizing compounds and water into the skin. It also forms a barrier upon the surface of the skin, thus preventing evaporation of vital moisture!
O'Keefe's Healthy Feet Foot Cream Features
Absolutely Odorless;
Non-Greasy;
Hypoallergenic;
Safe for people with Diabetes; and
Guaranteed relief in days
What We Think of the Okeefe's Healthy Feet Foot Cream
This product has been described as a life-changer for many people who have tried O'Keefe for Healthy Feet Foot Cream . A primary care for dry and cracked feet, O'Keefe enabled people with feet so cracked that they were limping or even bleeding. After a week of using it, this foot cream proved to be the solution sought for so many. This foot cream for cracked feet is also affordable at only $8.00 for the 3.2 oz jar on Amazon through the Healthy and Happy Feet Store.
O'Keefe is one of the top quality foot creams for your cracked feet out there . Give it a week of use and you will see the results.

This PurSources 40% foot cream from Pur Organica is probably one of the best foot creams on the market. The PurSources foot cream is part of the great foot creams good for your feet if you are looking at removing unwanted calluses and make your feet feel soft. Calluses can create some major on your feet and PuSources is the perfect weapon to provide the relief needed. A great cream to prepare your feet for the summer sandal season too, this foot cream has the mission to nourish your dry skin on your cracked feet.
Urea the secret Ingredient of PurSources
PurSources' secret ingredient is its Urea cream. It is commonly used to reduce itching and prevent dry and scaly skin. The pure formula of the cream is quite effective.
What is Urea?
Urea, also known as carbamide, is an organic compound with chemical formula CO(NH₂)₂. This amide has two -NH₂ groups joined by a carbonyl functional group. Urea serves an important role in the metabolism of nitrogen-containing compounds by animals and is the main nitrogen-containing substance in the urine of mammals.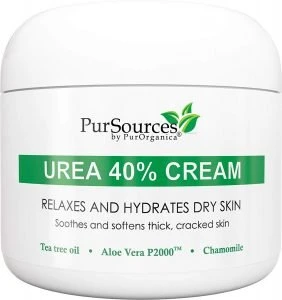 PurSources 40% Urea Foot Cream Mai Features
foot cream main ingredient Urea;
contains tea tree oil, aloe vera, and chamomile
removes calluses;
makes your feet silky soft after application; and
perfect cream for exfoliation.
What we think of the PurSources Foot Cream
The PurSources Foot Cream is a cream we truly enjoyed and recommend. We also recommend making it a part of your arsenal to counter calluses and dry skin. After soaking your feet for 20 to 30 mins, the foot cream from Pur Organica will make your feet soft and relaxed. So if you have been standing on your feet repetitively for long hours, this cream will be essential to your recovery. As mentioned earlier, the best usage you can make of the PurSources is as a complement to a nice foot bath and preceded by a filing your dry skin from your feet. The foot cream penetrates your skin quickly so your feet are not greasy after the application.
With PurSources you will look and feel amazing so you can dance, run, and enjoy life with no worries!

4. Aquaphor Healing Ointment For your Feet
A great foot cream to address any dry skin on your feet the Aquafor Healing Ointment is formulated to restore your feet in a healthy state while providing smooth and soft skin. With the Aquafor Healing Ointment, you get more than a lotion and cream, you get an ointment that will protect and soothe the extremely dry skin on your feet. Aquafor is also used for chapped lips, cracked hands, minor cuts, and burns.
The Aquafor Healing Ointment is made of several ingredients such as Mineral Oil, Ceresin, Lanolin Alcohol, Panthenol, Glycerin and Bisabolol. The way Aquafor Healing Ointment works is that it creates a protective barrier on the skin that will allow a flow of excess fluid and oxygen. The same barrier also keeps in skin's own moisture to create an ideal healing environment.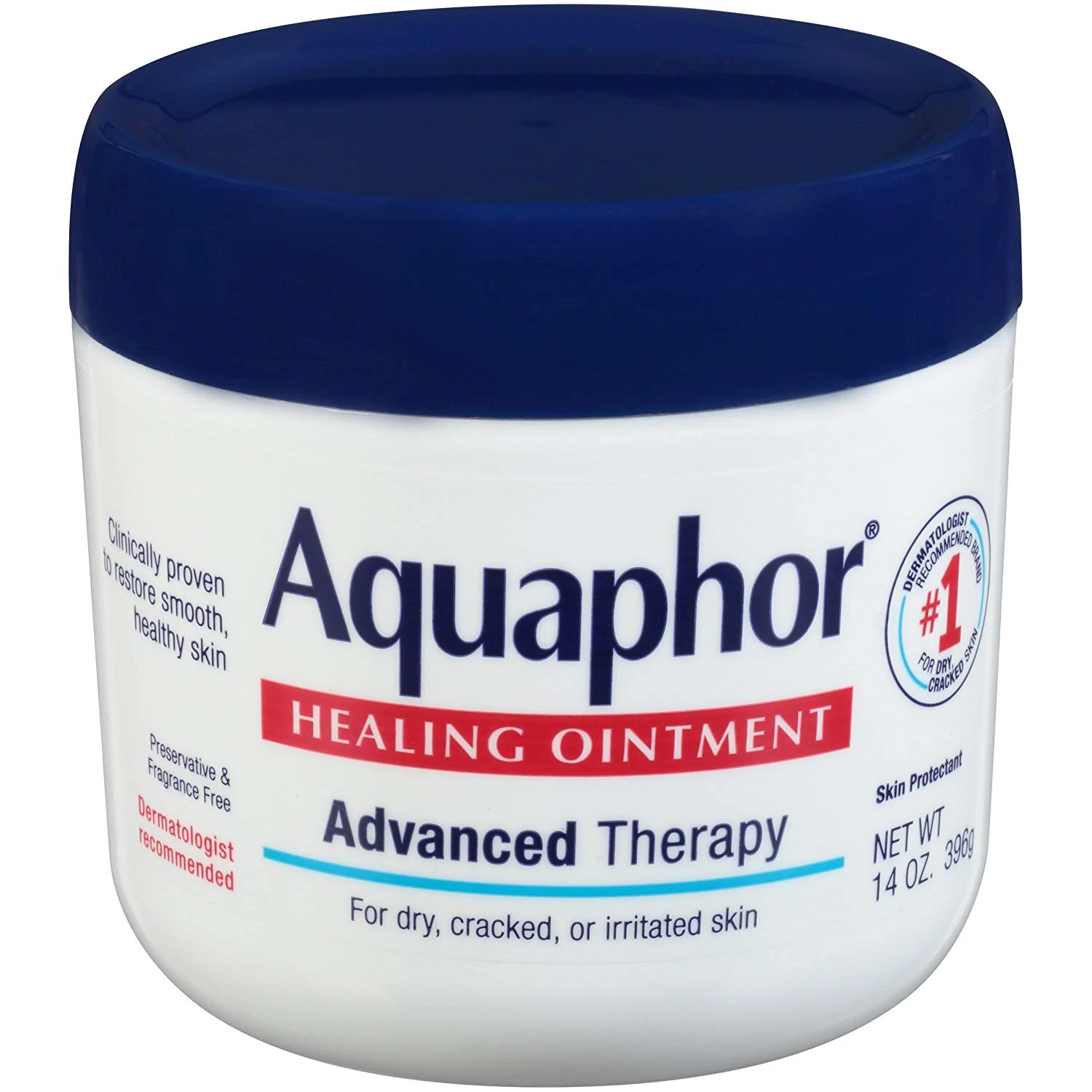 The Aquafor can be used for your skin on all the areas that will cause problems of dry skin. Whether it is your elbows, your hands or you are suffering from chapped lips this cream from Aquafor does work very well. The cream is hypoallergenic and doesn't contain parabens, dyes, and fragrances. Furthermore, the Aquafor Healing Ointment is a dermatologist-recommended ointment so you can expect top results.
Aquafor Healing Ointment Features
can be used on multiple skin surfaces;
recommended by dermatologists;
hypoallergenic;
ideal for cracked feet and dry skin;
protects, helps and soothes dry skin; and
restore smooth, healthy skin.
Our Opinion of the Aquafor Healing Ointment
We felt the Aquafor Healing Ointment was an excellent investment. The 14 ounces jar is the perfect size for the family and what makes it a great tool for dry skin is that it is more than a cream or lotion, the ointment has a medicated effect that will enhance your skin to make it soft and hydrated. The ointment is non-greasy and penetrates the dry skin rapidly. We also liked the price of the Aquafor Healing Ointment. Like the dermatologists, we definitely recommend this ointment for your dry skin.

The Ebanel Urea Foot Cream and Lotion has made the cut to be one the foot creams good for your feet. The Ebanel foot cream is another cream containing Urea which helps dry and cracked skin. The high potency (40%) of Urea and salicylic acid at 2% helps greatly in moisturizing any rough, dry and cracked skin pretty much anywhere on your body and not only your feet.
Like a lot of these lotions and creams, the Ebanel Urea foot cream is recommended by dermatologists. It is a fragrance-free and hypoallergenic foot cream. One of the cream's strengths is its natural ingredients which are consisting of aloe vera, camellia leaf, coconut, and tea tree oil. These natural ingredients contribute to the exfoliation of scales and dead skin.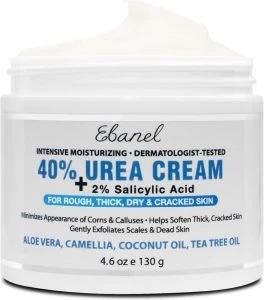 The Ebanel Urea cream for your feet acts as skin repair cream by reducing redness, inflammation, and irritation. The cream also creates a protective barrier to reduce further calluses scales and cracks.
Ebanel Urea Foot Cream Features:
Moisturizing effect for dry and cracked skin;
Cream enhances the exfoliation after its application;
Softens thick skin reducing calluses;
Can be used anywhere on your body;
Fragrance-free and hypoallergenic;
Recommended by dermatologists; and
FDA approved.
Our Final Thoughts and Recommendation on the Ebanel Urea Foot Cream
Our final thoughts on the foot cream from Ebanel was developed based on people we interviewed following the use of the foot cream for an extended period of time. The Ebanel foot cream and lotion proved to be an excellent repair cream for cracked heels mainly. They say it reduces calluses but we weren't able to asses and report on that. Considering the two main components of the Ebanel foot cream and lotion are Urea and salicylic ingredients, we believe strongly it does reduce calluses. The non-greasy foot cream penetrates quickly and doesn't leave your feet greasy once applied. Great for those who are required to stand and be on their feet all day the Ebanel foot cream has the function of moisturizing and repairing the skin. We found that the Ebanel is a great skin cream not only for your feet but for the rest of your skin too.

Foot Revitalize is a participant in the Amazon Services LLC Associates Program, an affiliate advertising program designed to provide a means for sites to earn advertising fees by advertising and linking to amazon.com. If you require any more information or have any questions about our site's disclaimer, please feel free to contact us by email here .