In this article, we bring to you another review of the best foot massagers on the market. For this one, after a lengthy look and trial, we provide you with the Beurer Shiatsu FM 60 Foot Massager Review . Like many of its competitors, the Beurer FM 60 Foot Massager will work your feet through kneading and heat application. The Beurer FM 60 also has a built-in heat function. Considered to be one of the best foot massagers available to the consumers, the Beurer FM 60 Foot Massager is convenient to use at home or at the office.
A Quick Word on the Beurer Brand
The Beurer company has been around for a very long time. Founded by Käthe and Eugen Beurer, the company started in 1919 with the vision of creating electrical heating pads to replace hot water bottles. Today Beurer is a multi-national company specializing in health products such as: blood pressure measurement, air dehumidifier, nebulizers, sleep sensors, foot massage and warmers and so much more. In addition, you will find at Beurer products for baby care and beauty. originating from Germany, you know you are getting solidly built product testing the innovation's limits.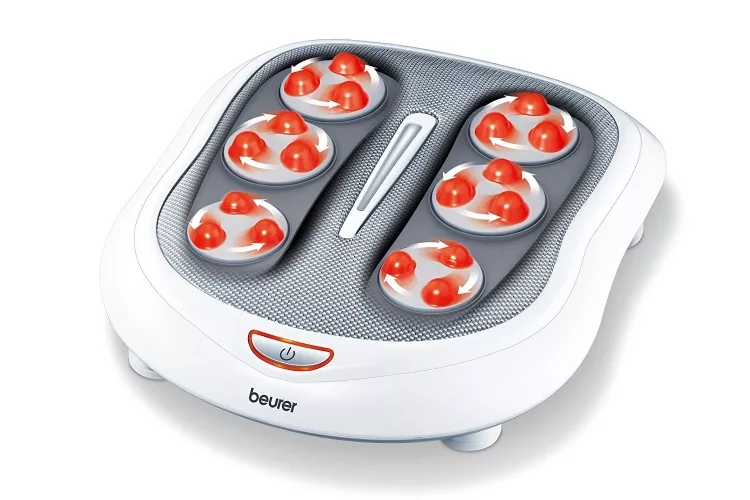 Who can use the FM 60?
Anybody in need of a Shiatsu foot massage can use the Beurer FM 60 Foot Massager . In fact, people with larger feet can also use this device. The Beurer FM 60 will accommodate a feet size up to size 13. If you have small feet, you will also be well taken care too. The FM 60 foot massager can be adjusted to maximize the kneading effect, no matter what size your feet are. The massage area is 3×3 for your feet, so space is not a problem.
People with aching feet will greatly benefit from this foot massager. In addition, if you are suffering from plantar fasciitis, the Beurer FM 60 will give you that much needed relief in your arches especially after a long standing day.
Diabetic people will also enjoy the relief the foot massager provides by stimulating their swollen feet. Circulation will be enhanced greatly with the massagers and the circulation-boosting foot reflex zone to boost their well-being by increasing blood flow to their feet.

How does the Shiatsu FM 60 operate?
As mentioned above, the Beurer Shiatsu FM 60 operates on two principles: pressure points and heat . Under the breathable mesh material surface, you will discover 18 rotating massage heads (9 each side) set to provide a deep penetration focusing on all the pressure points located under your feet. These rotating massage heads work by giving you a deep penetrating foot reflex zone massage.
These rotating heads will act under 2 speed levels . Each massage level is complemented with different massage strengths based on your needs and desires. The control panel will easily adjust the speed, the intensity and vibrations setting.
The Beurer Shiatsu Foot Massager uses promotes circulation boosting through Shiatsu technique. If you are wondering what is Shiatsu; Shiatsu is a type of massage originating from Asia. It involves the massaging of limbs and the body through a relaxing method utilizing the fingers, thumbs or palms.
With the FM 60 foot massager, the action and the motion is replicated from the rotating heads. With varying levels of pressure and intensity, the motion will be able to reach deeper tissues, which loosen muscles and relieve from tension.

When you are to use the Beurer Shiatsu FM 60 Foot Massager , connect your device to a nearby outlet. Always make sure you have the cord highly visible and not in the way of any passerby. To start, remove your shoes and socks. Always make sure you are sitting comfortably and the foot massager is set to its appropriate height using the twisting pegs at the bottom of the device. The rubber pegs will prevent the foot massager from moving while operating.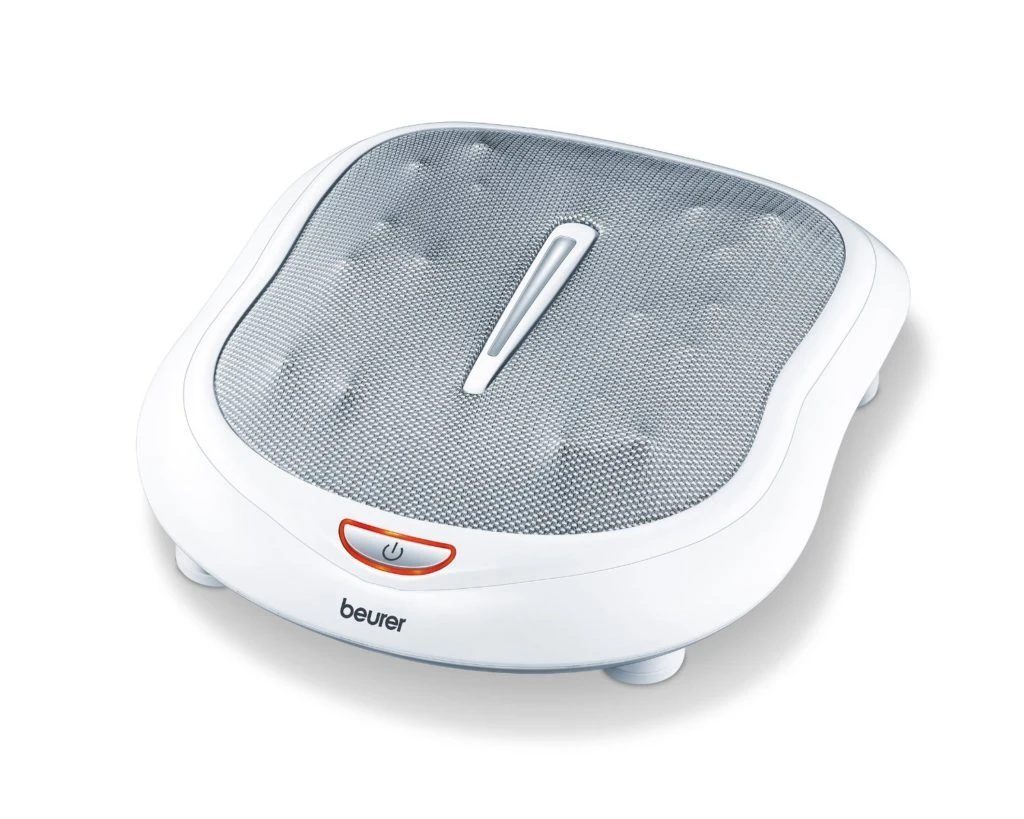 Once set, place your feet on the massage heads and activate the power switch to ON followed by the MODE button. At this point, you can also activate the heat function and the higher speed setting by pressing on the MODE button. When you press the MODE button again, you will turn the massage heads and heat function to OFF. When you're done, press the power switch to the OFF position which will shut the foot massager off.
You can maximize the effect of your massage by adjusting the rear rubber feet. To adjust them, you will have to turn clockwise to raise the massager and counterclockwise to lower the device. You should hear a click when at the right level. The two rubber feet at the rear have two height settings.
It is important to note that when the massager is operating you should feel comfortable at all time.

Your health is important and before using the Beurer FM 60 Shiatsu Foot Massager, you should always verify with your doctor if you are:
not sure whether the massager is suitable for you;
suffering from a serious illness;
recovering from a foot operation;
diabetic or suffering from thrombosis;
having leg or foot conditions (e.g. varicose veins, vein inflammations);
having pains of unclear origin;
pregnant;
a cardiac pacemaker;
having artificial joints or electronic implants;
suffering from one ore more illnesses; and
suffering circulation disorders.
Beurer Shiatsu FM 60 Technical Specifications
| | |
| --- | --- |
| Product | FM 60 |
| Product Name | Shiatsu Foot Massager |
| Massage Type | Soothing shiatsu foot massage with 18 massage heads (3×3 per foot area) |
| Asian Foot Reflex Massage | Yes |
| Power in Watt | 50 |
| Product Dimensions | 37.5 x 43 x 11cm |
| CE | Yes |
| EAN / Item No | 4211125 64931 9 |
| Power | 120V~ 60Hz 48W |
| Size | 14.8" x 16.9" x 4.33" (37,5 x 43 x 11 cm) |
| Weight | 6.8lbs (3,1 kg) |

Beurer Shiatsu FM 60 Reviews with Features
Let's have a look at the Beurer FM 60 main features.
Five Massage Pressure Intensity Settings
At five intensity settings, there are a little bit of everything for all types of aching feet. There are very few foot massagers who have up to five intensity settings. Froom soothing to a light pressure, the kneading effect mixed with foot pressure on the rotating heads will enhance the relaxing and soothing effect. Adjusting the angle of the FM 60 foot massager will also improve on the intensity set by getting into the deep tissues.
This foot massager reaches all, the targeted pressure points of your feet. The rotating heads act in a circular motion to replicate the rolling palm and fingers of Shiatsu.
Optional Heat Function
Beurer foot massager comes with a heat function that can be switched on and off depending on a person's needs. The heat function helps in stimulating the blood flow and giving this relaxation feel while the rotating heads are in full motion. In addition, the heat helps the muscles to gradually loosen up resulting in a much more soothing experience. This heat function is optional and you can have the massage features in action only.
Adjustable Height and Angle
The Beurer FM 60 can be adjusted in height and the angle it is working. These adjustments provides more kneading into specific areas uder your feet. In addition, it will enable the Beurer foot massager to massage large and small feet comfortably. the easiest way to do this is to place your feet on the machine and have someone else adjust it while your feet are on the FM 60.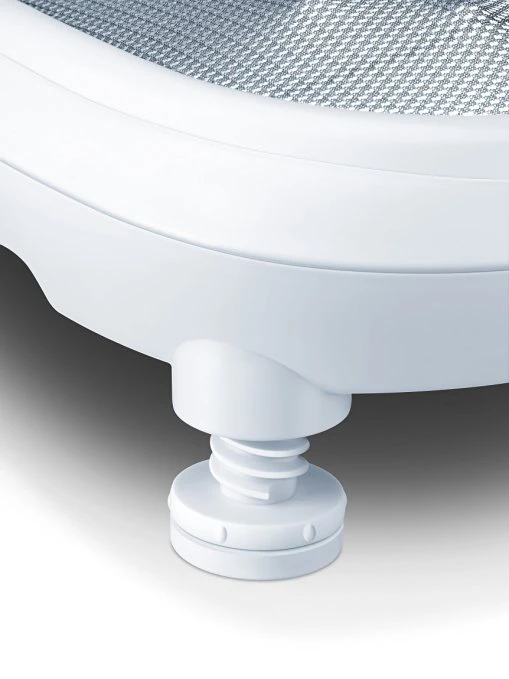 If you have to do it yourself, it can also easily be done by adjusting and alternating the placement of your feet and verify how comfortable you are.
Keep in mind the Beurer FM 60 will not work the top of your feet. It is designed to work the bottom of your feet and address those exact Shiatsu strategic pressure points.
Although the Beurer FM 60 doesn't come with a remote control like some have; it can be easily turned on and off with your feet. The buttons are located in a location where you can easily do so. The other functions such as speed and heat functions.
Soothing Massage Shiatsu Rotating Balls
Each side (for each foot) has 9 rotating balls that takes on the bulk of the work in your foot massager. Each of these balls delivers a deeper or a lighter vibrations selected by you. These can selected through the settings when stating your foot massage. It simply works this way; if you require a deep massage all is needed is to increase the vibration. If you choose a lighter relaxing massage adjust or set your initial settings on the massager to reduce the vibrations.
Beurer's Two Massage Speed Level Setting
The FM 60 foot massager provides two speed levels where you can easily adjust yourself according to your needs. It is only a matter of selecting the desired speed with your foot.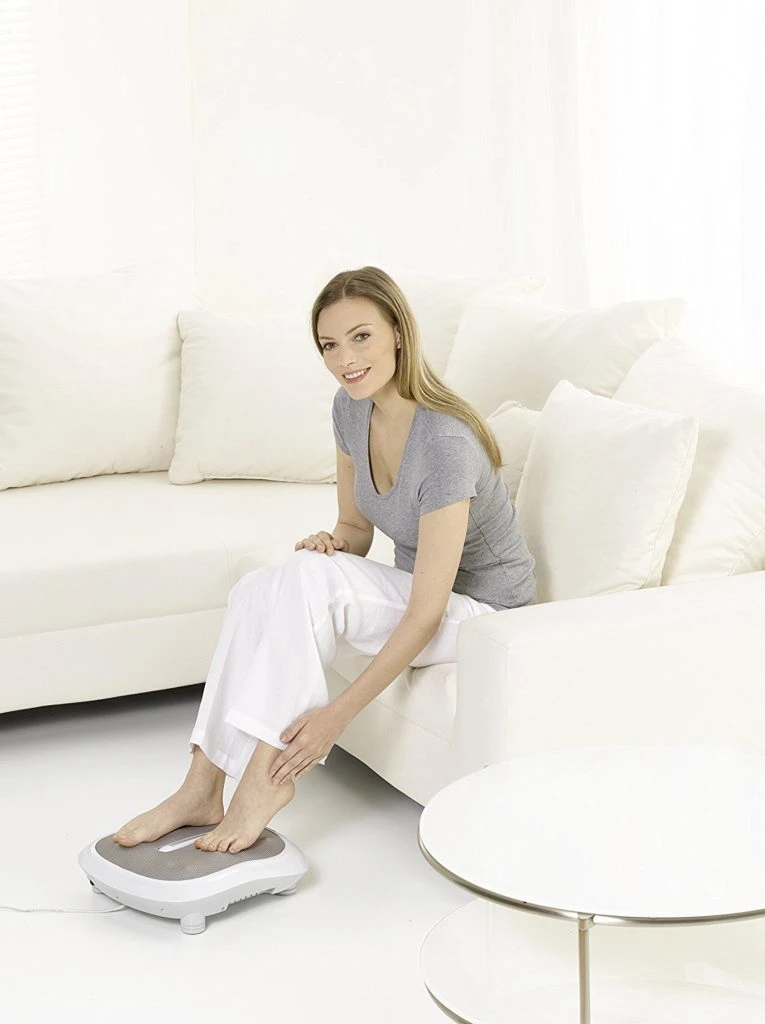 Easy to Operate and Convenient
Easy Storage and Compact
This foot massager can be easily stored which doesn't make it cumbersome. When you are done, simply turn the machine to OFF and and unplug the foot massager. The electric cable can be stored under the massager and place in area out of sight such as in the closet or under the bed. Overall the Beurer FM 60 doesn't take much space.
With 2 speed designed for your comfort, the reflex zone massage has the perfect combination to soothe achy feet. The circulation-boosting foot reflex zone massage is aimed at boosting your well-being by increasing the blood flow in your feet.
Affordable Price
In line with our Beurer Shiatsu FM 60 Foot Massager Review, we thought the foot massager was quite affordable. It is well under the $100.00 range and provide reliefs like one at that price would normally do. It is an excellent return on your investment. The foot massager is very durable and built with an excellent quality. With a solid warranty, we believed it will last for quite a long time. In comparison to other similar products, it is very economical.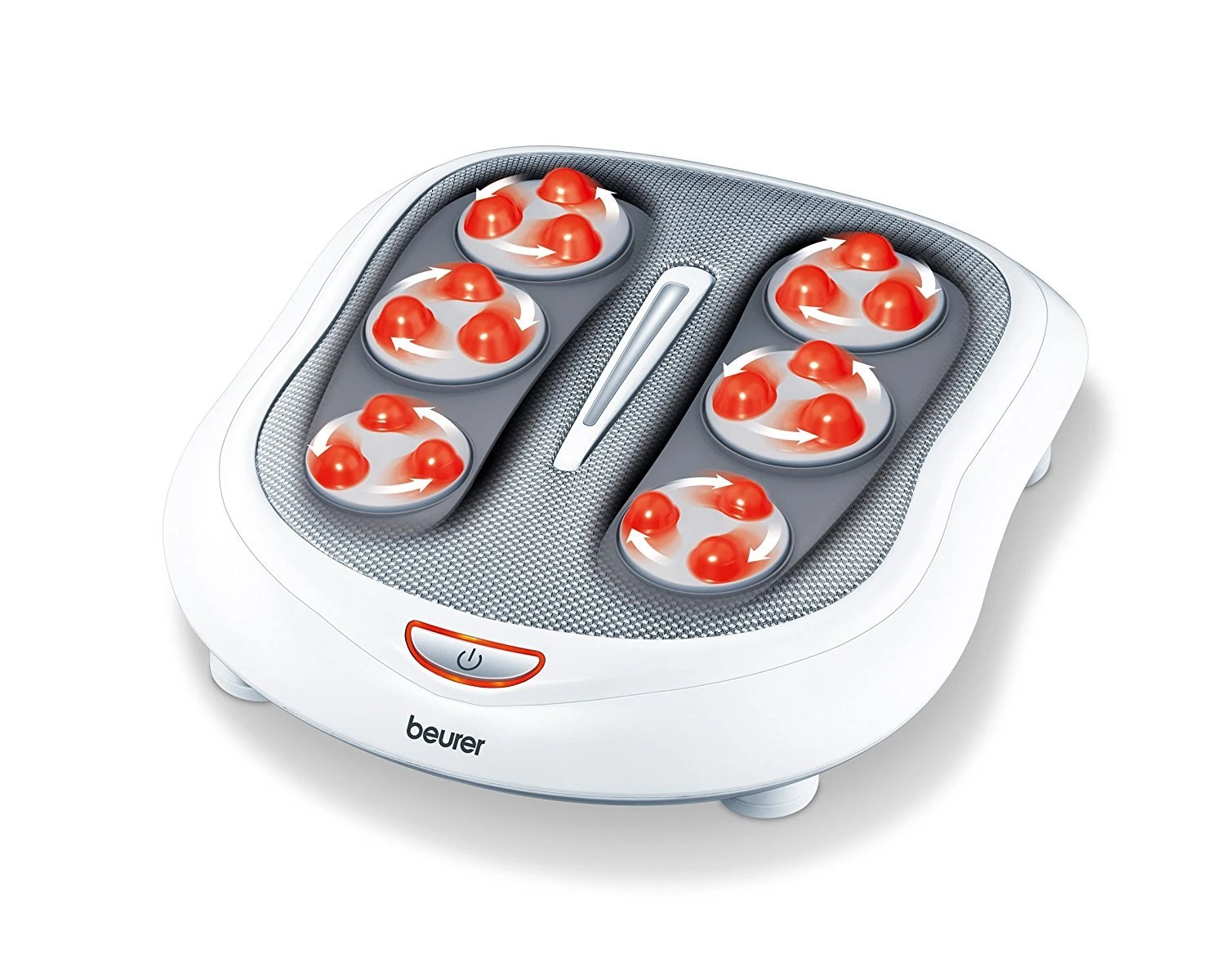 When reviewing the Beurer FM 60 Shiatsu Foot Massager , we took accounts some essential aspects a consumer would want to know before making a sound purchase. Some of those factors are: durability, quality-built, convenience and ease of use, efficiency, cost, portability, warranty in place.
PROS:
Perfect balance of heat and massage;
Can accommodate larger size feet;
Easy to operate from the sitting position with your foot;
Durable quality built;
Plenty of rotating heads for a foot massage; and
Affordable - and excellent return on your investment.
CONS:
Heat may not be enough for some users;
Doesn't massage the top of the feet;
Rotating heads can hurt some feet they are working.

Our Final Review on the Beurer Shiatsu FM-60
The various functions we conducted on the Beurer Shiatsu FM 60 Foot Massager allowed us to discover that it was an above-average quality foot massager built with the sought qualities from a consumer's perspective. As noted above, we found this foot massager from Beurer easy to operate even with many rotating heads in action. We could even operate the foot massager from our big toe. Actually, the Beurer FM 60 gives you 9 rotating heads each side, which is quite sufficient.
Two levels of heat were generated by the Beurer FM 60, which we thought was plenty. It didn't need to be extremely hot and a medium heat combined with the rotating heads gave us a very soothing foot massage.
Overall, the Beurer FM 60 performed very well. We thought the 18 rotating heads gave us the massage needed with its different modes of operation. It is not as heavy as some claimed. Some reviews stated the machine weighs 12 lbs., which is wrong. It is actually just under 7 lbs.
We recommend the Beurer Shiatsu FM 60 Foot Massager exactly for the pros, listed above. It is a great return on investment and your feet will truly enjoy it.