Are you worried about your aging complexion or the marks left behind from issues you had with acne in your younger days? If you are, the good news is, there is a machine that could minimize wrinkles, acne, uneven skin tone, and much more.
Benefits of microdermabrasion rejuvenate your skin by removing dead skin cells. Production of Collagen is increased, ensuring that your skin appears more youthful. we will discuss the best professional microdermabrasion machine reviews for the top 7.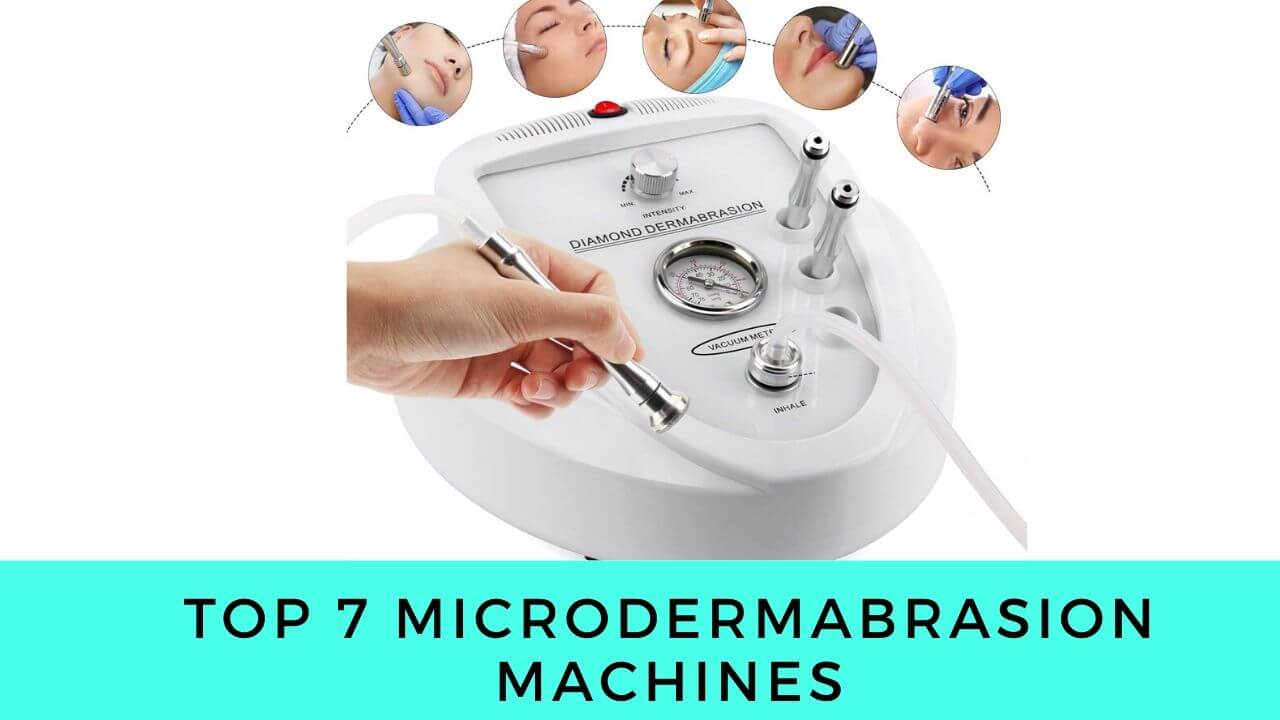 While it is possible to get this treatment done by a pro, you may want to invest in an at home microdermabrasion machine that you can use at home. And, since it is going to touch your skin, you must consider a high-quality model. The best microdermabrasion machine will deliver the premium results of professional treatment at a reasonable price and will be easy to use.
Top Microdermabrasion Machines Reviews
KENDAL Professional Diamond Microdermabrasion Machine HB-SF01 is a top-rated machine that provides effective skincare with its diamond heads that remove dead skin cells, blemishes and lighten wrinkles on the skin. It's an excellent device for acne sufferers too. While most devices focus on correcting the signs of age, this product will show significant effects on those who suffer from acne scars and new spots.
The Kendal Microdermabrasion isn't the best technologically advanced option, nor its design is very appealing, but the Kendal professional certainly proves that looks aren't everything. Despite the seemingly old fashioned appearance, what you get is a pretty strong suction system, assuming you apply the proper level of pressure with the diamond heads.
This Kendal Microderm home kit comes with nine heads of different sizes that have coarse, medium, and fine tips that remove impurities using suction power. Kendal HB-SF01 is the best professional microdermabrasion machine for home use.
Along with the machine and the replaceable heads, the package also includes 360 cotton filters in the kit – 120 large ones and 240 small ones. Two oil filters improve the filtering effects of the machine. The machine is very easy to operate, and the controls are straightforward to understand. After plugging in the device to a power source, you just have to press the power button to start, and there is a switch to adjust the intensity of the suction.
And you would be happy to know that this device is actually preferred by professional aestheticians. Overall, this machine provides great value for money, and if you have acne scars or your skin is aging prematurely, then using this product should give you noticeable changes in your skin.
To be more suitable, the range of this machine means that you can use it for the skin of other body parts besides your face. So, if you are concerned about scars on your back or legs, you will be able to use it for these as well.
Pros
Excellent skin care with diamond heads
9 heads of different sizes
Oil filters for enhanced performance
Easy to use controls
Cons
A bit bulky
Old fashioned design
While Trophy Skin MicrodermMD is mainly fitting for those looking for microdermabrasion at home to fight the symbols of age, it can be used for acne treatment. But be careful not to overuse it as it is powerful enough to cause damage to your skin. As such, if teens need to use it on their skin, this should be done under adult supervision.
Trophy Skin MicrodermMD is very thoughtfully designed. For example, the product comes with a built-in medium-sized mirror. It is not the most important feature you would look for in a device such as this, but still, it's a really good touch as you can exactly see what you are doing.
The compact design is quite praiseworthy, too, and its beauty will also look great with your beauty products.
Another great thing about this device is that it comes with a range of different tips. This means you can use it in different areas of your face without being concerned at all. So, you can easily get to the hard to reach areas around your eyes, nose, and mouth.
Trophy skin's microdermMD gives you professional-grade microdermabrasion in the comfort of your home. This device will polish away fine lines and wrinkles. It will also reduce sun damage and age spots as well as improve your skin tone and texture. Trophy is another best professional microdermabrasion machine for home use.
This machine is also very easy to use. As soon as you turn the device on, pointers are provided on display, and you will be able to select between different mode options. There are three main choices; each of the modes has different benefits to offer to your skin.
If you have delicate skin, you can choose the sensitive mode, which has lower suction levels to make microdermabrasion more tolerable. You can also use it with pre-set times and suction level for easy operation in the auto mood. And the manual mode is untimed and lets you choose your preferred suction level to concentrate on your problem areas.
Pros
Reduces the appearance of aging
Comes with three mode
Has a sensitive mode
Easy to use
Excellent customer service
Cons
The overall look of the product appearance look very cheap
Kendal 3 in 1 Diamond Microdermabrasion Dermabrasion Machine is yet another microdermabrasion machine on our list by Kendal. This microdermabrasion diamond tip machine is one of the most reliable options around. It implements a light massage to your skin to reduce these old skin cells and encourage rejuvenation and healing. It cleans the skin surface thoroughly. This helps to decrease the chances of clogged pores.
If you should choose this machine, you get 2 stainless steel handle along with 9 diamond tips of coarse, fine, etc. for rubbing and peeling off the dead skin cells. You also get 2 sets of cotton filters – 120 large cotton filters and 240 large ones. They work to enhance the filtering effect during exfoliation of the skin. This machine also features plastic-made oil filters to filter out oil and dirt during skin treatments.
This Kendal microdermabrasion machine has a very impressive feature – the Vacuum therapy. This feature helps to clean the dirty pores through suctioning tubes and improves blood circulation in the skin. It also gives elasticity to your skin and can reduce discoloration from scars and acne. There are three hose for this process, all of which have the same function. You can pick anyone to connect with the glass tube as you like.
It also has an exceptional spray function that can be used after the treatment. It helps in soothing the skin and closing pores. Usually, this is done following the diamond microdermabrasion peeling and vacuum suction. This also helps to calm down the skin after suctioning and peeling. The skin becomes sensitive after peeling and vacuum treatment, so the spray function is an essential feature to have. no wonder Kendal is a top microdermabrasion machine for home use.
The Kendal 3 in 1 diamond microdermabrasion machine refines, smoothens, and rejuvenates the skin. It has 3 built-in functions, and it is definitely a must have equipment for dermatologists, aestheticians, or other clinical professionals – ideal for professional use and home use as well. Best professional microdermabrasion machine ever!
Pros
It is very lightweight
Has 3 built-in functions
All the functions are easy to use
Easy to use knob for setting the vacuum procedure
Affordable skin care machine
Cons
The suction function could become less effective with time
Technologically advanced, small, and can be purchased in two different shades, the Microderm GLO Diamond has so much to offer. It doesn't only help to make you aesthetically appealing, the device itself is also aesthetically appealing. But does it meet the quality standards you would expect for what is a rather high price tag?
Well, the good news is that you will see significant result if you choose to use this machine. Indeed, it only takes a couple of weeks before you notice that your skin has fewer signs of age and looks much younger. However, you do need to ensure that you are protecting your skin from the sun while using this machine as it does leave it vulnerable. This one is also pain-free, which isn't always the case with these products.
The Microderm GLO uses a light abrasion process to remove the outer layer of facial skin, which promotes the growth of new skin. This device also comes with a dual-action mechanism. It increases blood flow while vacuuming and massaging the skin. This promotes the rejuvenation of collagen and elastin. The average skin treatment using this device takes only 4 minutes. Dermatologists also recommend this machine due to its high quality.
Moreover, it uses Safe 3D technology. Making it safe for all skin types, which means you can also use it on sensitive skin as well. It is also FDA registered. The device also works well on skin damaged by the sun. This machine makes smoothing and softening easy. Your skin tone will look better after the use of this machine. In conclusion, choosing this device means you don't have to worry about quality and safety.
The manual is really easy to understand. You get 2 premium diamond tips as well as 20 filter replacement pack. The package also includes a portable carry pouch and charging base.
Another excellent feature of this machine is the display system. While this is not a full-colored display, it does show you what areas of the work you should be completing on auto mode. When it's time to move, the system will make a beep, ensuring that each part of your face gets the appropriate time for treatment.
Pros
Technologically advanced
Affordable
Easy to understand and use
2 premium diamond tips
Display system
Cons
Carry case won't fit the charger
It massages and relaxes the skin and gently removes impurities on the skin without any pain. With the Table top microdermabrasion home kit, you get two brushes, a pair of soft stone heads, and also one sponge head attachment for better skincare. It is easy to use, and the handle has anti-slip grips for smooth and safe handling.
This Table Top kit by eMarkbeauty, with its excellent set of microdermabrasion tools, provides the best microdermabrasion at home. This kit includes 4 Argon heads as well as 3 Neon heads. Argon helps in improving skin tone and blood circulation as well as killing bacteria in pimples, while Neon is best for aging and sensitive skin.
This 9-in-1 microdermabrasion treatment set incorporates all the essential items for a complete facial treatment. This facial machine also includes a stainless-steel blackhead acne, pimple, and Comedone removing extractors. Moreover, this set features 3 pieces of glass Ventusa vacuum extractors. This machine comes with 2 spray bottle diffusers and a pair of robust filters. So, this set has a speed-adjustable rotating brush for ideal reversible brush controlling.
What's more, the galvanic current consists of both positive as well as negative polarities. Therefore, the scrubber of this kit generates reliable and safe high-frequency vibrations.
The eMarkbeauty microdermabrasion facial machine incorporates a host of items to provide the best skin care at home and is certainly worth a place in your shopping list.
Pros
Includes many devices for a complete facial cleaning experience
Professional grade facial machine
High performance with microdermabrasion tip
Has Reversible Brush Control
Cons
The Vanity Planet Exfora Wand is an excellent microdermabrasion tool that removes dead skin cells as well as blackheads. It features four detachable heads, each of which suits a different part of your body. You get the massage head, a normal head, a body head, and a fine head.
It comes in a handy design and is an ideal choice for personal use. It can gently exfoliate the outer dead skin cells that can cause clogs to the pores. Furthermore, it delivers amazing performance and ensures that there is no inflammation. It is pretty easy to use and for further convenience, it allows you to customize it according to your requirements. It comes with various features so you can choose from multiple settings.
It only takes a press of a button to switch on the machine and what's more, an LCD screen on the handle displays the settings. You can choose between manual mode and auto mode for operation. The auto-mode can be an ideal facial cleanser. For about 30 seconds, just gently move the Microderm machine back and forth on each part of the skin and you will see quick results. It's Microdermabrasion System is easy and convenient
The machine improves blood circulation and accelerates the development of skin tissues. You don't have to worry about using any chemical treatments and it comes with all the necessary attachments. The device also has multiple interchangeable heads. It also allows you to power it with a USB cable.
The Vanity Planet Exfora Wand with an elegant design is easy to operate and hold as well as effectively performs its job. It is a good option to go for. This Vanity with its excellent set of microdermabrasion tools offers the best microdermabrasion at home.
Pros
Comes with manual mode and auto-mode setting
Strong suction and works great
Includes an attachment for the body as well
Weightless multi-role device for added comfort
Finest quality material for long durability
Cons
The Diamond Head needs to be replaced after 6 months
The ZENY Pro is one of the most affordable devices listed in this review, but this doesn't mean it's the worst. It works perfectly in removing blemishes, fine wrinkles, aging skin, enlarged skin pores, and improving the skin's overall tone and texture.
This microdermabrasion machine features three stainless steel made diamond wands, and three small rubber rings have been attached to the three wands for faster suctioning. It incorporates 9 tips – 5 small, 2 medium, and 2 large. The coarse diamond tips are for the body, while the fine particles for the eye side and face. This helps you shed the dead skin and seize a lustrous soft skin.
Small and large cotton filter packs are both included with this microdermabrasion machine. The small cotton filter measures 11 mm while the large one measures 18 mm, and each pack contains 50 pieces. It's Microdermabrasion System is easy and convenient and handy.
This powerful device has a suction power of 0-65cmHG. It also runs quietly, so it's an excellent option to consider. Zeny made an excellent effort to make the users happy with the most suitable device. Therefore, it can fulfill almost all the needs of the user.
The Zeny Pro is an ideal home microdermabrasion machine. It features a simple power switch button, making it very convenient to operate. The power cord is 3.93 feet long, giving you the freedom to process your skin at a safe distance from the socket.
So if you suffer from wrinkles, acne scars, blemishes, and hyperpigmentation, the ZENY pro microdermabrasion machine is your right choice. The exfoliating discs range from ultra-sensitive to very coarse, and different suction levels of intensity of this machine make it effective for all types of skin. Though people with sensitive skin must be cautious when using this device. It is recommended to begin with the minimum suction.
The Zeny microdermabrasion machine gives you bright, smooth skin. Enjoy facial treatment at home as well as save costs.
Pros
Affordable
Incorporates 9 tips
Three diamond wands
3.93 feet long power cord
Different suction level intensity
Cons
A bit unwieldy
Old fashion design
You can take good care of your skin with the best microdermabrasion machine. The microdermabrasion home kits completely eliminate the need of having to take a date with the dermatologist. These easy to use devices are effective and provide skin care in the comfort of your home.
Home Microdermabrasion Machine Buying Guide
Microdermabrasion works on all skin colors and types. It makes subtle changes, causing no scarring or color change on the skin. It is not effective for deeper problems such as scars, wrinkles, stretch marks, or deep acne scars.
No matter whether your skin is showing the first signs of wrinkles and age spots or you have an oily complexion prone to spots and blemishes, microdermabrasion can work wonders for your skin tone. The exfoliation removes dead skin cells and vacuums away debris, improving the health of your skin.
Skin becomes pink temporarily but fully recovers within 24 hours. It doesn't require anesthetics or surgery. This may help those who cannot take "down time" for healing.
Microdermabrasion is an excellent machine for anyone who is looking for a more economical answer for their skin and have the following benefits:
Achieve firmer and younger skin as it improves skin smoothness, texture, blood circulation and builds collagen on the face tissues
Reduce signs of aging spots, wrinkles and fine lines
Effective in fighting against clogged pores, acne, whiteheads, blemishes and rosacea
Removes the dead layers and improves the penetration and effectiveness of skin products
A painless, quick and minimally invasive process with great immediate results
Can be done without any thorough preparation and downtime, although gentle exfoliation is recommended before the session
Suited for all people with various skin tones and types
What procedure it follows
In microdermabrasion, tiny crystals are sprayed onto the skin to lightly remove the skin's outer layer. This technique is less aggressive, so you don't need numbing medicine. It is basically a skin rejuvenation and exfoliation procedure that leaves skin looking brighter and softer.
The crystal microdermabrasion machine is the more traditional method that uses a fine spray of natural crystals to remove the skin layers. Natural crystals are used for this, usually sodium bicarbonate or aluminum oxide crystals.
The diamond microdermabrasion machines, on the other hand, have natural diamonds or removable synthetic fitted on the tip of the wand to scratch away the dead skin cells which are picked up by a vacuum pump.
They are more popular today as they offer better precision and control when compared to crystal machines.
The overall performance of the microdermabrasion machine is determined by the suction power. It has to be powerful at suctioning so that there will be no remaining dead skin cells. A machine with a high suction power will remove the layers faster, but it may be costlier than one with lower power.
Another important thing that you need to consider is the frequency. A higher frequency delivers dazzling performance and some of the models even allow you to adjust it according to your preference.
For those who frequently travel and need to get a quick facelift, can look for lightweight, small, and portable models that are available. Usually, there are less powerful and you shouldn't expect to get great results.
However, you should get a facial machine that is made to last and easily portable. You must see if it is conveniently designed to allow you to take it anywhere.
Like every other electronic device, microdermabrasion tool will also require proper maintenance. With the right maintenance, this device can last for a long time.
Microdermabrasion machines come with a lot of useful accessories like replacement filters, replacement tips, cleaning kits, creams, microdermabrasion tool travel case, etc. Also important is a good instruction manual that explains in detail how to use the device, maintain and clean it so that it keeps performing well for long.
Since you will be using the device at home by yourself, it should be easy to use the microdermabrasion tool and hold. So check properly if the device and its attachments can be used easily.
How much is a microdermabrasion machine? These diamond microdermabrasion machines are expensive machines, so you should consider your budget while picking a top microdermabrasion machine. If you are a regular user, then you must know that getting a home microdermabrasion machine is far cheaper than going to an expensive professional.
FAQs
Q: Is microdermabrasion safe?
A: Yes, it is a safe cosmetic procedure. Unlike more invasive procedures such as chemical peels, plastic surgery and laser resurfacing that may present side effects, microdermabrasion focuses on the outer layer of the skin. Thus, no chemicals get into the body easily. Though it is not a traumatic procedure, you should seek permission from your dermatologist before performing this. dermabration machine is best at home microdermabrasion machine
Q: Do the microdermabrasion home kits work?
A: Yes, they do. Depending on the condition and thinness of your skin, you may even see results after your first treatment session. Age spot removal and blackhead removal are often the first things you'll notice a difference with. If you would like more serious results, 5-8 sessions are ideal. Buying the best at home microdermabrasion machine will help to minimize wrinkles.
Q: How often should you do microdermabrasion?
A: Since this method does not present side effects, the decisive choice depends on you. Depending on the condition of your skin, the desired results, and your budget, it can be performed weekly for even up to 8 weeks. Though, this should be done in moderation to grant the skin enough time to rejuvenate. note that, dermabration machine gives you the ability to give hydro and diamond dermabrasion treatments just about anywhere and best at home microdermabrasion machine
Conclusion
A microdermabrasion machine helps you to get clear and healthier-looking skin. It removes all the dead skin and allows your skin to rejuvenate and breathe. Buying the best at home microdermabrasion machine will enable you to get the best results from this cosmetic procedure in the comfort of your home. So, it is important to take time to search the market for the best microdermabrasion machine. By keeping our buying guide in mind, you will get a solid microdermabrasion machine that will serve you well. Believe in yourself you can do microdermabrasion at home. That's our best professional microdermabrasion machines reviews for your great skin improvement.So. what is the best microdermabrasion machine for your choice?
Buy