When it comes to pricing, a manual treadmill is an inexpensive way to improve your cardiovascular endurance, strengthen and tone your body and leg muscles. In this article, we list our top picks for the best manual treadmills that are far less expensive and cut your electric bill in half.
Manual treadmills tend to be significantly cheaper compared to electronic treadmills, need less maintenance as they have fewer features and cheaper construction. If you're on a budget, a manual treadmill might be a reasonable alternative over motorized ones. if you are thinking about walking/jogging and not about running then you can get an effective workout from a non-motorized treadmill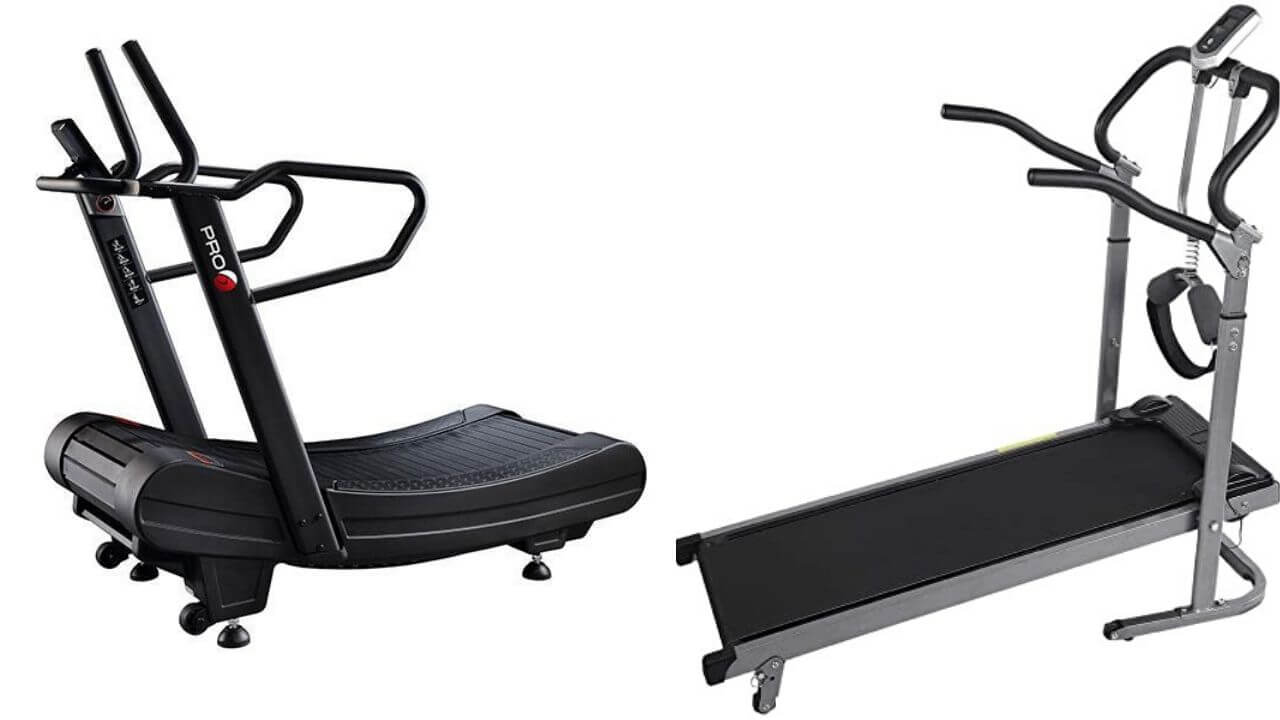 TOP 3 BEST MANUAL TREADMILLS FOR HOME GYM
Last update was on: July 11, 2022 1:50 pm
---
Top 3 Manual Treadmill Reviews
---

Design
If simplicity is what you prefer, we recommend the ProGear 190 manual treadmill for you. Minimally designed, this treadmill doesn't contain multiple gadgetries as a motorized treadmill would offer. But its steep design can bring your sweat out in less time.
While the still body construction with powder-coated finish makes it look durable, it's not recommended for people over 200 pounds. However, the manufacturer added wide side rails for your safeguard.

The handlebars are long enough to save you from falling off during training. Plus, they appear with a foam layer to give you comfort and protection from loss of balance.

After fully assembling this space-saving cardio trainer, the dimensions will be around 47" (L) X 23" (W) X 51" (H).
Although the manufacturer advertised this manual treadmill to provide a noise-free walking experience, it creates a bit of noise, which is not disturbing.

Console
The console incorporates a small LCD, which simply shows your speed, total distance, time, and calories burned. The display shows one stat at a time once you press the only black button.
Belt
While a higher-end motorized treadmill's standard length is around 55" and width is 20", the 190 comes with the length of 43" and the width of 13-1/4". Although the comparison shows this manual treadmill to be a bit more compact, it will fit the bill for the starters.

Incline
The ProGear appears with two levels of incline settings with six and ten percent slope. This non motorised treadmill isn't entirely flat, which is suitable for a bit more sweat extraction. Surprisingly, a few users shared they received their treadmill with seven, eight, and nine percent of incline instead of 6 & 10. But they were not complaining about it.

Portability and storage
Weighing around only 49 pounds, the ProGear 190 features a foldable construction with its two rear wheels, which allows you to take it anywhere you want. Just roll the black knob backward to release it, fold the treadmill, and store it at a convenient place. The folded dimension of this treadmill is around 21" (L) X 23 (W)X 51" (H).

Weight capacity
A major downside of this model is its weight capacity. Since this treadmill can carry up to 220 pounds of weight, it can be a deal-breaker for people with a heavyweight.

Pros
Easy to assemble
Transportation wheels for effortless portability
Compact size
Foldable design
Affordable price
Cons
Running surface can be restricted for taller people over 6'.
Low weight capacity
---
Design
The non motorized self-powered treadmill SF-T7723 manual treadmill from Sunny Health & Fitness allows you to reign over your body.
The multi-grip handrails provide you with versatile walking or running positions. Meanwhile, the sweatproof handgrips enable you to push against the tread with comfort.
Although this treadmill doesn't offer any state-of-the-art bells and whistles, sweat will begin to drip off your face by the time you hop on this durable, heavy-duty machine to work out.
The dual flywheel mechanism demands high energy from its user. Plus, it restricts the belt against your force depending on the resistance level you set – helping you burn more calories by making it a bit more difficult for you to run.
You won't have to take much pain in assembling this treadmill as it comes almost fully assembled.
Measuring the dimensions of this fully assembled Force Fitmill, we've found the length to be 59", width 27", and height 55".
Belt
The SF-T7723 appears with approximately 1/32" thick belt with a running surface of 53" (L) x 16" (W).
We didn't have any issue with the belt length as it is close to the standard recommended by fitness instructors. But the 16" of width is not ideal for a taller person having a height over 6'.
However, we have found some users complaining about the belt to slide a bit to the right or left side during a workout, which is something to keep in mind.
Treadmill Resistance
The 16 magnetic levels of resistance in this treadmill will help you push yourself to the next level of your fitness journey. There's a dial adjusted on the front mast to change the resistance level. Besides, the optimum level will enable you to mimic sled pushing.
Incline
Although our top two picks come with two adjustable inclines, this one has a fixed 13.5 degrees of slope. So, you won't have to stop your workout in the middle to tweak the slope setting.
Portability
The two small transportation wheels in the front, permit you to move it within your home from one place to another, without putting any strain on your muscles.
Treadmill Storage
The foldable system saves half your space with the treadmill dimensions of 31" (L) x 27" (W) x 58" (H). Plus, the hydraulic unfolding mechanism slowly places the machine on the ground without any chance of damage. It is the best folding manual treadmill on the market.
Weight capacity
While this manual treadmill weights around 110 pounds, it can carry up to 300 pounds of weight. (Don't forget to add 50 pounds of your body weight to check your compatibility)
Pros
Well built non motorized treadmill
Wide range of resistance
Soft drop unfolding system
Multi-grip Sweatproof handrails for a versatile workout
Easy to put together
Side rails for safety
Cons
The belt tends to slide off
---
Design
The Asuna Hi-Performance 7700 manual treadmill helps you reinforce your cardiovascular health and improve your leg muscles. Having a heavy-duty solid still construction, this cardio trainer seems to be durable and last a long time.
The multi-grip handles enable you to perform a wide range of workout activities and engage in multiple high-intensity interval training. Plus, the handles covered in the rubber layer to give you comfort and a secure handgrip.
Although you are not getting any digital console in this trainer, an integrated tablet ledge comes to fill your entertainment needs during training.
The dual flywheel design also creates less noise by smooth rolling of the belt while you run or walk on this treadmill.
Belt
The tread belt is an integral part of any treadmill, whether it's manual or automatic. If the belt is not good enough, you won't get a flexible experience of running, walking, or jogging on your treadmill.
However, we didn't find any issue to complain about the belt. The tread belt made of heavy-duty rubber elements appears with a textured surface to provide you with an excellent foot gripping. Plus, the incorporated deck cushioning system absorbs the shock lowering the impact on your knees, hips, and ankles.
Besides, the belt offers a running surface of 49" in length and 19" in width. While the surface dimension falls a bit short compared to top-of-the-line treadmills on the market, the width can be an issue for users having a height of more than 6'2".
Treadmill Resistance
Sunny Health & Fitness self propelled treadmill comprises eight adaptable magnetic resistance to offer you a bit more challenge in your fitness training. There's a small handle to help you adjust the resistance level according to your need.
Incline
This manual treadmill allows you to adjust the level of incline between only 10 and 14 degrees. The self propelled treadmill requires you to fold it before setting up the incline.
Portability
The integrated transportation wheels enable this trainer to move from one place to another. Since it doesn't require any electricity to run, just fold it, take it wherever you want, and start training.
Treadmill Storage
Thinking about saving storage? The foldable design with a soft-drop hydraulic system permits you to save half of your ground surface. While the assembled treadmill dimensions are 55″ (L) x 30.5″ (W) x 57″ (H), the folded dimensions are 27.5″ (L) x 30.5″ (W) x 57″ (H).
Weight capacity
Weights around 170 pounds, this machine can carry a maximum load of 440 pounds. However, we recommend you showing a green light to a treadmill only if it can take more than 50 pounds of your body weight.
Pros
Solid-Body Construction
Excellent weight capacity
Integrated tablet holder
Six deck cushioning cells for shock absorption
Heavy-duty performance, best non motorized treadmill
Effortless assembly (Just need to assemble the tablet holder)
Best non motorised treadmill with multiple grip position
Adjustable resistance and incline
Cons
No console
Some users found it quite hard for running
---
IN10CT Health Runner has excelled the expectation of so many exercisers in manual treadmill workout. Below, we are going to review this motorless treadmill:
Design
The IN10CT Health Runner is sporty, light, and compact. Its steel frame and non-motorized manual function make it an efficient workout gear.
Console
The console of IN10CT HR isn't very large yet viable. It shows you the heart rate, speed, distance, burned calories, etc.
Belt
The Health Runner's running belt surface is rubberized to absorb the shock during running, hence, you have less impact on joints and muscles.
Incline
The Health Runner offers no incline as its curved belt design engages more muscle work during running. Thus, it adds the required intensity to the workout.
Storage
With a dimension of 69" L x 32" W x 62" H, it makes compact treadmill storage within your garage or room.
Noise Level
It's not noiseless but you may live with its minimum sound of the slat rotating on the bearings.
Portability
The Health Runner's front wheels give it the transportability of being moved around from room to room when necessary.
Weight Capacity
The IN10CT Health Runner claims to bear weight up to 400lbs, which makes it one of top weight bearing manual treadmills.
Click here to know curved manual treadmill price
---
Buying Guide: Shopping for a Manual Treadmill
Though a manual treadmill may look skimpy, you must choose wisely the one you want to buy.
Let's get into some aspects as a buying guide of a manual treadmill in the following:
Design
Manual treadmills have meagre design, only to get you going with your daily workout routine. If you aspire a fleet of features like you see in the motorized treadmills, you're sky high.
Your next manual treadmill will occupy your bedroom, living room, or even your balcony for its modest size. Some manual treadmills are portable on front wheels while some are foldable to make compact storage.
As in its frame, you will do right if you find one with the steel making. A steel frame gives it a rigidness, which makes sure it doesn't break apart soon upon regular running.
Essential Components
The motor plays a big part in a treadmill when it comes to components, something that a manual treadmill is devoid of. All it needs to run is your feet maneuvering.
You would find resistance variably in manual treadmills. Some may offer belt rotational resistance in 10-15 different percentage measures, some will have fewer, and some latest models will have magnetic force as resistance.
Since, you need to run all by your own force and speed, it's vital that you balance yourself on the side rails. Check if your desired manual treadmill has a stable pair of side rails.
Incline Type
Incline option in manual treadmills are zero to minimum. Some models have adjustable incline degrees so you can select your running track as per mood and necessity. You will find a range of latest manual treadmills with no incline at all.
But as for typical treadmill utility, a manual treadmill with zero adjustable incline may have steep surface. You may not find this type of incline as challenging as the adjustable incline.
Belt Size
The belt of a manual treadmill is shorter in length and width proportionate to its smaller frame. This naturally makes its price reasonable and its size compact than the electric treadmills.
The manual treadmill belt may not be optimum for the taller exercisers. In order to get a longer belt, you may want to look at the standard electric treadmill models.
Control Panel
You might not be into the electric module stuffs and just want to go on with your workout. Hence, a manual treadmill is suitable to your liking.
A manual treadmill workout needs no incline or speed control, so its console is light and easy comprising only some digital tracking like running speed, distance, calories burned, etc. At best, you may find a resistance indicator dial for controlling your adjustable incline.
Additional Features
When manual treadmills represent the compact, budget-friendly, and useful exercise units, expecting more features can be skeptical.
Still, a handful of additional features you can get from it are its digital monitor, heart rate sensors, holders, etc.
In digital monitor, which might be an LED depending what model you choose, you will be happy to receive your exercise information as you start to progress. These are basically battery powered, since the treadmill is not connected to any power outlet.
Even without LED, you may still get clear information of your pace, distance, calories burned, etc. You might expect to see your current heart rate on the monitor if there's a heart rate sensor attached to your side handrails.
Don't expect the heart rate indicator to be absolute as it might disperse a bit from the actual rate; just close enough to get you going rightly. You may wear a smart-watch or put a chest-strap for closer indication.
If you want to keep something useful with you during working out, some of the manual treadmill models may offer some bottle holder or device holder. You might be able to put one or multiple items, but their firmness is not guaranteed.
Another useful feature that a treadmill can offer is arm trainer. You can benefit from the arm trainers by gripping and moving them while running or jogging. It in a way, gives a full-body workout.
What you might miss in a manual treadmill is a cooling fan for comforting you during intense exercise and sweating. A fan runs on electricity, which a manual treadmill lacks.
---
---
What is a Manual Treadmill?
As a decent alternative to its motorized counterpart, a manual treadmill helps you to walk, run, and jog without plugging in electricity. Instead, it takes your leg strength to put its belt into motion, which helps you develop your cardiovascular health, and reinforce your leg muscles effectively. While some manual treadmill facilitates only walking, some offer both the walking and running facility. You can pick any of them according to your need.
Space Saving & Portable
The manual treadmills often come with a foldable system and transportation wheels, which not only saves your space but also qualifies you to store it at home with ease.
Affordable and Budget-Friendly
Manual treadmills are the most affordable treadmills on the planet. Since they don't offer many bells and whistles as the motorized trainers, it allows them to give you a bang for the buck. Nevertheless, some treadmills appear with the battery-operated console to show your speed, distance, time, and calories burned.
Safety Precautions
As it doesn't come with any safety switch to stop the treadmill, you'll need to keep your balance on your own, although you can stop whenever you want.
There's a chance to strain your muscles if you can't keep up a consistent pace; so, you have to be careful while working out.
Manual vs Electric Treadmill – Which is Better?
Manual Treadmill
Manual treadmill is a self-powered treadmill, meaning the exerciser must walk or run it off manually by his or her legs.
Let's check some of its major pros and cons below:
Pros:
It runs without electricity.
It's light, compact, and easy to store at home.
It's easy to move on its front wheels by lifting it from back end.
It's cheaper than the motorized treadmills in the market.
You can reduce the risk of injury by controlling your speed.
Since muscle-powered, shedding more calories and fats is easier.
HIIT (High Intensity Interval Training) is effective on a curved-belt manual treadmill.
Cons:
It's cheaper, hence, less sturdy frame.
It has less features and benefits.
Incline is zero to less effective.
Electric Treadmill
Most typical treadmills are the electric treadmills in the market. Run by power, it offers more ease and efficiency in workout.
Following are some of its pros and cons to consider:
Pros:
It offers a number of interesting features and programs into exercise.
Electric treadmill designs involve cushioning and shock absorption, reducing stress on joints and muscles.
You can run at a stable pace.
You can track your workout progress on its comprehensive electric monitor.
It comes with extensive incline options; manual and automatic, bringing intensity to your workout.
It's available in foldable form.
Cons:
With abundant features, it's costlier.
You need to pay more electricity bills for heavy-duty electric treadmills.
Risk of injuries due to tripping over the running deck.
Treadmill: Manual versus Electric
Let's have a rundown on the differences between a manual and an electric treadmill below:
| | |
| --- | --- |
| Manual Treadmill | Electric Treadmill |
| It doesn't run on electricity. | It runs on electricity. |
| Its surface rotates as the exerciser moves his/her legs. | Its surface revolves as the power is connected and you turn the machine on. |
| The exerciser has to control its speed and intensity. | The electric console regulates the exerciser's running speed, distance, time, etc. |
| Its resistance works with incline or magnetic force. | Its resistance works with manual or automatic incline. |
| It's smaller and lighter. | It's considerably larger and heavier. |
| Its normal or LCD monitor is run by battery. | Its interactive LCD monitor only functions on power connection. |
| It doesn't have any built-in speaker or Bluetooth. | It comes with Bluetooth, built-in speaker, cooling fan, etc. |
Self-Propelled Treadmill
A self-propelled treadmill is essentially a manual treadmill that runs on the exerciser's foot movement. It doesn't require electricity and it's considerably smaller. A self-propelled treadmill is a lot cheaper than an electric treadmill.
A manual or a self-propelled treadmill come in two basic shapes: flat surface treadmill and curved or U-shaped treadmill. Walking or running the manual treadmill deck takes your own effort; it maneuvers as you walk the path.
When you own a self-propelled or a non-electric treadmill, you experience a number of benefits. Its lightweight frame and front wheels make it a super-easy portable unit. Some manual treadmills are also available in foldable form.
It comes in a modest size and you can cheer that it makes a compact treadmill storage. A self-propelled treadmill takes your effort as its fuel and gives you the optimum workout intensity in return.
It carries no high-end incline within its overall function though some brands claim to integrate manual incline to their treadmills. These manual inclines may have the resistance up to 15 different percentage levels. Some brands even offer magnetic power, which essentially regulates the resistance of the running surface.
Since cheaper, a self-propelled treadmill may consist of some weaknesses like unstable frame, lack of features, performance decline, etc.
What Is Manual Walking Treadmill?
A manual walking treadmill comes in a non-motorized treadmill unit. The running or walking belt on it wouldn't rotate if you don't move your muscle. It doesn't run on power, rather you run the belt with your legs at your own speed and intensity.
What Is Manual Curved Treadmill?
Manual curved treadmill is one of the two variations of the manual treadmills: flat and curved. A curved treadmill has its running deck and belt slightly bowed unlike the flat surface of a treadmill.
Its running surface interacts rarely with the arch of your feet while walking or running on it. Mostly, an exerciser has to land on his or her balls for running. A curved manual treadmill inspires an exerciser to put the best effort on workout.
What Is Magnetic Treadmill?
A magnetic treadmill is a popular choice in the manual category for many exerciser. The reason behind naming it a magnetic treadmill is it runs on various resistances by using the magnetic force.
You can set your own pace of running on a magnetic treadmill unlike a motorized treadmill. Magnetic treadmills come mostly in an inclined design. This makes the belt's rotation easier. It's less noisy and cheaper than the motorized treadmills.
What Is Manual Under Desk Treadmill?
If you are wondering whether a shorter and narrower treadmill was possible to exercise on in a more flexible spaces and occasions, then a manual under desk treadmill should end your search.
The under desk treadmill doesn't have the side handrails, so you can put it flat under your desk while running on it. Under desk treadmills come with separable console. You can set it above your desk for tracking speed, distance, heart-rate, etc.
What Should I Look for Before Choosing a Manual Treadmill?
1. Highest Weight Bearing
You must be realistic about sifting out the weight capacity of the manual treadmill. The weight bearing of a manual treadmill may vary from 200lbs to 450lbs.
Being wise, you should deduct about 50lbs from what a manual treadmill model claims to have in weight capacity. Thus, you may be closer to the actual measurement.
2. Running Space
Mind that manual treadmills are shorter in length and width. If you aim at running then you better find a manual one that is at least 50" in length and 18" in width.
Anything below the above requirement can only support your walking and jogging. Besides, consider your height and stride so the deck doesn't put you in trouble.
3. How the Resistance Works
When getting a treadmill is about working out through sheer resistance for gaining maximum results, the manual treadmills can be a bit tricky. Older models of manual treadmill mostly never came with any incline option, which has evolved a bit.
To add resistance, manual treadmills nowadays come with magnetic force, which helps you to set your exercise difficulty level and allows a plain running.
4. Storage
Check the storage option of the manual treadmill you want to buy. Fortunately, most manual treadmills come in undersize and prove to be a compact treadmill storage.
You will find some manual treadmills with front wheels for easy portability. Moreover, some manual treadmills are foldable to as short as 9-10 inches above the floor. Hence, you can put it under the bed, couch, or a desk after workout.
5. Side Handles Design
You have to look for the type of side handles you are getting from the manual treadmill. Manual treadmills are self-powered, that's why one must hold on to its side handles for stable and safe running.
Handles aren't adjustable yet you might be able to detach those parts in some models. Check if you should get a model with longer or shorter side handles, because, many prefer longer handles for better balance and efficient workout.
6. Anything Else?
For a manual treadmill, you may not expect a bunch of extra goodies alongside the main unit. Still, you will get a console just about the right size that digitally tracks your pace, distance, burned calories, and workout time.
Read: Best Treadmill Under 500$
Read : Best Vertical Climber
---
Frequently Asked Questions
What is a Manual Treadmill?
Simply put, a manual treadmill runs manually, by your own leg movement and intensity effort. Manual treadmills do not require electricity to operate.
It's self-powered and gives the exerciser opportunity to put his/her best effort in losing more fat and calories.
Who Would Buy a Manual Treadmill?
Determining to buy a manual treadmill may derive from various situations:
You're short on budget and can't afford to buy an electric treadmill.
You're short on space at home for a large motorized treadmill.
You are aged and trying to regain physical activeness.
Your electric bills are high, so you don't want to bring a motorized treadmill to add to your monthly power consumption.
Apart from the above, you may like various features and designs that the manual treadmills have to offer.
What Are the Benefits of a Manual Treadmill?
Benefits of a manual treadmill are as good as it can offer. Its upsides are:
No power consumption, no higher monthly bills.
Compact storage.
Available in portable and foldable forms.
Has lesser impact on leg muscles and joints.
Inspires more effort in workout.
Can burn more calorie and fat.
Stable running deck, safe workout.
Control over running and walking.
What Are the Drawbacks of a Manual Treadmill?
Drawbacks of a manual treadmill are:
Non-motorized treadmill, hence, less features.
No interactive console.
The running belt rotates only on your legs' effort.
Minimum resistance and incline support.
Constant running may hurt heels and balls.
Some manual treadmill models may be noisy.
Are All Manual Treadmills Cheap?
Manual treadmills are available at as minimum as $200 and $4000 or above. Honestly, the better quality it brings, the pricier it will be.
Depending on your budget, you should look for something above $500 and up to what you can afford for a better midrange manual treadmill. The cheap treadmills may look alright but it may not prove to be a perfect deal eventually.
Can You Run on a Manual Treadmill?
Yes, you can run on a manual treadmill provided that its frame and running deck are robust. The side handrails are also important as you must hold onto them for most of the time while running.
If the slat running deck can take off the stress from your legs, then running would become easier and effective. One of the major factor of running flawlessly on a manual treadmill is your weight.
Check how much the treadmill's weight capacity is if your aim is to run more often on it. For instance, a 300lbs person should find a manual treadmill that is at least capable of bearing up to 350 to 400lbs, for being in the safe side.
Are Manual Treadmills Good for Walking?
Manual treadmills are primarily good for walking and jogging. With better materials and features, they can support running also.
If running is your daily habit or a prescribed exercise by the doctor, you can use a manual treadmill happily as it puts the least stress on your legs.
How do You Use a Manual Treadmill?
Since, a manual treadmill doesn't run on power, its running deck will rotate with your leg movements like walking or jogging. The speed and distance will follow your maneuvering as you go.
If your treadmill has adjustable incline option, then you have to manually change the incline percentage for more intensity. You will do better if you hold on to the side handrails for stable walking and running.
You can track your exercise information like speed, distance, heart rate, calories burned, etc. on the digital monitor attached to the front rail.
Can You Lose Weight on a Manual Treadmill?
If you are determined and sincere towards your fitness goal, you can reshape your body by losing calories and fats with a manual treadmill.
Manual treadmill is designed for hard labors, meaning you can control your walking or running on it. So, the harder you push yourself, the sweatier you get. Thus, you can lose more calories than you intake.
Since, you must shed calories in order to get leaner, a manual treadmill could be the best companion in your body-toning journey.
Is a Manual Treadmill Worth it?
If you're eyeing at regular activeness and losing enough weight to look fit, then a manual treadmill will prove efficient for you.
Investing on a manual treadmill will bring you a light, proper, and safe workout gear. Manual treadmills are good for young or aged, lean or heavy, and beginner or pro.
Make sure you buy a manual treadmill with rigid frame, spacious running deck, and adjustable or magnetic resistance. Your money will pay off if you maintain your workout routine as well as the treadmill properly.
Is Manual Treadmill Bad for Knees?
Manual treadmills run solely on your leg movements. The longer and harder you run, the more intense your exercise gets. While treadmills are basically good for knees, impact of the manual ones need consideration.
For not having any versatile features and motorized resistance, you can rest assured of minimum impact on your legs muscles and joints. Curved manual treadmills are better in a sense of treating your arch with care.
Therefore, you will have lesser impact on your ankles and knees also. Still, not having the electrically controlled running belt and putting more effort by your legs, can turn things a little tougher.
You better warm up and stretch before running on your manual treadmill. Run flawlessly unless you feel any discomfort in your ankles and knees. Also, consulting your doctor about running on a manual treadmill can be helpful too.
Summary
Reviewer
Review Date
Reviewed Item
Author Rating
1star
1star
1star
1star
1star
Buy on Walmart
ProGear 190 Manual Treadmill with 2 Level Incline and Twin Flywheels - Walmart Link
Sunny Health & Fitness Manual Treadmill with 16 Levels of Magnetic Resistance - Walmart Link
ASUNA Hi-Performance Cardio Trainer Self Powered Manual Treadmill - Walmart Link
ProGear 190 Manual Treadmill - Walmart Link
ProGear 190 manual treadmill - Walmart Link
2. Sunny Health & Fitness Manual Treadmill - Walmart Link
. Sunny Health & Fitness Asuna Cardio Trainer - Walmart Link
IN10CT Health Runner Review - Walmart Link
Click here to know curved manual treadmill price - Walmart Link
Buy on eBay
ProGear 190 Manual Treadmill with 2 Level Incline and Twin Flywheels - eBay Link
Sunny Health & Fitness Manual Treadmill with 16 Levels of Magnetic Resistance - eBay Link
ASUNA Hi-Performance Cardio Trainer Self Powered Manual Treadmill - eBay Link
ProGear 190 Manual Treadmill - eBay Link
ProGear 190 manual treadmill - eBay Link
2. Sunny Health & Fitness Manual Treadmill - eBay Link
. Sunny Health & Fitness Asuna Cardio Trainer - eBay Link
IN10CT Health Runner Review - eBay Link
Click here to know curved manual treadmill price - eBay Link