When buying the best compression socks for medical or sports reasons, you have to take into account several factors and how it will help you medically or your performance, if you are an athlete.
What are compression socks? Compression socks or compression stockings as some may call are socks that will enhance the blood flow in legs and feet. Compression socks slightly squeeze your legs in order to send the blood upward in your legs. blood flow in your legs. By doing so, it will reduce the swelling of your legs and for diabetes, it will reduce the risks of blood clots. People who are affected with varicose veins, spider veins or just coming out of surgery could be prescribed with compression socks so the blood flows and promotes healing.
Compression socks will definitely help if you are suffering this achy and heavy feeling in your lower extremities. As mentioned above, if you do have swollen legs, compression legs may greatly help reduce the swelling.
Editors' Picks: Top Compression Socks in 2023
A Buyer's Guide to Compression Socks

Is Wearing the Best Compression Socks Make That Much of a Difference?
W
e've seen athletes wearing compression socks on TV or live more and more. Whether it is in football, basketball or soccer, the wearing of compression socks in sports athletes has increased and many of them swear it helps them in their performance while it helps to avoid injuries as well as recovering from them in a quicker manner. if you intend on getting the best compression socks for athletic reasons because they just look cool on the field or on the court, you are getting them for the wrong reasons.
Compression socks
worn by athletes have a purpose and we will look further into our buyer's guide below.
Compression Socks and Units of Pressure

Each pair of compression socks have different grade of compression pressure to help the circulation in your legs. The units of measurement are the millimeter of mercury or mmHg . In medicine, the pressure is still generally measured in millimeters of mercury.
Below, you can see what each rate of compression is good for. Getting the right rate of compression is very important when buying a pair of compression socks.
8 - 15 mmHg (light compression) - contributes to the reduction of swelling, provides more endurance in the lower limbs as well as reducing pain and fatigue.
15 - 20 mmHg (medium compression) - adds additional prevention against varicose/spider veins, helps prevent deep vein thrombosis, great for long-distance travel
20 - 30 mmHg (tight compression) - may be used to help treat edema, used during post-surgical treatment of certain venous conditions to prevent a recurrence, helps prevent hypotension
30 - 40 mmHg (tighter compression) - provides benefits to all the above, used in the management of venous ulcers
These measurements are in general given relative to the current atmospheric pressure: for example, a blood pressure of 120 mmHg, when the current atmospheric pressure is 760 mmHg, means 880 mmHg relative to a perfect vacuum.
In the case of compression socks, the measurements are used the central venous pressure .
What are the types of Compression Socks?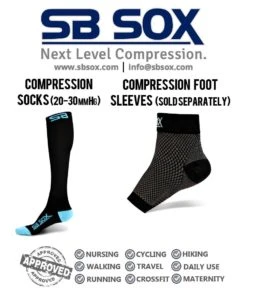 SB Sox - Athletics Compression Socks
There are many types of compression socks, before contemplating in wearing them. You should consult with a podiatrist, or a family doctor. He will be able to recommend the right type of compression socks you should be wearing. The type of compression socks makes a difference in your well-being or in your recovery, whatever your case may be.
In the clinical world of compression socks, there are two types. They are the gradient and anti-embolism compression stockings.
In general, compression socks or stockings will come in different pressure-squeeze (light to high), lengths (knee-high to the top of the tight) and finally some will have different colors and features like night fluorescent markings for runners.
Many of the compression socks are for men and women. Actually, finding the best compression socks may just be a compression socks designed for men and women.
You can see some of the best compression socks we like on Amazon - right here .
How to Wear Compression Socks?
Wearing compression socks is not like wearing your normal socks before heading to work or do a physical activity. First the wearing of a compression socks for medical reasons should be prescribed by a medical professional (doctor, orthopedist, pediatrician). He / She will likely tell you to wear them all day for a period of time. If you are wearing them for sports or running, wearing compression socks should be centered around the time you performed your physical activity, (basketball practice / game as an example).
It is important to feel the strength around your legs when wearing compression socks. The pressure you will feel should be pressure around the ankles and reduced pressure as you go up to your legs.
How Do Compression Socks Work?
Compression Socks will have a unique function once you have them on. This function in a clinical setting will be to compress your lower legs. They help against any venous disorders such as: edema, phlebitis, and thrombosis to worsen when present or to prevent when it is imminent.
Compression stockings work by reducing the diameter of your distended veins and will increase the venous blood flow velocity and valve effectiveness. When you wear compression socks not only will it decrease the pressure in your veins but it will also prevent venous stasis and impairments of venous walls. This compression results in less achy pain in your lower limbs.
If you have been prescribed a knee-high compression sock, this means your doctor wants to improve the blood circulation down your legs and feet. In addition, it will help prevent the formation of blood clots in your lower legs which could further bring more complications to your health. It is also said compression stockings will enhance the treatment of ulcers of the lower legs.
Compression socks used clinically will have a stronger elastic than let's say an athletic sock. This is due to the need for more pressure taking place in your lower legs, ankles, and feet. When wearing compression socks, you will feel a stronger tightness at the ankles. As you go up, the tightness is less constrictive.
When the compression socks compress the veins, your arteries and also your muscles, they will force the blood to go through the narrow channels. As a result, the arterial pressure is increased, which causes more blood to return to the heart and less blood to pool in the feet.
How to put Compression Socks on
Putting compression sock on, should be done at the right time of the day in a certain way. Below you will find how you should put your compression stockings on.
a. Put your compression socks in the morning preferably. This is the time when you will have the less swelling in your feet, legs and ankles. Putting them on after you get out of bed would be the ideal time.
b. Women will certainly say this is easy but for men to put stockings on, can be a different issue. This brings us to the next step. When putting the compression stockings on, make sure you hold the top of the socks and simply roll it down to the heel. This will avoid unused spaces, creases and the socks to bundle up.
c. Insert your foot into the compression sock all the way to the end and embark the heel into the heel portion of the sock.
d. Once in, pull the compression stocking up and unroll the stocking over your leg. Once completely unrolled, take off any creases by stretching the sock accordingly. It is important to consider that as you are unrolling the sock that you do not let the compression sock bundle itself. letting this happen will lead to a more uncomfortable state after once the shoe is in. It will not distribute the pressure wanted either.
e. The length of the compression socks is very important so make sure the sock comes no longer than two fingers below the knee.
If you are not familiar in putting compression socks on, ask your doctor. For any athletes out there, ask a teammate or coach.
Some valuable tips, when putting compression socks on
If you are using skin lotion on your legs, please ensure it is dry before putting them on. If it gets stuck with sweaty legs, you can also apply a light coat of baby powder or cornstarch on your legs to facilitate sliding up.
A great tip to adjust the compression socks is using rubber gloves (dishwashing gloves). Rubber gloves will ease the process of adjusting and smoothing the socks out when put on
The use of a stocking donner is also very valuable. It is a valuable tool to slide the stocking over your foot. Stocking donners are not very expensive and can be found at your local drugstore or Amazon. Stocking Donners can be purchased for a moderate price and will make the wearing of compression socks a breeze. If you are not sure what it is or what it looks like, see the photo below.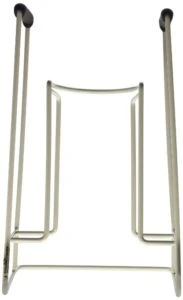 Socks Donner
Some other products to put your compression socks on or take them off varies in their designs and how to use them. Other helpful donner tools are the: Sigvaris 583D100 Doff N Donner Sleeve, the Ableware Compression Stocking Aid or the Sock Aid with Foam Grip to name a few. The choices are varied and Amazon offers a wide selection where you can select the one that works best for you here.
Care of the Compression Socks
Like your normal socks, the care of your compression socks starts with its hygiene. If you are wearing compression socks daily for medical reasons, you should be washing your compression socks daily. They should be washed with mild soap only and water. Once rinsed, it should be air dry. DO NOT PUT YOUR COMPRESSION SOCKS IN THE DRYER . In order to exercise a proper rotation of compression socks, you should have more than a pair.
This way you can alternate and it will give you the option to wash one pair and let it dry while you wear the other pair. The normal lifespan of compression socks are generally three to six months (depending on the wearing frequency and quality). Consider replacing them within that period as you see fit when the pressure is diminishing.
Considerations When Buying Compression Socks
Many considerations come into effect when buying the best compression socks for medical purposes. One of the main considerations when buying compression stockings is if it can be covered by your health insurance. You should verify with your health insurance provider to see if it is covered. Since they are much more expensive than your normal socks, coverage by your provider will allow you to get top quality compression socks. If it is covered, make sure you go through the prescription route and that you keep all your receipts. Ask your health insurance provider how many pairs you are entitled too. if prescribed, always ensure you get the right fit immediately. Ask the medical equipment store to measure the length required.
In some cases, the compression socks may not be for everyone. If you find the socks are making you feel worse or is causing you bigger issues with your legs, call your doctor. Explain to your doctor the symptoms and see if you can get a replacement that will also be covered.
More Information on Compression Socks
When various research were conducted on whether compression socks really helped and if they were efficient, several medical journals and universities were able to provide some valuable facts. These findings were extracted from Dr. Geldert's - Healing Foot web site at http://healingfeet.com . Below is a summary of these findings:
a. For the runners who were using a pair of compression socks below the knee for 2 days after a marathon, they were recovering faster. These runners were also able to run 2.6% longer before becoming fatigued set in.
b. The compression provided by compression socks greatly diminished the soreness in muscle developed post-workouts. In these particular studies published in the British Journal of Sports Medicine, researchers stated: "These results indicate that compression garments are effective in enhancing recovery from muscle damage."
c. The effect of compression socks can increase the blood flow and reduce the heart rate. This finding was published by the University of Newcastle. In addition for people wearing the compression socks around the surgery period can reduce the risks of Deep Vein Thrombosis by 50%.
d. Researchers from the Journal of Strength and Conditioning Research found that compression stockings can also improve the perception of diminished muscle soreness. Those same researchers didn't find any significant improvements in muscular strength nor did they find any improvement in blood markers of exercise-induced damage. They reported that runners simply felt better when treated by compression socks in the 72 hours after marathon running.
Brands of Compression Socks
If you are buying compression socks for medical purposes, the doctor or the specialist can recommend a good pair for your needs based also on your budget and condition. Their advice and recommendation in buying a pair of compression socks is gold in this case. That is because they know perfectly your condition. Whether it is for medical purposes or for enhanced performance reasons, there are several brands of compression socks available at your fingertips on Amazon.com
One of the main companies specializing in athlete's compression socks is BeVisible. BeVisible is well known to be one of the best compression socks brands on the market. We will address a thorough reviews of their compression socks in the future so don't miss this review. BeVisible have several lengths, style, and colors, which you can also find on Amazon.

One other company specializing in this type of compression socks is CompressionZ. CompressionZ is also well known to be one of the best compression socks company out there. has different style and colors for men and women and they are quite efficient in the compressed socks market. If CompressionZ is what you are looking for, you can find some of their best products right here.
The other more stylish and favored by athletes is the 2XU Compression Socks. They have various lengths and compression sleeves with several fluorescent markings specific to night running. They specialize mainly with sports and muscle containment. You can see more types of 2XU Compression Socks - here.
As for medical compression socks, Feetures is a company that has gone global in providing compression socks to people with feet, ankle and leg swelling. The lengths again vary from knee-high to sleeves. The company prides itself in helping people's feet by adding an extra cushion while compressing gently. here is an overview of the Feetures Compression Socks here.
Summary of Top Compression Socks
There is no doubt that compression socks can help people with swollen feet, ankles and legs. For people suffering from diabetes, compression socks can surely help and they come with various designs and styles which makes them look like any normal socks. Athletes whether amateur or professional swear by them. It helps their recovery after workouts and enhances their heart rates during the activity. Wearing compression socks can be a bit of a chore when putting them on in the morning and caring for them. Nonetheless, wearing compression socks will help and it may take some time getting to use to them.
Best 6 Medical Compression Sock Reviews
In order to clarify, which compression socks you need and which one works the best, we've broken down the best compression socks into two categories. The first buyer's guide you will notice are the best medical compression socks as reflected below in our table. These are the one which qualifies as the good one or the "sure bets".
We've listed the top 6 best compression socks in that category, which will provide the required relief and comfort. Factors we have looked at, are the material, right pressure, how easy to wear them on, durability and cost.
Our performance and recovery Compression Socks used by athletes will be looked further down in this Best Compression Socks Buyer's Guide. If this is more your interest, feel free to scroll down below to see our best performance compression socks.
| Compression Socks Image | Compression Socks Brand | Cost | Millimeter of Mercury | Length |
| --- | --- | --- | --- | --- |
| | JOBST Medical Compression Stockings Relief Knee High Socks | $$ | 20 to 30mmHg | Knee-High |
| | Opaque Compression Socks Knee-Hi Firm Support | $$ | 20 to 30mmHg | High Frequency |
| | EvoNation Women's USA Made Graduated Compression Socks | $$ | 15-20mmHg | Knee-High |
| | CopperJoint Performance Compression Socks | $$ | 15-20mmHg | Knee-High |
| | 1ST Elite X-Sleeves -Medical Grade Graduated Ankle Brace Compression Socks | $ | 0 to 5mmHg | Ankle-High |
| | MoJo Recovery & Performance Sports Compression Socks | $$ | 20 to 30mmHg | Knee-High |
1. JOBST® Medical Compression Stockings Relief - Link
The
JOBST® Relief® Stockings
is a product clinically approved for those with blood flow issues in their lower limbs. A compression socks built with a quality material, it is very well priced. The JOBST compression stocking delivers this gradient compression aimed at helping anybody with venous issues. The one featured delivers a compression of 20 to 30mmHg compression on your lower limbs. A 20 to 30 mmHg is qualified as a medium compression.
What makes the JOBST® medical compression sock is its 3D knit built armed with its unique air covered spandex yarn. This combination makes it very soft to the touch and also very comfortable when wearing them.
Although, the model featured here is knee-high, you can also get the JOBST® Compression Stocking in various length. The do come in: chaps, knee-high, thigh-high and waist-high.
Sizes of the JOBST Compression Socks
Below is a detailed Sizing Chart of the JOBST Compression Socks. As you can see, it comes in different sizes and colors. Simply click the chart to see it in bigger details.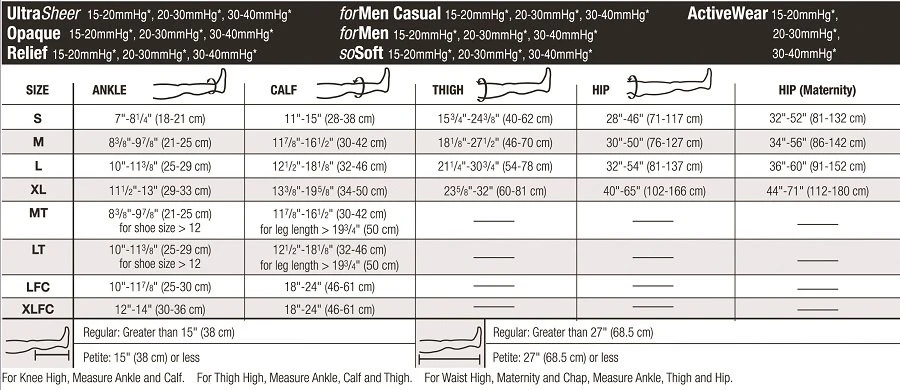 Care of the JOBST Compression Socks
The compression socks from JOBST Relief Model come in two colors: beige and black. It is made of 77% Nylon and 23% Spandex . It is easy to care for by simply hand-washing them with warm water and mild laundry soap or laundry detergent. The compression socks can also be washed with a washing machine set om delicate but if it holds a silicone grip top, you should be sticking to hand-wash only so the grip is not ruined by the washing machine.
Do not use chlorine bleach and avoid fabric softeners. Rinse the compression socks after wash hang them to dry.
JOBST Helpful Hint : If you place the stocking in a mesh bag when washing them in a washing machine, it will protect them during its wash cycle.
A compression stocking for men and women, it has a reinforced heel aimed at providing the durability you need. The JOBST compression socks has the perfect wiggle room for your toes thanks to its closed-toe styles adding the comfort needed.
JOBST® Compression Socks Features:
Black or Beige color;
20 to 30mmHg Compression;
Silicone Top for Easy Grip;
Reinforced Heel for Durability;
Closed Toe Style for More Wiggle Room;
3-D knit Structure of 77% Nylon and 23% Spandex; and
Affordable.
Peoples' Opinions of the JOBST® Compression Socks
Amongst many of the customers who got a pair of JOBST® Compression Socks , many were very satisfied. They felt an instant reduction in the swelling of their lower legs that transferred to their ankles. They truly enjoyed the texture of the stocking. One tip offered by a customer was to make sure the creases and the slackness of the stocking is fully spread out in the ankle areas. Creases left undone will contribute further against blood circulation.
The major consensus for the customers is the fact that JOBST® Compression Socks were an excellent return on investment. They worked better than those at a much higher price.
2. Opaque Compression Socks Knee-Hi Firm Support - Link
The Opaque Unisex Compression Socks is a clinically proven compression stocking brought to you by MoJo. made in the U.S.A., the Opaque brand is knit fabric compression sock that will help relieve your legs and feet from conditions of poor circulation and venous disease. It has a unique style and the colors available are: Black and Beige, with six different sizes. This compression stocking is a unisex product.
The Opaque provides a medium compression at 20 to 30 mmHg and its opaque texture can help immensely conceal unsightly surgical conditions. A knee-high sock, the Opaque is made of 78% Nylon and 22% Lycra Spandex . It has a reinforced heel for longer life span. The Opaque comes with a " Open Toe " for more comfort. Its top band is not constrictive and makes it easier to put them on.
The recommended life span of these compression socks ranges from 2 to 3 months.
Ideal for many venous diseases such as edema, thrombosis and varicose veins, the Opaque gives your legs a firm fit. Promoting blood flow, the compression enhances circulation that will reduce achy legs and feet. It features flat seams on the foot which also provide a firm and even compression
Below are some of the features of the Opaque Compression Socks:
Available in Black, Beige;
Opaque Texture;
Made of Nylon and Lycra;
Non-Constrictive Top;
Free-Toe Concept;
Ideal for venous disease; and
Affordable;
Customer's Review of the Opaque Compression Socks
The Opaque Compression Socks faired really well with its customers. It is a relatively cheap compression sock to purchase. Doctors do recommend them to their patients. One positive comment that was dominating reviews was how easy the Mojo Opaque Compression Socks was to don. It was also very efficient in delivering the relief to customers who had chronic circulation problems.
Many enjoyed the firm support the Mojo Opaque offers. Many also enjoyed the firm support while some were hoping for more colors to select from. others also brought up the point that they are made long even after picking the length needed, which caused some inconveniences.
The easy maintenance of the Mojo Opaque Compression Stockings is another great advantage and the price was remarkably well received.
3. EvoNation Women's USA Made Graduated Compression Pantyhose - Link
As our third best compression socks in the medical field, we like to say the EvoNation is one women compression stocking that will bring the relief desired. It is a product made in the U.S.A., that is also FDA approved and recommended by many doctors. This latex-free compression sock is latex-free and come in one color - nude. Its consistency is 80% Nylon and 20% lycra Spandex.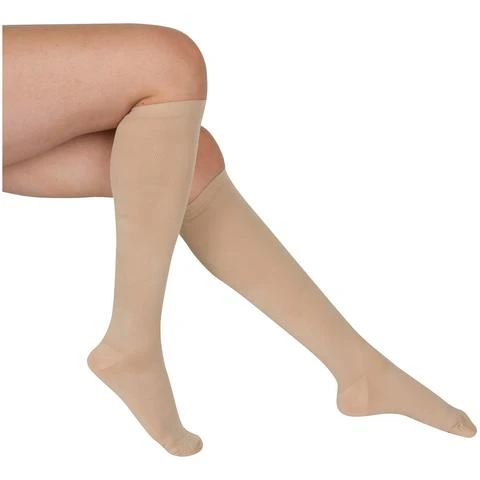 This EvoNation compression stocking is a light compression sock set to provide pressure measured at 15 to 20mmHg. With the aid of a computer-controlled technology, the EvoNation Women's Nude Compression Socks , delivers a pantyhose capable of giving you comfort even when you are active. This light pressure is constant and steady.
Reinforced strongly at the toes and the heels, it is durable to go in the washing machine and last for a long time. This is due in large part to the stocking's construction using their micro-scaled compressive knit pattern.
Sizing of the EvoNation is easy with their sizing chart for the calf and ankle as well as the show size. It will give you the right fit for your legs.
What makes EvoNation Women's Light Compression Socks is its graduated compression zone technology. They have a woven fabric that is scientifically and mathematically engineered giving the customer the best compression socks they can find. It is designed and constructed to provide comfort, that will last. Their design also applies pressure all around that forces the blood to flow and open the narrow vessels.
Below are some of the features of the EvoNation Women's Graduate Light Compression Sock:
nude color adds a unique style;
machine washable;
woven fabric;
computer-controlled pressure all-around;
clinically approved; and
light pressure of 15 to 20mmHg.
What the Customers Say About the EvoNation Compression Socks
Although the EvoNation Light Compression Socks was well received from the customers who bought them, some perceived the compression socks as not as durable as they state. Many reported runs in their stockings. The compression socks have a reinforced toe and heel area which proved to be comfortable and also durable.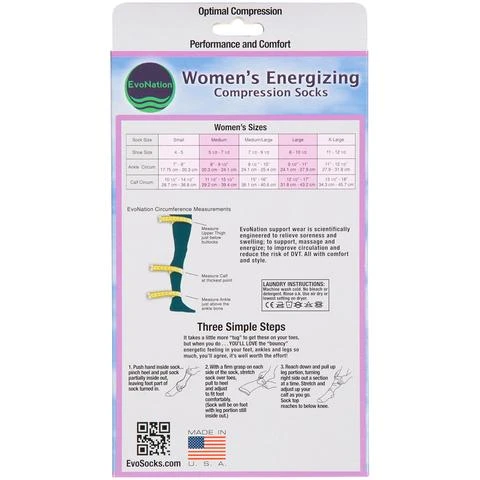 Many found the EvoNation Light Compression Socks as a very efficient compression sock that delivers on the pressure needed to increase blood flow. They also reported that the EvoNation has an excellent elastic at the top. What sets the EvoNation Womens' Light Compression Socks apart from many competitors is the way provides constant pressure resulting in less pain and fatigue for those who have to stand for a long period of time.

4. CopperJoint Performance Compression Socks - Link
The CopperJoint Performance Compression Socks is a compression sock that is ideal for the active and long standing individual. Designed for those who are traveling, diabetics or simply active and performing in a running sport, the CopperJoint performance Compression Socks is one of the best medium to light stocking option for compression socks on the market. Built strongly, it is a very durable sock that is clinically recommended by doctors and neuropath.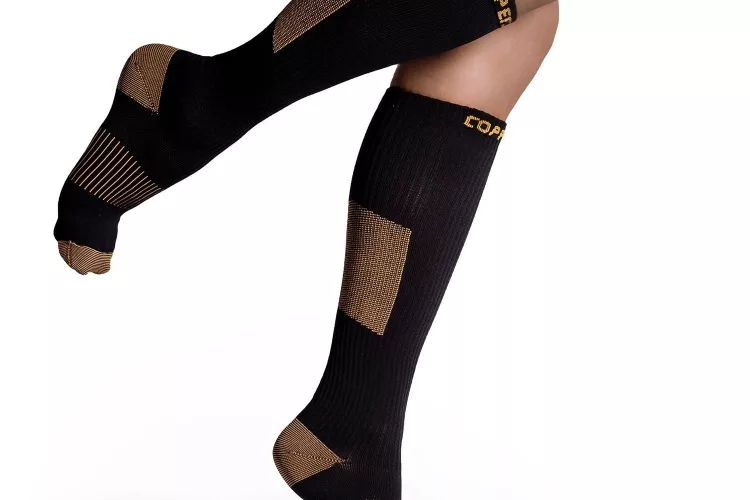 They have the unisex for both men and women to wear. What makes the CopperJoint Performance Compression Socks different from their competitors is the copper ions embedded fibers aimed at eliminating any unwanted odors. In fact, each of their socks has a 12% top quality copper infusion in them. They have this wicker design which keeps moisture at bay and away from your feet.
They are stylish and come in a black and copper color look. Their texture is very smooth that looks almost like a nylon dress socks.
In addition, the CopperJoint Performance Compression Socks has a moderate to light compression sock which means you will get approximately 15 to 20mmHg of pressure all-around.
The graduated pressure from top to bottom promote blood flow in your lower limbs very efficiently. This is ideal if you are standing a major portion of the day on your feet. Its mild squeeze enhances those with venous disorders in their feet, ankles and lower legs around the calves. If you have spider or varicose veins, the CopperJoint Compression Socks may be a great solution to remedy that situation. People with swollen ankles and feet will also benefit greatly from the CopperJoint Performance Compression Socks.
One great feature the CopperJoint offers is its thermal stabilizer associated with its anti-itch UPF50+. It makes this pair of compression stockings breathable and free of any itches. Its high-performance fabric will relieve you from any unnecessary itches, chaffing or skin irritation. In addition to the UPF50+, the CopperJoint performance Compression Stockings are easy to don and wear.
They are built ergonomically allowing your toes and the rest of your foot to have the full range of motion when performing high-stress activities. Its cushion toe and sole bed add more comfort when impact occurs. The cushion on the sole will add more absorption and provide less pain and more comfort.
Like any other compression socks, having the right and perfect sizing is crucial for the compression sock to do its work. Always refer to the sizing chart when getting them.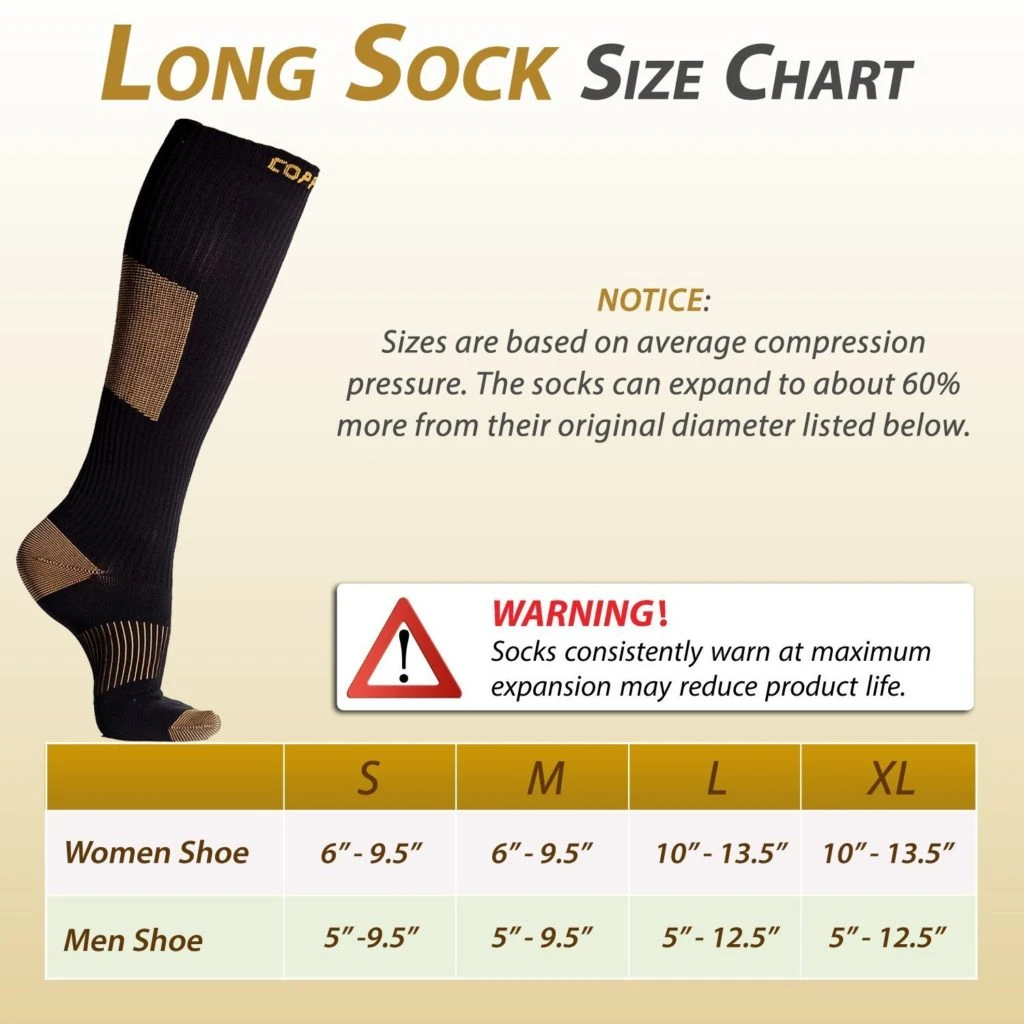 Below are the main features of the CopperJoint Performance Compression Socks :
Spacy Toe Chamber;
12% Copper Infused to Reduce Odours;
Durable Fabric;
Plantar and Arch Support;
Wicker Design for Less Moisture;
Graduate Compression for Less Pain and Added Comfort;
Easy to Wash and Maintain;
Efficient Blood Flow Avoids Spider and Varicose Veins; and
Anti-Itch Fabric for More Comfort.
Care of the CopperJoint Performance Compression Socks
This compression sock requires simple and easy care. Simply add mild detergent and wash on delicate (small load). We recommend you hang them or lay them flat to air-dry and avoid drying heat from your dryer. The heat could neutralize the copper embedded in the compression socks.
Our Opinion and the Customers Opinion of the CopperJoint Performance Compression Socks
This is one compression socks we had to try because we were intrigued by the copper angle to them. We were aware that copper can be soothing for arthritic pain in joints such as wrist and knees, but we didn't know the effect of the copper infusion would have on our feet. Well, as they claimed, it reduced odors but it didn't change anything as far as pain was concerned.
The texture is soft but beware of the seam at the toe. If you don't have a snug fit with your shoe, it will rub and a blister will start. We didn't end up that far, but we notice a mild irritation where the seam was rubbing.
As for the care of these compression socks, we thought the Copperjoint was very easy to get washed on a quick cycle (delicate) and air dry them. We recommend you get a couple of pairs so when one pair is drying, you can wear the other. The ideal quantity would be three pairs, so you don't do laundry every day. They have actually do have sales on them at a pretty good reduction percentage, so maybe now would be the time to acquire a couple more pairs.
As for the smell, no issues, the product delivered. We were impressed with the light compression it provided and we believe it made a difference in the blood flow of our lower legs. In my case, I used it while running at the gym on a treadmill, and the pain didn't surge like it normally does at the start.
Finally, the price was adequate for one pair. As mentioned before, they do have regular sales too, where you can get two pairs and 10% off, or three pairs with 15% off.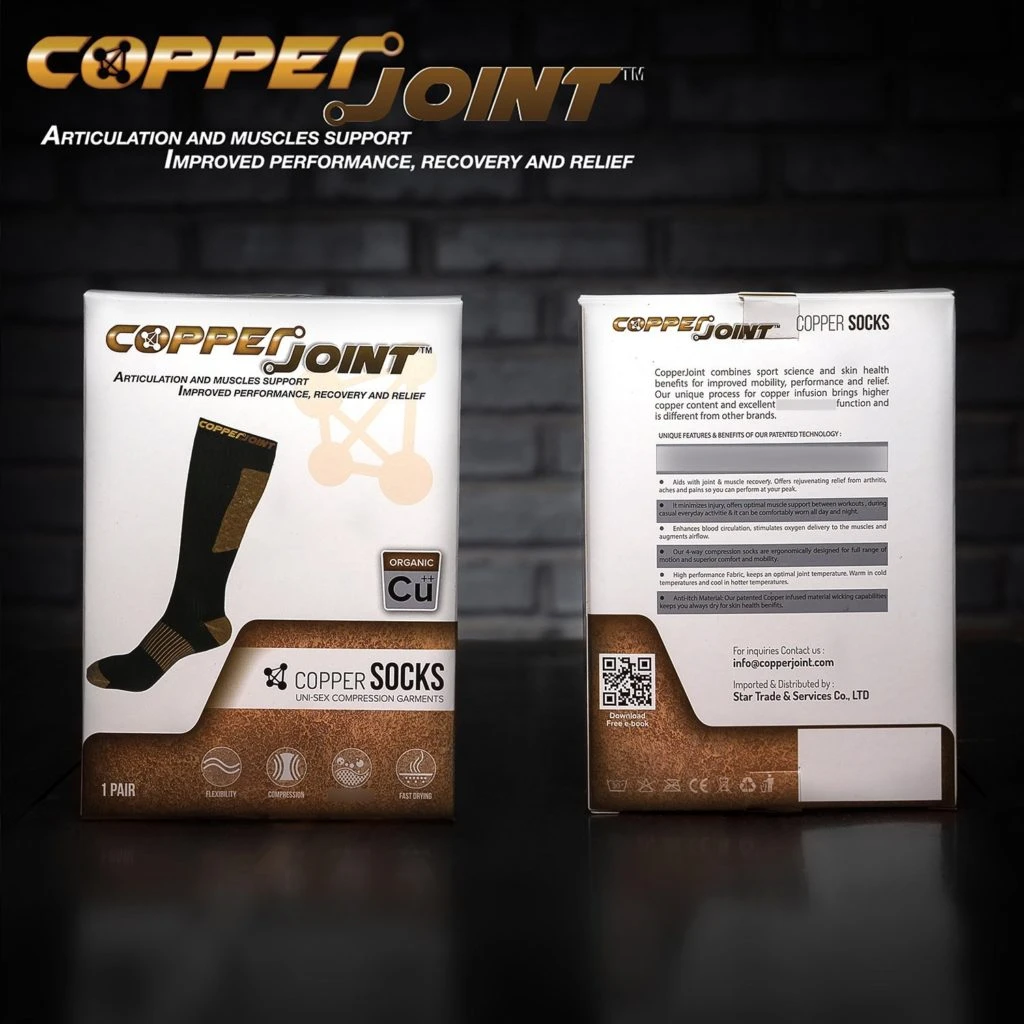 Other customers who got this brand of compression socks were in general very satisfied. The main positive comments that surfaced were its durability, comfort and the ability to promote the blood flow in their legs while they standing and exercising. Many were very happy with the texture the CopperJoint Performance fabric was made with.
This is a compression sock we were very happy to try and very satisfied afterward. We liked the fact that it can be used for activewear (like running) and also simply sitting at your desk and increase the blood flow while working at your computer. We would recommend it but if your doctor has already prescribed your compression socks, you have no needs to change them.
5. 1ST Elite X-Sleeves -Medical Grade Graduated Ankle Brace Compression Socks - Link
In our 5th best compression socks clinically approved, we find the 1st Elite X-Sleeves - Medical Grade Graduated Ankle Brace Compression Socks . It is not our standard compression socks like we've seen so far but the 1st Elite X-Sleeves is the assurance you need in the ankle-high compression socks.
With the 1ST Elite X-Sleeves Compression Sleeve, you have the perfect combination of compression, night splint, and support. Its design makes that compression sock very versatile, particularly for those suffering from plantar fasciitis. At the same time, you will get more performance from your feet with increased blood flow.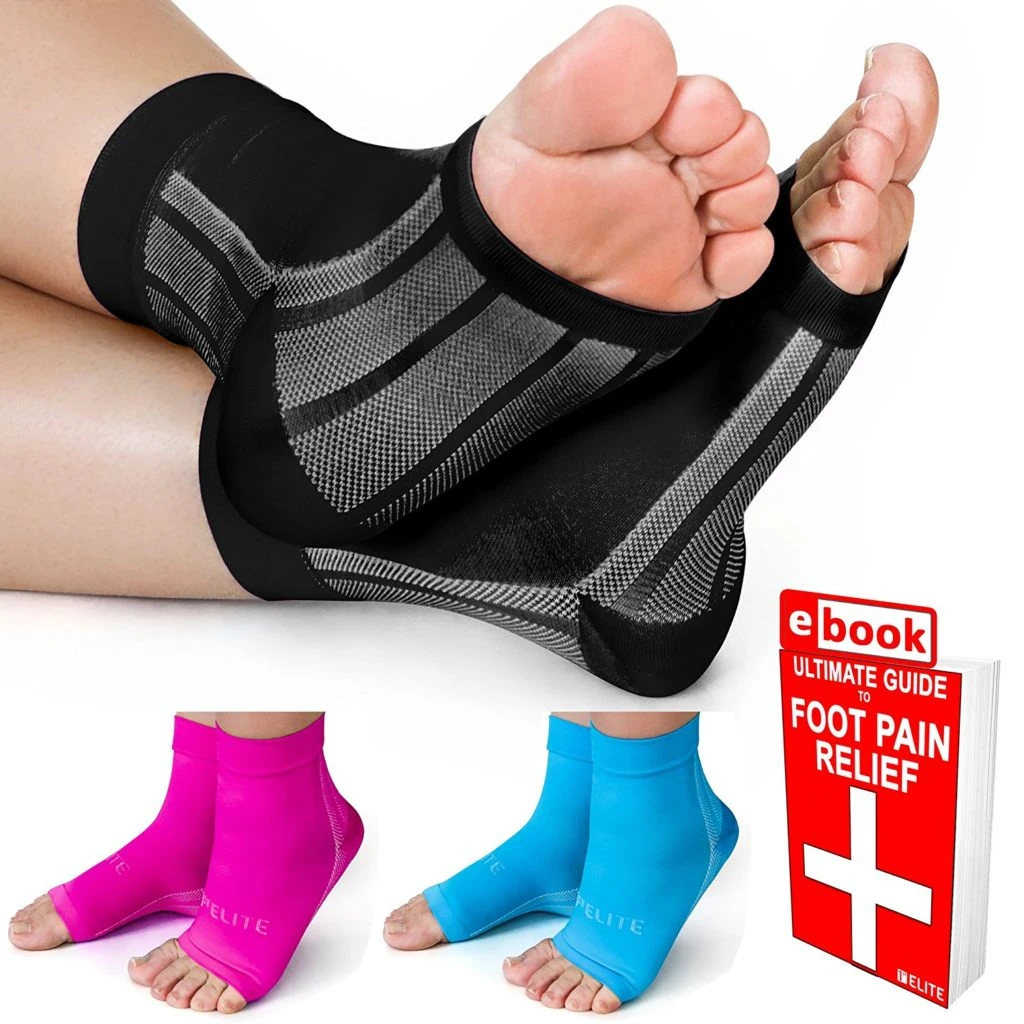 With the correct measurements, you can get a compression sleeve capable of delivering the total comfort needed. The 1ST Elite X-Sleeves Compression Socks have a light compression index that will make your feet feel awesome day or even night. It can be a great tool for plantar fasciitis pain relief and comfort by avoiding wearing the plantar fasciitis night splint sock.
They are a line of breathable 100% Nylon compression socks. Their nylon has the moisture-wicking material, which will enable a dry comfort feeling for an entire day. In addition, they have excellent longevity and their endurance is stellar. Because of theiur5 seamless design, you have no worries of having unwanted blisters or irritation when rubbing inside a shoe.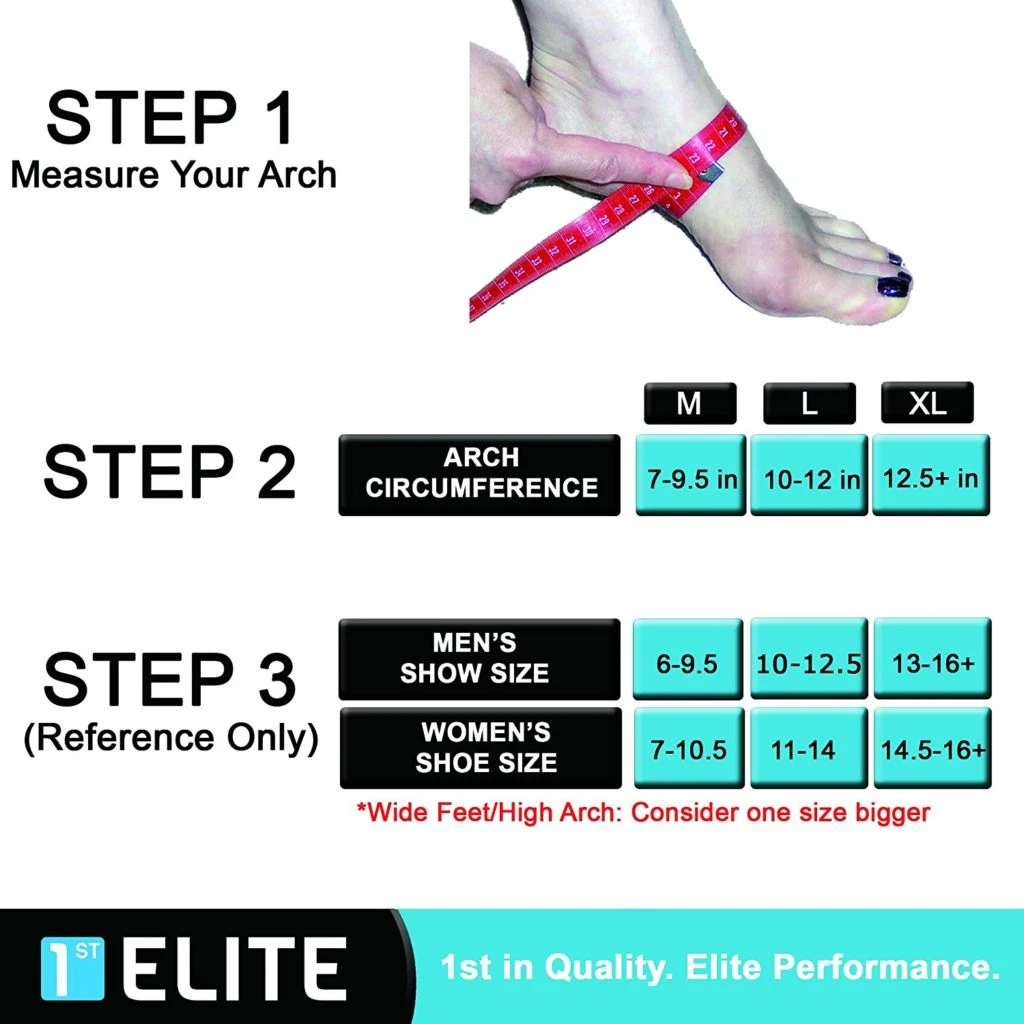 Because they are breathable compression socks, you will be able to wear them under a normal sock, but you can also wear them by itself too. Their cut is long and short enough to provide a discretion look. The 1ST Elite X-Sleeves Compression Sleeve comes in three colors: black, blue and pink.
Their relief focus on lower limb areas such as the ankle, the top of the foot, the ball of the foot, the arches, the heels, the Achilles tendons, and the Plantar Fascia.
Below are the main features:
3 in 1 functions: compression, night splint, and support;
Available in 3 colors: black, blue and pink;
Made of 100% Nylon;
Breathable Moisture Wicking Material;
Can be Worn under the sock or by itself; and
Long and Short Cut for better discretion look.
What people say about the 1ST Elite X-Sleeves
The Compression Socks was well received from the customer who bought them and used them. They were very efficient for those who wanted an alternate method to the night-splint sock because it can get very comfortable on the foot, they way it is positioned. They also noticed that even wearing it during the day had its benefit within a very short time by providing the required support on the arch.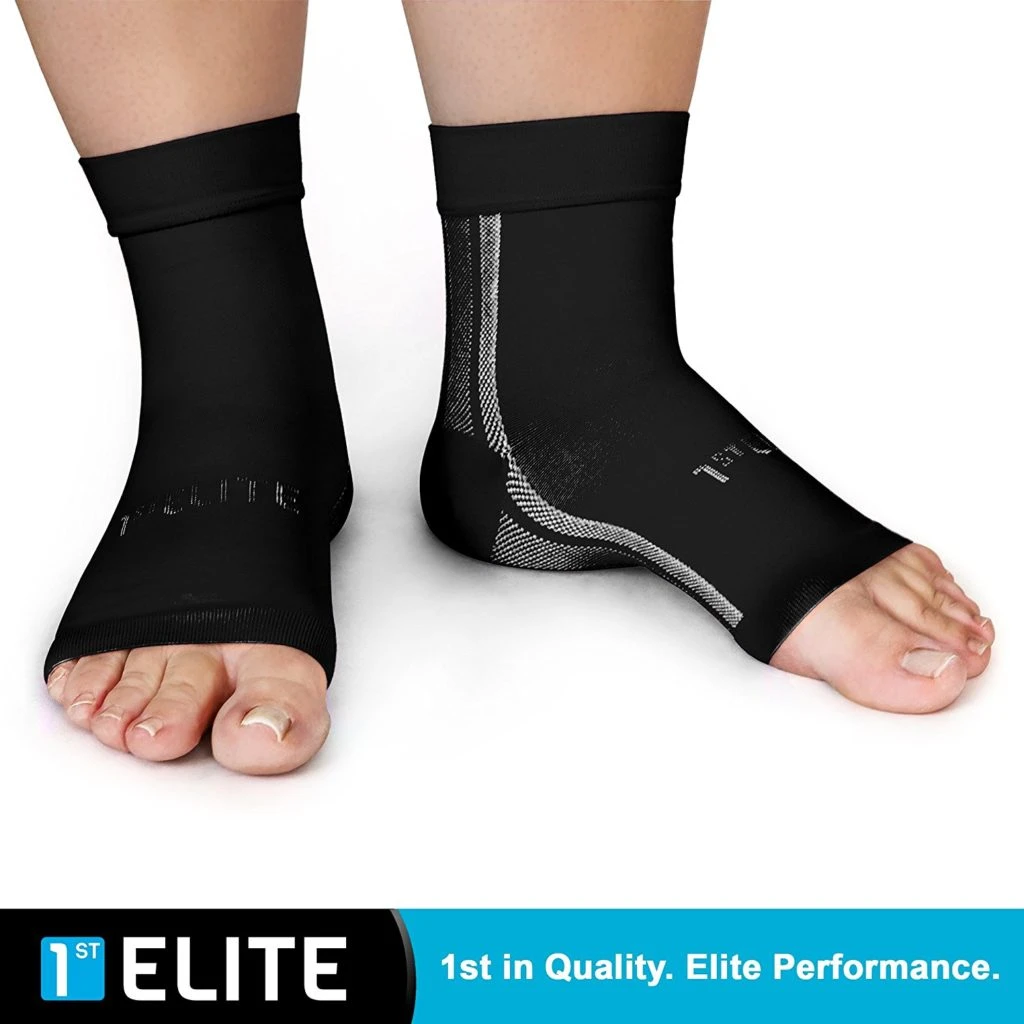 Many reinforced the need to have the perfect measurement on hand when buying the 1ST Elite X-Sleeve. The reason is it can get quite uncomfortable if it is too tight or when you put it on. We recommend a thorough fit sizing of your feet length, width, shoe size and circumference of your arch.
Other customers, appreciated the effect of compression by the 1ST Elite X-Sleeves Compression Socks during their entire day standing at work.
The 1ST Elite X-Sleeves Compression Socks was also reported as efficient with people who suffered from Achilles tendonitis. The pain can be quite excruciating and the 1ST Elite Compression Sleeve immensely helped with the heel support and the cushion at the heel area.
6. Mojo Elite Series Medical and Performance Compression Socks - Link
The Mojo Elite Series is a unisex compression sock aimed at performance, but also to relieve achy feet and legs from poor circulation. It is FDA approved and can be recommended medically by doctors and podiatrists. The one we feature here is a medium blue but they are available in different 6 sizes and 11 colors. The size categories you can find the Mojo Elite Series Compression Socks are divided by shoe sizes and are listed below:
Small: 5.5 - 7.5;
Medium: 7.5 - 10.5;
Large: 10.5 - 13; and
X-Large: 13 & over (2XL and 3XL also available).
Its compression is determined as a medium grade graduated compression of 20 to 30mmHG. It is a great sock to improve the blood circulation in your ankles, your feet and also your lower legs (calf area). The graduated compression give you the oxygen needed for the blood to flow freely in the narrower veins. In addition, the socks are very efficient to relieve pain from your arches and provide heel and ankle support.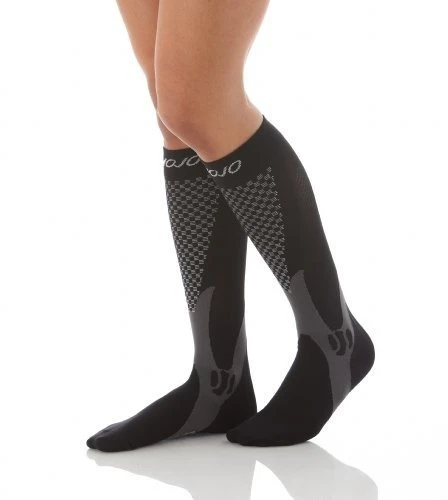 The product has thicker material than its Power Series which we listed above in our best compression socks list. its tightness can be felt at the ankle and lights up as you go up the ankle then on to your lower leg.
Many will use the MoJo Elite Series for high-performance activities such as cross-country skiing, which can help immensely in getting that energy and push from the legs. Its post-action recovery benefits will contribute greatly to your health and future performance.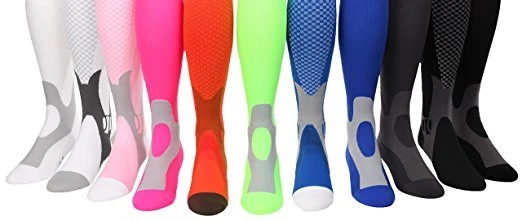 Its cushioning at the heel and the toe is reinforced and will help absorb the pounding and impact from running and jumping while slowing down any long-lasting pain from lengthy period of standing. Like many compression socks, the Mojo Elite Series brand is designed for countering against any moisture buildup, due to its moisture-wicking material.
Below are some of the main features:
Unisex Compression Socks;
Thicker than the Power Series;
Available in 11 Colors;
Dual role of compression and Support;
Medium Graduated Compression - 20-30mmHg;
Maximize muscle oxygenation;
Reinforced heel and toe area; and
Can be used for sports or for medical reasons.
A Word from the Customers on the MoJo Elite Series Compression Socks
Many customers who bought the MoJo Elite Series Compression Socks truly appreciated its versatility. They were able to use it for both, sports and also to improve their circulation while at work. It proved to be the perfect tool to counter rheumatoid arthritis in ankles and feet. It worked great also on the swelling of ankles and feet too.
Because this compression sock is made of wicking material, many customers were quite impressed when they noticed little or no-moisture on their feet and of course, no odor.
People, in general, had issues with the right size of socks. Some had the compression socks too tight at the ankles or too small around their feet. It is very important to get the right sizes prior to get any compression socks. measure your length, width, and circumference of your arches and ankles, if required. Try to get a measurement when they are swollen because this will be the size when you put them on to reduce the swelling.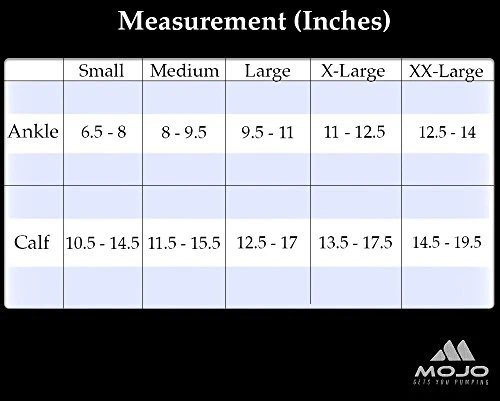 The care is very simple. The Mojo Elite Series Compression Sock can be washed in the machine on a delicate cycle but would strongly recommend you hang them or lay them flat to air-dry and no dryer.
Best Performance and Recovery Compression Sock Reviews
Performance and Recovery Compression Socks or Sleeves will act in the same fashion as a medical compression sock. What you must retain is the aim of the compression applied in legs, ankle, and feet. With a performance and recovery compression sock, the people wearing them want this compression to boost and increase blood flow allowing the oxygen to circulate faster when the heart is pumping.
Research proved that compression socks, when worn by athletes, will diminish the soreness in muscle developed post-workouts. It can also help runners in post-recovery after a marathon. They were also able to run for a longer period of time and suffered less fatigue.
Below, you will see a table listing the best performance and recovery compression socks. Like we did for the medical compression socks above, we've trialed some but not all. For those we didn't have an opportunity to trial and thoroughly review, we consolidated comments and feedback from those who did acquire that particular compression sock.
The table below of the best compression socks gives you a "snapshot" of the and gives you some quick references in order for you to do a better choice when buying compression socks.
| Compression Socks Image | Compression Socks Brand | Cost | Millimeter of Mercury | Length |
| --- | --- | --- | --- | --- |
| | Physix Gear Sport Performance Compression Socks | $$ | 20 to 30mmHg | Knee-High |
| | CompressionZ Stylish Athletic Medium Compression Socks | $$ | 20 to 30mmHg | Knee-High |
| | Nurse Mates Women's 12-14mmHg Compression Trouser Sock | $ | 12-14mmHg | Knee-High |
| | A-Swift Performance and Athletic Graduated Compression Socks | $ | 20-30mmHg | Knee-High |
| | Blitzu Performance Compression Socks (Men and Women) | $$ | 20-30mmHg | Knee-High |
1. Physix Gear Sport Performance Compression Socks - Link
The Physix Performance Compression Socks is produced by a U.K. company Physix Sports Gear. They pride themselves in offering quality and stylish performance compression socks. Their sports compression socks are made taking into account efficiency and durability. Mainly used to prolonged endurance or to recover faster from running or workouts, the Physix Performance, and Recovery Compression Socks is a synonym of pure comfort.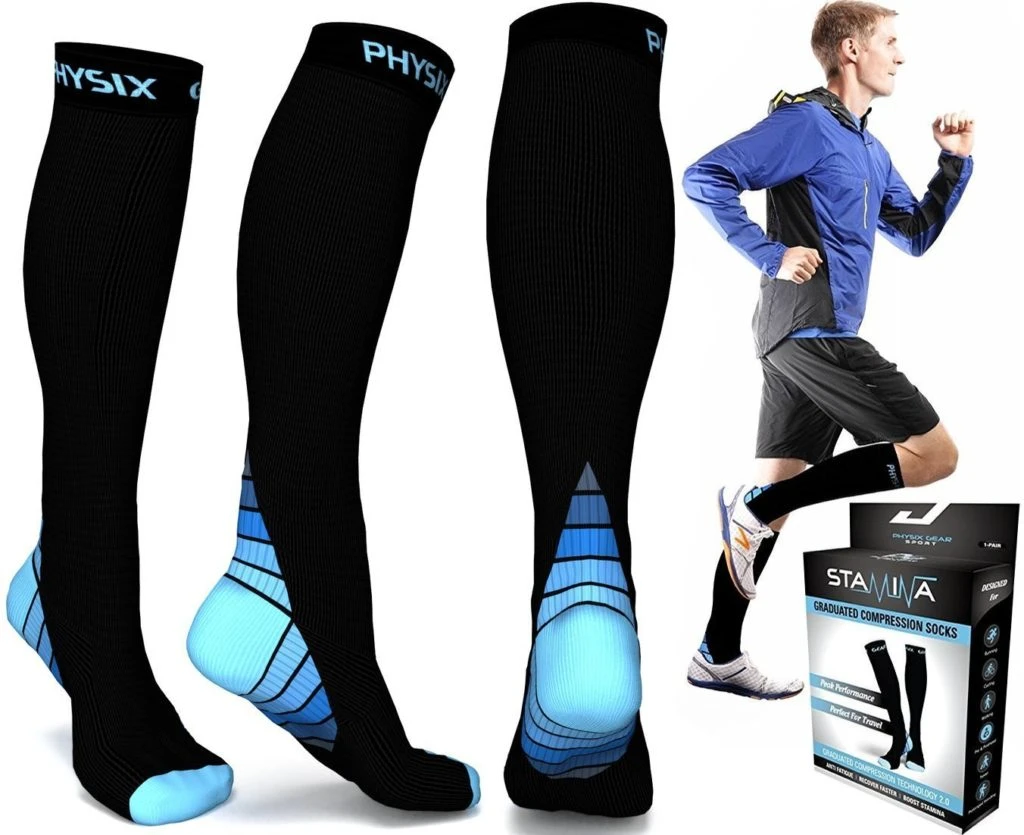 A 20 to 30mmHg moderate graduated compression, this compression socks for athletes is sewn double-stitched coupled with anti-bacterial fabric. With its moisture-wicking material, those sports compression socks will remain dry and also air dry quickly. They are also sewn in a way that is easy to put on and wear. One great feature of the Physix Sports Compression Sock is that they will wash easily wash and without losing their compression.
The socks can get the blood circulating in a hurry. It will prevent and correct any swelling issues you will have. They are very efficient to prevent potential blood clots, varicose and spider veins. The compression although classified as a sports and recovery compression socks can work for medical reeasons too.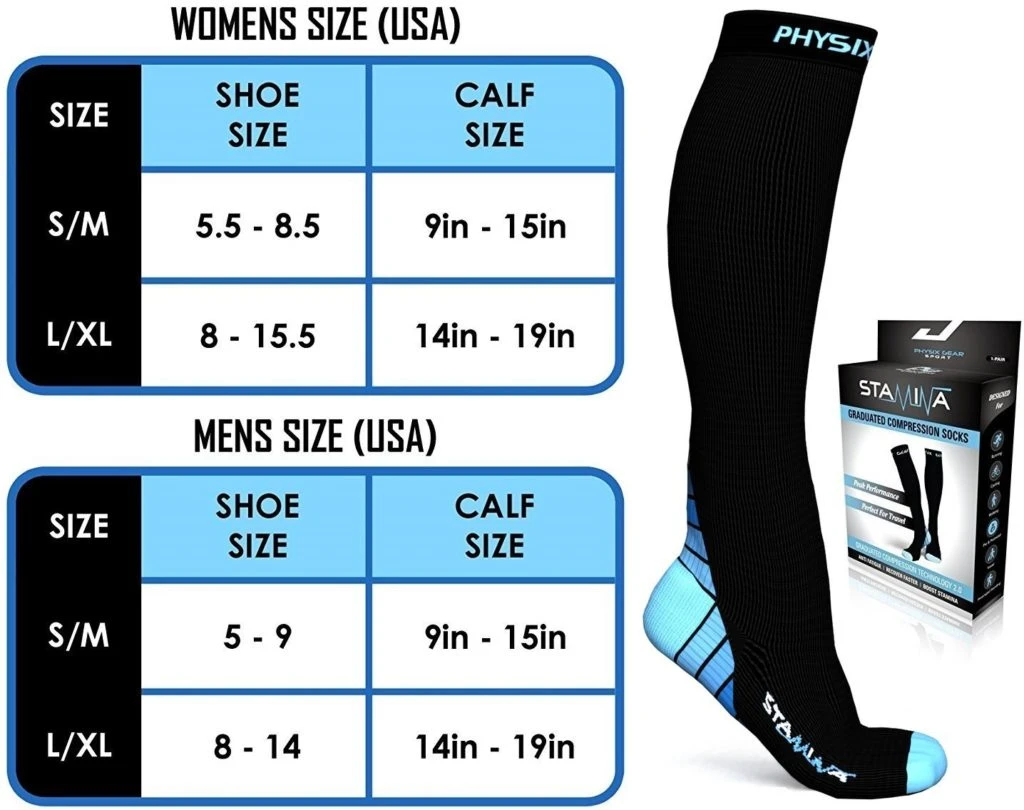 With the Physix Sports Compression Socks , you will notice compression and support needed, mostly at the heel, toes and your calves. Its squeezing will not attract any discomfort in your toes and joints. You will feel the comfort and support instantly once you wear them.
These performance and recovery compression socks from Physix are stylish. They come in various colors and designs. The durability is top-notch for those performing in sporting events such as soccer, marathon or basketball games. They can be used in hot or cool temperatures. They are very breathable compression socks and their seamless construction will contribute greatly in blisters prevention.
The product is armed with the cushioning for higher impact activities. It has an excellent cushion aimed at absorbing the effect of any jumps, extensive pavement impact from running and much more…
Below are the main features:
Stylish and Durable;
Seamless and Double-Stitched;
Compression and Support at the Heel, Toe, and Leg;
Moisture Wicking Material;
Fabric is anti-bacterial reducing unwanted odors;
Used for Athletic and Medical Reasons; and
Moderated Graduated Compression of 20 to 30mmHg.
Customer's Opinion of the Physix Sports Compression Socks
Overall, the Physix Performance Compression Socks is very well received. Many commented that the Physix Sports and Performance Compression Socks were ideal to provide a compression all-around. Built with excellent quality, it was obvious to may users the compression socks from Physix had an excellent support capability while making their feet comfortable. This proved to be the exact case with an elderly customer, who appreciated her legs from not swelling while she wore them overnight.
Although the compression was felt, many reported they were not constrictive.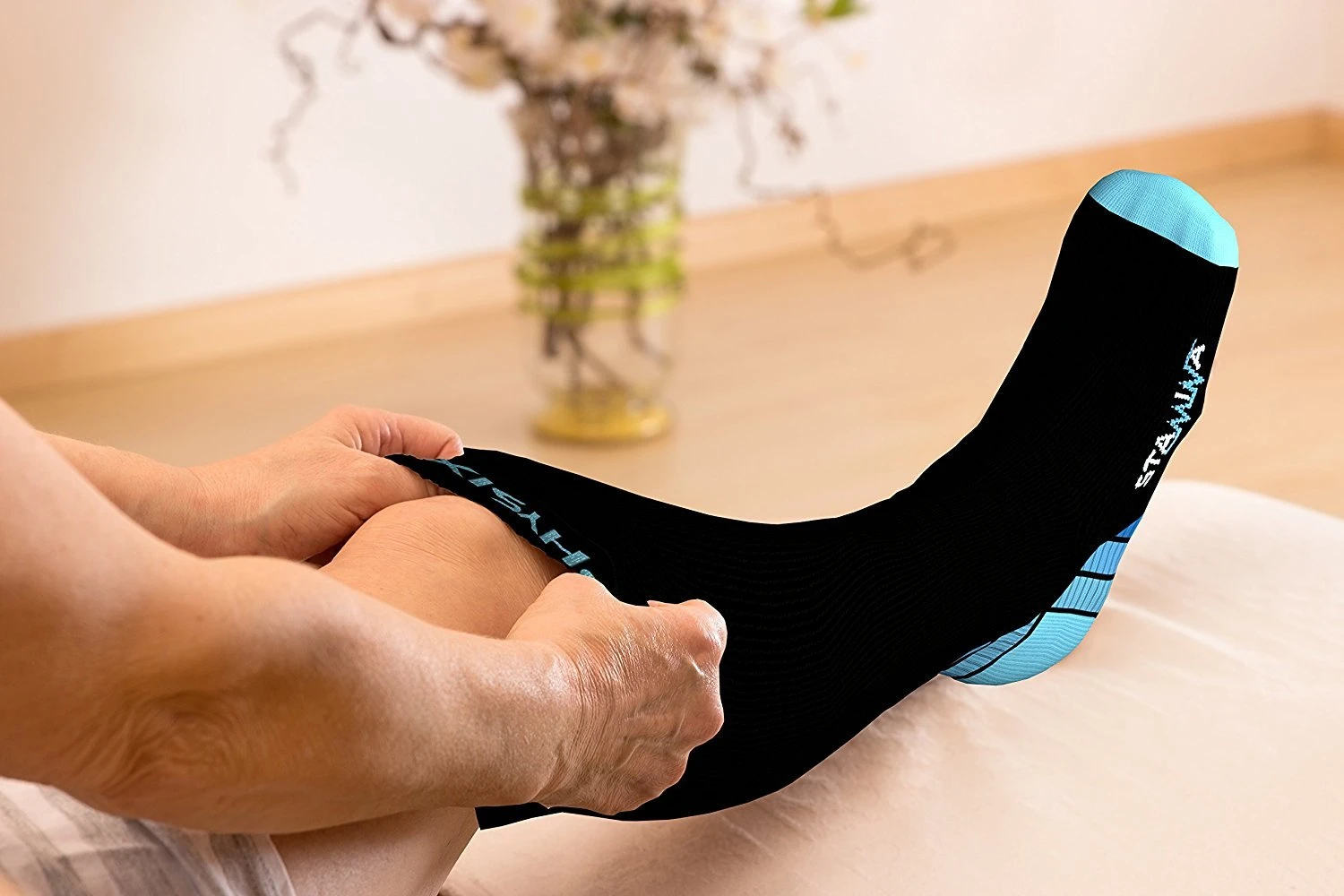 On the other hand, a couple of users brought up the point that the Physix Performance and Recovery Compression Socks had a toe box that was bothering them and causing unnecessary rubbing in their shoes. Partially due to a wrong fit, the socks may at times be a wrong fit for the shape of someone's feet or toes. Please keep those factors in considerations, when ordering them. Others, also claimed the material was too thin and slippery when walking on a hardwood or linoleum floor.
Many liked the design, style and the anti-moisture wicking fabric. It was more evident on those who spent long hours of standing at their workplaces. So the lightness, its comfort and the fact they breathe well were commented on by their users. People who wore them all day realized they didn't have any swollen ankles or calf pain like they had in the past with a normal sock.
One other positive aspect was the outstanding customer service offered as part of their after purchase support. Customer service was described by a staff who cares whether you liked them or not.
2. CompressionZ Stylish Athletic Medium Compression Socks - Link
Featuring our next best compression socks in the sports and athletic world is the CompressionZ Stylish Athletic Medium Compression Socks . CompressionZ is an Australian company that specializes in compression gear for enhanced performance. They have different grades of compression of compression socks. Their compression gears revolve around style and efficiency and are made for men, women, and children.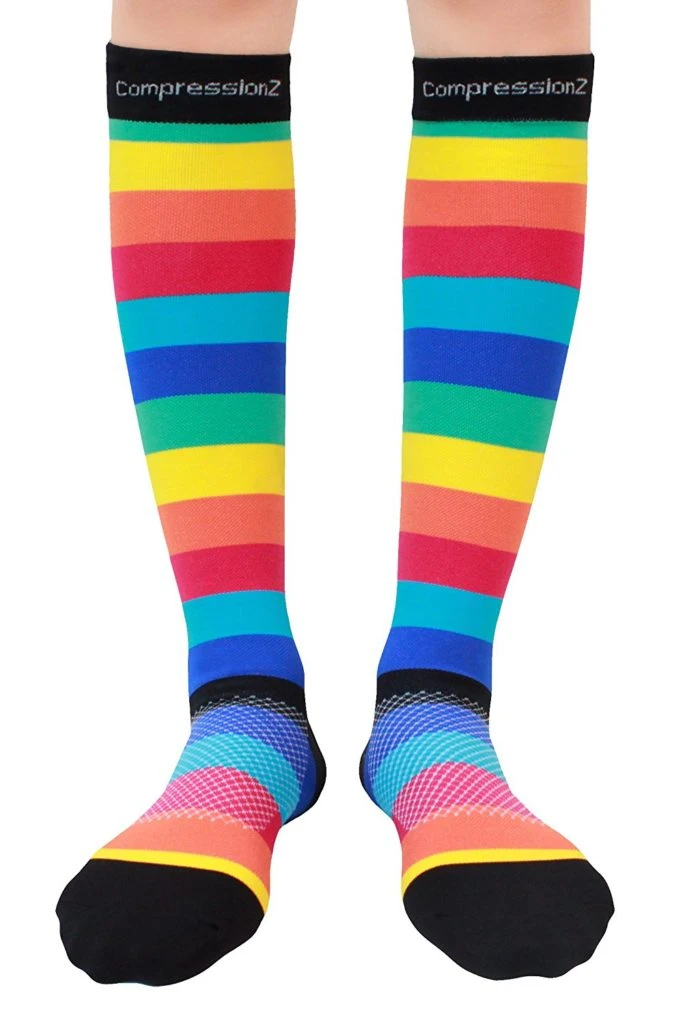 The CompressionZ Performance and Athletic Compression Socks have a mix of comfort and style that will bring the individuality out of you while adding the performance needed to better compete and recover. Through an array of colors and patterns, the CompressionZ Performance and Recovery Compression Socks is a sturdy and durable compression sock that will keep its compression after being washed several times.
Like most of the compression socks brands out there on the market, their fabric is anti-odor and will promote dryness. CompressionZ through their innovative fabric creation, provide a sock that is breathable and comfortable, which will not chafe or irritate. Their tightness keeps up while being active.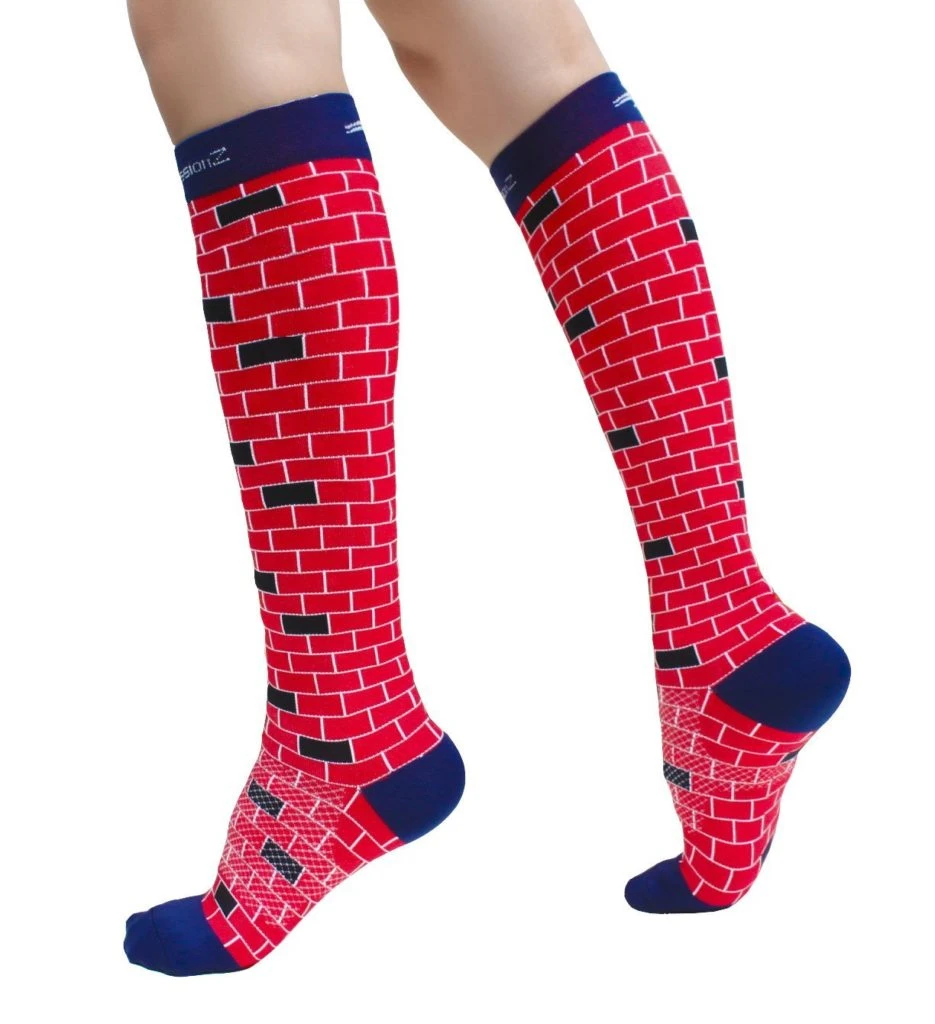 The featured CompressionZ Sports Compression Socks provides graduated compression of 20 to 30 mmHg. With this kind of compression from your feet up, optimum blood circulation is delivered to get the right amount of oxygen pumped through.
Furthermore, the compression from the CompressionZ Athletic Compression Sock will reduce leg muscle fatigue whether during a sports activity or those standing for long periods of time at work. The compression will also further reduce lactic acid build-up.
Picking the right sizes for a compression sock can be tricky and lead deception. Please refer to the sizing chart as described below for more information.
Men: Small - 7 & Under; Medium 7.5-10; Large 10.5-12; XL 12.5 & Above
Women: Small 5.5-7.5; Medium 8-10.5; Large 10.5 & Above; XL 13 & Above
Below are some of the features:
Vibrant colors and stylish patterns;
Anti-bacterial fabric;
Medium compression of 20 to 30 mmHg;
Reduces lactic acid build up;
Durable and Sturdy built;
Ideal for sports activities;
Perfect sock for long standing periods.
A Word from the Customers on the CompressionZ Athletic Compression Socks
In general, the CompressionZ Sports Compression Socks performed very well. What most stood out in the case of the CompressionZ Sports Compression Socks is the efficiency it addressed muscle fatigue, pain and swelling of feet and ankles. Many of them suffered from edema and varicose and the CompressionZ sock came through with flying colors like they also pride themselves with. These customers who bought the CompressionZ Athletic Socks are people working for long hours on their feet, mainly nurses.
Many applauded the colors, style and the comfort they offered. The sockswhich comes for males and females was well received from both genders.
The product can come in either light (15 to 20mmHg) to moderate (20 to 30mmHg).
One thing to keep in mind is a situation that seems to be a common trend amongst compression socks is the right sizing of compression socks when buying them. In this case, this seems to be the common negative point about the CompressionZ, which is people not getting the right size after purchase. We recommend sizing your feet (when swollen) to get them if you want to reduce swelling. In any case, measuring your ankles, your foot around the arches, the length of your feet and also as a precautionary measure the length of your lower leg.
3. Nurse Mates Women's 12-14mmHg Compression Trouser Sock - Link
One of the best tools for a nurse can certainly be the socks they wear when they have to stand for long hours. To help them in finding the best compression socks, Nurse Mates has become one of the lead manufacturers in producing the best compression socks on the market. They have them in multi-colors and patterns, which gives them a unique look. Nurses Mates, an American company is an affiliate of the Söfft Shoe Company Inc .
With the Nurses Mates Compression Trouser at 12 to 14mmHg for women , women get a compression sock that is made to relieve you from muscle fatigue through a light compression. They will provide support for the arches and help immensely those with plantar fasciitis. The socks have a vast selection of colors and styles to match any nurse's ensemble.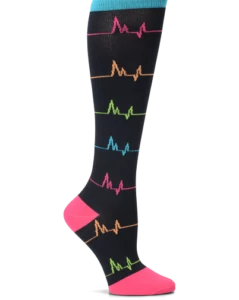 The knee-length compression socks have a comfortable heel and toe pocket. Its fabric is an ultra-soft microfiber blend with a non-binding welt top. They are easy to care for and are machine washable. After a machine-wash, they will still keep their compression.
Here are some of the features:
Multiple Colors and Styles;
Ultra soft Microfiber Blend;
Machine washable;
Fits shoe sizes 9 to 11;
Perfect to Counter Muscle Fatigue; and
Heel and Toe pocket.
Customer's Opinion of the Nurses Mates Compression Socks
Needless to say, the Nurses Mates Compression Trouser Socks was well received by its clients and users, particularly with people who are employed as nurses across America. They truly appreciated the constant pressure applied to their lower legs and feet. The pressure being 12 to 14mmHg is perfect and just right for many of the users.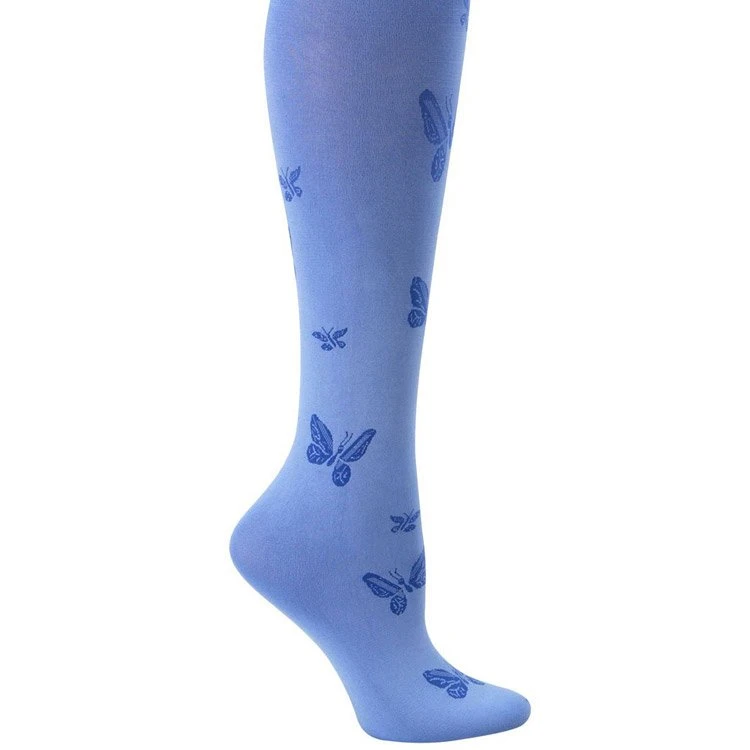 Easy to care for, certain customers mentioned the product was making their feet sweaty and it was best to wear them over a normal sock. Keep in mind this can be an individual case and in general, the complaint of sweaty feet was not a major concern.
The compression sock did very well for those suffering from plantar fasciitis with the additional support given by the compression sock.
Many were happy of the low-cost of those socks in exchange for what they provided to nurses legs and feet. Although the product is from Nurses mates, this is a sock that is available to all suffering from swollen feet and ankle after working a long day on their feet.
4. A-Swift Performance and Athletic Graduated Compression Socks - Link
Continuing on with our best compression socks buyer's guide and our list of the best compression socks available on the market, we find in the A-Swift Performance Compression Socks for Men and Women. This is a compression sock that come with a graduated 20-30mmHg compression (moderate compression) that can be used either for medical reasons or for performance and recovery.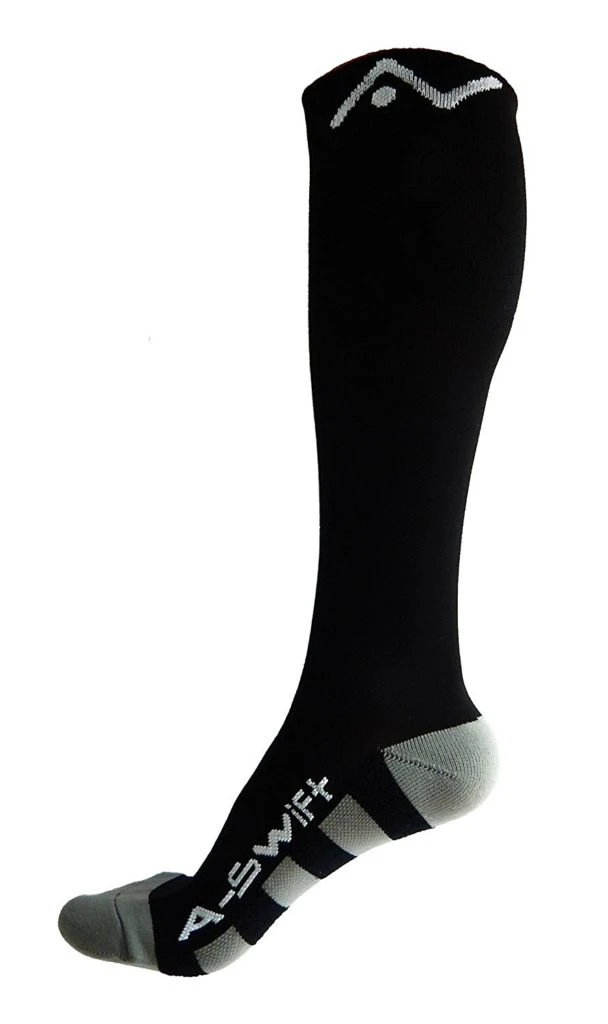 Its graduated compression will deliver a compression all-around your lower leg and your ankles and feet. This compression like other compression socks is aimed at promoting blood circulation in your lower limbs. The result is less swollen feet and ankles and less fatigue felt in your feet after a long-standing period. In addition, the blood flow increase promotes more oxygen to the hear and will reduce the heart rate.
The compression sock from A-Swift is manufactured with a silver yarn anti-bacteria fabric. What is unique about this fabric is it will have the function to keep your feet cool when it is hot and it will keep you warm in colder temperatures (ex: cross-country skiing). Its fabric is conceived to reduce and deter from foot odor and lower any possibilities of static.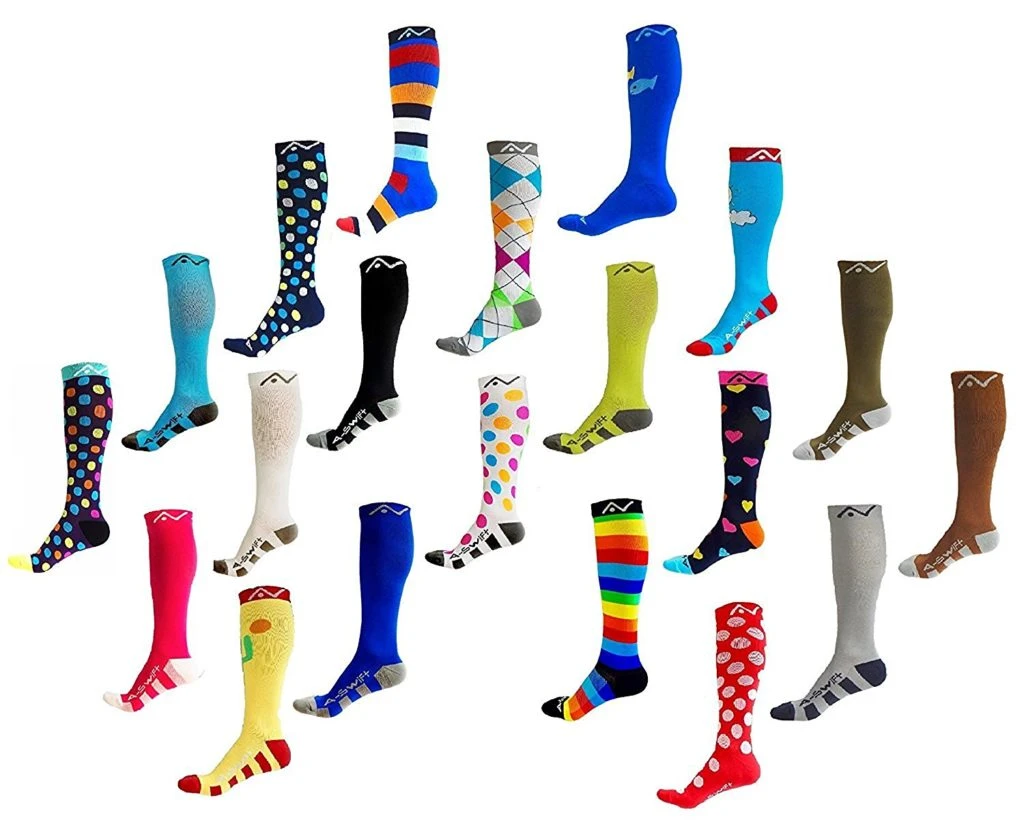 The A-Swift Performance and Recovery Compression Socks is the ideal compression socks for sports or to wear at work. It will reduce the muscle fatigue normally felt when wearing normal socks and avoid the swelling of your feet.
When doing sports, these sports and athletic compression socks can be used for all types of sports and workouts. Whether it is cross-fit, running, skiing (alpine/cross-country), basketball or soccer, the A-Swift is an excellent compression sock at a reasonable price to get. If it is for daily wear, the A-Swift can be worn if you are someone standing for long hours like a nurse, maternity patient, construction worker and more… The socks length comes right below the knee which adds the comfort desired when performing activities.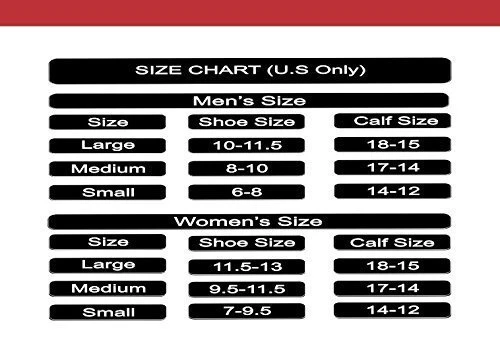 Their colors are varied and you can select the style and colors you'd like easily. The toe and heel areas are reinforced to avoid any rips or holes.
Below are some of the features:
Varied styles and colors;
Toe and heel reinforced;
20-30mmHg graduated compression;
Silver yarn anti-bacteria fabric;
Ideal for sports or daily wear; and
Easy to put on.
Note: Keep in mind, A-Swift is also including an E-Book titled "Let's Play Tennis". The E-Book contains ten chapters on rules, skills, and techniques on how to play tennis and how the game is played. perfect for the intermediate or beginner, this tennis book is an add-on to the compression socks.
What People Has to Say About the A-Swift Performance Compression Socks
Many users appreciated the rate of graduated compression of 20 to 30mmHg . It was not too constrictive and it helped their recovery when standing for a long period of time. Others thought the price was really good for the benefits they received from the A-Swift performance and recovery compression socks. The A-Swift Compression socks were described as quality compression socks, although some experiences holes and rips in the toe area shortly after their purchase. Overall, the quality of the socks was extremely good.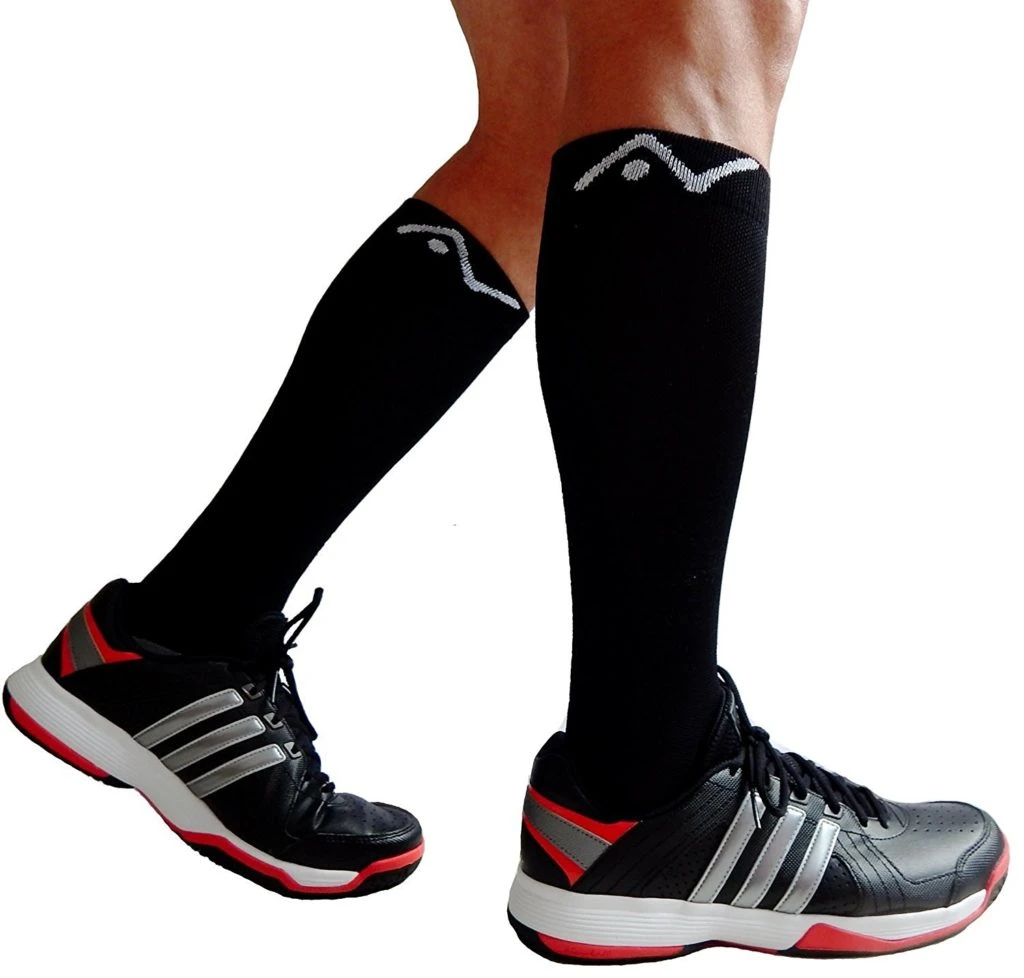 The other aspect of the A-Swift Compression Socks was how comfortable and soft they were while stile still providing the required compression.
Some users found the A-Swift was an easy sock to put on compared to other compression socks. People who bought the A-Swift performance Compression Socks noticed a difference in the swelling of their feet within 5 days after they started wearing them daily. Their swelling was almost gone and they felt less fatigue in their feet.
One other notable issue with this compression sock and it appears to be a trend amongst other compression socks was the improper size purchased after those socks were received. So our major recommendation is to make sure you measure your feet (arches), ankles, length of feet and shoe size, length of your lower leg.
There is no doubt the A-Swift is a great sports compression socks at a very affordable price capable of providing the comfort you need and reduce the swelling in your feet and ankles.
5. Blitzu Performance Compression Socks (Men and Women) - Link
Blitzu of Blitzu Gear is a company from the U.S. specializing mostly in outdoor sports gear focused on bike lights, headlights, and compression gear. This Blitzu Compression Socks for Men and Women is a very adequate performance sock, whether you are competing in individual or team sports or the one working for long hours on your feet. Although it is seen as a sport and athletic compression sock, this Blitzu Compression Sock is efficient in reducing muscle fatigue in your lower legs and feet.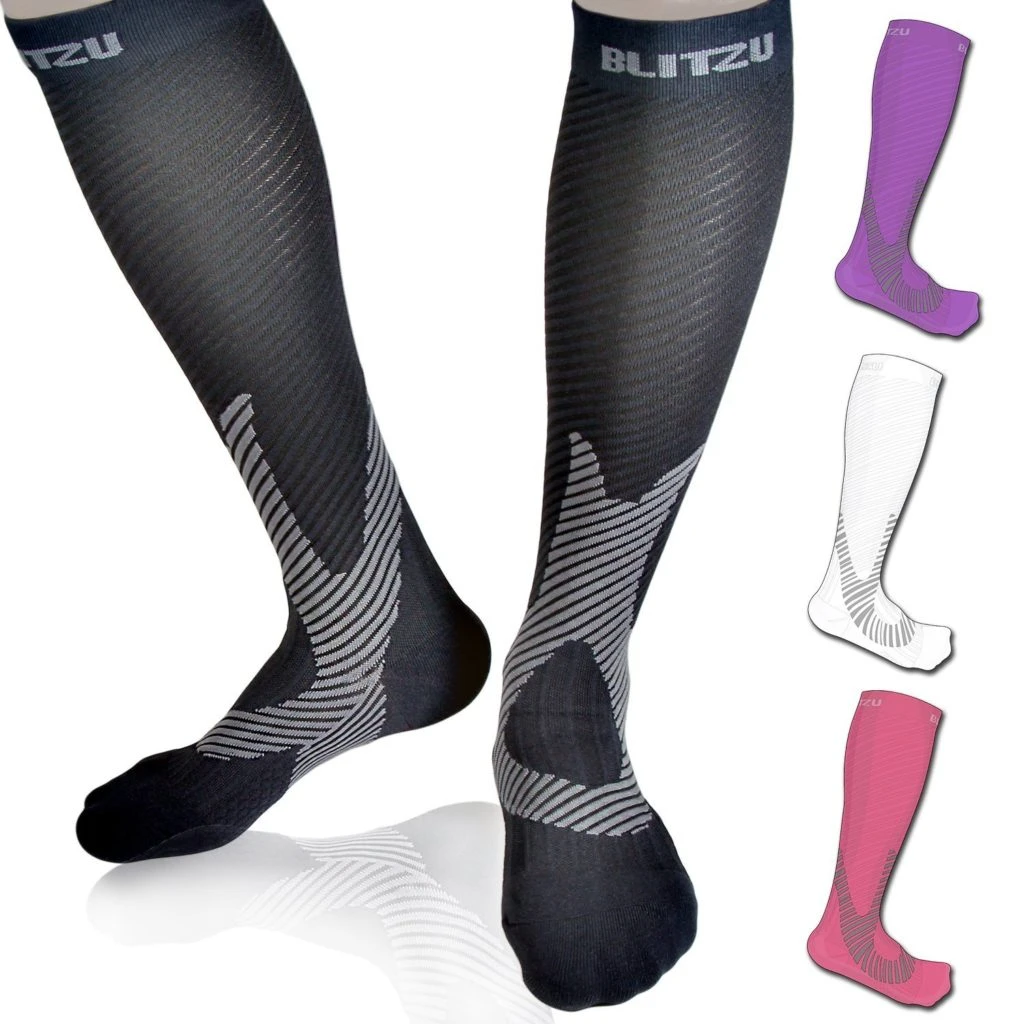 The Blitzu Performance Compression Socks has a Kinesiology Taping Design. This Kinesiology Taping Design is based on the combination of two main therapy components. The first one is the stability of kinesiology taping while the second one is the graduated compression from the socks. The graduated compression commences with a 20 to 30mmHg at the base (foot) and rise all-around upward to your legs at 10 to 15mmhg. The instant effect is reduced fatigue throughout and less pain under your feet. In addition, the Blitzu will also prevent cramping and injuries.
Ideal for supporting your arches and heels, the socks are a great pair of compression socks to treat plantar fasciitis pain. It can be worn throughout the day at work and at night to maintain proper support of the fascia ligament. Like many compression socks, it will provide relief for those suffering from spider and varicose veins. A great sock against swollen ankles and feet, the Blitzu Compression Socks can even prevent blood clots after surgery.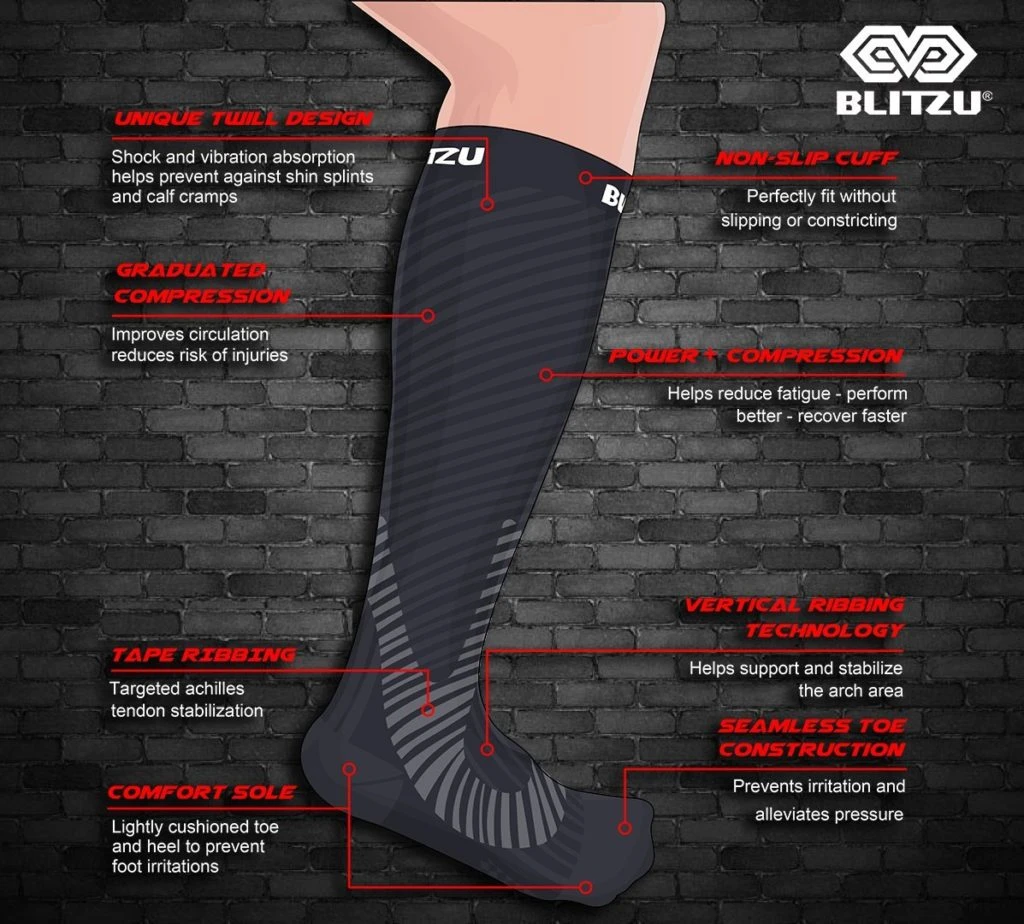 A comfortable compression sock, the Blitzu will not cause any pain on your toe joints. It has a nice toe chamber, which allows some needed space in your extremities.
The Blitzu is the perfect compression socks for the avid runner. It delivers the energy required to go that " extra mile ". Suitable for the one who runs long-distance, or hikes the steep cliffs, it is a top-quality compression sock. It is also the compression socks of choice for the one who has to work all day on their feet.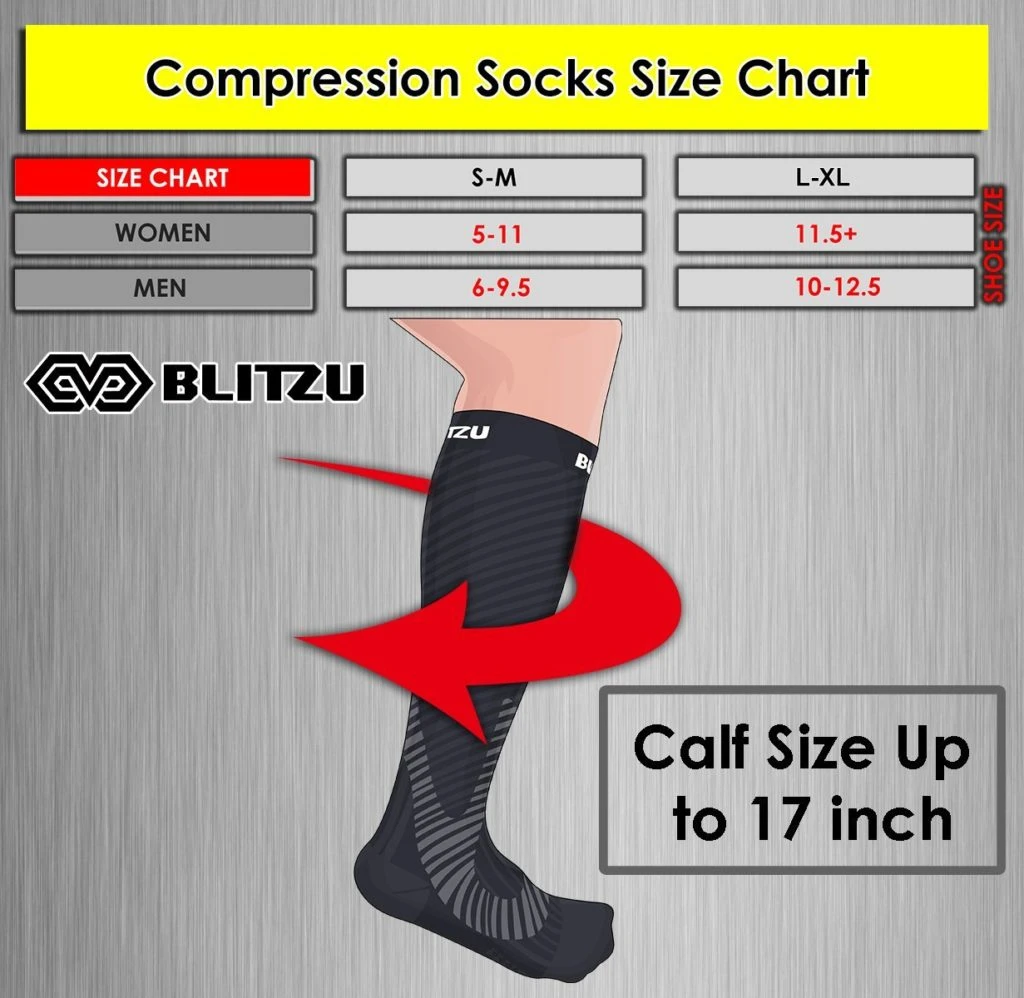 Made with a premium performance fabric, the Blitzu Performance and Recovery Compression Socks has a circular knit structure armed with a 360-degree stretch for more durability and flexibility. Finally, the Blitzu comes in different styles and colors for those with an edge. Blitzu back their product with a 100% guarantee, in the event of any rips or runs.
Below are the main features:
Kinesiology Tape Design;
Medium Graduated Compression;
Ideal to Prevent Blood Clots Post-Surgery;
Provide the Required Support Day or Night;
Great Compression Sock for Outdoor Activities;
Premium Performance Fabric Add Durability and Flexibility;
Perfect sock for spider and varicose veins.
Our Opinion on the Blitzu Compression Socks
We had to trial this compression sock and the perfect occasion was during a 4-hour flight. Usually, I will get cramped after 2 hours in my seat. So I decided to trial the Blitzu that was graciously offered for this mini-review.
I personally felt the Blitzu Performance Compression Socks is a quality compression sock. I didn't have as many legs cramps, I would normally have like when I am wearing a normal pair of socks.
What I liked about the Blitzu Socks
While sitting, I did like how the compression was working around my lower legs. The graduated compression was felt immediately after putting them on. It wasn't too tight or constrictive. I felt the sock was comfortable to wear and didn't feel my toes were squeezed. Since I trialed them, while sitting for a long period of time, it is difficult for me to put an opinion on what it is like if I would have been standing or if I would have been doing a sport's activity. There was no swelling observed when disembarking, which I felt the compression socks did their "thing". The price was reasonable for the quality it gave back. The 100% guarantee and their refund policy was also a positive indicator.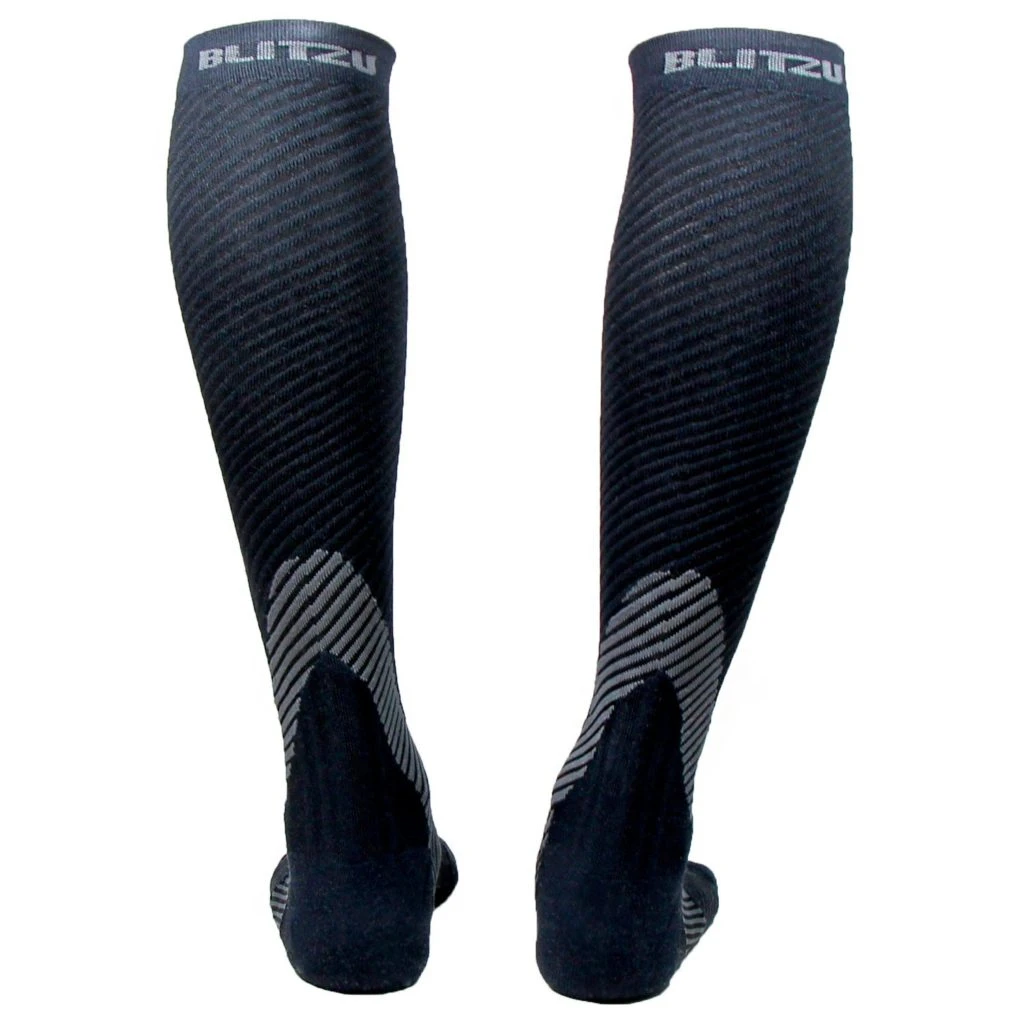 What I didn't like or care for…
The main issue I found with this compression sock is I felt it was a bit hot on my feet. It seems like it didn't breathe much. It could be the environment I was in.
Other Feedback
In general, other users truly enjoyed the product. Many noted how important the sizing is in order to fully experience the compression effect. Customers who purchased the Blitzu were very satisfied with the quality they were built. They appreciated the material it was built with. Finally, many enjoy the "R" and the "L" to get the right sock on the right foot. The graduated compression was also perfect for all the customers.
References:
Buy on Walmart
Physix Gear Sport Compression Socks for Men & Women 20-30 mmhg - Athletic Fit (1 Pair) - Walmart Link
SB SOX Compression Socks (20-30mmHg) for Men & Women - Best Compression Socks for All Day - Walmart Link
Compression Socks Women and Men Circulation (3 Pairs) - Best for - Walmart Link
CHARMKING Compression Socks for Women & Men Circulation (8 Pairs)15-20 mmHg is Best - Walmart Link
3 Pack Copper Compression Socks - Compression Socks Women & Men Circulation - Best for - Walmart Link
Compression Socks Women & Men Circulation,Best for Running, Nursing, Hiking, Recovery & - Walmart Link
Sigvaris 583D100 Doff N Donner Sleeve - Walmart Link
Ableware Compression Stocking Aid - Walmart Link
Sock Aid with Foam Grip - Walmart Link
types of 2XU Compression Socks - here - Walmart Link
Feetures Compression Socks here - Walmart Link
EvoNation Women's Nude Compression Socks - Walmart Link
1ST Elite X-Sleeves Compression Socks - Walmart Link
Mojo Elite Series Compression Socks - Walmart Link
Physix Performance and Recovery Compression Socks - Walmart Link
CompressionZ Stylish Athletic Medium Compression Socks - Walmart Link
the CompressionZ Sports Compression Socks - Walmart Link
A-Swift Performance and Recovery Compression Socks - Walmart Link
Buy on eBay
Physix Gear Sport Compression Socks for Men & Women 20-30 mmhg - Athletic Fit (1 Pair) - eBay Link
SB SOX Compression Socks (20-30mmHg) for Men & Women - Best Compression Socks for All Day - eBay Link
Compression Socks Women and Men Circulation (3 Pairs) - Best for - eBay Link
CHARMKING Compression Socks for Women & Men Circulation (8 Pairs)15-20 mmHg is Best - eBay Link
3 Pack Copper Compression Socks - Compression Socks Women & Men Circulation - Best for - eBay Link
Compression Socks Women & Men Circulation,Best for Running, Nursing, Hiking, Recovery & - eBay Link
Sigvaris 583D100 Doff N Donner Sleeve - eBay Link
Ableware Compression Stocking Aid - eBay Link
Sock Aid with Foam Grip - eBay Link
types of 2XU Compression Socks - here - eBay Link
Feetures Compression Socks here - eBay Link
EvoNation Women's Nude Compression Socks - eBay Link
1ST Elite X-Sleeves Compression Socks - eBay Link
Mojo Elite Series Compression Socks - eBay Link
Physix Performance and Recovery Compression Socks - eBay Link
CompressionZ Stylish Athletic Medium Compression Socks - eBay Link
the CompressionZ Sports Compression Socks - eBay Link
A-Swift Performance and Recovery Compression Socks - eBay Link